Numberless word problems are math exercises that intentionally do not include numbers. They encourage students to understand the problem's structure, context, and relationships before introducing numbers. This approach fosters deeper conceptual understanding and problem-solving skills, allowing students to think critically and gain confidence. These problems are a fabulous teaching tool for enhancing math fluency and promoting mathematical comprehension and problem-solving abilities. It's a ridiculously  simple, but WOW strategy for differentiating word problems…leaving blanks!
Below is a part/part/whole word problem. When I used this word problem in my classroom, I included numbers (I actually made this same problem with 3 different sets of numbers). I copied the right number of each number set and then, I placed the different levels (below, at, above) in colored folders for math centers). Students pull the problems out during Math by Myself and wrote about it in their math notebooks….it was A LOT of work. Worth it? Yes, because all my friends need a challenge…but still. Yesterday, I went back and replaced the numbers with blanks. Using this problem with blanks, allows me to see if my friends truly understand the idea of part, part, whole and if they can figure out numbers to make it workable.
The beauty of leaving blanks is that students will naturally choose numbers that they can work with. Some students might choose a 1-digit and a 2-digit number (possible 66 and 11), or some students might choose a 3-digit and a 2-digit number (possibly 175 and 15). Maybe a student chooses numbers that require a remainder; what will they do with the 'extra' books? All 3 of these situations tell us something about the students and their understanding of division.
Catherine shared one of her favorite ways to give her students choice in formative assessments is to trade out the numbers in a word problem and replace them with blanks. Then you, as the teacher, have two options –
Student Choice: allow students to choose the numbers that go in the blank. This offers 2 assessments in one. First, students have to know to choose the 'right' numbers to make the problem workable, and then, they have to have the skills to actually solve the problem.
Teacher Choice: leaving blanks allows you to choose different numbers for different students. For friends who aren't ready for choice or as you're just introducing a concept, you might offer 3 sets of numbers on the board. From there you can let students choose their own set or 'randomly' assign certain numbers to groups of students.
Offering Boundaries
Now, giving blanks is a lot of freedom, so you may want to add 'conditions' for the numbers students choose. For this fraction-based word problem, you might tell students "Your fractions should have different/same denominators." or "The play equipment can take up no more than half of the space." Adding conditions can scaffold students who are thinking – "Where do I start?" and challenge students who are thinking "I choose 1/4 and 1/4 and will be done. Boom!" 
Why It Matters
I know this sounds like a *really* simple idea, but think of its power. Giving students the choice (even if it is choice within a certain set of numbers) allows students to be more invested in the work and it teaches students to push themselves. For friends, who chronically choose numbers they're not ready for yet, it's a great time to reflect with them on how much they've grown and encourage them to keep working hard. For friends who chronically choose too easy numbers, it's the perfect time to have a conversation about Growth Mindset and choosing the challenging.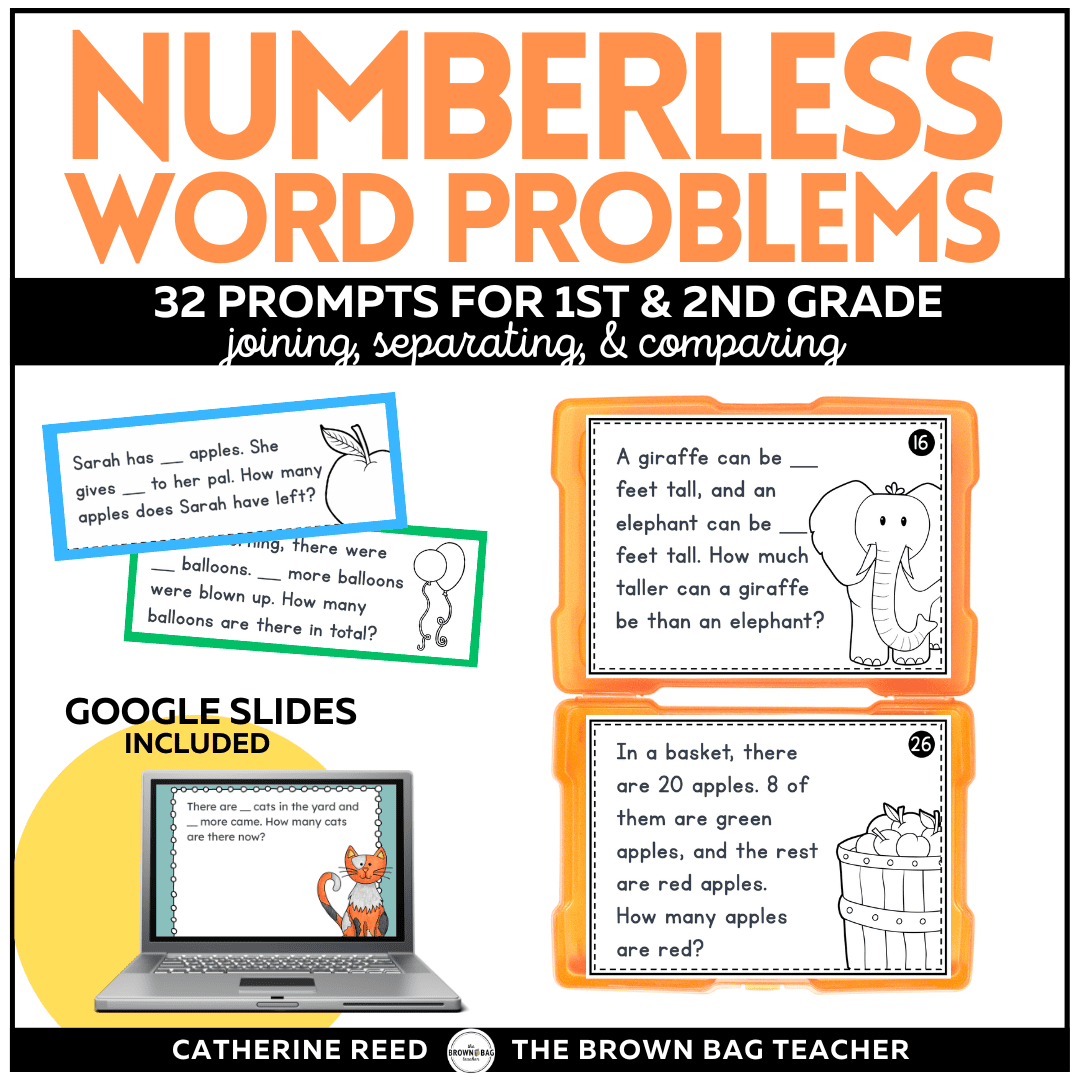 Will procedures for choosing number have to be practiced and taught, absolutely…BUT do I think it is worth it? Without a doubt. Now, is choice always appropriate, no definitely not…but when possible – why not? Even in 1st grade, I have tremendous confidence in my students and know they continually rise to meet challenges.
Check out some of my favorite word problem resources below –
So, friends – what is your reaction? Do you allow students to choose their own numbers when working with word problems? What are your hesitations? How could you make this work in your classroom? I'd love to hear your ideas!
Get Free Teaching Resources!

Join me for weekly classroom updates and free resources that are just-right for your guided math classroom!