Books matter. Not only in reading, but in writing and in life. They bring joy, creativity, conversation, exploration, and love into our classrooms. When students walk into our classrooms they have so many previous beliefs and experiences (positive, negative, or neutral) about books that they carry with them. We have to consider and carefully plan for these experiences. As a teacher, wordless picture books are one of my go-to ways to introduce and develop a love for reading (and books) in our classroom.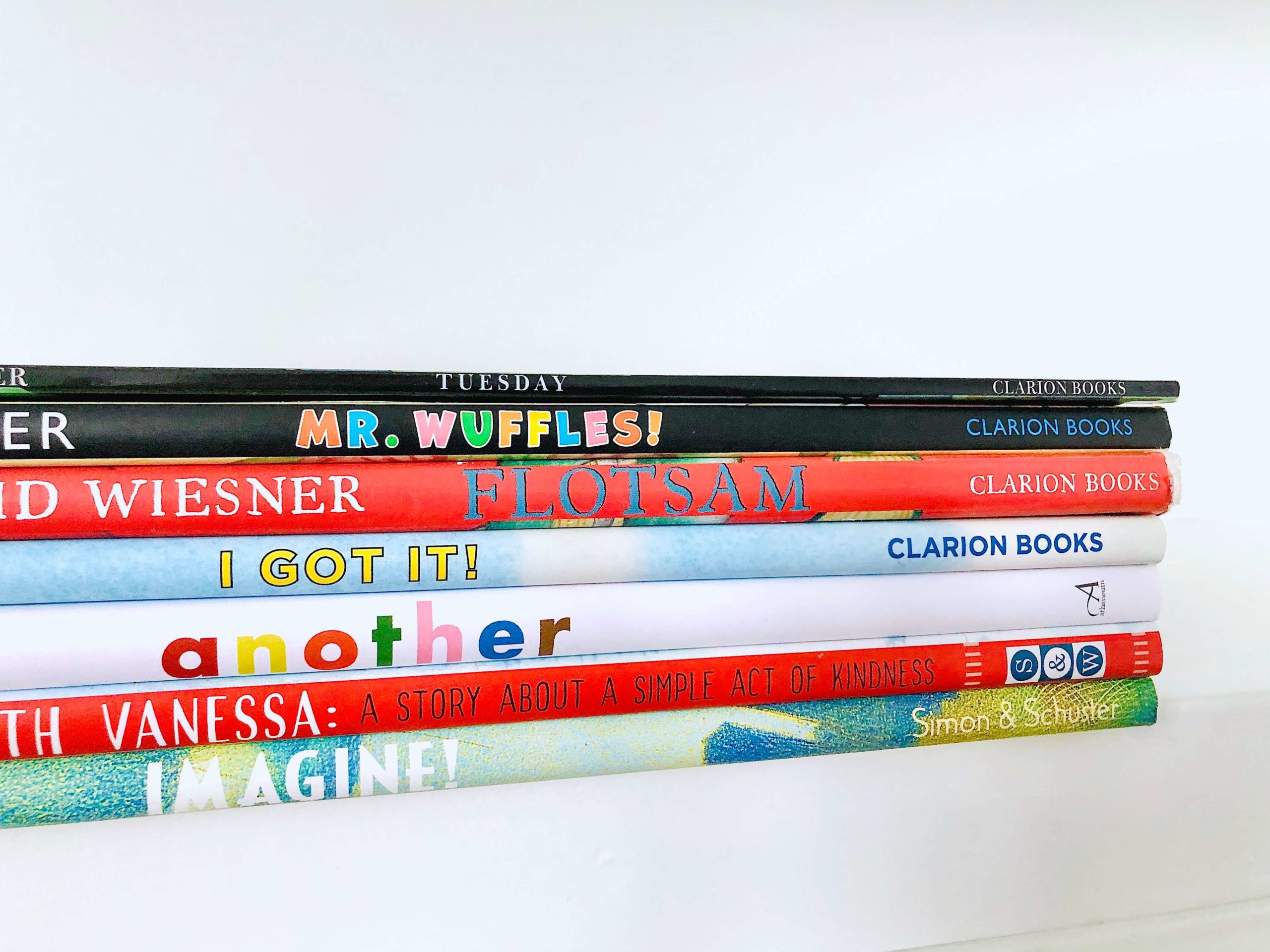 Throughout the post, you'll find Amazon Affiliate links, which means Amazon tosses a few nickels my way if you purchase something through that link, at no extra cost to you, that helps to keep my corner of cyber-space running and helps fund giveaways!
Why might we consider including wordless picture books in our classrooms? Great question! Here are my big four as I'm considering this genre:
They are approachable texts. For students who might be reluctant to read or are overwhelmed by reading, wordless picture books are a way to build confidence and have fun with books.
We can leverage approachability to build writers. Wordless picture books could seem like just one more "thing" or we can consider how using such an approachable text can help us leverage skills we want to see in our student's writing —> dialogue, developed middles, small details, creativity, detailed illustrations.
Oral Language Matters: Giving students the opportunity to talk using academic and social language matters. Before we launch into writing (especially with kindergarten students) we ask students to talk. Telling stories orally helps students to organize their ideas, as well as, get on-the-spot feedback from peers and teachers. What else happened? Can you tell me more? What about ______?
They're fun! Joy has a place in our classrooms and wordless picture books are just plain fun. The small details in the illustrations, the zany plots, and the creativity found in a single book – mind blowing. Authors are incredible people and wordless picture books are a great reminder of this. (Picture from Another.)
Introducing Wordless Picture Books
In Kindergarten and 1st grade, wordless picture books launch Writers Workshop. We focus on the idea that authors use illustrations to tell a story and we, as readers, can using storytelling words to help us step page-to-page. (Anchor chart from The Reading Strategies Book.)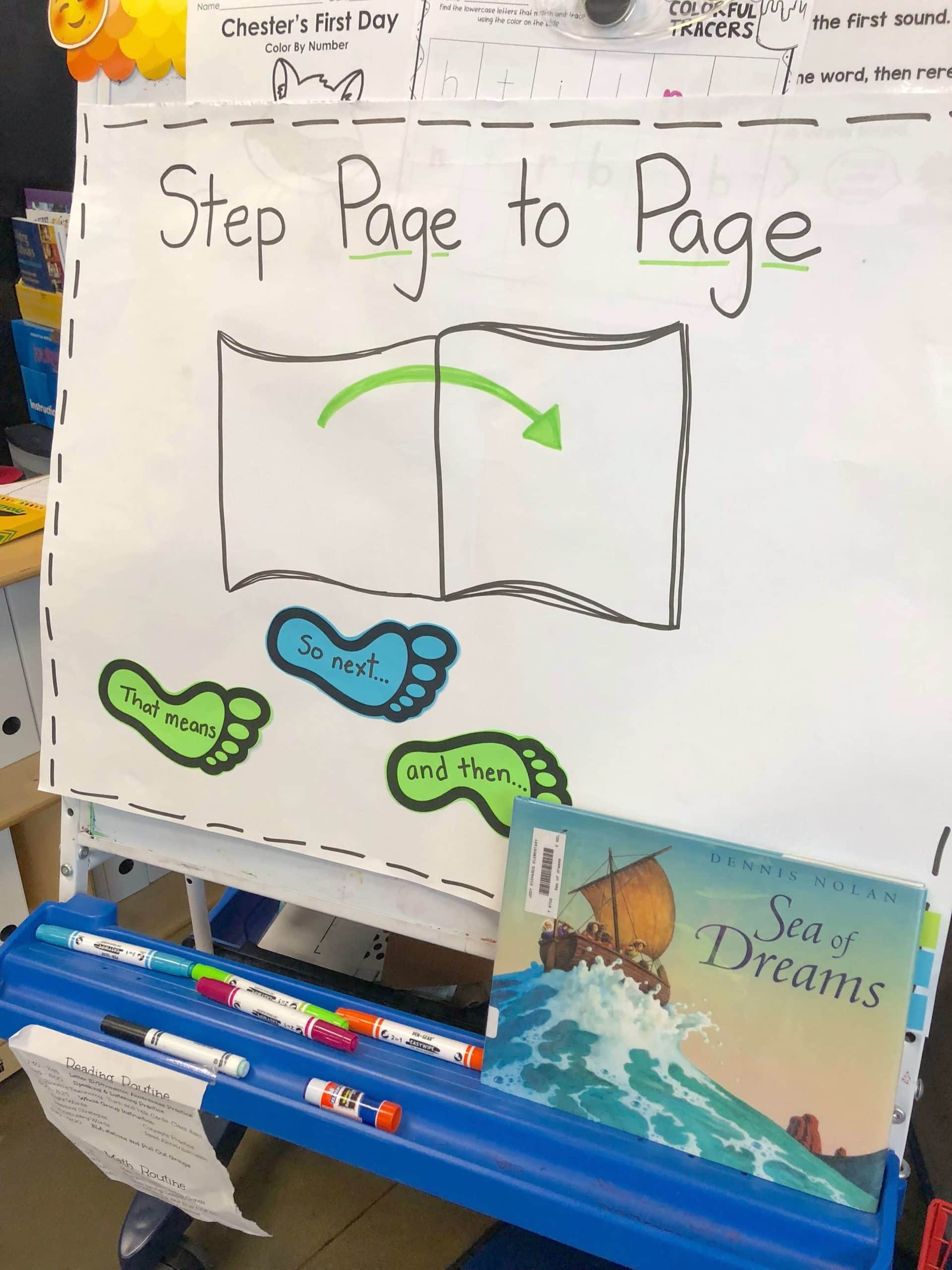 I'll share with students that we will be reading one of my favorite stories, Sea of Dreams. We open the book and are shocked/appalled to learn the words are missing. There must be a mistake?! (At this point, we are up in arms.)
Then, I introduce the learning target "I can tell a story that had a beginning, middle, and end using storytelling words." We work together to notice small details in the pictures to tell what is happening. We add dialogue to the story as the little boy falls from the boat, and we give life to the fish and mermaids as they help return the boy to his distraught family. This is such a lively story and our storytelling matches. There is lots of shouting and gasping and repeating.
As we move from page to page, I build in predictable "storytelling words" to help facilitate the retelling of the story. I will always include "and then" and "all of a sudden" and in some grade levels will also include "and that's when it happened", "meanwhile", and "immediately". Without a doubt, I overuse these phrases BUT I want it to become so predictable for students they join me in saying them. Storytelling words matter because they help the reader sequence events and help us transition from event-to-event.
Storytelling in Partners
After our class storytelling experience, students partner around the classrooms sitting knee-to-knee and elbow-to-elbow to tell a story together. Collecting wordless pictures from the public library, school library, and my personal connection, I try to keep a solid collection of 20-25 wordless picture books in a basket.
As students storytell with their partners, I want these transitions or "storytelling words" to be used. They help keep the story flowing, build suspense, and encourage the use of small details. (Also, using transitions is a writing standard K-6). As students create stories, I make my way to pairs asking them about the plot of their stories and interjecting my ideas. "Oh my goodness! The dog is so angry – "Why did my ball burst. I am so angry!" (A Ball for Daisy) to support, encourage, and connect with students.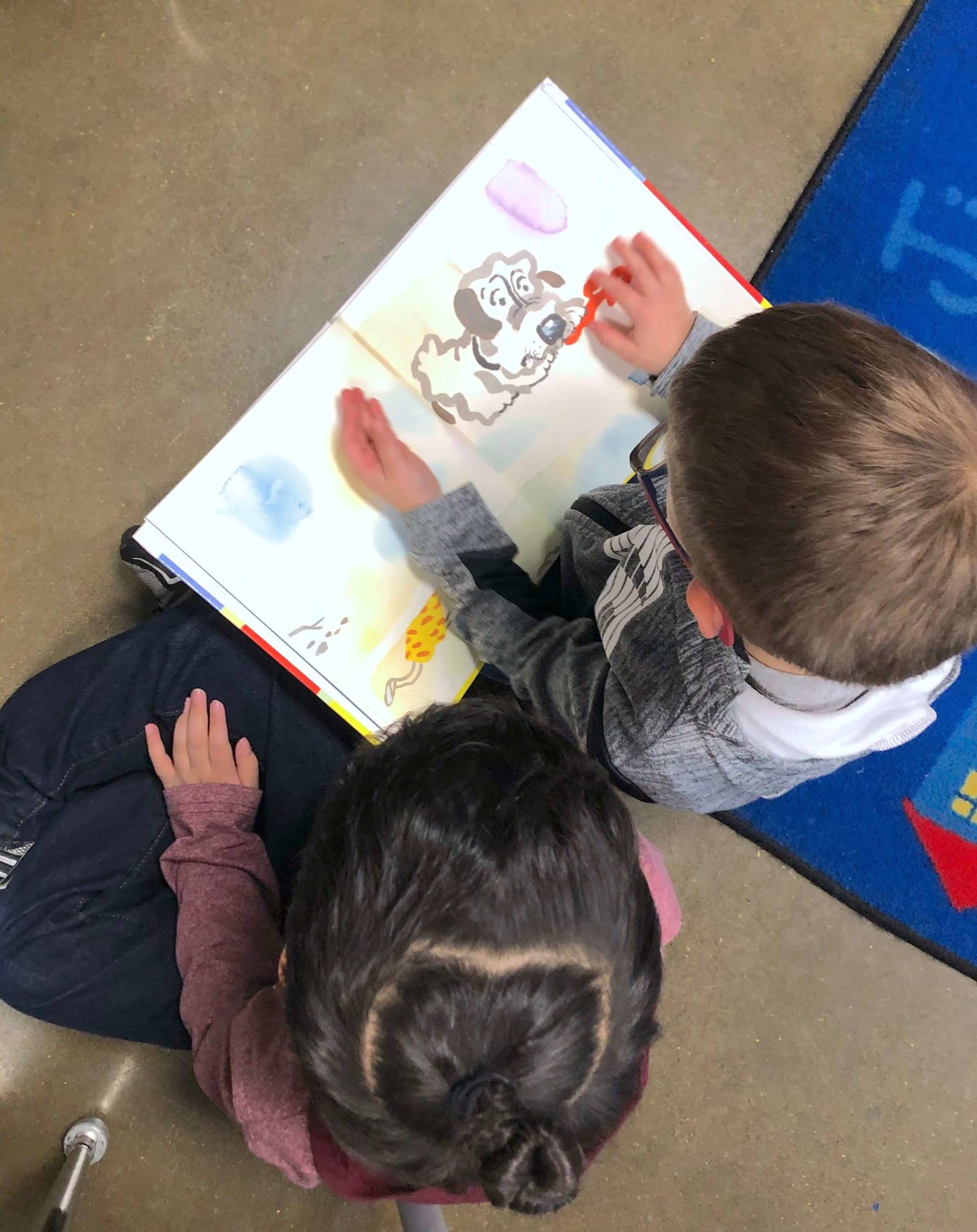 Each day that week we will introduce new storytelling words and practice retelling wordless picture books in partners. Sometimes it will be during our Core Reading Block, sometimes morning tubs, and sometimes during read aloud time. We will even practice practice retelling the books we are reading during writing (kinder student dictated as a scaffold).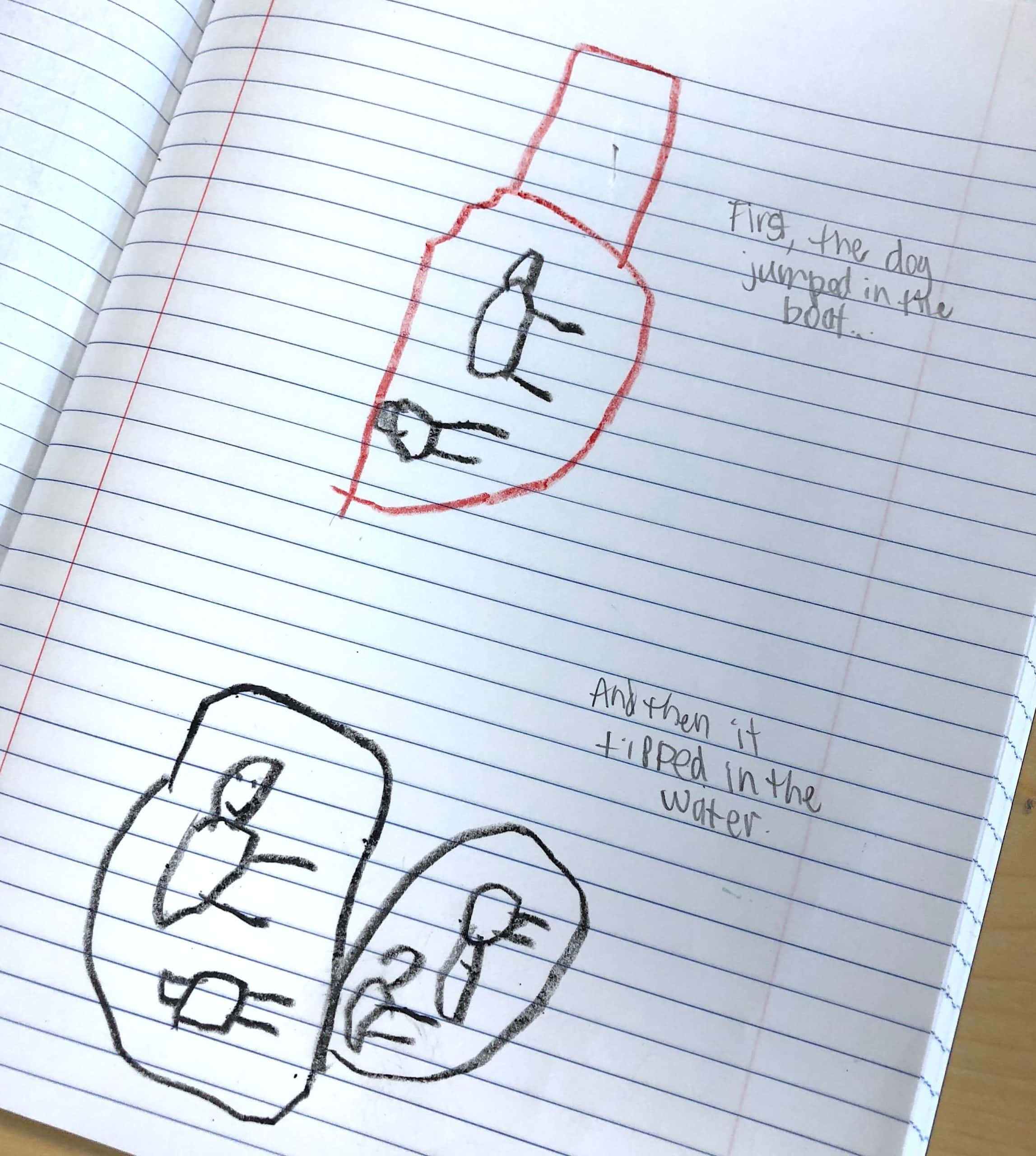 Ways to Use Wordless Picture Books in the Classrooms
Through wordless picture books, we can practice so many skills. They are ideal for slipping into units as an extension and or just a fun read aloud.
Circular Stories: In Kentucky several grade-levels have circular stories specifically listed in their ELA standards. As one would guess, circular stories end with they begin, sometimes with an extra character or twist. Most wordless picture books are actually circular stories ending where they started, so the story or adventure can continue.
Learning to Expand a Story: "First we woke up. Then, we went to Disney World. It was fun. The end." Does this sound familiar? Wordless picture books are the perfect way to have students create extensive and detailed stories orally. As a class or in pairs, students have opportunities to expand stories – creating plot lines and dialogue to match the book's illustrations.
Noticing Small Details & Reinforcing that Illustrations Matter: In wordless picture books the illustrations and small details in the stories ARE the story. Without them, we as the readers, would be left doing all the heavy lifting. From the details in the illustrations, we are able to develop the plots, connect with the characters, and imagine what comes next. For our budding writers, these are important lessons. Details matter.
Integrating into Other Units: Sometimes we might launch our reading or writing year with wordless picture books, and sometimes we will just sprinkle them into our pacing guide.

I Walk with Vanessa

is ideal for the beginning of the year as we talk about friendship, including others or any other time of the year when a lesson on kindness is needed.

Pancakes for Breakfast

is an amazing story to pull during how-to writing, as the main character makes pancakes step-by-step.
Our Favorites
Hands-down my favorite wordless picture book is Sea of Dreams. An imaginative story that launches with a little girl building a sandcastle. As the sunsets and the tide rises, we learn that the castle was inhabited by tiny people. In a daring escape from the flooding castle, the small child falls into the violent storm only to be saved by mermaids. Full of suspense and excitement, Sea of Dreams is magic.
David Wesiner is the king of wordless picture books. While all of his are good (Flotsam, I Got It, Mr. Wuffles), Tuesday is my favorite. Under the cloak of darkness, the frogs stage an uprising and take over the world. From flying on lily pads to watching TV, the frogs frolic and play while the humans are sleeping. As dawn breaks, the frogs return to their ponds and the people are none the wiser. This story is imaginative, silly, and so fun. It's easy to get students talking and giggling.
Imagine is a newer wordless picture book on the block and it's a good one. To me, it is definitely geared toward older students. A young man finds himself in the Museum of Modern Art and imagines himself being a part of the artwork. All of the sudden, the art comes alive and he is transported to the places, with the people, and in the eras showcased in the collections. There is so much culture and history included in this wordless picture book; you could spend hours noticing the small details in the museum's paintings and the author's illustrations.
Other favorites? Float, Journey, Chalk, Flashlight, The Three Pigs, and Art & Max are all winners, too.
Wordless picture books have a place in our classroom. Even if it is not a separate unit or mini-lesson, they are perfect for stocking classroom book displays, slipping into Writer's Workshop, or just celebrating awesome books.

Join me for weekly classroom updates and free resources that are just-right for your writing classroom!