Meeting with a group of kindergarten teachers about writing throughout the year, there is often a common feeling on "HELP! We are never going to be independent writers." If this is you, take heart.
Guiding writers is hard. Deciding how much support students need is hard. Trying to meet with and support all of your writers is hard. I see you. Independent writers aren't created in one day, one mini-lesson, or one mentor text. They aren't created in a week or a month.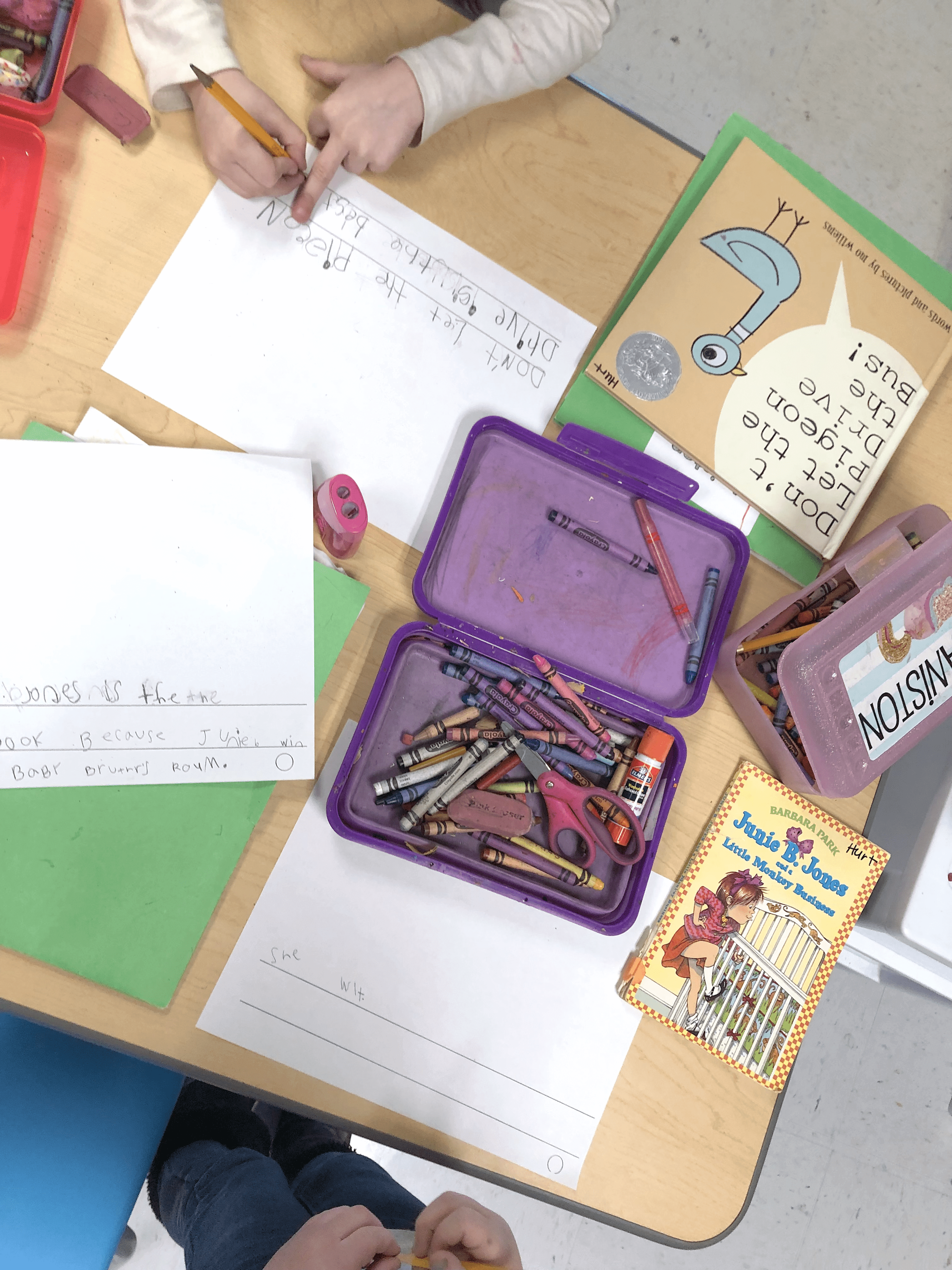 Teaching writing is truly the art of teaching. It's responsive, on-the-spot, and individualized. Also, teaching writing is all about the l-o-n-g game. It takes time, intentionality, daily opportunities to write, and appropriate scaffolds. Gradually we build independence in our students and our role, as a teacher, evolves.
Scaffolding Kindergarten Writers
There is no hard and fast rule about offering support. In general, the goal is always to reduce scaffolding over time. Over scaffolding can led to dependence and helplessness. A scaffold isn't meant to stay forever.
There are many different ways to scaffold students. (Read this post about scaffolding 1st grade writers.) Some students will need ALL of them. Others will be ready to independently write. While other students will start with dictating and not need tracing or rewriting. As teachers, we are responsible for making in-the-moment decisions about the just-right ways to push students based on instruction provided, student confidence, and writing samples.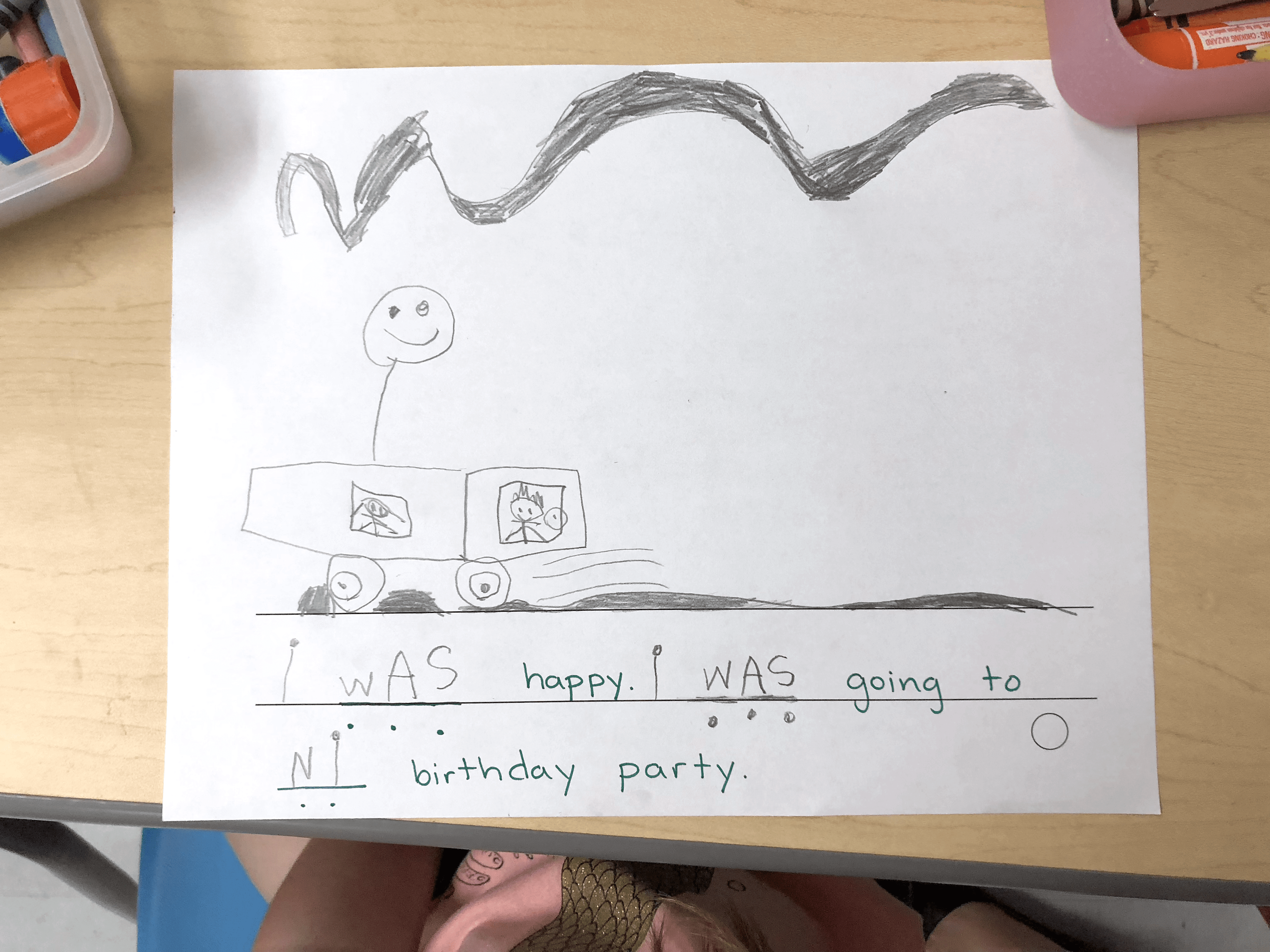 What Scaffolding Might Look Like
Below are some of my go-to ways for scaffolding kindergarten writers. You may have preferred scaffolds. Your students may need some of these and they may need none of them.
Oral Language
Drawing
Dictating
Tracing or Dictating + Rewriting
Dictating + Lines (words) + Dots (sounds)
Sentence Stems/Frames
Graphic Organizers
Oral Language
Before we ever touch a pencil, we must give opportunities for students to think, to learn, to play, to create. We want students talking, using vocabulary, answering in complete sentences, and being exposed to words. This means we spend a lot of time asking and answering questions, telling stories, and modeling/practicing complete sentences.
This also means phonological awareness skills matter! We use the Heggerty program 2x a day in kindergarten. This quick (8-10 minutes), scripted program offers student exposure to and practice with ALL the skills we will use in later writing scaffolds (counting words in a sentence, hearing and identifying the number of sounds in a word, isolating initial and final sounds, etc). Students who are unable to hear, produce, and manipulate sounds will often struggle with writing. Foundational literacy skills matter!
Drawing/Illustrating
Drawing is a skill we specifically teach in kindergarten. From finding small shapes in bigger shapes, adding details, making pictures life-like, having pictures match words – illustrations matter. Initially many kinder writers will not be writing at all. Rather, they will share their ideas with drawings. As students draw, we will encourage and support them in verbalizing their ideas. Oral language MATTERS!
Even when students are able to write sounds and words, having students start with the picture can allow you, the teacher, time to use the below supports with students who are ready.
Dictating
Scaffolding kindergarten writers will include a lot of conversation (before, during, and after writing.) Dictating is the highest level of teacher-directed support. For Kinder, the Common Core Standards read "Use a combination of drawing, dictating, and writing to compose…" (The new Kentucky Academic Standards keep these supports.). Which means, a student can still reach mastery of this writing standard using all of these things. Slowly, we start building independence – drawing lines to indicate individual words, identifying individual sounds in words (initial sounds —> final sounds —> middle sounds) etc.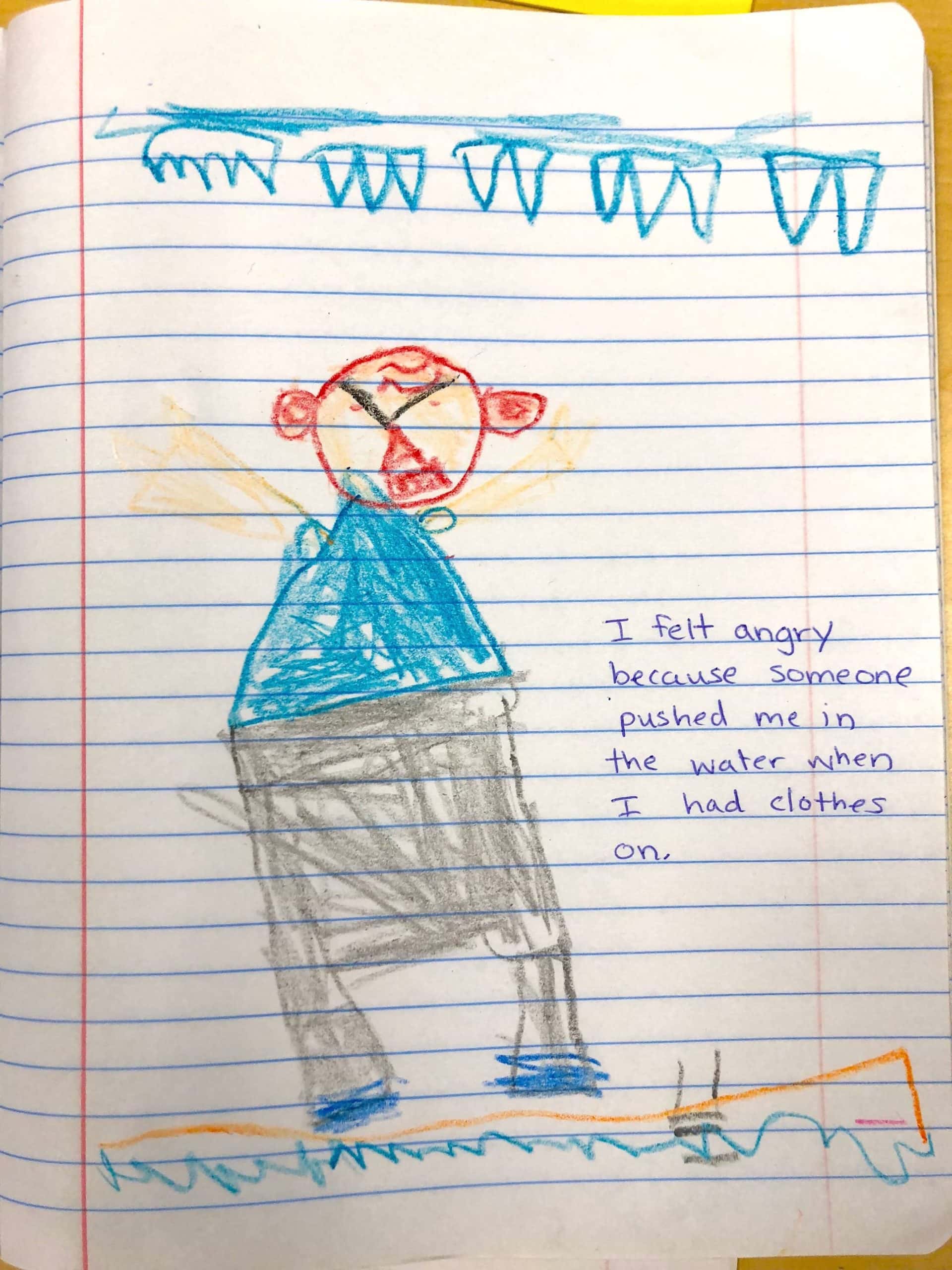 Some students will need more support than others. That's okay. The goal is progress.
Tracing/Rewriting
Not every student will need this scaffold (or any scaffold list in this post). So, I don't blanket use this support. It is only provided for students who are ready to write letters/words with the next level of support.
This friend was ready to story tell and had the OT skills to write letters and words. So, after drawing and dictating, the student used the teacher writing to share their ideas! Some students may need to trace and eventually copy from a teacher's writing of a dictation.
Lines (words) + Dots (sounds)
With this writer, we practiced clapping out and counting the words in each sentence (like we do in Heggerty). Then, I draw the lines and dots. (Lines = words, dots = sounds). This friend knows A LOT of sounds, so realistically the clapping and drawing of lines needs to slowly become his job. (Writing readers: It was a hot day. My cone is really melting.)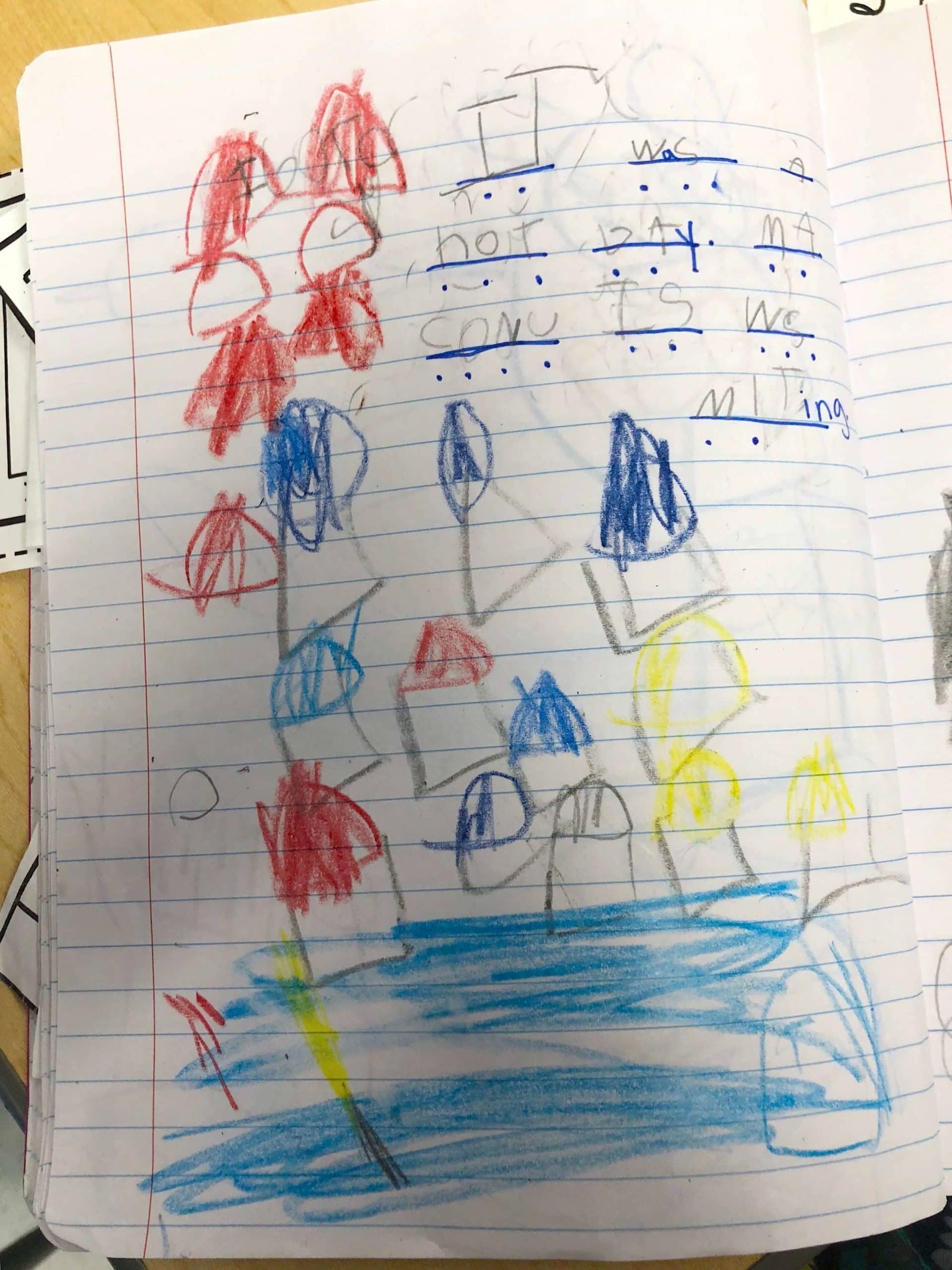 As students begin writing sounds on their own, we typically begin with beginning and ending sounds. Then, throwing in the medial sounds.
Sometimes we remove scaffolds and then say "Abort Mission!" Sometimes we can't make it to everyone who needs the support. That's teaching. For this friend, inventive spelling and random letter combinations are completely normal and appropriate. The next day, when more support was available, the focus was on clapping and drawing lines to indicate words. Then, we worked to identify final and ending sounds.
Non-teacher Scaffolds
We can also offer supports that don't involve direction teacher interaction. Using text-to-speech and/or voice memos are a viable option if students have an IEP that includes a scribe, writing is laborious, or there is an OT barrier.
Graphic organizers and sentence stems/frames can help support students in the language of writing (and academic conversation) while allowing them to focus on ideas and craft. (Below you see a main idea that was provided with students researching to find the details to support the main idea.)
Sound References
Offering references for sounds can be really helpful, too. We explicitly model how to use the charts during mini-lessons and then, revisit them frequently during our mini-lesson and sharing writing time. Using the same sound charts as you do in reading allows students repeated opportunities to have support in using them. Additionally, different charts can be used to support different students, based on needs (alphabet, digraphs, vowel teams, etc). This chart is from Haley O'Connor.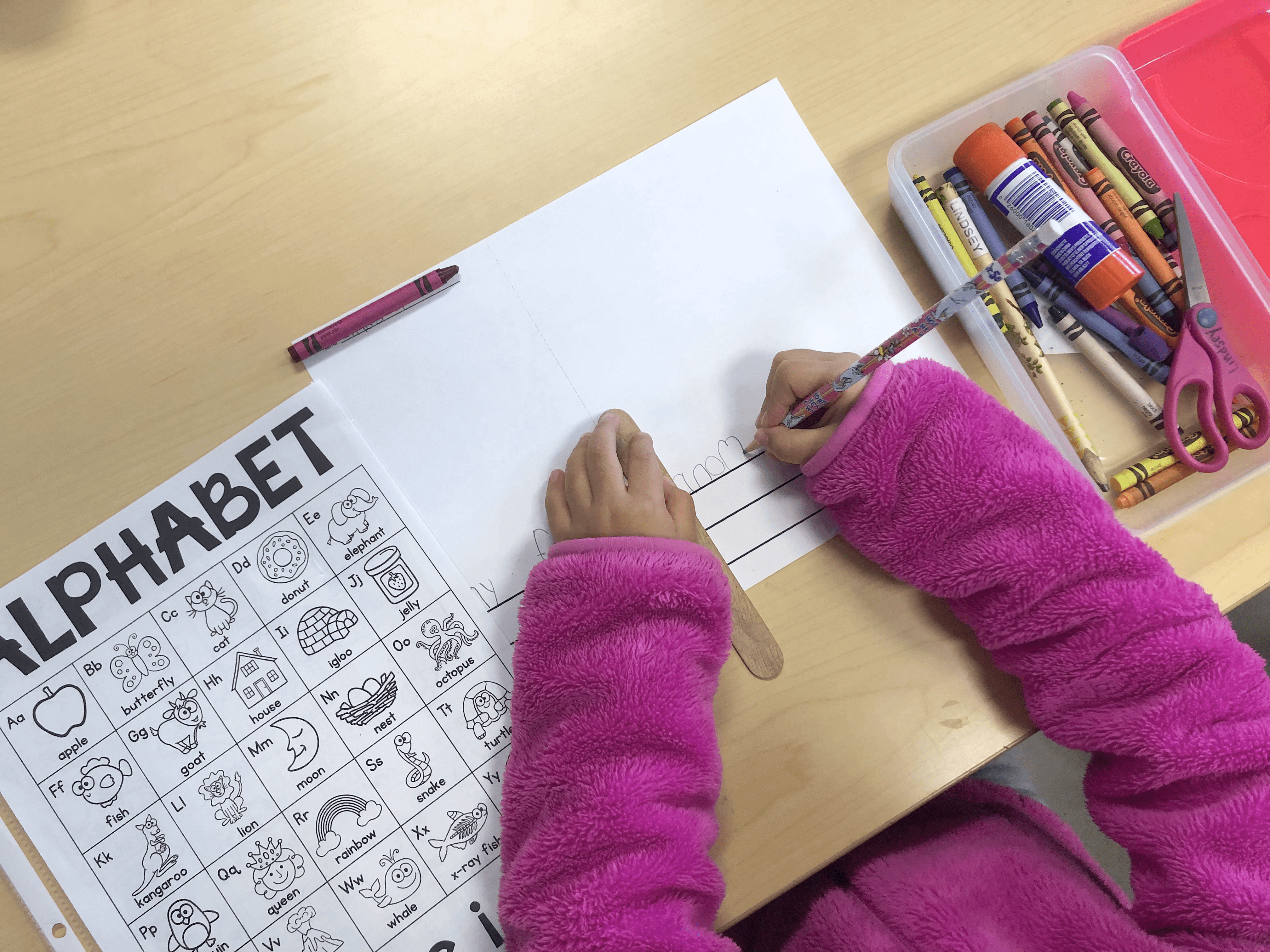 We can also offer word walls that are easily accessible to students: low, easy-to-read print, picture supports, words students routinely spell. I love this bulletin board paper word wall under a SMART board. So simple and easy.
You might even keep student-created words walls (word + picture) specific to themes or topics you've studied together. Slip them in a sheet protector and include them in student writing folders.
Writing is the Long Game
Teaching writing is truly the long game. It takes time, intention, support, trial and error, integration of skills…ALLTHETHINGS. Scaffolding kindergarten writers in the just-right ways can help build students' independence and success.
If there are other supports you use for students, I would love to learn more about that. Leave a comment below sharing your kindergarten writing experience!
FREE Work on Writing Papers