Want an alternative to Morning Work? Over Winter Break, I took time to reflect on what was working in my classroom and what still needed tweaking. Slowly throughout January, I've been taking little steps to fill the 'holes'. I'll definitely be sharing more about these holes in the coming weeks, and today I wanted to share about one change in our classroom -I decided to have a morning work alternative. So here we are! From morning work to morning tubs– how I made this happen in my classroom.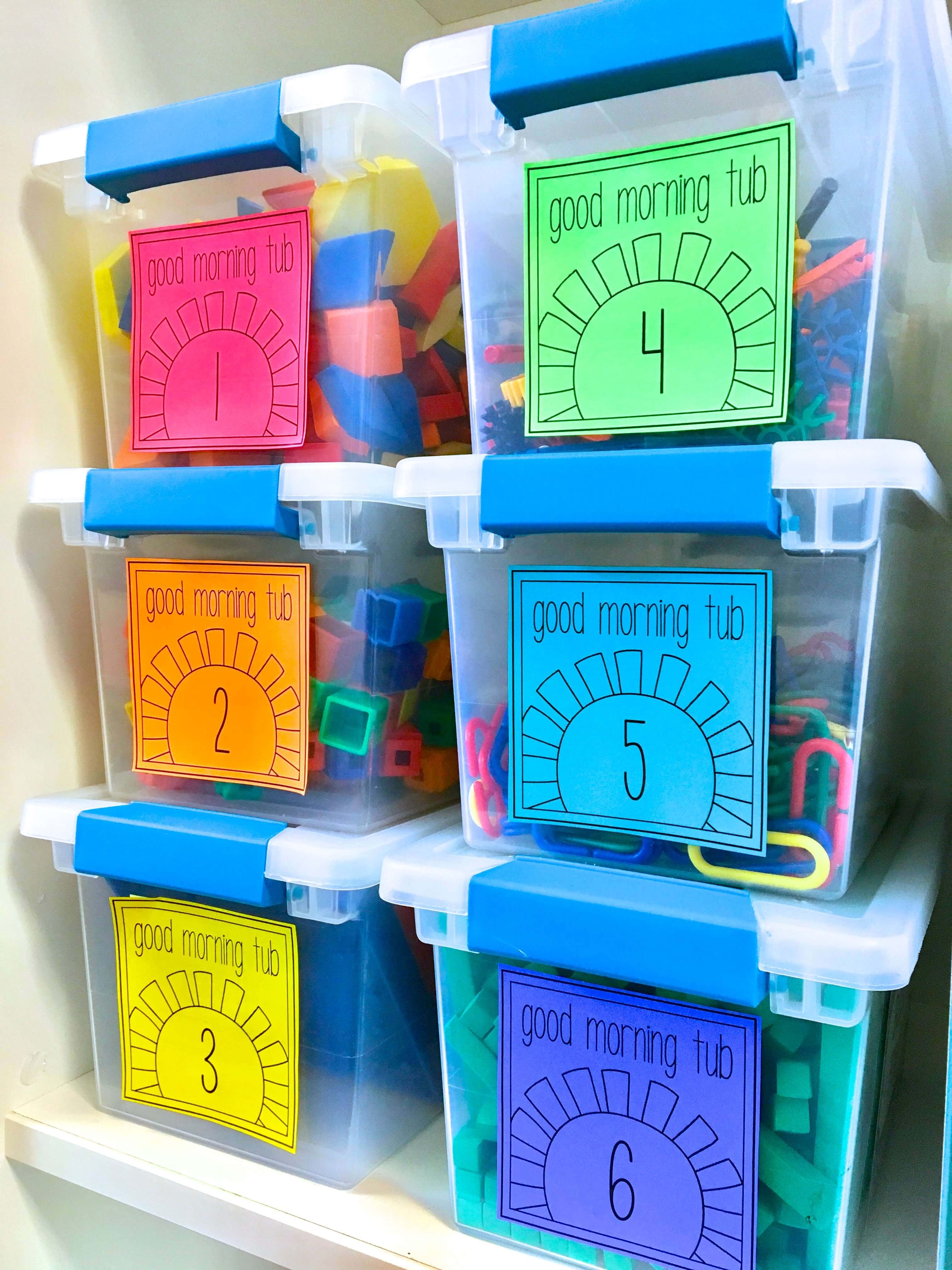 Throughout the post, you'll find Amazon Affiliate links, which means Amazon tosses a few nickels my way if you purchase something through that link, at no extra cost to you, that help keep my corner of cyber-space running and helps fund giveaways!  
Why A Morning Work Alternative?
I love this group of 1st graders but they are very different than my first group. Being the first time, I've been in a grade twice, it's been fun to see the 'personality' of this group. My friends love building, drawing, creating, and moving. We sometimes forget to unstack our chairs (and don't realize until our 6th grade chair stacker comes at 3:15); we really like being in charge of other people's lives (i.e. we're bossy), and we struggle to share. It has been a fun year, but exhausting at times. Unlike last year, I've had to explicitly model social skills – how to say excuse me, how to ask to join a group, how to play kindly at recess, how to walk by someone without touching them, etc.
With how much practice we've needed to interact with each other (especially in informal, social situations), I began reading
The Power of Play
 (Amazon Affiliate Link). It's a really easy read revolving around the idea that play sets the foundation for our later interactions with the world. It poses play not as an 'extra' but as a necessity and that play has been substituted for other things – iPads, TVs, toys, etc. It was a convincing read, a well-crafted narrative sharing the research of play. While reading Elkind, I looked at my schedule and asked – "Where can I incorporate more play into our already
busy day
?" Turning morning work into morning tubs was the answer.
What Are the Procedures of a Morning Work Alternative?
Our
Reading Block
starts at 8:40 AM and I respect (and NEED) the full time. Depending on how long our school-wide Morning Meeting lasts, we have 8-10 minutes of morning-tub time. Each Friday afternoon, I switch-out materials and place a tub on each table for Monday morning. After Monday, the tubs are stored in an extra cubby and someone from each table is responsible for grabbing a tub they have not yet used. (If groups fight over tubs, they cannot participate in morning tubs that day.)
As we walk in, I set our
magnetic timer
for as long as we have and students work together to create, build, imagine, and laugh. Students may use the materials at their table or they may independent/partner read. Unlike indoor recess, they may not choose any activity or any group. I place students very strategically at tables. I want them to learn and play with the friends around them. (Note – my tables all have 5-6 friends, so I try to place enough materials for 3 friends in each tub to encourage cooperative play.)
When the timer goes off, I set the timer again for 2 minutes. Students know they have to work together as a team to clean up and be on the carpet by the end of the 2 minutes. If a table has not synergized, they lose the privilege of participating in morning tubs the next day. Three weeks in, this has never happened. My friends really treasure Morning Tubs.
What is the Teacher Doing During Morning Tubs?
Great question! During morning tubs, I always take Attendance on Infinite Campus and check the turn-it-in tray. Earlier in January when first introducing morning tubs, I spent a lot of time playing with my friends modeling kind social interactions. Now, if specifically asked or needed, I will join our morning-tub time, which I love doing. BUT 8 minutes, is just the right amount of time I need to read with a friend. My friends LOVE getting to new reading levels and it's been a wonderful structure to encourage me to read with a friend each morning.
What Have Been the Benefits of Doing Morning Work Alternatives?
Even in a small amount of time I have noticed a few, important shifts in out day.
My friends have started thinking outside the box with the materials. Base 10 pieces are logs and phonics dominoes are a card tower. All the ways they want to play with reading and math manipualtives during reading and math, they now have a devoted time to do so.
Student walk in the door excited to get started. Morning tubs have minimized our morning routine. Students don't want to waste any time making lunch choices, putting away their folders, or stowing their backpacks because they know their time is already limited.
After playing and talking and laughing, my friends come to the carpet and are ready to learn. Our first Daily 5 choices have been out-of-the-world lately.
We've become a *little* more flexible. While I love morning tubs (and my 1st graders do too), sometimes it isn't possible. We need to start early or there has been a change in the schedule. When that happens, we've learned to say – "Oh well!" It's a special treat when morning tubs happen, but not expected.
Where Do I Get the Tubs?
Several years ago I feel in love with this clip top Sterilite tubs. They make the PERFECT storage container…so much so that I wrote a whole post about them here.  I use these medium clip-top bins for morning tub bins. They are much smaller than the large bins and SUPER deep. They are perfect for storing lots of manipualtives, cards, or materials. You can snag the labels FREE here.
What's In Our Morning Tubs?
Our morning tubs are filled with lots of  manipualtives (reading and math). While students are 'playing', they are also engaging with academic tools in a non-threatening way. They have the chance to explore new words with our phonics dice, they can make silly sentences with our sentence puzzles, create words with our letter tiles, conjure difficult math problems with the base ten pieces, and create 16-sided shapes with our geoboards.
Through Donors Choose I requested this low shelf that stores our morning tubs and indoor recess items. I love having one space where the bins are so students can grab them and go!
We have A LOT of building resources in our tubs. While this can quickly branch into "indoor recess" type of material, students still don't have full recess range of freedoms. Additionally, when students build, create, and collaborate they are active, talking, and building relationships. We love Tinker Toys because we can create spinning and moving machines!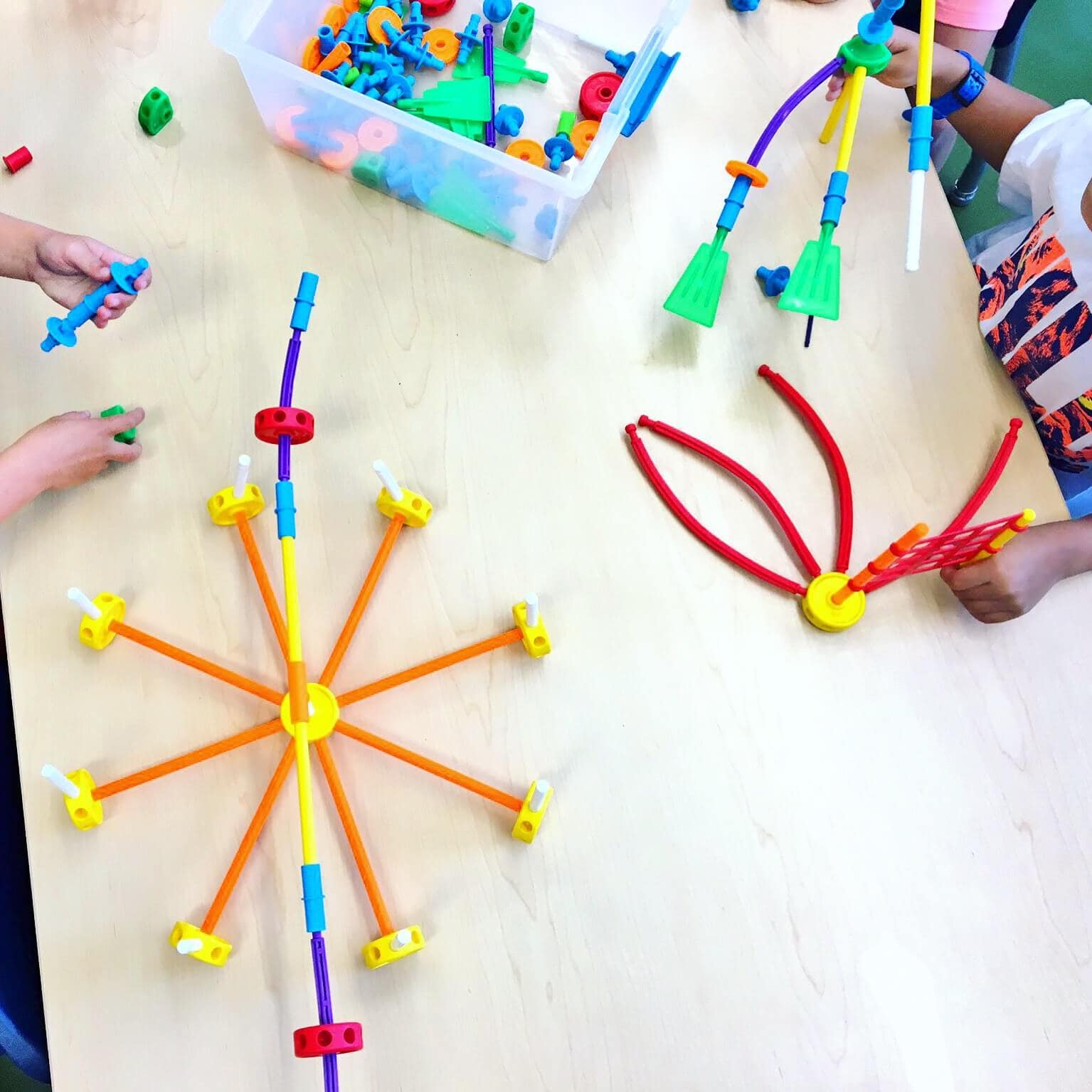 Interlox are also a class favorite. At first my friends struggled with them because their natural reaction is to build up. Students quickly learn that if they only build up, their towers will topple. By building wide and creating a strong base, students learn that they can create intricate buildings with these tools!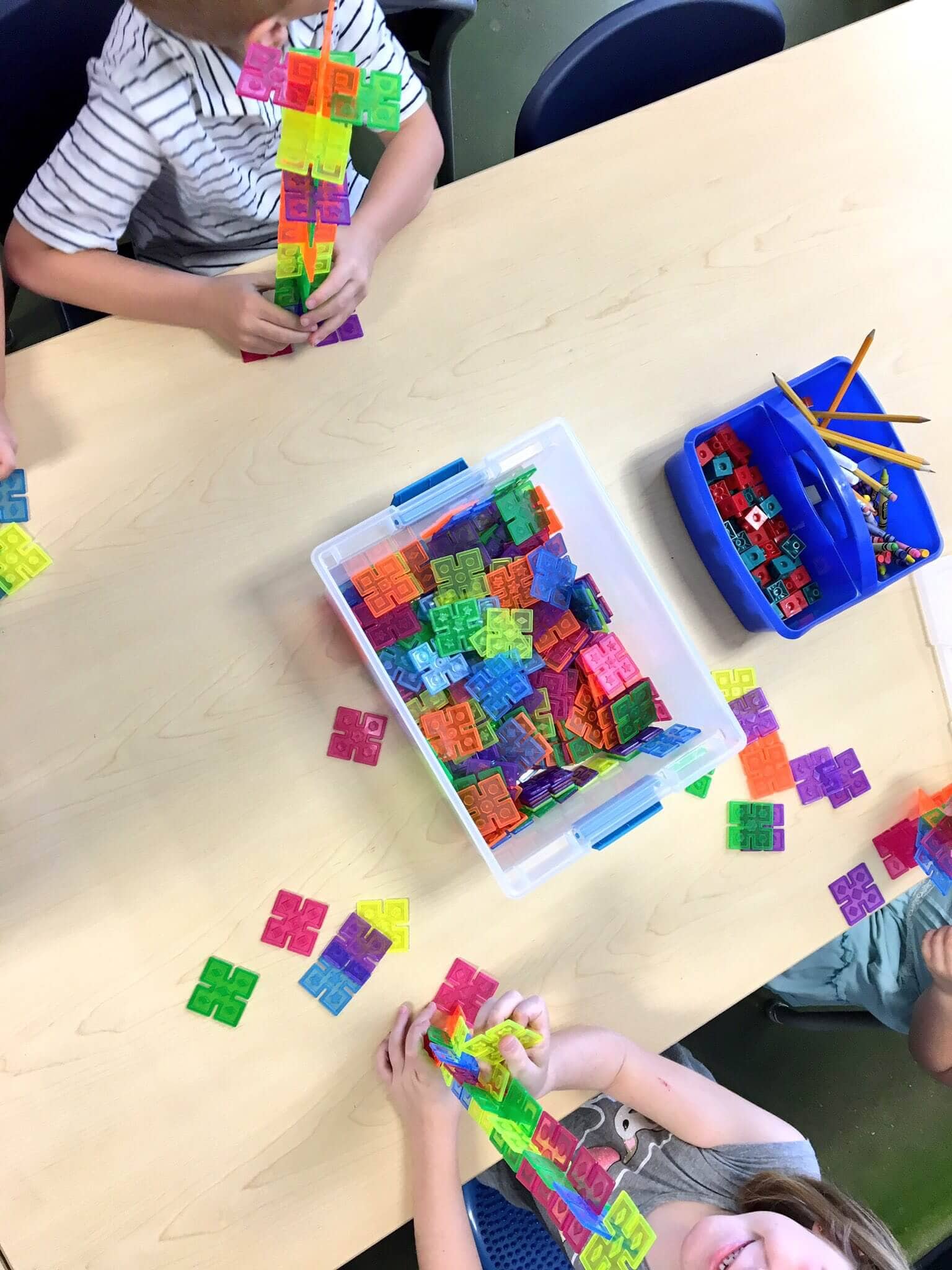 MagnaTiles are THE favorite material in our morning tubs. These magnetic building blocks are amazing and students can create almost anything they want. From 2D shapes to mazes to 3D masterpieces, MagnaTiles are pretty awesome! With that said, they are incredibly expensive (thanks, Donors Choose!) and they are a beast to clean-up. Still, childhood joy and excitement wins, so the MagnaTiles stay!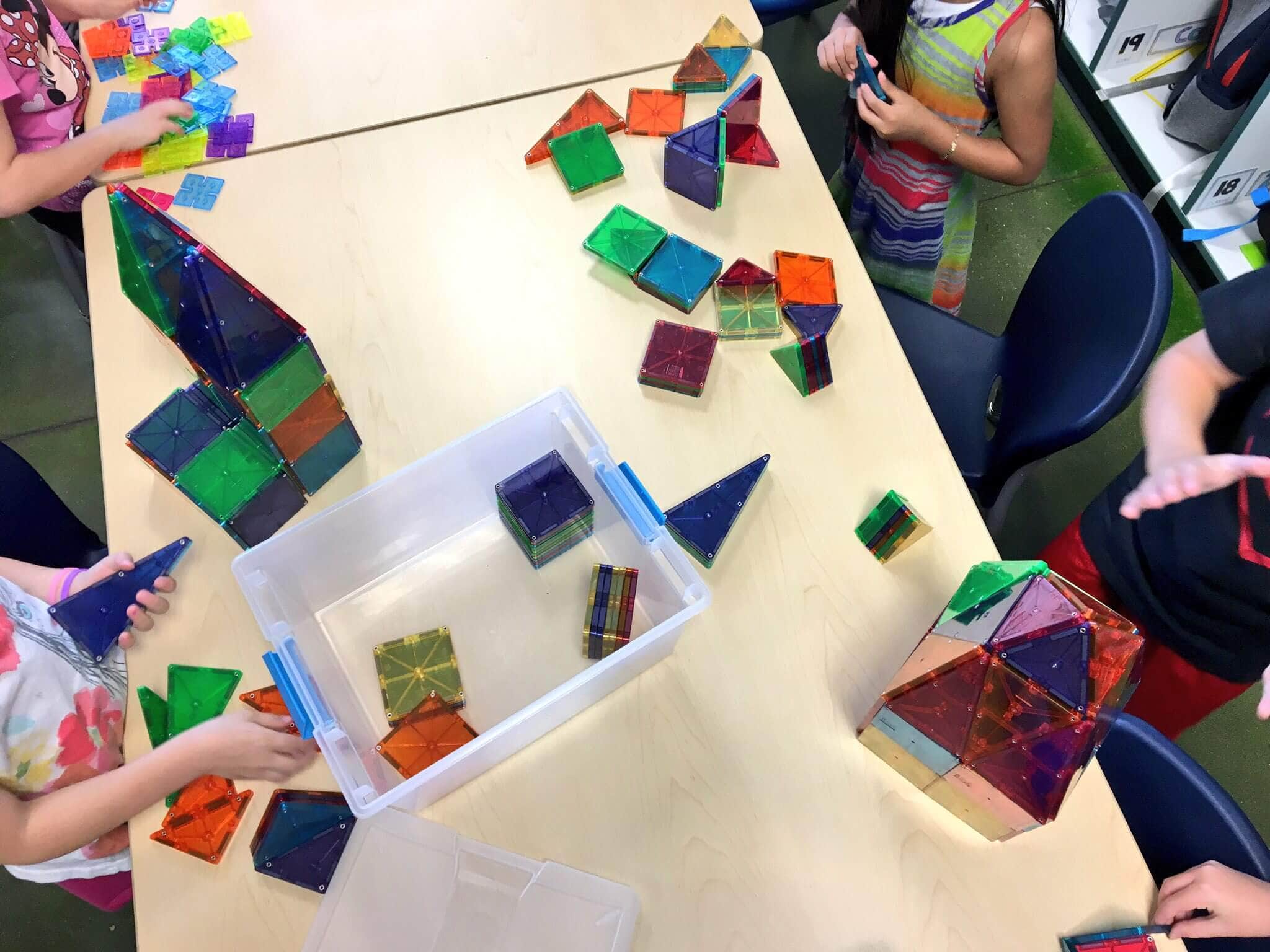 My 1st graders also LOVE Story Cubes. Each set of cubes has a different theme (verbs, ways to move, places to visit). Students role 2-3 of the dice and combine them into a story. These dice are perfect for adding excitement to writing and build a nice bridge to work on writing!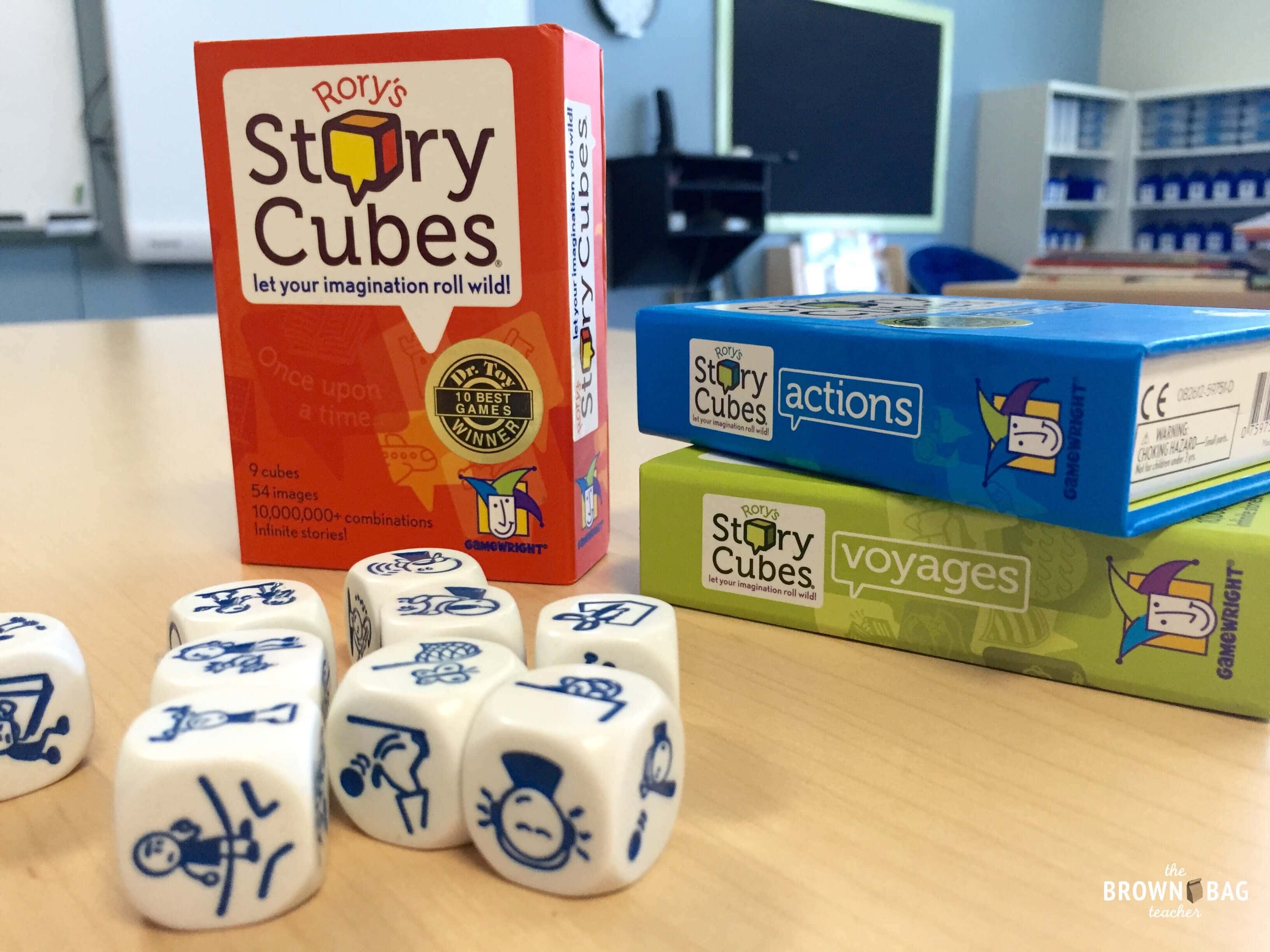 Reuse, Reuse, Reuse
While our classroom has been blessed with lots of Morning Tub choices from Donors Choose, yard sales, and family donations, I routinely use materials I am also using for reading and math. Just starting with Morning Tubs? Check out some of my go-to tub items! 
If you are looking for other ideas to keep your Morning Tubs fresh,
check out this blog post
where  I share over 50 of our go-to morning tubs!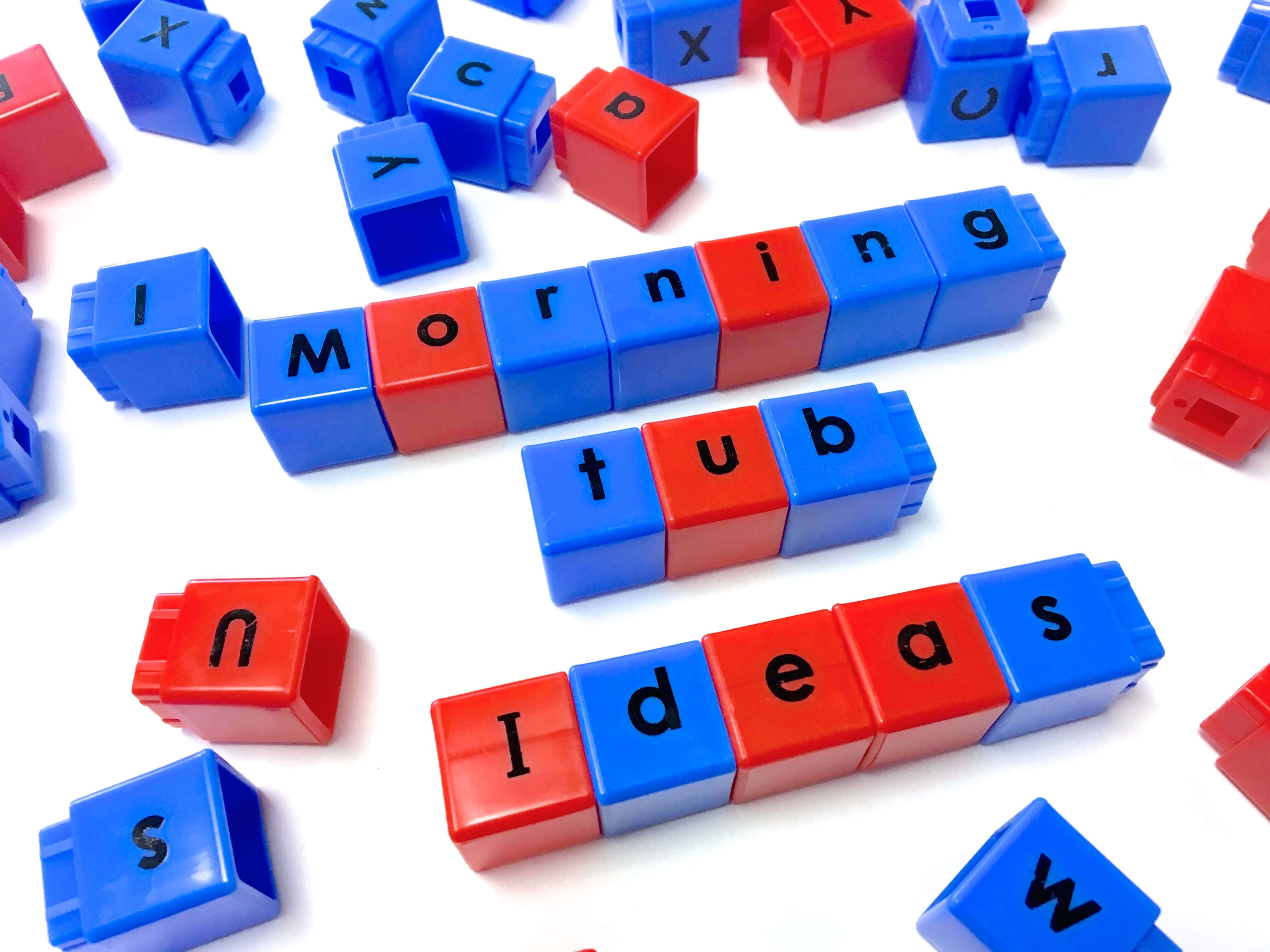 Friends, I do believe in the power of play and believe it has an important place in our classroom. I'm excited to see the opportunities and doors Morning Tubs open in our classroom. While we are just beginning, I can't wait to see how far my 1st grade friends will come in the next weeks and months. So, how do you fill those morning moments? Have you ever tried morning tubs or exploratory tubs before? If so, I would love to hear your experience and ideas. If not, is this something your friends need or would respond positively to? I'd love to hear your thoughts!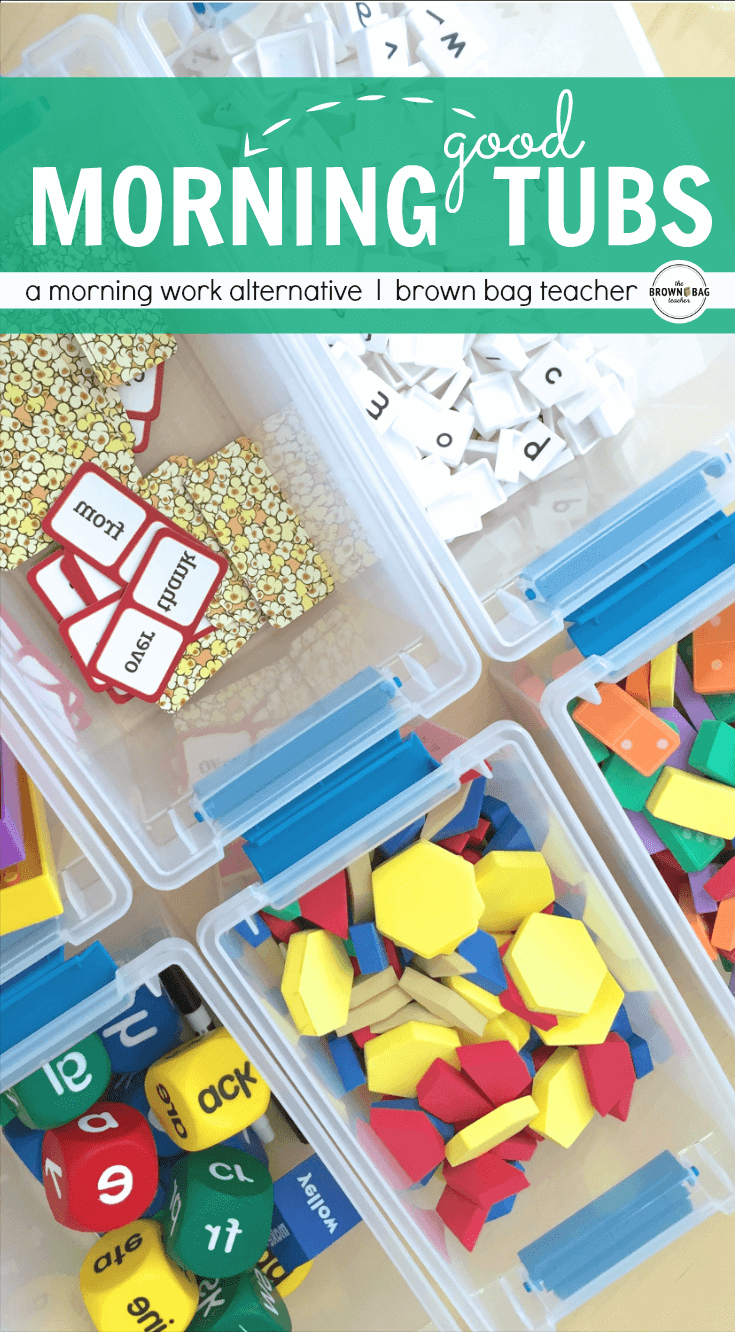 Join me for weekly classroom updates and free resources that are just-right for your guided math classroom!