50+ Morning Tub Ideas
A Morning Tub is a great way to offer a play-based opportunity for students to explore, create, and communicate. A non-threatening way to start the day, Morning Tubs help reduce the length of your morning routine, get students excited about the day, and also encourage collaboration. You can read all about how Morning Tubs work in my classroom and ideas for launching them with your students in my blog "A 1st grade Morning Work Alternative"
After implementing Morning Tub Activities for the last year-and-a-half I wanted to share with you my go-to Morning Tub ideas. From classroom basics to manipulatives to treat ideas donated by Donors Choose, here are 50 Morning Tub Ideas for your classroom! (Snag free labels for your tubs here.)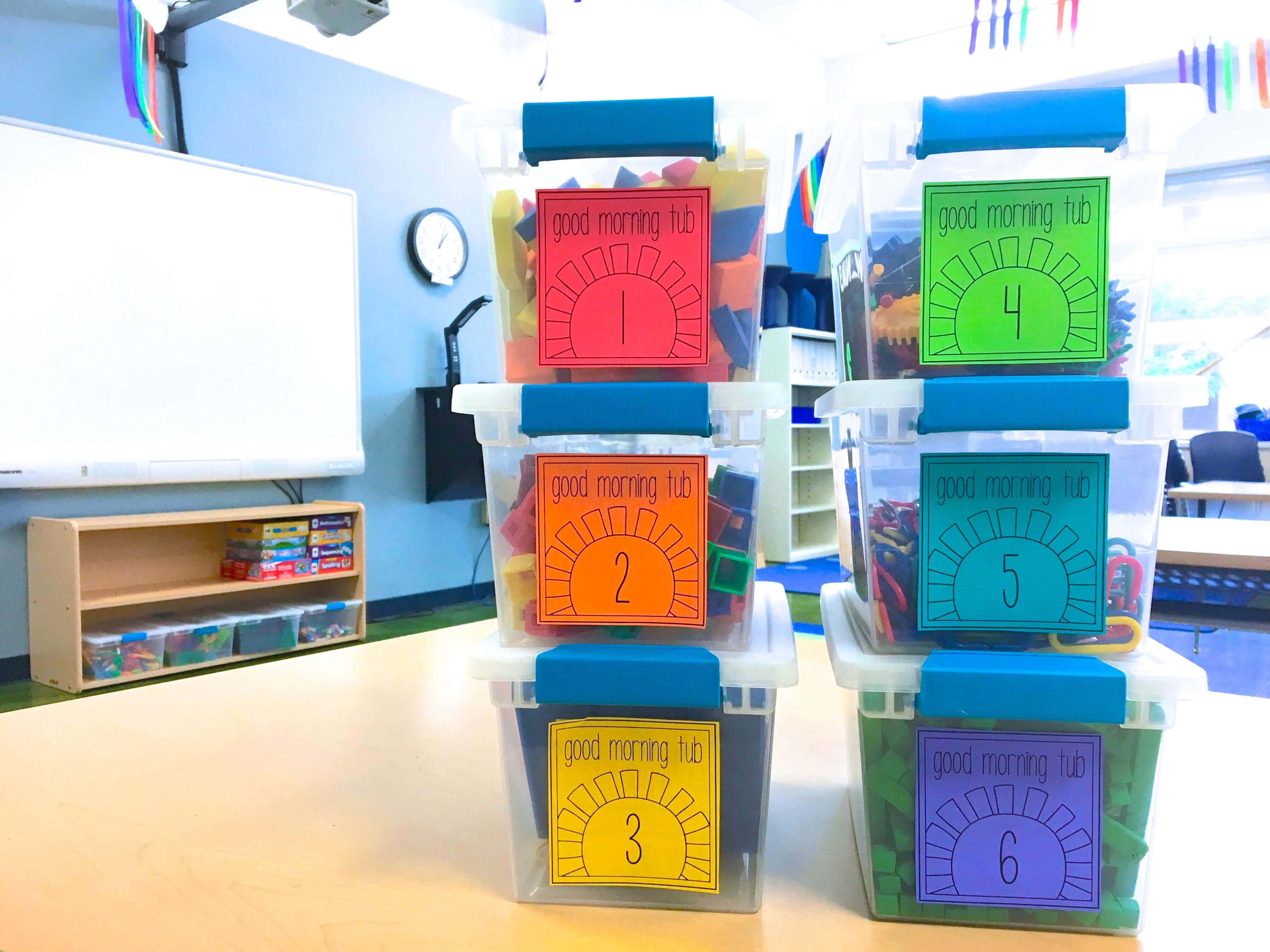 Throughout the post, you'll find Amazon Affiliate links, which means Amazon tosses a few nickels my way if you purchase something through that link, at no extra cost to you, that help keep my corner of cyber-space running and helps fund giveaways!  
Literacy-Based Ideas for Morning Tubs
Letter Cubes – From student names to environmental words to weekly phonics patterns, these letter cubes are perfect for building words or towers! Equally important is that students are having fun while learning!
Phonics Dice – Add phonics dice with a whiteboard and students can simply and easily sort real and nonsense words!
Letter Tiles – Play like scrabble or just see who can make the longest word!
Story Telling Cubes – My 1st graders also LOVE Story Cubes. Each set of cubes has a different theme (verbs, ways to move, places to visit). Students role 2-3 of the dice and combine them into a story. These dice are perfect for adding excitement and novelty to writing!

Letter Beads & Pipe Cleaners – Perfect for building fine motor skills, students can build sight words, weekly spelling words, or names of their friends!
Magnetic Letters- Let students have some fun while also building their vocabulary and practicing spelling!
Phonics Dominoes – Perfect for Morning Tubs or a Guided Reading warm-up, there are lots of different types of tiles – blends, long vowels, digraphs!
BrainQuest Cards– Pull out your old knowledge fans from the attic and put them to use! Chick-fila often includes these in Kids Meals, so keep your eyes open!
Bananagrams for Beginners – This set of Bananagrams is made for little friends and has digraphs and blends already attached. So th, ee, bl, etc. are already attached, so students don't have to find the individual letters! Please note, this is HARD. It takes lots of practice with small groups of friends. It is a blast, but definitely takes practice…so be warned!
Scented Markers & Letter Writing Paper – Who doesn't love the chance to write with scented markers? From teacher love notes to staff appreciation notes, give students the chance to write freely and for their own purpose.
Math Connections In Morning Tubs
Exploring & Creating Fun In Morning Tubs
Origami Squares & Directions – There are tons of free online tutorials that can be easily printed and slipped into a tub. Plus, during the winner, paper snowflakes make a perfect classroom decoration and in the spring, who doesn't love making a paper airplane?!
Playdoh and straws – Use 1 inch straw pieces to act as building blocks or to help form letters!
Stencils- Let kids draw and make some pictures with stencils!
Rubbings – From coins to leaves to texture blocks, rubbings are a think of the past. Last fall when I introduced my friends to leaf rubbings, they responded "Oh I've done this on the iPad." No. No you haven't.
Whiteboards & Markers – What kid doesn't dream of being able to use the whiteboard however they wish?!?
Strips of Colored Paper (paper chains) – Let students write what they are learning right now, words that follow a phonics pattern, or reasons they love school. Regardless, it's a perfect chance to sneak in some writing and brighten up your classroom!
Stamps & Scrap Paper – From letter stamps to design, students can create their own scenes that will be perfect to write about during Work on Writing!
Coloring Pages- Who doesn't love to color? Not only is it fun but a great stress relief to start your day.
Nature Bin – Add magnifying glassed with shells, rocks, leaves, pinecones, and other outdoorsy things and let your students explore, make observations, and record their findings.
Plastic Animals- Kids love using their imagination and play with plastic animals! Also, kids get to practice learning about different animals
Designing Ideas For Morning Tubs
Plastic Cups for Stacking
Popsicle Sticks & Marbles – A bag of marbles from Dollar Tree and a box of popsicle sticks make the perfect materials for a maze. Students have to create a pathway using the sticks and then, 'run' their marble through their creation!
Index Card Towers- This one is a hard one but also such a fun one! Have kids make a house or get super competitive and have them try to build the biggest tower.
Target Mini-Erasers – Students can sort, create patterns, and build with this Dollar Spot winners!
Playing Cards – Perfect for Go-Fish, War, or just building, cards are a simple and timeless morning tub.
Fine Motor Skills Morning Tub Ideas
Lace Cards- Talk about a great fine motor activity! Have students lace through the holes on their cards!
Geoboards – Rubber bands are a perfect way to strengthen little fingers. Plus, geoboards are a blast! From designing letters to making shapes with task cards, their are endless possibilities!
Yarn & Scissors – Although it's a messy tub, students love cutting yarn to create names, sight words, or even depict our weekly vocabulary words. Take a picture, upload it to SeeSaw, and BOOM!
Pom poms & tongs- Yet another challenging but fun activity for your morning tub that is guaranteed to bring fun to your classroom.
Morning Tub Game-Based Fun 
Triangle Peg Boards – Pick up 2-3 of these peg boards for an easy, strategy-based Morning Tub option. Before you slip them in your tubs, make sure to give them a coat of paint. Most of the boards have some not-school-friendly words on them! (If you have 5 pegs left, you are just plain dumb. If you have 3 pegs left, you are an ignoramus. etc)
Making 10/20 Connect 4 – Wether it's a math center or a morning tub, we love this game! Read more about how we play Connect 4 and FREE visual directions here.
Making 10/20 Go Fish – Card games are always a win. We build number fluency while practice important social skills – asking others for something, including others, losing/winning gracefully.
Shut the Box- This morning tub activity is sure to bring some fun and learning to your classroom!
Special Building Resources for your Morning Tub
So Who is Footing the Bill?
This is the awesome thing about Morning Tubs, most of the materials are things you already have laying around your classroom. You only need to buy things if you want to, otherwise reuse what you have!! If you are looking to gather other Morning Tub materials affordably, consider some of my go-to sources!
Donors Choose – Donors Choose is a crowd-funding hub that allows public-schools to request classroom materials, and for people across the world to fulfill those requests. Donors Choose helps connect the public to schools and helps lessen teacher spending by providing materials that students need to learn- making connections, and helping to fill the gap in unfunded school programs. Read more about how to get started on Donors Choose and ideas for projects in THIS blog post. Without a doubt it will be helpful!
Yard/Garage Sales- never underestimate the power of a good garage sale! Other's junk is the perfect opportunity to find activities for your morning tubs!
Goodwill- What does Goodwill not have? Literally a goldmine for your morning tub! Besides, we all love a good trip to Goodwill and this is a great excuse!
Asking families to donate old, gently used games/materials from home (This works the best during Winter Break when families are cleaning out playrooms and in May when families are considering which games/activities are too young for their child!)
Lastly, you can Use your Scholastic Bonus Points to shop the Teacher Catalog – Read HERE how I maximize my Scholastic Order to snag more bonus points for my classroom!
What Do You Think?
So friends, are you ready to take the Morning Tub jump? If you are already using Morning Tubs, I'd love your help. What are your go-to materials for your Morning Tubs?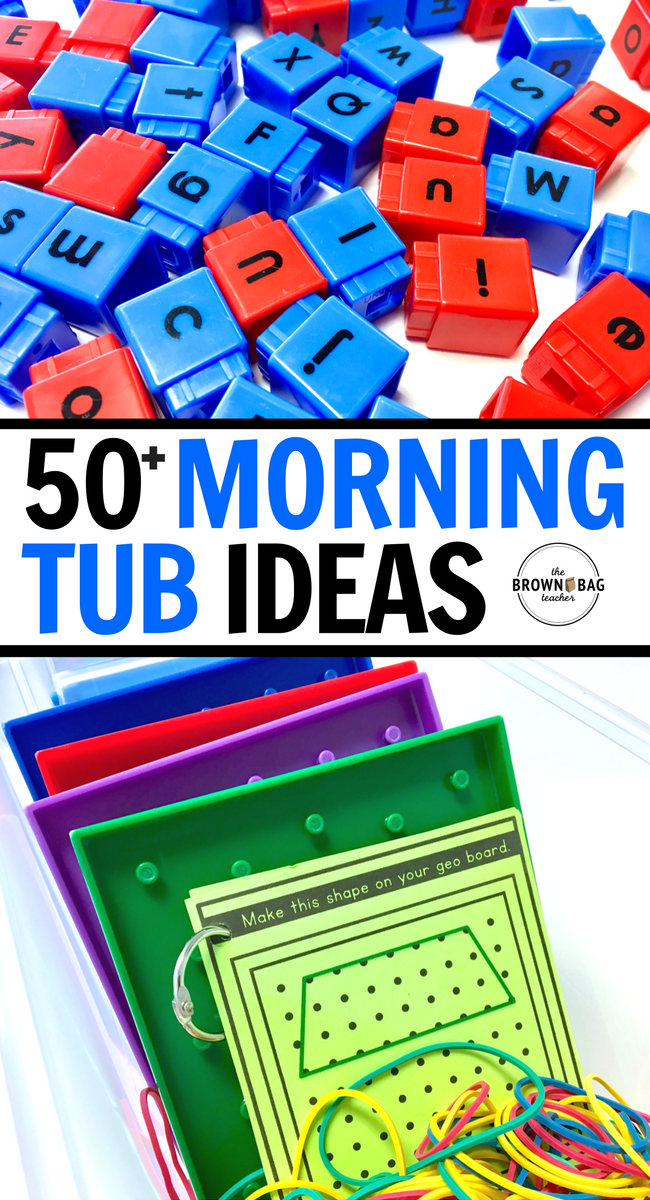 Get Free Teaching Resources!

Join me for weekly classroom updates and free resources that are just-right for your guided math classroom!