Hi. I'm Catherine, and I struggle adulting. And food is hard. In the summer months, I am actually a great cook. But, during the school year, my teacher lunches consist of fruit and veggie trays, oatmeal, canned soup, and popcorn. Anyone else?
Lately I've been aiming for extra adulting stars and preparing some things on the weekend. This means I have WARM meals for lunch and dinner. Say what?!
Plus, it saves me from buying all the random things from the school cafeteria. (Although note – our school meals are AMAZING.)
Teacher Lunches – My Requirements
When considering what I am cooking, I have some meal requirements. My demands when trying a recipe are:
Must make at least 3 servings (more is preferable)
Must be able to be microwaved in less than 4 minutes
Can't have a horrify smell when microwaved in school lounge
Must have vegetarian option (I don't do meat)
So, here are some of my favorites that meet my demand. Please note – do not ask too many particulars. Basically for all recipes, you just layer or sauté all the ingredients. Again, I am just trying to earn adulting stars.
Teacher Lunch Supplies
To keep things up and running, I like to keep a stash of my go-to, most-used items.
3 Compartment Lunch Boxes – These are just the right size to keep allll my food from touching. Plus, they can be made and frozen and are easy to slip into the dishwasher without being destroyed!
Reusable Soup Containers – Perfect for soup or oddly shaped foods (i.e carrots, candy, etc). These also double as create watercolor cups.
Condiment Containers – Mushy bread and salad be gone! I use these small containers mostly for condiments, M&Ms, and nuts!
Taco Variations
The most versatile of all meals. Sauté Morning Star Crumblers (or meat) with peppers, onions, and a tomato. Add taco seasoning and a can of black beans. Boom done. Now, this mixture can be added to taco shells, beds of lettuce, or tortillas. Add salsa and sour cream. Delicious.
Lasagna
Sauté Morning Star Cumblers (or meat) with diced onions, minced garlic, tomatoes. Add in spaghetti sauce. Layer no-boil lasagna noodles, sauce mixture, cottage cheese, and mozzarella until out of ingredient. (Makes 6 meals, from Morning Star Farms)
Pizza
Buy a crust. Roast peppers, onions, and corn in oven (and/or whatever veggies your heart desires). Use spaghetti sauce as a pizza base. Adds lots of minced garlic. Add roasted veggies UNDER and over your cheese mixture. Bake the pizza, slice, refrigerate. (Makes 3 meals)
Grab & Go Teacher Lunches
Sometimes life happens and there are meals in my fridge. If that's the case, I love my bento box.  With 2-3 proteins (cheese, cottage cheese, peanut butter, yogurt) + 2-3 carbs (crackers, granola, fruit) + something sweat, it's easy to grab my bento and go!  I always make sure to grab 2-3 items from my at-home snack bowl. These things are ready-to-go, pre-portioned and things I enjoy.
While I keep a stocked snack bin at school for students (and myself), the things in my teal at-home bowl (above) are just for me. 🙂 Below is a stock snack bin I keep at school for anyone. (Note – Depending on food allergies each year, the things I am able to keep in this bin change.)
Well, friends – I am always looking to expand my repertoire of EASY, SIMPLE and delicious school meals. If you have favorites, definitely share them below. With 185 school days – the more, the merrier. 🙂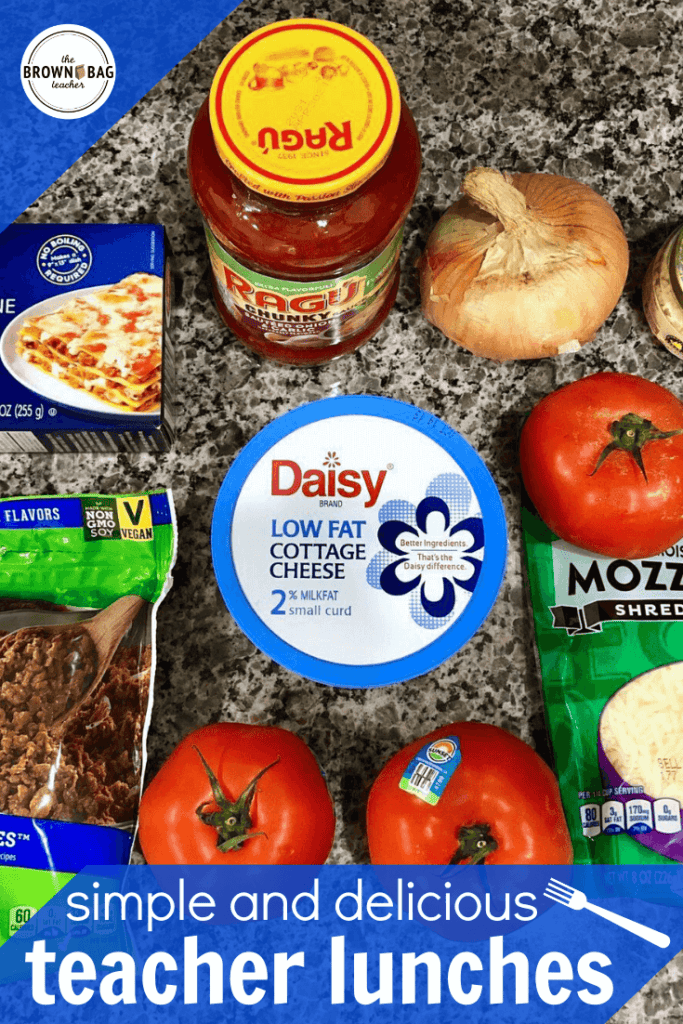 Get Free Teaching Resources!

Join me for weekly classroom updates and free resources that are just-right for your guided math classroom!