As a part of the Operations & Algebraic Thinking standards, 1st grade students are expected to add and subtract within 20, building fluency within 10 using a variety of strategies. (The fluency benchmark for kindergarten is 5 and for 2nd grade it is 20.) The "variety of strategies" includes, but is not limited to, making a ten, decomposing a number to a ten (i.e. making 10 to subtract), relating addition and subtraction, and equivalent sums. As teachers we offer, highlight, and celebrate different strategies so students have a "toolbox" to choose from when solving a problem. Students will have individual preferences. Different situations lend themselves to the use of different strategies. This is okay and expected.
In 1st grade 10 becomes a benchmark number, which supports addition and subtraction as a mental process. Making 10 to Subtract is an important skill for our primary learners. Initially, though, this can be a tough skill. (Snag resources for your classroom here or the Add/Subtract Bundle here.)
As we are guiding students to 10, it must be a hands-on process. Students must have hands-on opportunities to break apart numbers, redistribute their placement on ten frames, and create new equations. Students should be repeatedly building, moving, and creating equations with counters and ten frames.
Then, we move students to the semi-concrete, drawing and illustrating the process.
Finally, students use numbers and number bonds to show their thinking in the abstract.
If students struggle within this CSA continuum we back up. When semi-concrete understanding is a struggle, then return to the semi-concrete. Should we progress to semi-concrete and realize it's a mess, we take it back to different concrete experiences. Even when students can "do the numbers" it's important to ensure they really have a conceptual understanding. This understanding is critical to true mastery of Making 10 to Subtract.
Practice with Making 10 to Subtract
For many students (myself include) 10 is not as natural of a benchmark for subtraction as it is addition. Therefore, it may require more concrete experiences and more play! Long-term we don't want to force students into using this strategy, but we do want them to be proficient enough to be able to employ it when a problem or situation demands it.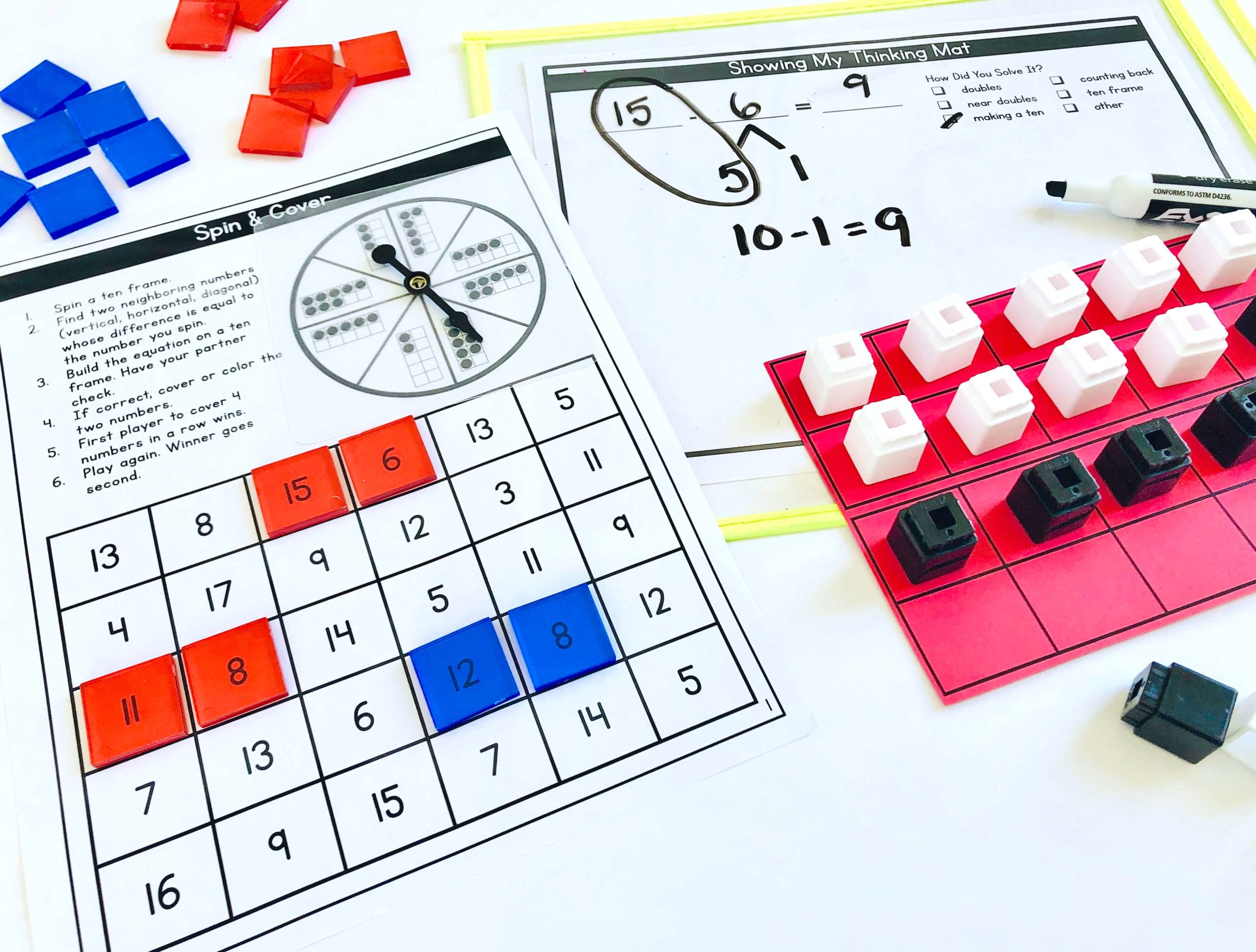 Using numbers carefully crafted to support the use of Make 10 to Subtract, students roll an equation. Working in the semi-concrete, students then draw their initial subtrahend on the ten frame. Then, students cross-out/subtract the second smaller subtrahend. Students then write the equations that match their ten frames. This is a perfect game to teach at Teacher Table and then, introduce later as a math center.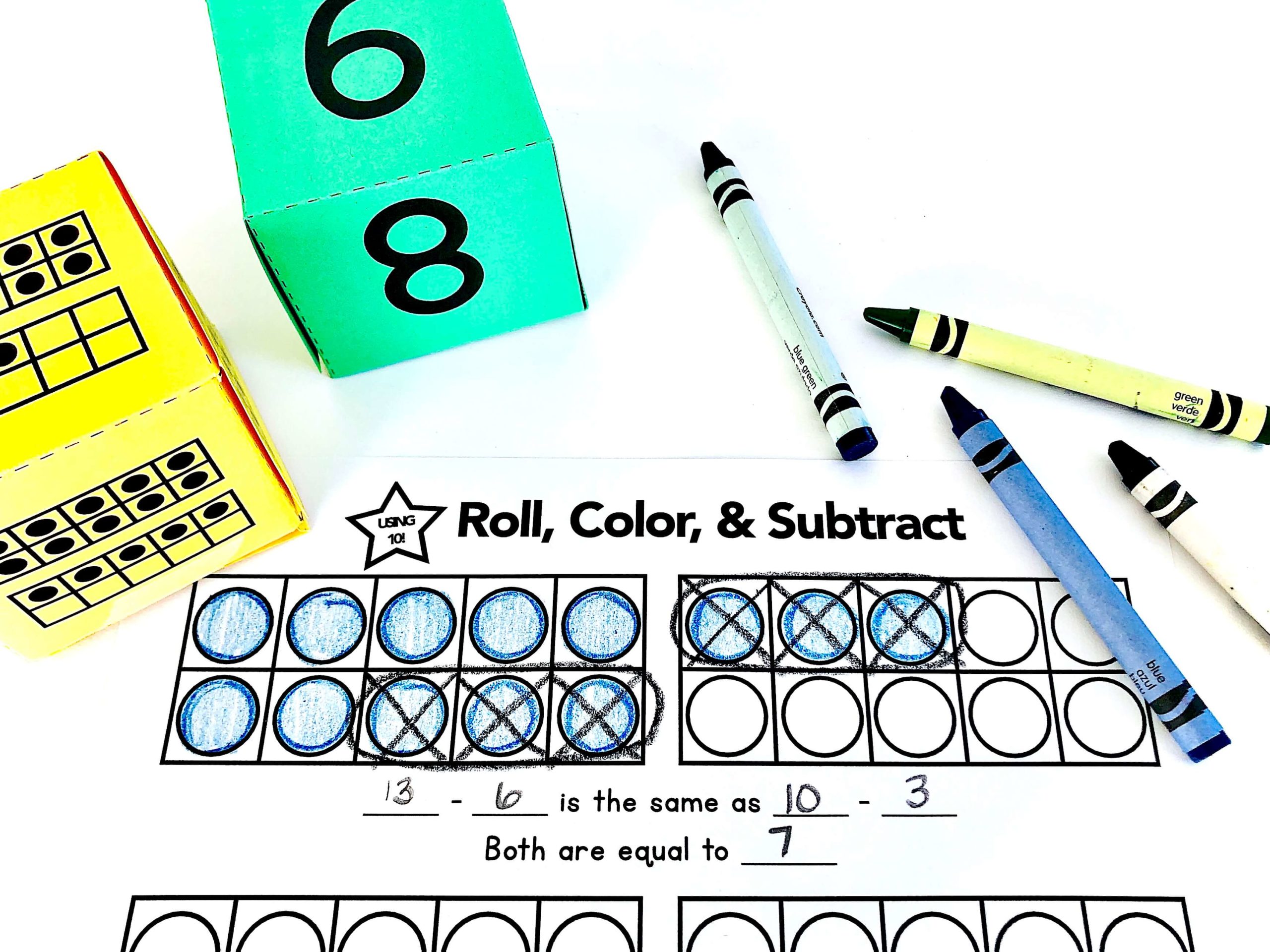 Not only do students have opportunities to build conceptual understanding with hands-on math experiences, they also need scaffold opportunities to talk math (verbally and written)!
Math Journals give students the opportunity to show and explain their math thinking. If students have never been asked to explain their thinking (not just the process) this can be a daunting task. The less experience students have with writing about math, the more teacher modeling and scaffolding they may need.  Modeling your expectations for showing work, math thinking, use of vocabulary, and readability will be a vital part of making math journals a worthwhile venture.
After laying the expectations and groundwork, I often transition math journals to small group, where students have more opportunities explain their thinking verbally. Then, building on the oral language, students write down their thoughts.
Once modeled in whole and small group, some students may require more support through sentence stems and frames. Frames are the highest level of writing support (outside of dictating) and should be strategically used. A frame removes a significant amount of the cognitive lift from a task. Eventually, it is the goal that these prompts become independent activities. (Scaffold shouldn't stay in place forever.)
Wrapping It Up
We want our students to be confident in deciding when and if to use the Making 10 to Subtract strategy, so that means students will need  intentional daily math instruction through a mixture of whole-group, small group (through guided math or RTI groups), as well as, opportunities to practice though games and centers.
So, as you venture into this Operations & Algebraic Thinking standard, I'm cheering for you and for your students. You all have got this.
Snag the discounted Making 10 To Add & Subtract bundle here, the Making 10 to Subtract resource here, and the Making 10 to Add resource here. Read more about Making 10 to Add on the blog here.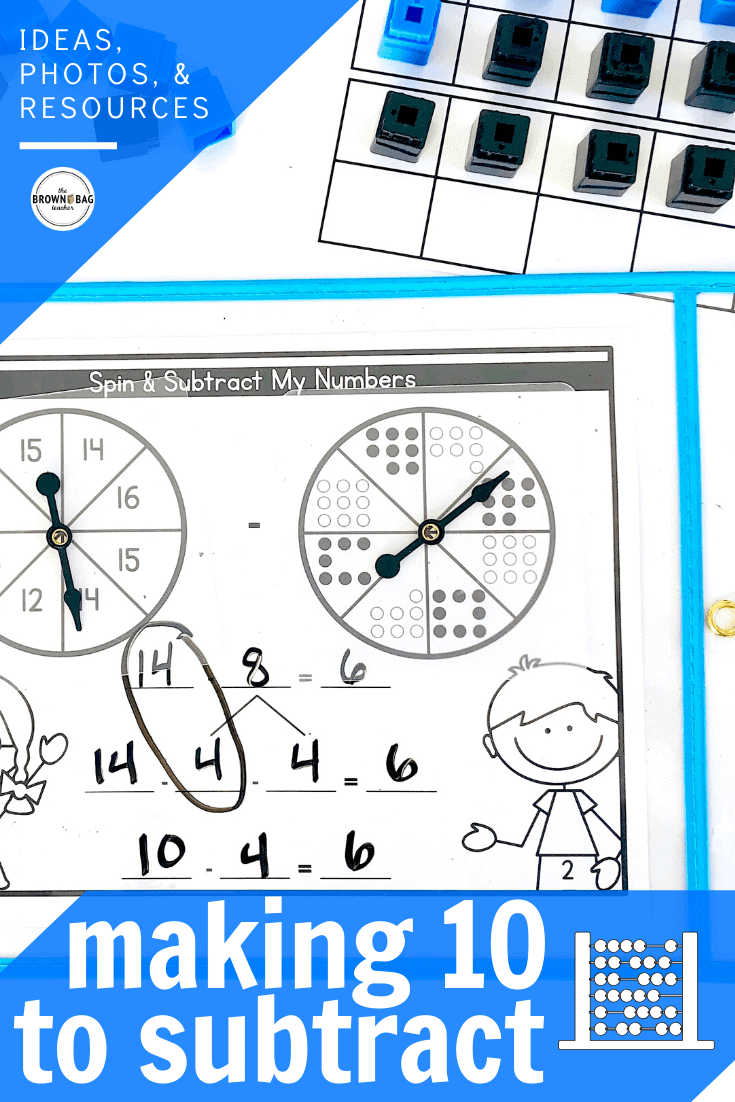 Get Free Teaching Resources!

Join me for weekly classroom updates and free resources that are just-right for your guided math classroom!