Watermelon vs. Seed Moments
At the beginning of the week, we started with the hands-on. So often in writing we forget to start with the concrete and move to the representational. It's best practice in math (and we totally do that) but for writing we somehow always jump to the pencil.
So, I brought in a mini-watermelon and we took a minute to pass it around. We talked about how big it was, what it looked like, and we even tried telling EVERYTHING about it. We decide it would be *really* hard to eat a watermelon like this.
So, we cut into the watermelon to make it more manageable. (Then, #teacherfail – I BOUGHT A SEEDLESS WATERMELON. <insert every face palm emoji here> Thankfully there were still white seed, so our metaphor continued. Students decided that the cut watermelon was definitely more manageable to eat and talk about.
We then made the connection that the HUGE watermelon was just like our "List Stories". I went to the park, then I played on the slide. Then I went on the swim. Finally it was dark. I went home. We talked that knowing what happened is very different than knowing all the details.
Relating it to Ourselves
We went back to our writing journals and brought them back to the carpet. Students shared "Watermelon Stories" in their journals that they may need to revisit. (Note – this totally wasn't a shaming lesson and totally voluntary. I love pulling examples from our own writing because it makes it much more real. (Snag this organizer for your classroom here.)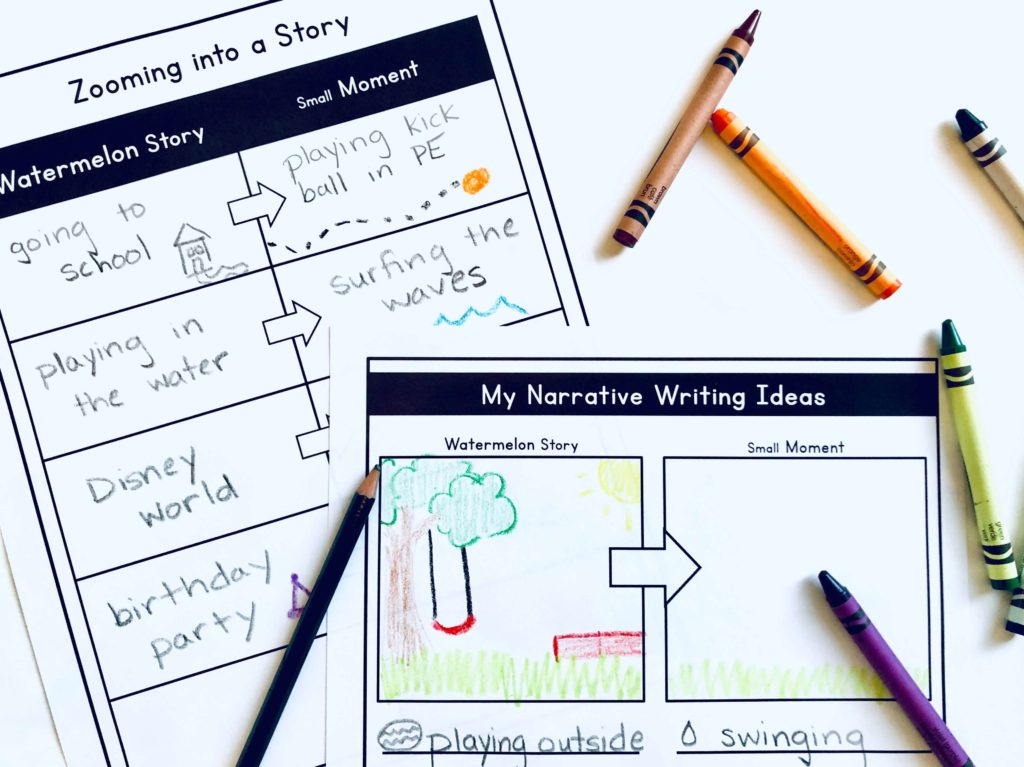 As students shared one of their watermelon stories, I asked – "So ___________, instead of writing about the WHOLE __________, what part can you go back and describe?" When students picked specific parts (hitting the piñata, riding the roller coaster), we called these 'Seed Moments'.
Finally, it was writing time! As students worked, I delivered plates of watermelon as a motivator and reminder to think small. Then, I started conferencing with my habitual list-story writers. 😉
The next day we continued practicing zooming into moments. I brought in my Dad's binoculars (eeeek – how exciting!) and talked "What happens when you zoom in?" After looking at our class plants from across the room, we decided we could see SO much more with binoculars. We could see all the details!
We made the connection that our readers weren't with us when our event happened, so we need to include all the details important to the story. Readers should be able to create a mental picture as they read your story.
Using Mentor Texts
As a teacher, these are all features I pointed out as we read. I would write examples on the board and as a class, we practiced reading these phrases with and without those special features. What a difference they make!
Putting it Into Action
After reading together, it was time to put this mentor text into action! Students went back to write about a seed moment (or revise an old story) adding stretched-out words, sounds words, and punctuation that adds meaning.
Fireflies
Shared Writing
This day, we actually spent our writing time together. Shared Writing is a perfect way to high features of many different mentor texts focusing on the strengths of lots of different students. We decided to zoom into building a sandcastle. Although not perfect, we have a great start to a narrative. Plus, we include some of those great features from Roller Coaster (VERY, wee, A-L-L) and Fireflies (small details about the day).


Since writing it at the end of the day, and we ran out of the time – the next morning during 'Morning Work' students came in and started working on their narratives. It's a perfect way to sneak a few more moments for writing!
This friend is sharing about his recent trip to the zoo, seeing tigers. My favorite line – "One did not look fun. He was lame." Hahahaha – classic and perfect 1st grade writing. (Note – he does go on to explain the lame tiger behavior.)
Until then, how do you stop grocery-list stories and encourage students to zoom into small moments? Do you have any favorite mentor texts? I'd love to hear your ideas!