Using or creating a wordless picture book is ideal for building students' storytelling skills, strengthening oral language, and practicing a variety of story structures (linear, circular, flashbacks, etc). Today we'll explore my favorite wordless picture books and the benefits of using this genre of text with littles.
In this post, you'll find Amazon Affiliate links, which means Amazon tosses a few nickels my way if you purchase something through that link, at no extra cost to you, that helps to keep my corner of cyber-space running and helps fund giveaways!
How we can leverage the use of a wordless picture book to build students' storytelling skills AND writing skills at the same time? Here are just a couple of my favorite authors to share with students.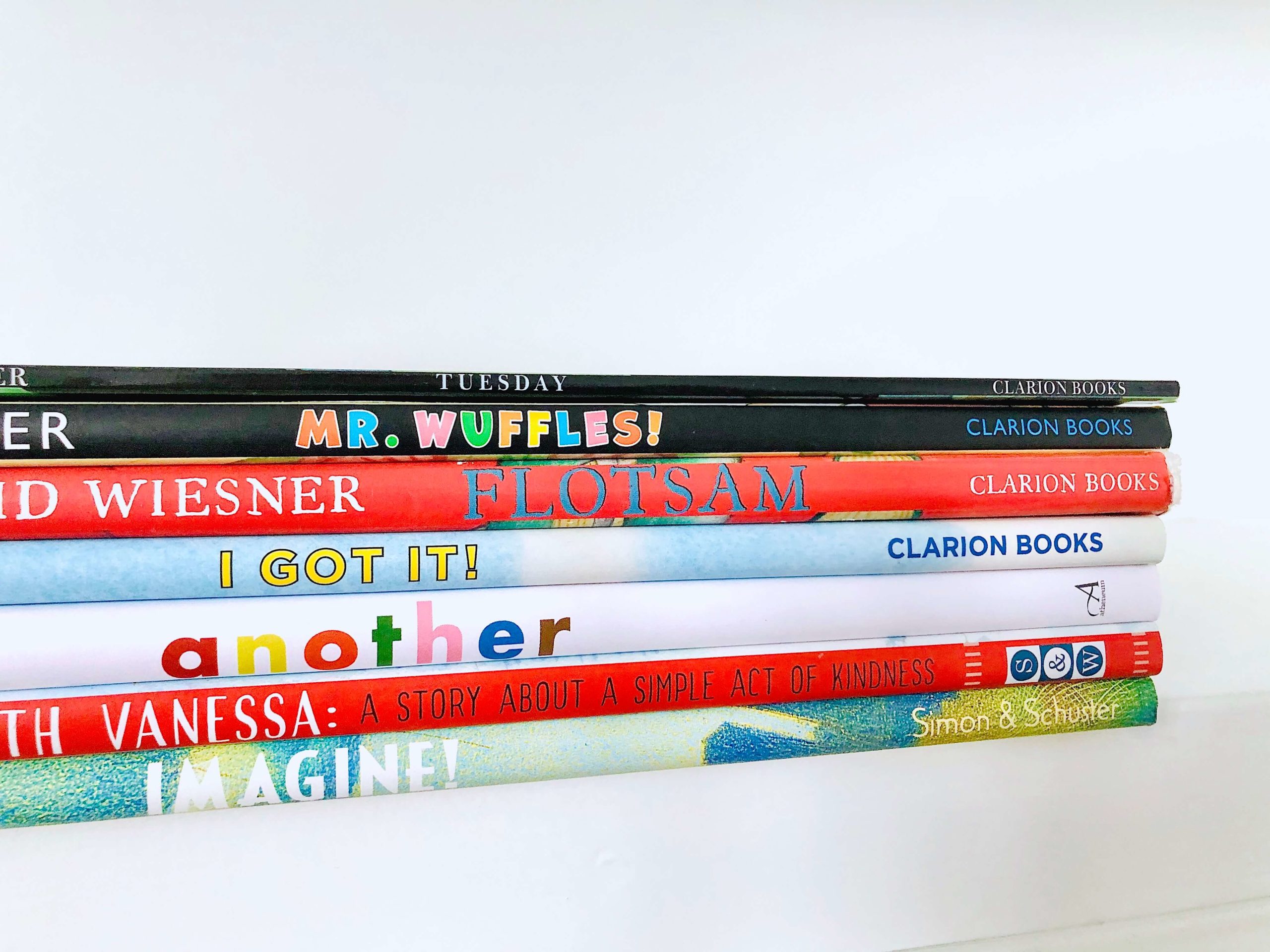 Molly Idle

– Full of beautiful illustrations that feature flamingos, penguins, peacocks – the dancing Flora always has an amazing adventure for students to join.
Aaron Becker – Known for his picture books, Becker's texts great for older students and allow their imaginations to run wild while looking at all the beautiful illustrations. He makes it easy for students to put themselves into the story.
Barbara Lehman – Known for The Red Book. The characters in Barbara Lehman's books are always going on some type of crazy adventure. Transporting readers to magical places from the museum or an average subway train, these wordless picture books are anything but average!
David Wiesner – A writer and an illustrator. Some of his best books include no words. You may have heard of Flotsam or Tuesday. These books give readers a whole new perspective imagining worlds that can only exist in our minds.
These authors/illustrators are just a few who draw wordless picture books. (Check out some of my other favorites here.) Getting you started in some of these beautiful collection may mean students are a little unsure of what to do with the book but, watch as their imaginations start to sore. Our students are so incredibly capable.
Writing and storytelling to images is a core skill of narrative writing. Having lots of opportunities for students to observe a picture and imagining what might be happening are learned skills.
What are the characters saying?
What problem is being solved?
How are feelings being communicated to the reader?
These pictures can come from a variety of places. Wordless favorites from trade books, Reading AZ texts (they often offer multiple versions of a text), or even pictures for the normal school day!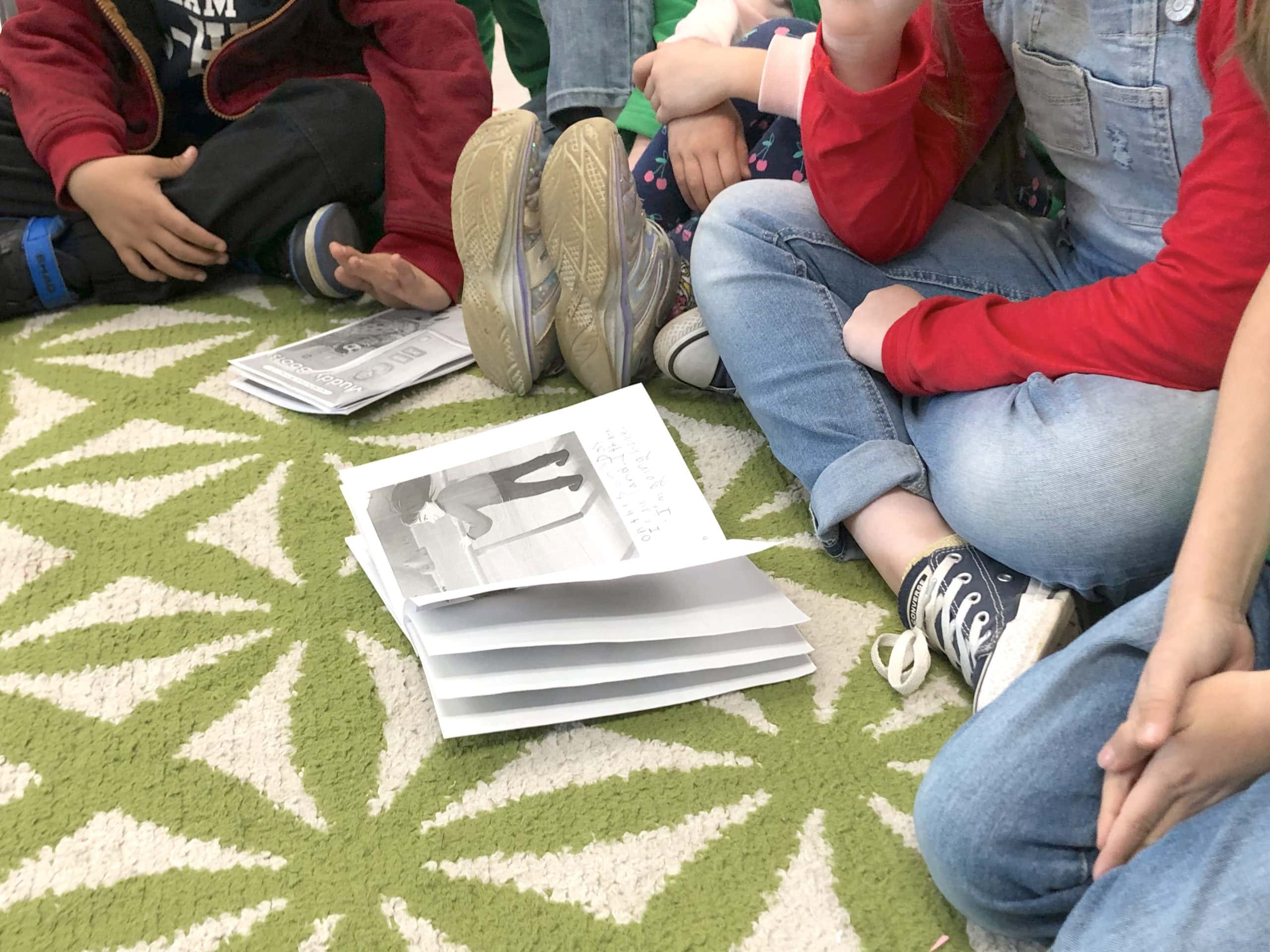 Working with partners is a helpful scaffold when you first are launching this line of thinking. Working in partners allows students to listen to and share their ideas with other students. Plus, they have another brain to help them think about what is happening in the book.
These picture books fit very well in an ELA block. One of Kentucky and Common Core's writing standards students have to cover is: "Students will compose narratives to develop real or imagined experiences or events, using effective technique, well-chosen details, and well-structured event sequences." At every grade level, students are expected to write a narrative about an event in their own life or create a fiction story. Using a wordless story to help students think about story writing is a significant starting point. This means wordless books can easily be incorporated to get students' juices flowing and put their minds in the narrative mindset.
Plus, a bonus! Add wordless picture books into your work on writing center. Having a basket available and allowing students to create the story to go along with a specific one that draws their attention is a great work on writing activity.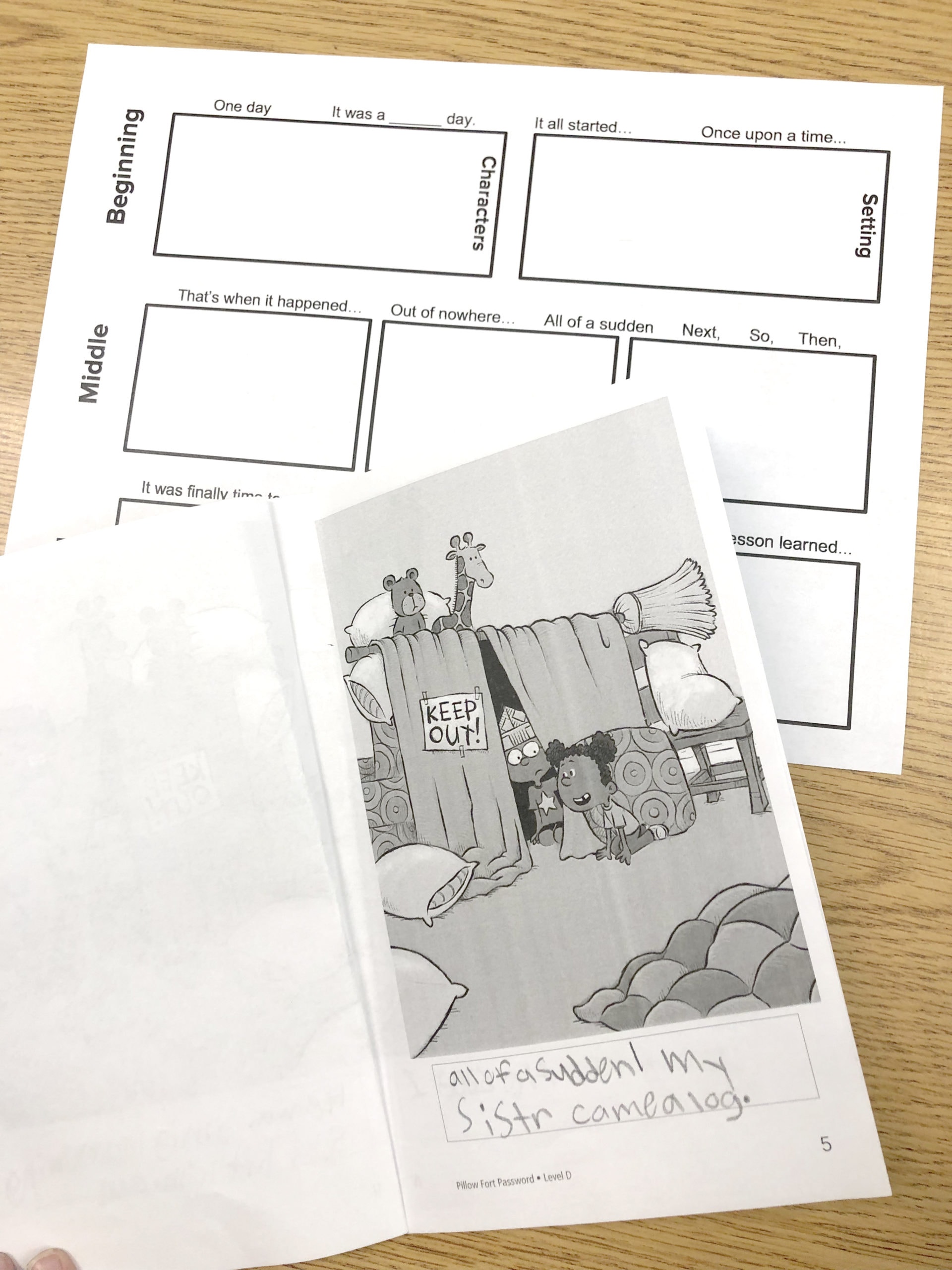 If you are looking to enrich your students, you could add wordless picture books to this aspect of your curriculum. Students can create their own wordless picture books and partner with other grade levels to share them. Kept in a classroom library students in the class "read" their books and come up with their own stories – perfect for early finishers or enrichment tasks.
Story Structures
As a part of the 1st Grade Kentucky Academic Standards: "Recognize major differences between the structures of poems, stories, and dramas, including but not limited to linear, nonlinear, and circular structures."
We normally find linear text structure in traditional literature. These books have a traditional plotline – a real beginning, middle, and end. Circular text structure is when a story goes around and around. This storyline ends where you begin. Almost all published wordless books are circular, always ready for another adventure. Some circular books with words that kids love to read are If You Give a Mouse a Cookie and There Was an Old Lady. Nonlinear text structures highlight main events in a unique way – different sections told by different characters, flashbacks, starting in the middle of the story.
Scaffolding Students
Scaffolding students in just-right ways ensures these texts become a low-floor, high-ceiling tasks. We want to ensure that ALL students have access to quality storytelling opportunities.
Beginning with a shared writing, you are able to model to students what the thinking process for storytelling is to match pictures. Reading a variety of example texts as a class offers students insight into the thought process of "real" authors and allows you to leverage strong think-aloud strategies.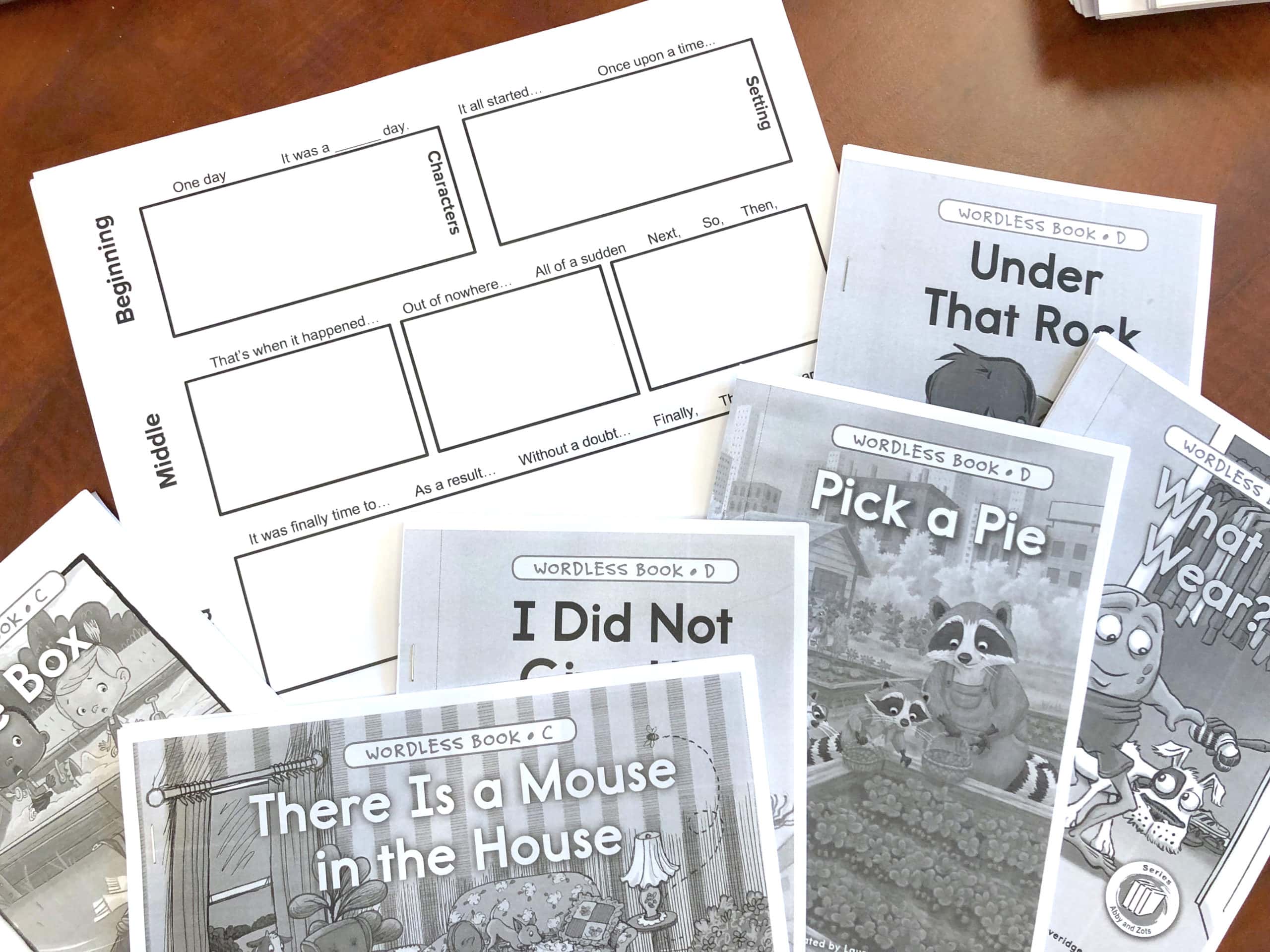 Having students work with partners to create a story, allows students to build ideas with their partners.
Once you get started on individual work, if your students need sentence stems or graphic organizers, use them. As seen in the graphic organizer above, providing storytelling words is a great way to support student language around storytelling.
One day…. It all started with…
Out of nowhere…Then…
It was finally time to…The lesson learned was…
Ultimately, wordless pictures books have so many benefits and your students are going to absolutely love them. They may not have all the literacy benefits we see in picture books with words.
Find more information on how wordless picture books can work in YOUR classroom here.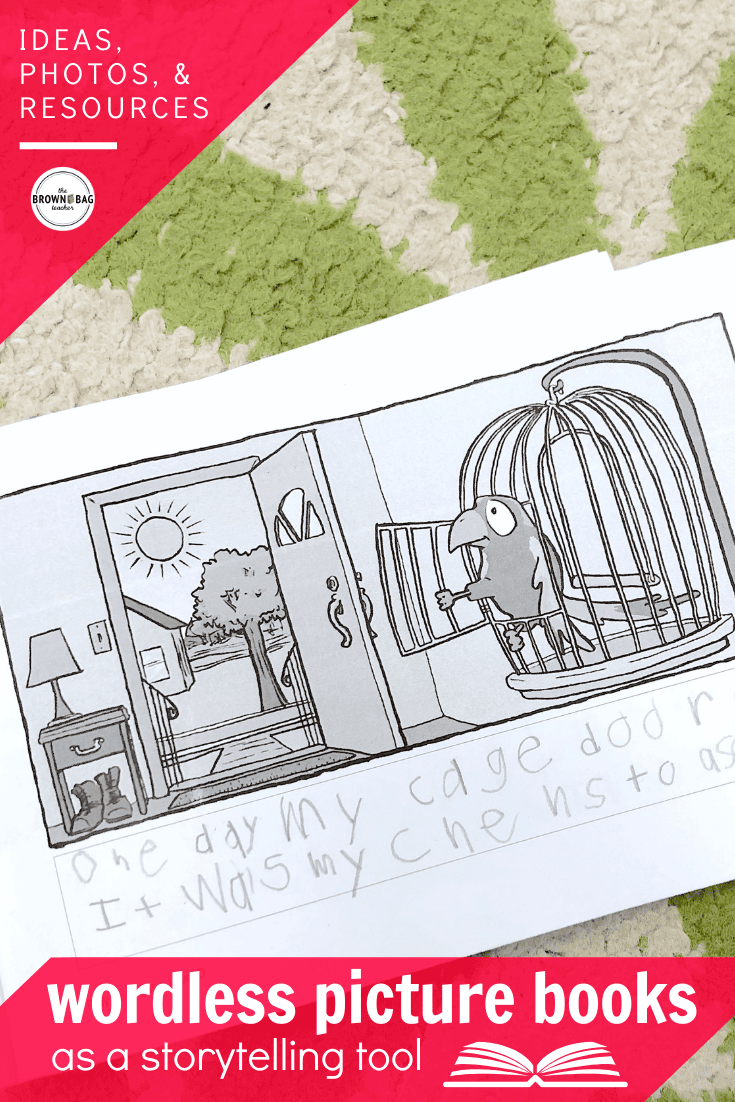 Get Free Teaching Resources!

Join me for weekly classroom updates and free resources that are just-right for your guided math classroom!