Word study matters. Explicit and systematic phonics instruction is critical for our emerging readers. Direct instruction has to be a component of our reading blocks, as well as, opportunities for students to use and apply sounds.
Why Foundational Skills?
In our standards, Foundational Skills standards span K-5. In K and 1st the foundational skills include Print Concepts, Phonological Awareness, Phonics, and Fluency. From there, 2nd-5th grades include Phonics and Fluency standards. This means, as primary teachers, we must prioritize phonological awareness and print concepts. By the end of 1st grade, students will no longer be exposed to this content because the expectation is that it is mastered. Do we still intervene, absolutely. But by August of 2nd grade, these are skills students should be strong in. This doesn't mean we forget comprehension, vocabulary, and writing (they ALL matter). Yet, these foundational skills are critical for our budding readers.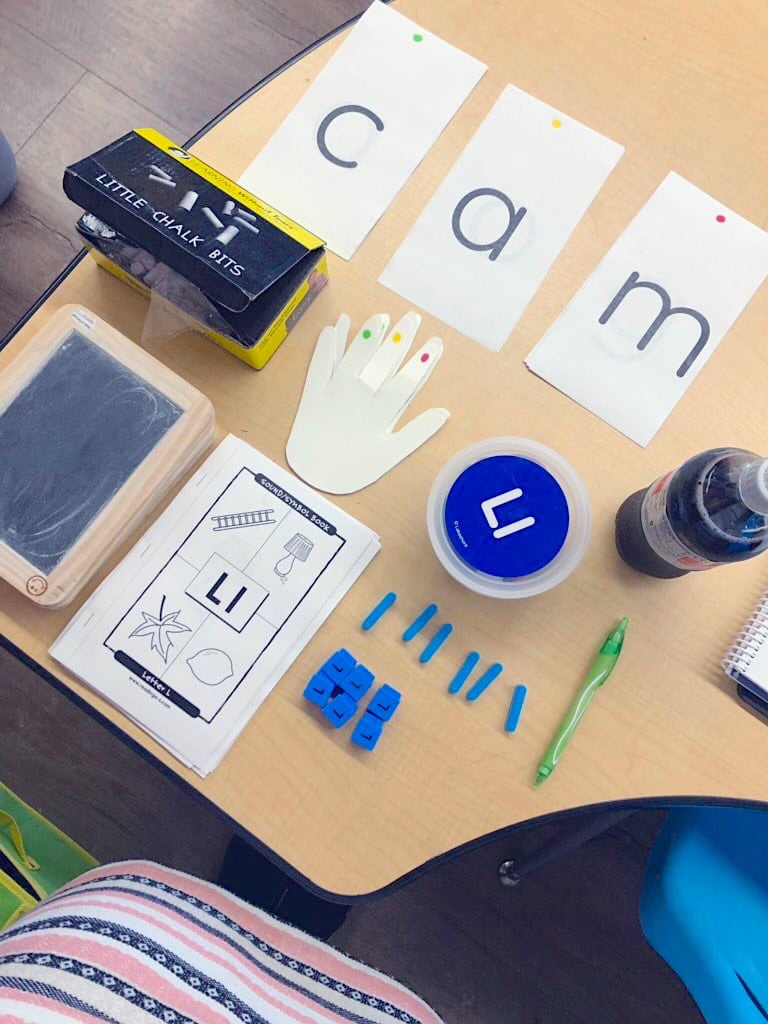 What's Best Practice in Phonics Instruction?
As we consider and plan for phonics (where a sound is associated with a grapheme) instruction in our classrooms, we are always keeping these these in mind –
Explicit Modeling of Sound (lips, tongue, teeth) must occur. For approximately 15-25% of our students, who will not pick up reading easily – explicit instruction on what the sound looks like, sounds like, and how it is made matters.
Multi-sensory Interactions matter. As we plan for phonics instruction and practice, students need opportunities to connect the left and right hemispheres of their brains. This could include saying a word while making a body movement, using textured materials to make or build sounds while saying them, or seeing and saying words in a variety of contexts.
Read and Writing Words, Connected Words, Sentences: While being able to recall a sound is important, it doesn't mean a whole lot until we are able to use it to blend and segment words. We don't consider students to achieved mastery with a sound until they can say it, read it (in individual words, in connected words, and in sentences), as well as, write it. They ALL matter.
Systematic Instruction: All phonics instruction should follow an instructional map based on letter usage and frequency of use in the English Language.
Therefore, At-Home Learning Mats are ideal for remote learning or just generally giving families tangible ways to support their student in sound study. Below is a sample mat I've created for our county's classrooms. It includes a single focus sound and then 5-6 options for at-home practice. On the mats, I have recorded a quick introduction to the sound (the first QR code). I quickly created this video (less than 2 minutes) using Screencastify. You could also use Loom or record a Google Meet with only you in it. The second link connects families to Turtle Diary for a model of how to make the sound. Then, there are 4 other practice opportunities – building the sound, hunting for the sound, reading the sound, and blending the sound from phonemes.
As I was considering what to add to our learning mats, I asked –
Which materials do families have at home?
How can students help connect the left and right brain hemispheres?
What are choices that are non-threatening and flexible for families?
How can phonics best practices be implemented at home?
For our at-home learning mats, I included QR codes and hyperlinks. The hyperlinks allow the mats to be posted on classroom websites and families to be taken directly to the videos or online resources. If families don't have regular access to a device or internet, the QR codes allow anyone to use their phone to connect to the resources. A family would go to take a picture of the QR code on their phone, and it will bring up the website. It's a low-tech option for supporting all families.
As I consider supporting families, the Turtle Diary videos are some of my favorite to recommend. These videos include a focus sound included in isolated words and connected words. The best part? They offer explicit modeling and directions on how to make the sound. They explore tongue placement, where the teeth should hit, and what the lips should look like. As they do this, there is a model mouth making the sound for students to follow. Pair this with a small hand-held mirror, and BOOM!
Phonics Scavenger Hunt Around the Home
Whether around the house, classroom, or the schools – environmental phonics hunts are a simple way to encourage students to say sounds, apply the sounds their surroundings, and discern between that focus sound and other non-matching sounds. Students can record their thinking on a basic list (on any sheet of paper), on a graphic organizer, or you might even consider making a digital collage. (See how ways I've using digital learning collages here.)
Digital and Paper Sorts
Sorts also offer students the opportunity to differentiate between closely-related sounds. As students work to sort words, they have practice using the sound and guide word to help sort the sounds based on spelling and sound. We know that many digraphs and diphthongs have similar spelling, yet make different sounds. This short vowel vs. long vowel sort is ready to go.
As well as, this set of 12 differentiated sound sorts now includes digital options!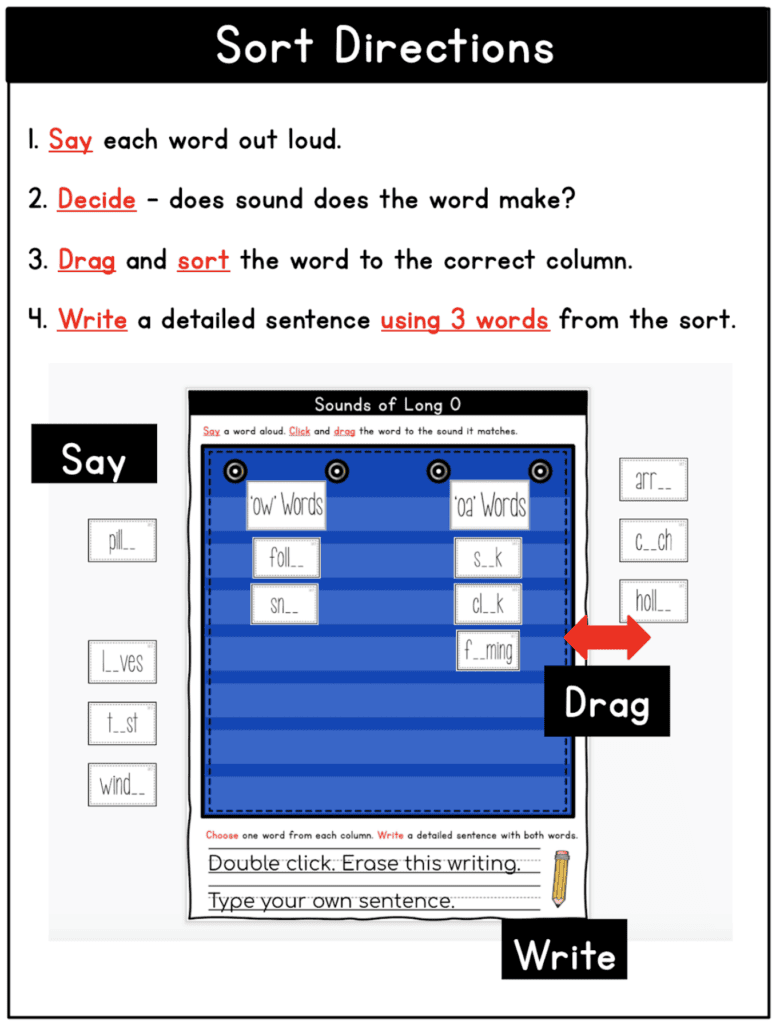 Florida Center for Reading Research
Additionally, the Florida Center for Reading Research is gold standard in phonics resources. This website has an amazing collection of resources, games, and printables that are just-right for supporting foundational skills in K-1, 2-3, and 4-5.
Manipulating and representing sounds is hard work and it's critical for our young learners. Leveraging online sound boxes and word ladders is the perfect change to model whole-group with students, give families access to tools at home, and helps bridge phonics instruction in a digital learning environment.
Ultimately – phonics matters. Foundational skills instruction instruction helps ensure ALL students are able to decode and encode texts. It provides solid core instruction for all students and then, follows-up with small group and targeted instruction practice.
If you are interested in additional resources for your classroom check out: