Then, we transitioned into our normal writer's workshop. This Monday is our school-wide showcase and are personal narratives are very much still in the editing phase! We can do it, we can do it, we can do it.
Read Alouds
After rocking out some writing, we read 100th Day Worries as a read-aloud – so cute! It seems like most of the 100th Day books follow the same theme (i.e. bringing in 100 items) but this book was a bit more developed and had a small twist to it! The kids enjoyed it, and it was a great intro into the 100 things they brought in brown paper bags. From nails to pennies, it was a fairly typical mix of 100 items. It was really fun to listen to the clues (i.e. Your hands smell after touching them (pennies). They are big and small (pasta).) One little friend made it through ALL 3 clues before realizing he had mixed his clues up with a friend…."Wait, they aren't round. Or colorful!" hilarious.
Using Get Epic for Kids (read more here), we were able to partner up with our iPads to read about 100 years ago and what cars, toys, food, and cards were like 100 years ago – how cool!!
Aged Photos
that included age-progression photos (using Old Fart Booth). Like Kim at The VeryBusy First Graders, I took the kids photos without telling them the reason. Then, this morning, I showed them my photo and my cooperate teacher's photo – they DIED! With my most serious face, I handed out the photos forbaying our friends from touching them. On the count of 3, they turned them over. It was hysterical. They were laughing and screaming and comparing photos. It was wonderful and something I will definitely do again. Plus, we got some hilarious writings out of our friends. Some of the kids named their future children, some are working at Hobby Lobby, and some are going fishing.
100 Rotations
During centers we also did a Write the Room to record 100 words! Only 1 friend actually finished but we WILL follow-up tomorrow. When I introduced the activity, they all shouted "We can't do that!"…I WILL prove them wrong.
In our math groups, we played making
100 Go Fish
! It was a fun way to review addends that have a sum of 100. Plus, it was a great chance to get some social-skills practice in (taking turns, asking questions, speaking in full sentences).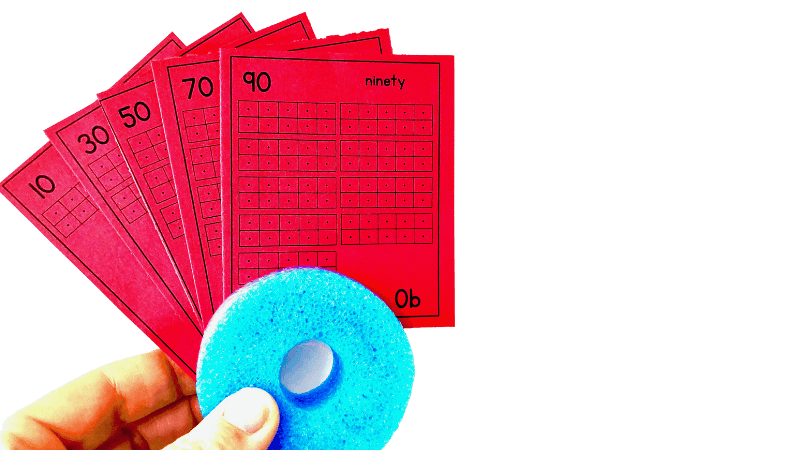 We also made, by table group, a 'nible plate' that included 100 snacks. It is always fun to watch students realize how much 100 really is.
We also pulled out the classic and SIMPLE,
number-chart puzzles
. These are super easy to make and students love the challenge!
Paper Chains
After lunch, our friends created paper chains by table groups (Note – this was totally not my idea and my cooperating
teacher gets all the credit and glory…because the chains were awesome). Each group received 20 strips of paper and very little instruction. It was up to each group to come up with a plan to connect the chains.  Teamwork at its finest. We took pictures of each group before linking all 100 chains. This afternoon, my CT and I draped the 100-link chain from the ceiling. It spans the entire length of the classroom and looks great! I cannot wait for our friends to see it tomorrow.
100th Day Updates
I just experience my first 100th Day flying solo in my own classroom and it was amazing! We used an 8-center reading/math rotation that my 1st grade friends love. Click here or the photo below to read about our awesome day and snag the math centers here!