Happy 100th Day of School Friends! It's true, I survived my first 1st grade 100th day flying solo. It was a blast. SO loud, but the perfect kind of noise. 😉 Before my head hits my pillow I wanted to share what our day looked like.
Morning Tubs
Just like we do every morning, we started our day with Morning Tubs! These play-based tubs are a perfect way to integrate play and social-learning into our day. For this special day, our tubs all contained 100 objects for us to build and play with – foam shapes, unifix cubes, place value pieces, straws and playdough, small stacking cups, and foam blocks! (Snag the visual directions for FREE here.)
Our 100th Day of School Checklists
Bumping up the traditional Race to 100, students worked in partners to roll, write, and create their own 100s chart. As students made their way to 100, they logged the equations that matched their move. It was a perfect way to add a needed challenge to this center and is a center than can stay for longer than just today!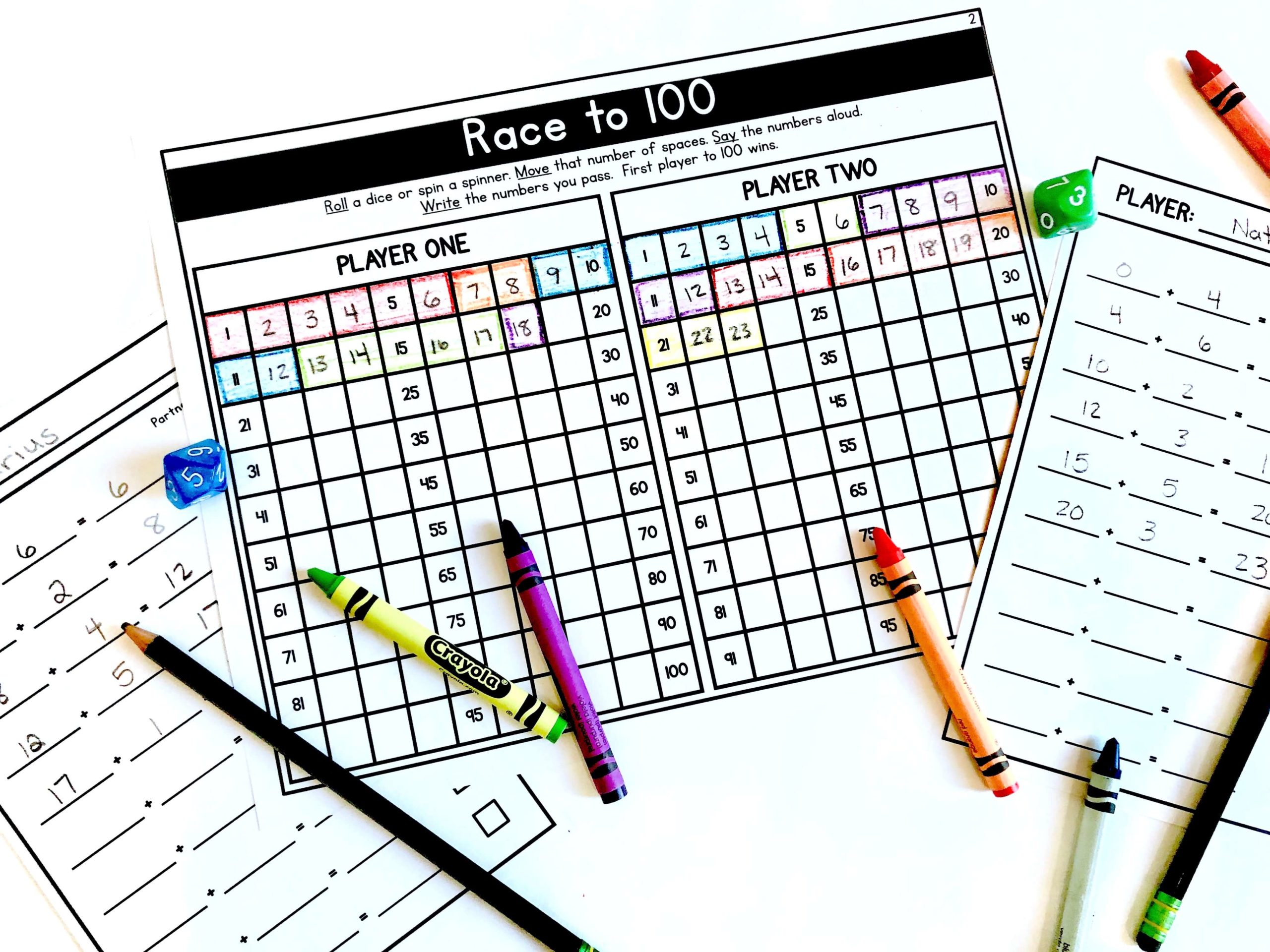 When I Am 100 Years Old
In our Work-on-Writing center, we used age-progression photos (I made these using Old Fart Booth and then printed them at Walgreens) to write about our lives when we're 100. For my students who struggle generating ideas, I did provide the writing template below as a starting place!
100s Chart Chocolate Style
For differentiation, I did have 3 different charts I used. One chart had 12 numbers already written on the chart (at least one in each row/column), one chart had 6 numbers, and then, the 3rd chart had 2 numbers (45 and 17) written on the chart. I'll definitely introduce this game into our normal math-center routine. It required some awesome math talk between my friends!
100th Day of School – Foam Shapes
In our next center, students used 100 foam blocks to create patterns and shapes. Then, students decomposed the larger shapes recording the number and type of smaller shapes each picture required!
Using a brand-new math center, my friends worked on building (literally) to 100 by 10s. It was a perfect way to practice skip counting, as well as, work with a partner to create addition equations that have a sum of 100!
Writing 100 Words
We also took the "Write 100 Words" challenge. Students grabbed a clipboard, pencil, and recording sheet traveling the room searching for words. From content-vocabulary to word-wall words, it was interesting to see where students gravitated. (Snag the visual directions for FREE here.)
Reading 100 Books on the 100th Day of School
One of our goals for the day was to read 100 books as a class. That meant each student (myself included) needed to read 4 books from our display shelf, classroom library, or individual book bin. If you've following along, you know  I LOVE a themed bookshelf, so of course we pull out our 100 themed books!
With all of the excitement of special centers, we did not reach our goal today, making to ~50 books. Tomorrow, we are recommitting to reading 100 books and will finish our list! As students read a book, they wrote it below. (Note – 2 chapters in a chapter book counted as 1 picture book.)
100th Day Art Project
At the end of the day, each of the four 1st grade homerooms rotated among the classrooms completing a different activity. In the three classrooms, students completed 100 exercises, 100 necklaces, and sang read 100-themed poems/songs. Together my students turned die-cut '100's into art! (Thank goodness for the parent volunteer that cut 270 die-cut numbers.) It was the perfect time to be creative and use everyday things in an unusual way. Some of the final products were fabulous! (Snag the visual directions for FREE here.)
This fellow was one of my favorites – a boy licking a lollipop!
I Would Want 100… (Google Slides)
Last year, I looped with my classroom of K/1 friends to 1/2. It's a great chance to try new things and develop new tricks. Our school is moving in the direction of 1:1 with Chromebooks, so any chance to get to teach my Littles about using technology, I'm game. We create *very* simple "I Would Want 100" Google Slides. We have a Google Classroom, so I just posted a blank slide where every student got their own copy. You could also have students open a blank slide directly from Slides and "Share" it with you. From there, we typed our text first and then, added pictures. Easy peasy, fun, and something new! (Snag the visual directions for FREE here.)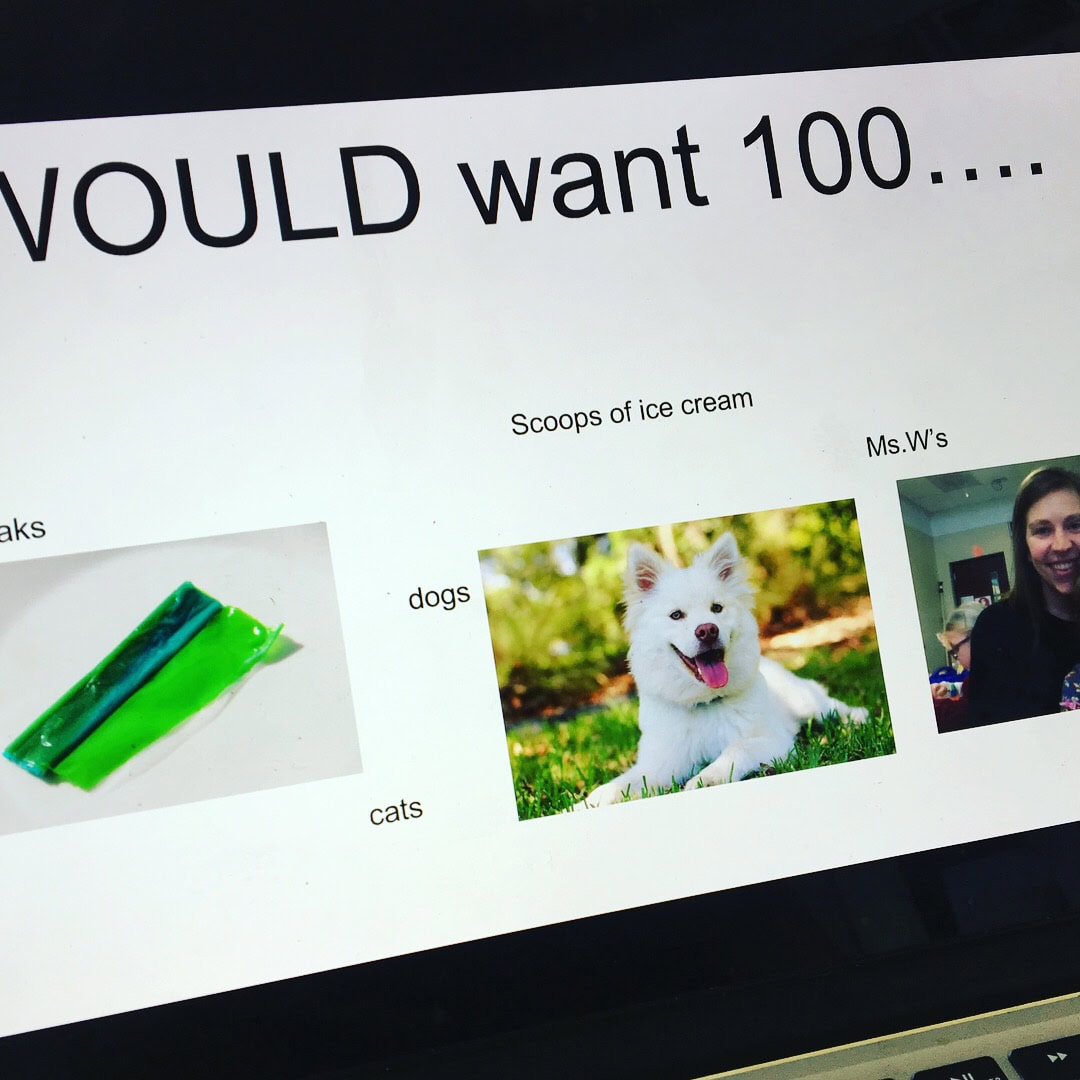 Our 100 Days of Learning
Lastly, in transition times and in-between activities, we took time as a class to reflect on the things we have learned this school year. It's really amazing to consider how much we've practiced in just 100 days. Each time we met, we added topics and memories to our '100' chart! It was a sweet way to reflect on our 1st grade year. 🙂
In the past, I've also made paper chains. Each student is responsible for 4 links and then, we sting our "learning" around the classroom!
Well friends, we did it! It was a loud, fun-filled day filled with great reminders of how far we've come. I am so happy to be in 1st, and I was so proud of my friends today.
When is your 100th day? What fun things do you have planned? I'd love to hear your ideas for activities and centers I can include next year. Please share!