Building Strong Relationships with Students
As teachers, safety – physical, emotion, and mental – is always our top priority. One of the most important ways we do this is through building strong relationships with students. Fostering strong relationships with students is all about saying – I see you. You matter. You are an important part of our classroom and learning community. We want every students connected to and invested in our schools.
These are some of my favorite ways building strong relationships with Students happens in our classroom. All are low-cost and they all required varied amounts of time. Some work better than others different years and with different students. That's okay. Our classrooms, our school cultures, our students look very different. As teachers we adapt, try new things, and continually search for ways so every student feels connected each day.
1. Positive Phone Calls Home
:Set aside 15 minutes one afternoon each week to make phone calls. Families always answer with baited breath and then, you have the opportunity to gush. When I call, I also keep it brief, have something specific to praise, and thank families for sharing their child with me. My goal is that each student has at least one positive phone call home every other month.
2. Showcasing Student Work
Showcasing and drawing attention to specific parts, work, or habits of students communicates to students "I see you. I see your hard work. You set an example others can follow." Many times I'll do this by taking pictures and then displaying the pictures with comments around the room. It becomes a real-life model for other students and allows someone to shine.
3. Eat Lunch Together
Our 20 minutes of duty-free lunch flies, so every once in a while I sit down at the cafeteria table with students and just talk. It's a great reminder that our students are kids and for students, that we – as teachers – are real people too.
One of my favorite ways to praise students is a hand-written note. I try to write 3 a day – two during planning and one at the end-of-day reflection. Sometimes they are fancy and mailed home. Most of the time they are simple and easy – post-it notes, labels, index cards with a marker boarder. At the end of the day, I'll slip the note into a Home Folder and my friends' faces *light* up. If they can't read it themselves, they love asking me what it says…even if they can read it themselves, it adds to the excitement if your teacher reads it to you! Ultimately, it's my goal that students receive some type of positive note 2x a month. (Click here to snag the below note for free.)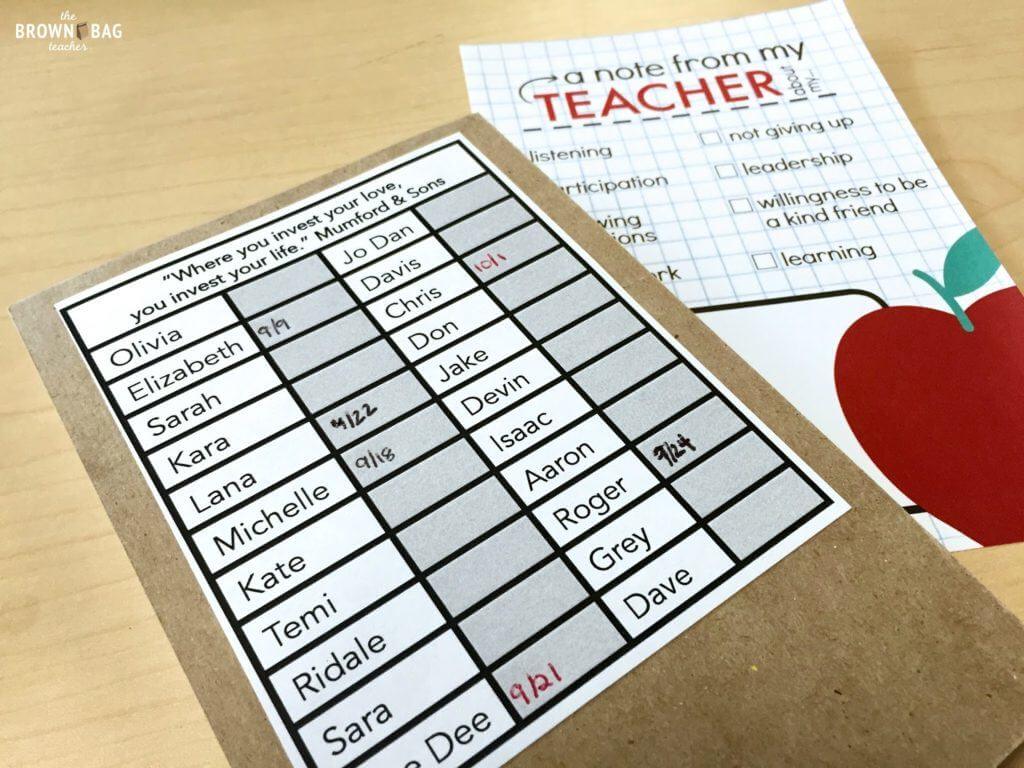 5. Play
From tag to trying out the rock wall, play matters. Picking a student who might traditionally struggle during recess, allows me to bond with him/her, as well as, help connect him/her to other students in the class/grade through free play.
6. Staying Connected Over the Summer
Building strong relationships with students doesn't take a two month break in June and July. Summer can be hard for all students, especially for our most at-risk students. The lack of routine, fewer adults to connect with, different expectations than home and schools – it can be hard. At the very end of the school year, I send each student home with a self-addressed post-card and stamp. (If you're not comfortable sharing your address with families, include the address of your school.) I encourage students to send me a note saying "Hi!" And I always respond. Typically 6-7 students take me up on the offer every summer, and we are pen pals for the rest of the summer.
7. Use Video
From snow days to school breaks, sending videos to students allows us to stay connected. Sent via Remind, the videos are sometimes a hello, sometimes include a challenge, sometimes are a funny story, or a read aloud. For students who might not have watched it at home, we take a few minutes during Morning Tubs to watch it together.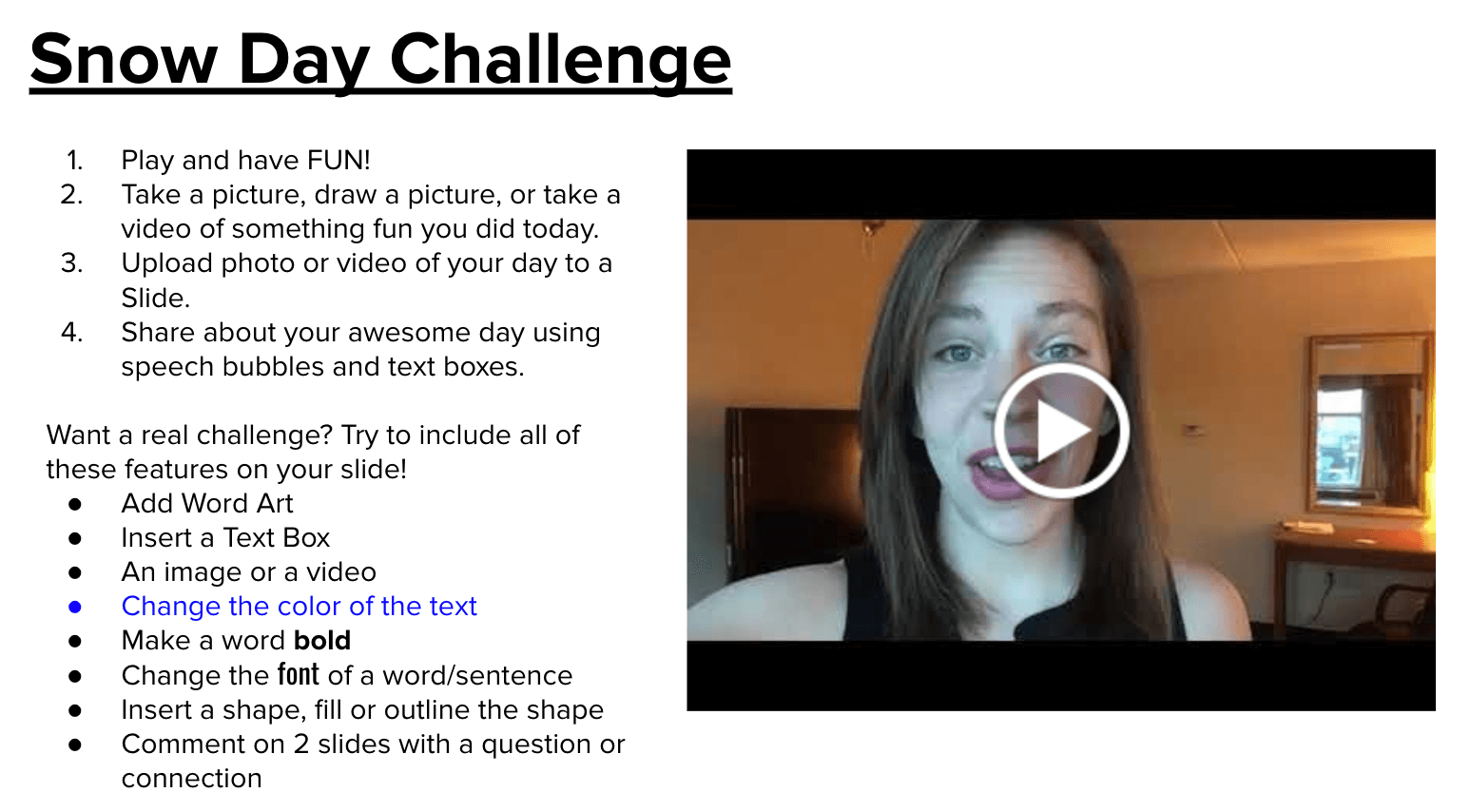 8. Take Photos
 In my classroom, I celebrate Photo Praise Sunday. Every-other weekend I send a dozen or so of my favorite classroom pictures to the Walgreens app and pick them up on Sunday afternoons. On the back of each photo, I write a note to the student in the photo praising him/her and secretly place it in their Home folder Monday afternoon. Students LOVE finding a photo of themselves working hard and love sharing the note with their families. 9 times out of 10 the photo stays above their bed or in their Home Folder to encourage them to do their best throughout the week! For $4 a month, it's positive-encouragement GOLD. (Note – ALWAYS Google Search "Walgreens Online Coupons" before placing your order.)
9.Create Traditions
The best traditions are organic and only understand by a few. The best classroom tradition I've ever had? Power Bagels. It started with a student who rarely spoke and it became a recognized celebration of her by all students. On Valentine's Day, a parent took this tradition one step further by secretly delivering Power Bagels for us all to enjoy. Our class didn't celebrate the bagels, they celebrated the student. It was our tradition, only we understand. It mattered. A few weeks later, this student moved away and almost every day after a student brought up Power Bagels and E. Traditions matter.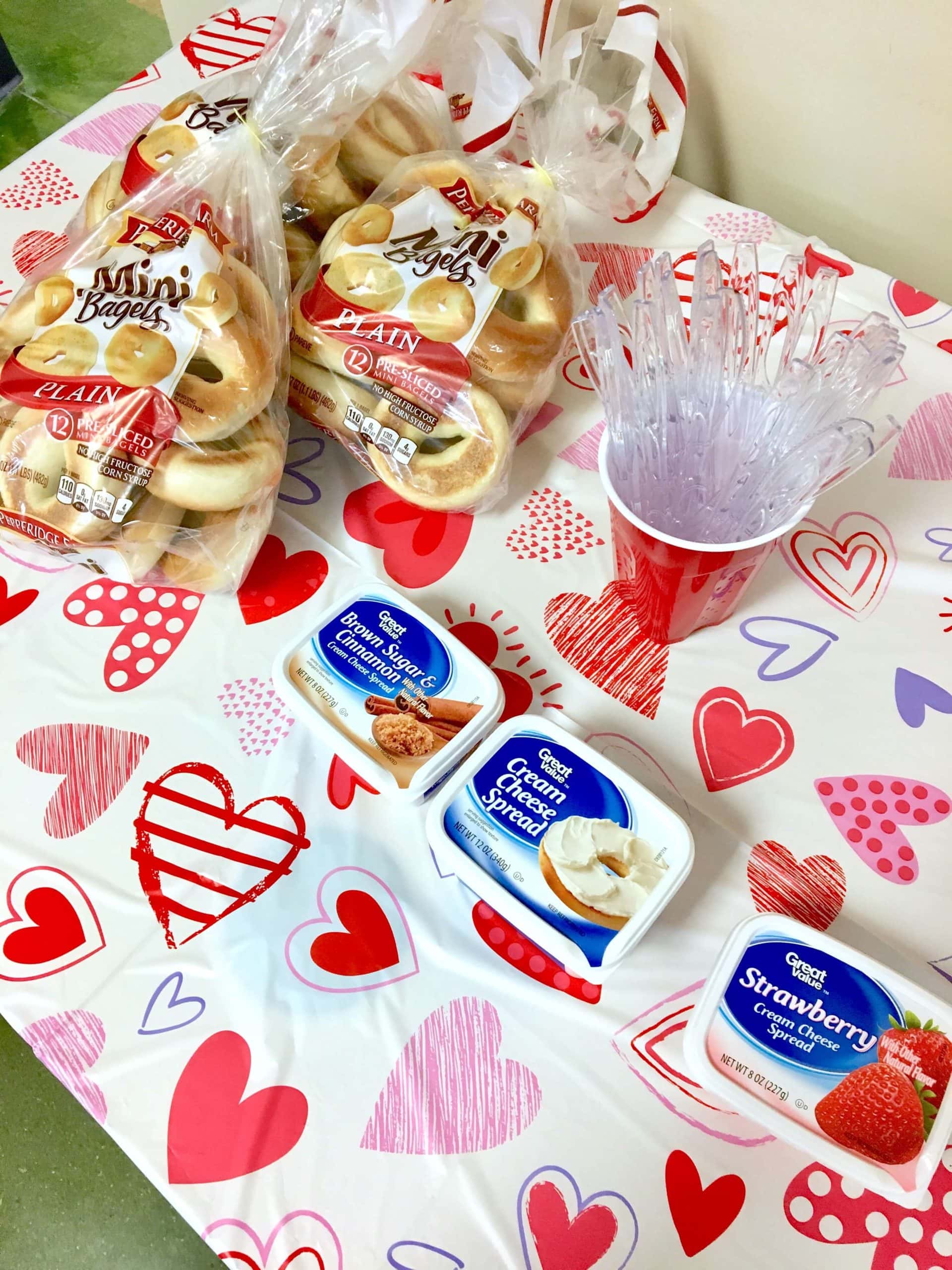 10. Attend Events Outside of School
At the very beginning of the year and then, 3-4 times a year I send a note to families via Remind, our Newsletter, and our Class Website that I would love to cheer their child on in the community. From basketball games to Christmas plays to dance recitals to family dinners – it is such a blessing when students and families invite you into their lives. Additionally, some of my favorite students may not excel in school but shine somewhere else. When I show up for these shinning moments, it's a reminder to me and families that students are real-people with real talents, too.
11. Leverage Student Talents
Anytime we can celebrate differences and talents in the classroom, let's do it. From a student bringing in their violin to play to writing how-to pieces, knowing our students allows us to leverage their interests for learning and building classroom community.
Every student connected. Connection matters. As teachers, we are looking for those students who might feel like they don't matter and then, intentionally connect them to others. But, students can do this too. In this read-aloud and mini-lesson, students explore why people might feel invisible in school and how we can help make those people feel seen, heard, and loved. (Read more about this lesson here.)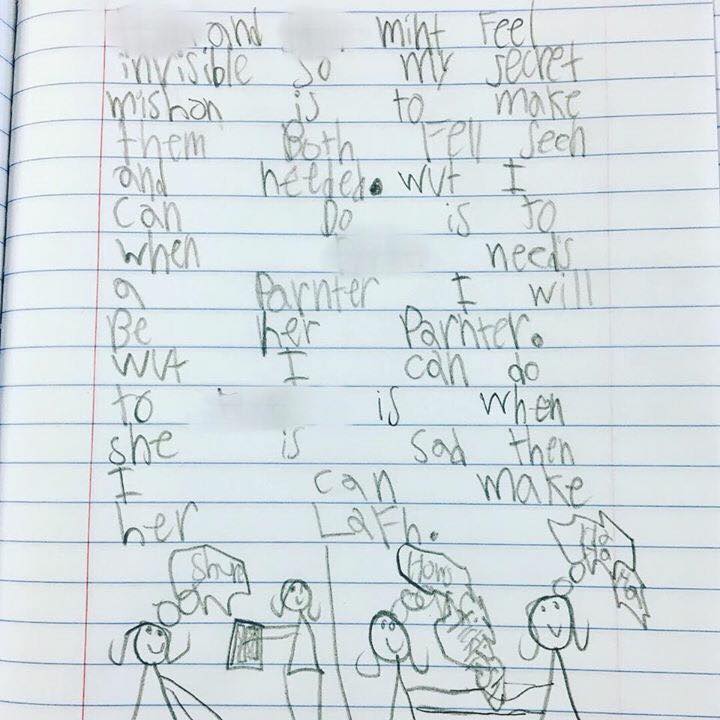 13. Offer a Job that Highlights Student Strengths
From electrical to botanist, classroom jobs allow everyone to have and claim a niche. Additionally, these classroom jobs allow us, as teachers, an easy way to thank and celebrate students. (Read how jobs work in our classroom here.)
14. Ask Questions about the Classroom
When we ask students about how they feel and see our classrooms, it communicates that their opinion and feelings matter. Throughout the year, let's create the space for students to reflect on the classroom and what tweaks need to be made. (Check out one of my favorite mini-lessons here.)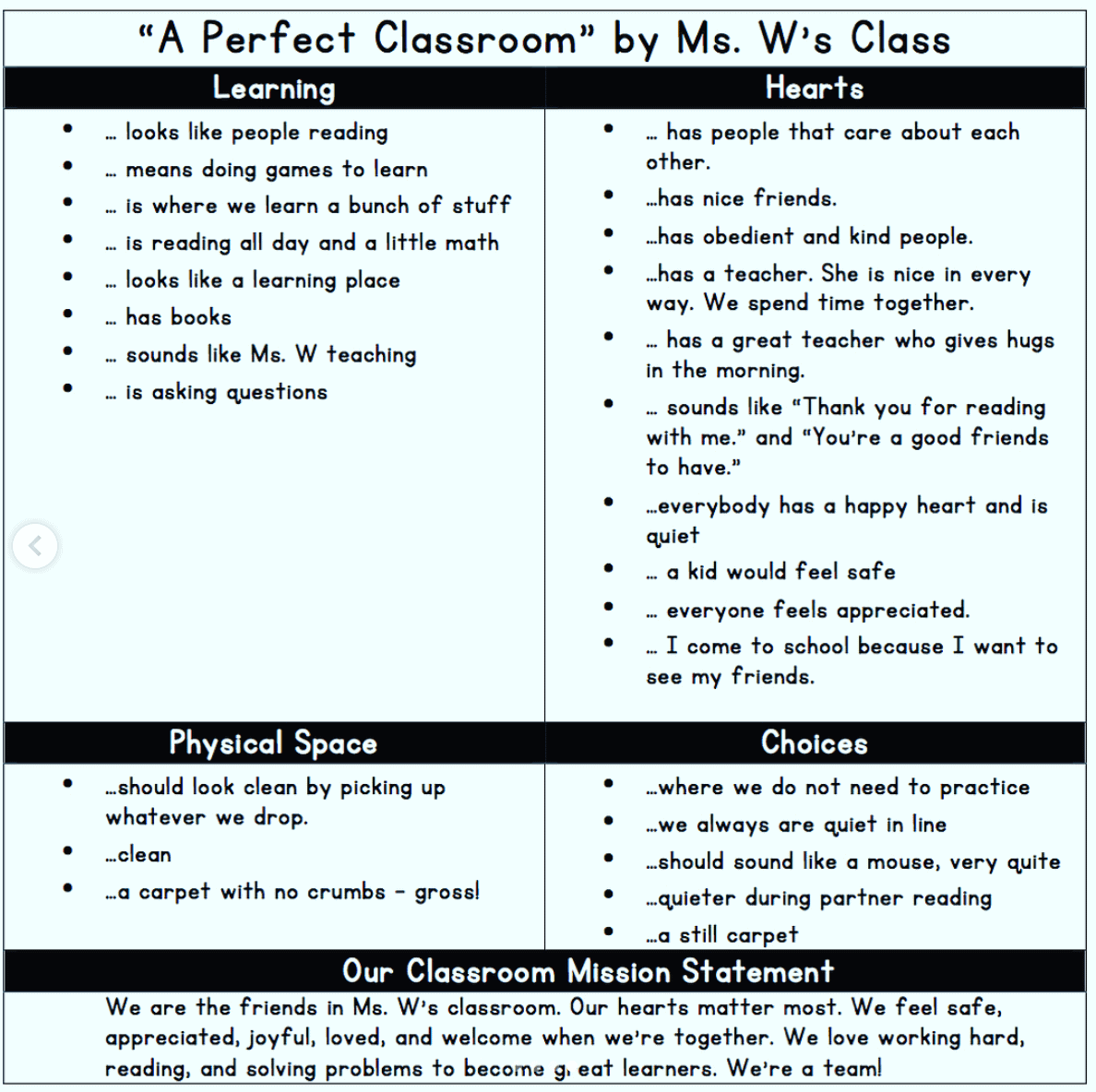 15. Names & Eyes
So, so simple but saying student names and making eye contact every day is sometimes lost the hustle and bustle of the day. School days are whirlwinds. We make thousands of decisions, there is always something happening, and we still need to teach. There have been several times that as students walk out the door, I realize I never said _____'s name. It's heartbreaking. Since then, my rule is that every student will hear their name and see my eyes every day. Without fail, that means greeting students at the door and then, saying goodbye during the day.
Without a doubt, this is not a comprehensive list. These are just a few of my favorite ways to communicate to students "I Care." Building strong relationships with students matters. Leave a comment and share with me your favorite way to foster this connection. I would love to know what works for your classroom!
Get Free Teaching Resources!

Join me for weekly classroom updates and free resources that are just-right for your guided math classroom!