Number Talks (Kindergarten, 1st Grade & 2nd Grade) offer students to opportunity to share their math thinking, hear others' thinking, try on new ideas, ask questions, and make connections. The foundation for Number Talks is collaboration, reasoning, and community.  As teachers we're now considering how we can leverage online tools to continue this daily routine even when students aren't physically on our carpets. (Snag the Kindergarten Bundle Here, the 1st Grade Bundle Here and the 2nd Grade Bundle Here.)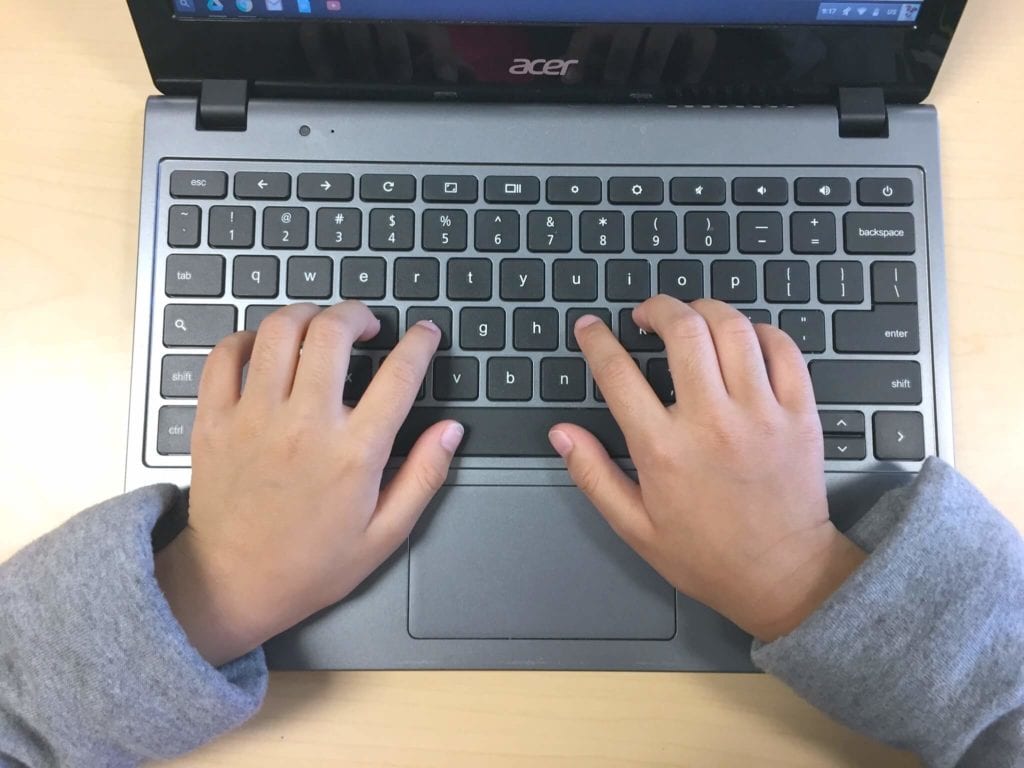 Throughout the post, you'll find Amazon Affiliate links, which means Amazon tosses a few nickels my way if you purchase something through that link, at no extra cost to you, that help keep my corner of cyber-space running and helps fund giveaways!  
Giving Grace
Transitioning to online learning there are a lot of balls in the air, many competing priorities. So, take a moment and take a breath. Offer yourself and your students grace in this experience. In this post, I'll be highlight a variety of options of getting students talking numbers. Pick the one or the pieces of several that work for you and your students. DO NOT feel compelled to try ALLTHENEWTHINGS.
What's the Goal?
Are any of these methods perfect? Nope. That's okay. We are not seeking perfect. So, when considering any routine you continue or introduce in the coming weeks, let's consider – What is the goal?
When I think about talking numbers in the classroom and through remote learning, I know they will provide students –
the opportunity to talk about math in a structured way
some normalcy in their daily or weekly routine, even if for 10-15 minutes
the chance connect with one another
to apply their math thinking in a variety of ways
Access to math content, safety in routine, collaboration – all things I value and are worth the effort of trying to figure out a talking numbers routine that works for us.
Grab this FREE Talking About Numbers - Free Sample
Leveraging Pre-established Number Talks Routines
Leveraging the technology and routines that are already in place offers students some predictability, control, and familiarity to their day. How might we leverage preexisting talking number routines?
Silent Signals —> Using Google Meet or Zoom, students can use these signals vis video to communicate with you and their classmates. Bonus option: Use Google Meet Grid View and your class turns into the Brady Bunch.
Teacher Scribing —> Host a live talking numbers prompt with you as the teacher recording.
Math Journals —> If you are already using math journals, have students continue. Writing responses by hand, students can take a picture of the work, and adding it to Slides or Seesaw.
Building off of Peers —> using Slides or Flipgrid students have access to others' feedback and responses.
Live – Zoom or Google Meet Sharing Screen
We'll start with the least tech of all option and gradually become more involved. There is NO shame in staying low-tech. At all. You might start low-tech and consider adding a new element or tool to your belt every week.
Host a live video with you students via Zoom or Google Meet. Screenshot (command + shift + 4 on a Mac) the tasks of the day and insert them on Google Slides. Then, share your screen with students. Have students use silent signals to indicate their readiness to share and just have a great math conversation. Students might also type into the chat box to add-on to others to share ideas. Going this route, students are hearing the thinking of others, not necessarily seeing. And that is okay. This is a great way to establish talking number procedures, get students use to the routine, connect face-to-face, and start in a non-threatening way (for you and your students)!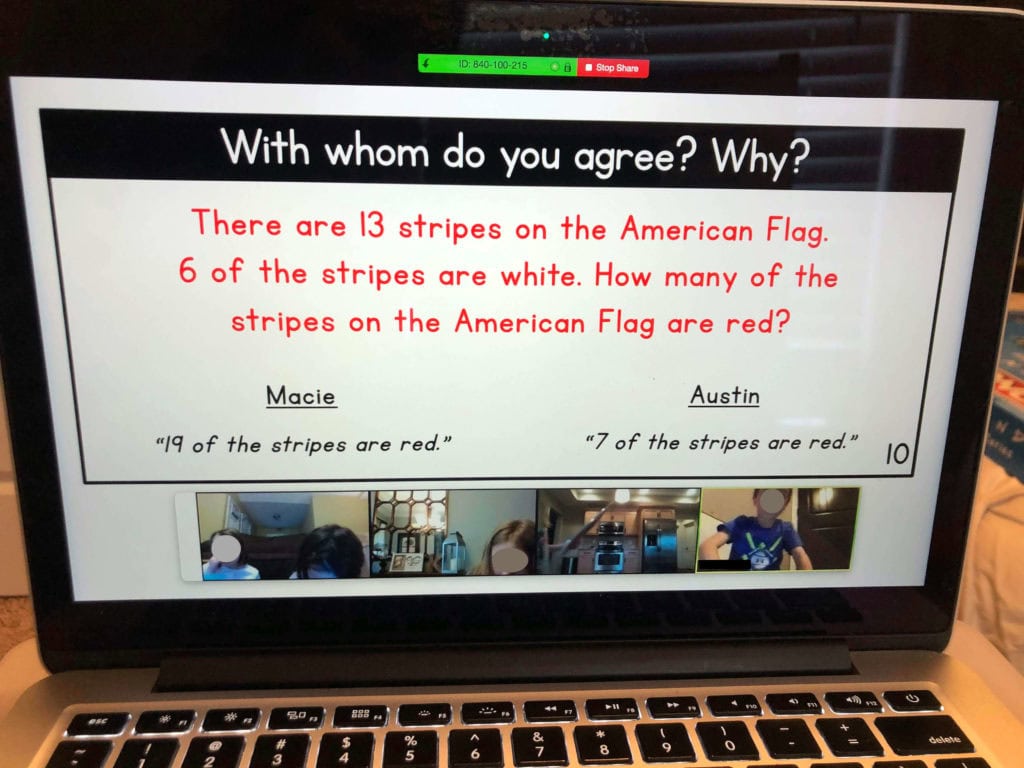 Live with a Whiteboard
The least involved or teach-heavy routine, would be this one. It would be a great first step in establishing number talks via remote learning avenues. Students log into Zoom or Google Hangout. You, the teacher, do the same keeping the camera on you. Then, using chart paper attached to a wall, an easel, or a white shower (dry erase markers work on this surface and easily erase), record student thinking about a problem. You can use a second device (phone) or share your screen to display the problem or task to students.
You can see this simple routine modeled by me (with adults) here.
Using Google Draw
Open Google Draw, Insert a screenshot of the prompt or task of the day, and share your screen on Meet. On Meet students will still see you face and see your screen. Then, as students share their thinking, record it on Google Draw. To access the drawing tool, you'll go to "Insert" —> "Line" —> "Scribble or Curve". You'll use it as an interactive white board and voila! (Note – This option involves no shame or insecurity. It's HARD to recording student thinking with a track pad, so your handwriting may look like a hot mess. It's the name of learning. Breathe and move on. (Note – If you are using a touchscreen Chomebook, iPad or a stylus this options is infinitely easier and less messy. 🙂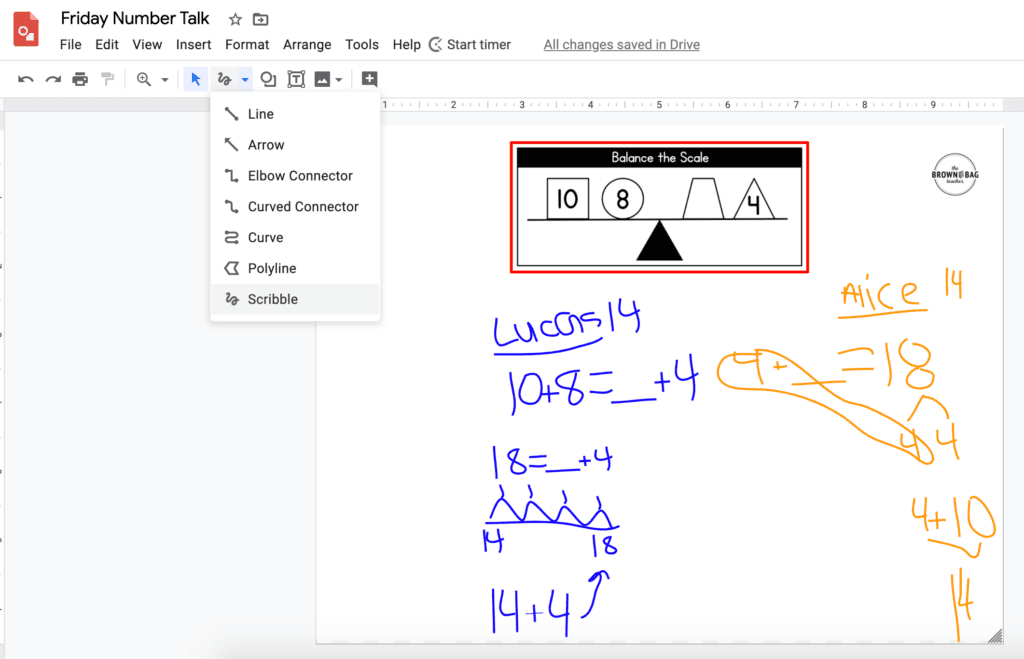 Collaborative Google Slide or Google Drawing
Using Slides or Draw, screenshot a talking numbers prompt (Kindergarten, 1st Grade & 2nd Grade) and add it to the first page/slide. Share that same link with all students (via Remind, Dojo, Google, Classroom, or the chat box on Zoom or Meet.) Then, adding multiple slides or pages, students can upload pictures (i.e. show they're thinking on paper at home, take a picture, and upload), audio, or text. Using Text + Comment (a Google extension) you can add built-in audio comments and feedback for students. So, there is no live conversation for this avenue, it does allow all students to share their thinking in a way that meets the needs of them and their families, as well as, provides us  – as teachers – a simple avenue for giving feedback. (Snag the 2nd Grade Talking Number prompts here.)
Number Talks via Flipgrid
Flipgrid is an always-free avenue that allows students to post short videos and give feedback to their friends. Creating a class account allows you to control who sees FlipGrids, as well as, create threads for different subjects. Create a "Number Talks" thread and you're ready to begin.
The process for Number-Talking on Flipgrid might look something like this –
Create an introduction video for the task. Show the problem or thinking stem.
Students think and respond via video (can be used on an iPad, phone, or computer).
Ask students to view and leave feedback/comments on the thinking of at least 2-classmates.
Using Flipgrid is a great way to scaffold giving feedback, allows all students to have an access point and a voice in the math thinking, as well as, offers you the chance to "see" and hear from your students. Families have access to Flipgrid, so they can easily support and check-in on this growing board.
Additionally, when using Flipgrid consider adjusting the rubric or "grading" to meet your needs. When I've posted number talks via FlipGird these are the things I am looking for –
math vocabulary
thinking not just procedures
easy to understand
accuracy
Leveraging SeeSaw for Individual Number Talk Responses
Using SeeSaw eliminates the collaborative nature of number talks AND it's a great way for students to share their own math thinking. You'll post the math task or prompts. Then, students can record, write, or take pictures of their work and thinking. As you are checking-in with students, it's the perfect thing to pull for 1:1 video conferences or phone calls. Is it a true number talk? Nope. Is is a great option? Absolutely.
Friends – there is no perfect answer for digitizing our classrooms…especially with almost no resources or notice. So, what do we do? We take it bit-by-bit. We leverage the routines we've previously established and tools are students are already familiar with. From there, we take small steps in trying things out and self-correcting. This is a process of us being constantly in Beta. IT can be frightening and bring a sense of failure, but it's not. Working in Beta just means we are constantly improving, trying new ideas, and learning from previous experiences.
Do you have any other ideas for during number talks digitally? If so, I'd love to hear your ideas!
In the meantime, to learn more about talking numbers in my K-2 classroom, click the links below:
Get Free Teaching Resources!

Join me for weekly classroom updates and free resources that are just-right for your guided math classroom!