Number talks (Kindergarten, 1st Grade & 2nd Grade) offer a bridge between conceptual understanding and mental math. During mini-lessons and Guided Math, I am ALL about manipulatives. Base 10 pieces, unifix cubes, cuisenaire rods – give me all the math things. Especially in 1st grade, manipulatives offer a concrete way to represent a number and their thinking. At some point, this concrete thinking has to begin to transition into abstract and mental math processes. Number Talks offer a daily, short, structured way for students to talk about math with their peers.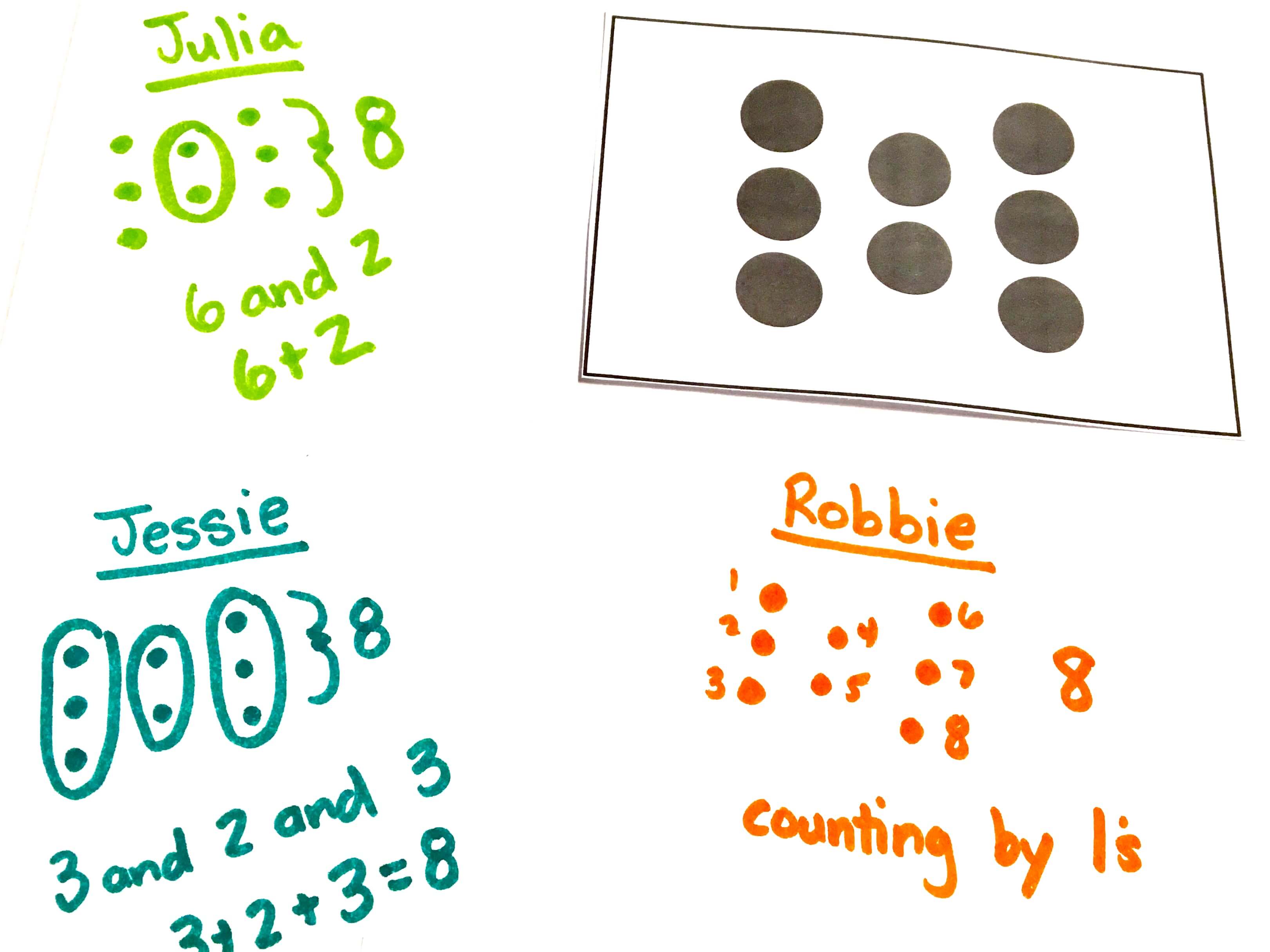 What is a Number Talk?
Number Talks are short (10ish minutes), daily exercises aimed at building number sense. Number sense is the ability to play with numbers meaning students can visualize problem solving, perform calculations quickly, and are flexible in their mathematical strategy. Students who have strong number sense solve problems in more than one way and check that their answers make sense. As a part of this routine, students are thinking, asking their peers questions, and explaining their own thinking all while the teacher records the thinking.
Sherry Parish has written the book Number Talks (Amazon affiliate link) and it offers awesome ideas for Kindergarten to 6th grade. It is definitely an expensive (up to $60 if bought new) but offers great ideas and real-life examples of Number Talks.
What Do Number Talks Look Like?
When possible, I love slipping a number talk (Kindergarten, 1st Grade & 2nd Grade) in at the beginning of our Guided Math block. If we're running late, I'll slip a Number Talk in during an awkward transition or at the very end of the day. A traditional talk follows this routine –

Present the class with a problem. Students are seated in a common area with no math tools. Number Talks are mental exercises. I store my number talks (Kindergarten, 1st Grade & 2nd Grade) on binder rings next to my Document Camera for easy access.
Give think time. (When a student raises their hand, it tells other students they were not fast or good enough in their thinking. To account for this, students give me a sly thumbs-up on their chest to signal that they have thinking they want to share. Then, they put up multiple fingers (on the same hand) to indicate they have multiple ways to answer/solve the problem.
3. Call on a student – "_______, what are you thinking?" Have the student explain their thinking and then give their answer. My focus is always on the process not the answer.
4. Offer the strategy to the class. Student will elaborate (if correct) or ask questions (if misguided). If students aren't sure they understand a friend, they will say "I'm a little confused. Could you tell me in a different way?" If students agree with the student sharing they will do sign-language for 'me too' (thumb near chest and pinky pointing at friend). This builds the student's confidence and also offers the student sharing positive affirmations.
5. Invite other students to share their strategies.
Scaffolding Students
If students have never been expected to explain their mathematical thinking, students may be very resistant to share their own strategies. So, how do I encourage students to share their own thinking/strategies?
Model, Model, Model – The first 2 days of Number Talks, I do a lot of modeling. After this, I completely release the Number Talks to the students.
Sentence Stems – "In my head I saw…" "My first step was…" "At first, I decided to try…" "I needed to…"  "Since I wasn't sure what to do, but I noticed…"
Force It – Awkward silence is your friend. Sometimes I will wait (for extended periods of time) for students to share their thinking. Even if a friend is STRUGGLING with a problem or sharing their thinking, I do not come to the rescue. Growth comes when friends are able to sort out their own thinking and my 1st grade friends are able to do this…even if it is a little painful for me.
Examples of 1st Grade Number Conversations
So, it all sounds great, right?? But what do number talks actually look like? My first
talks
(
Kindergarten
,
1st Grade
&
2nd Grade
) each year are always subitizing patterns (dot patterns). They are the perfect introduction into composing and decomposing numbers. Slowly that transitions into the 100s chart and eventually into word problems and balancing scales.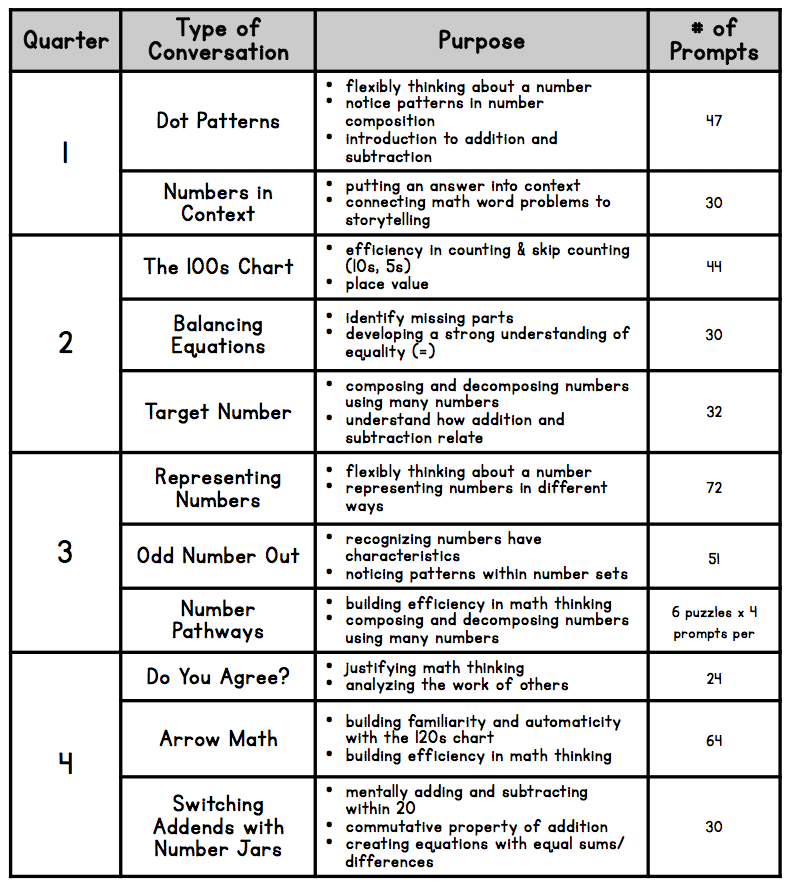 In the 2nd grade number talks, the focus is on building fluency within 20 and 100, as well as, layering skills in different ways. From missing addends, to algebraic thinking, over 400 prompts offer students dozens of chances to spiral review math skills each month.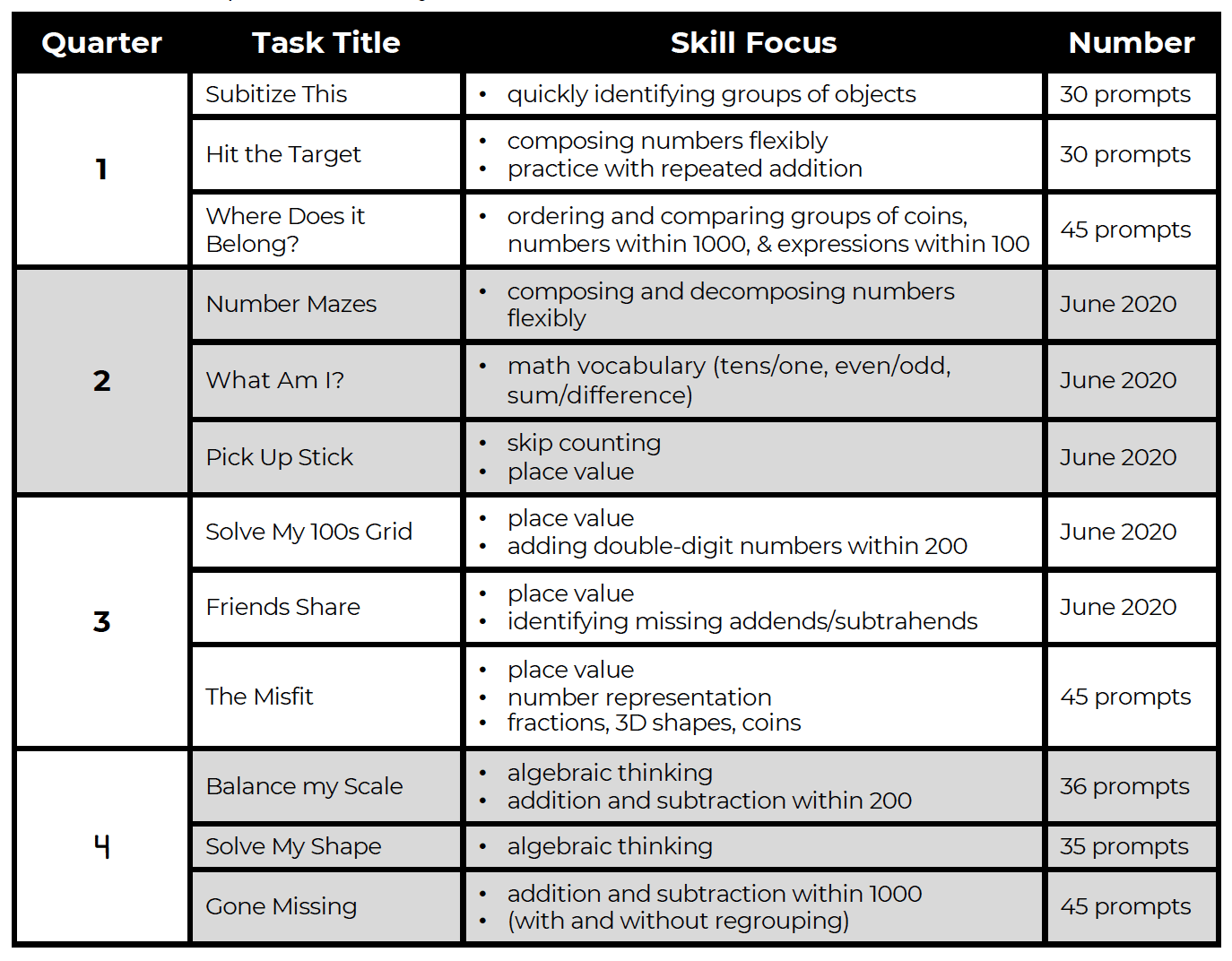 Subitizing Quick Images
Subitizing (Kindergarten, 1st Grade & 2nd Grade) is the ability to quickly identify the number in a group of objects without individually counting the objects. It is a concrete way to explore composing and decomposing numbers. Students will see dot patterns in different ways, and that is a great thing. When showing students 6, made from a pyramid students might see 3 and 3, 5 and 1, or 3 and 2 and 1. These are all ways to build 6 and lead students to understand that numbers can be composed and decomposed in many different ways.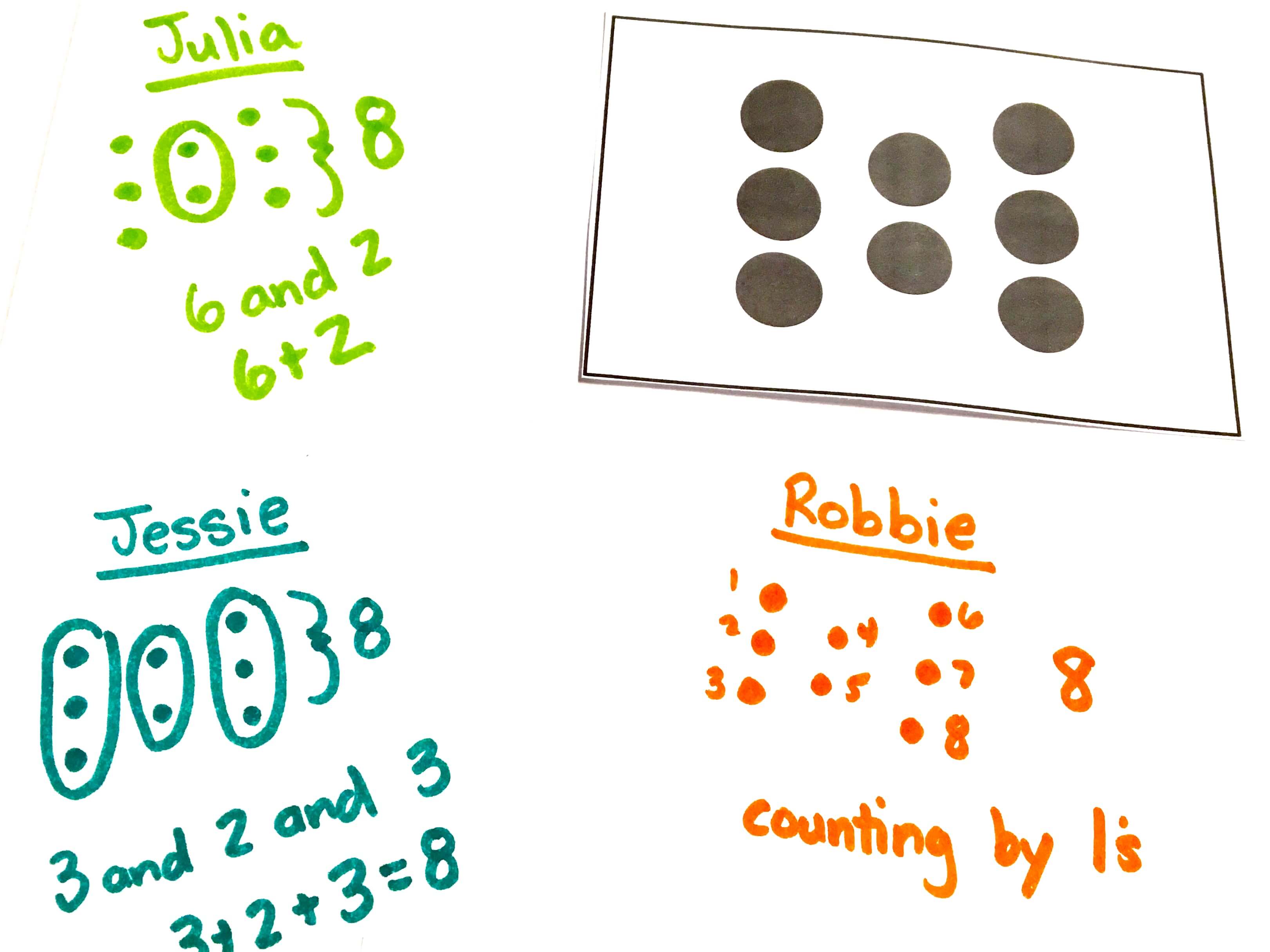 Composing Numbers
Flexibility in number thinking is a critical skills in beginning mathematicians. Students must understand that 7 can be made from 4 and 3, 2 and 5, 6 and 1, or 7 and 0. Below students are provided with a "Target Number" and ask students to use some of the provided numbers to hit the target. Students then have to decide how many numbers to use, which operation to use (addition or subtraction), and then, decide if number order matters. (1st Grade Prompts, 2nd Grade Prompts)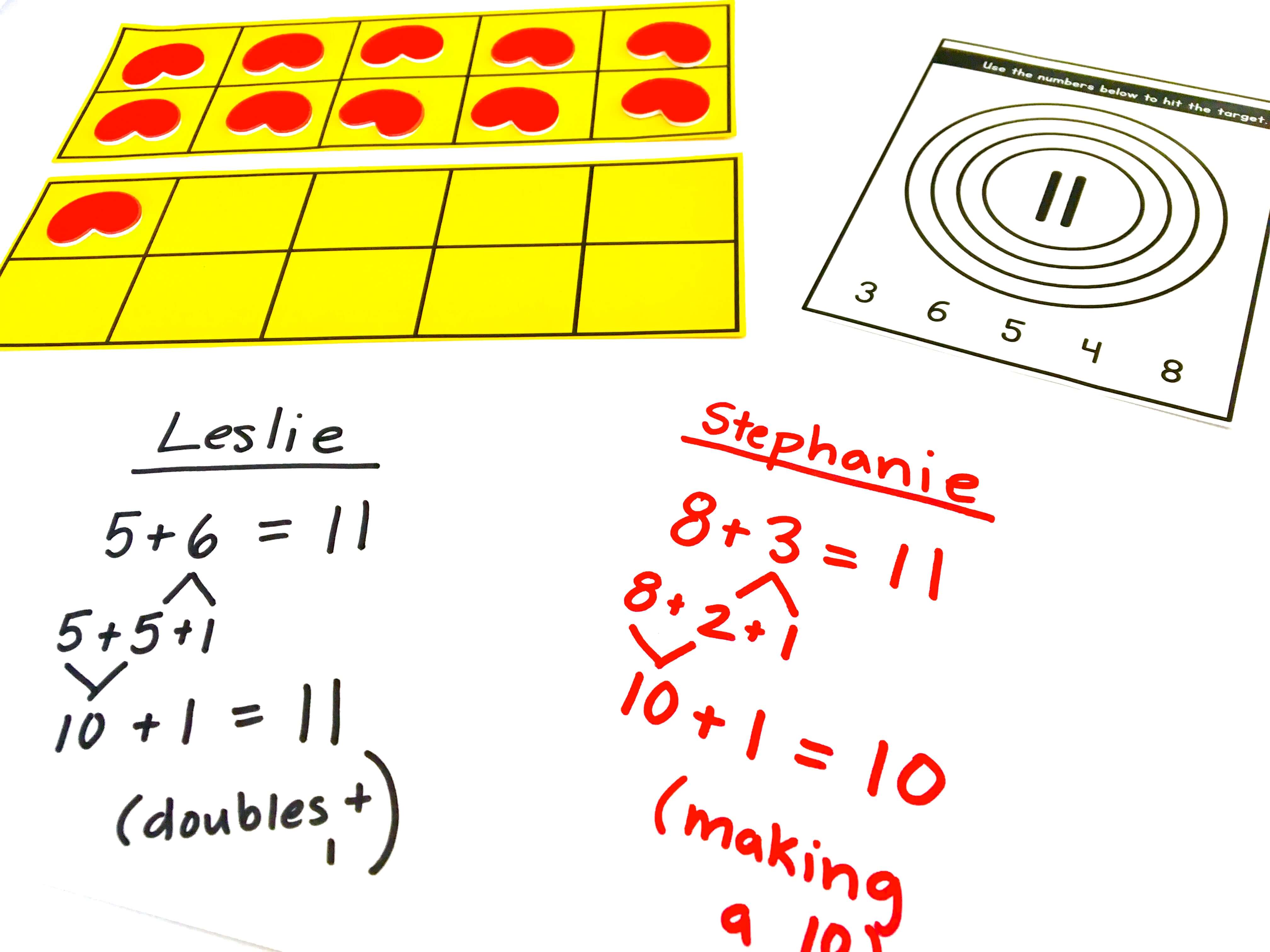 Flexibly Composing AND Decomposing Numbers
An important part of teaching primary students is to build number fluency and flexibility. Students should be able to encounter numbers in a variety of formats and engage with them in a variety of ways. During our Representing Numbers conversations (1st Grade & 2nd Grade), I encourage students to branch outside of the typical ten frame, plus one, etc. These are great strategies when we first start, but after the first few days students can build on these basic representations to develop different relationships and understanding.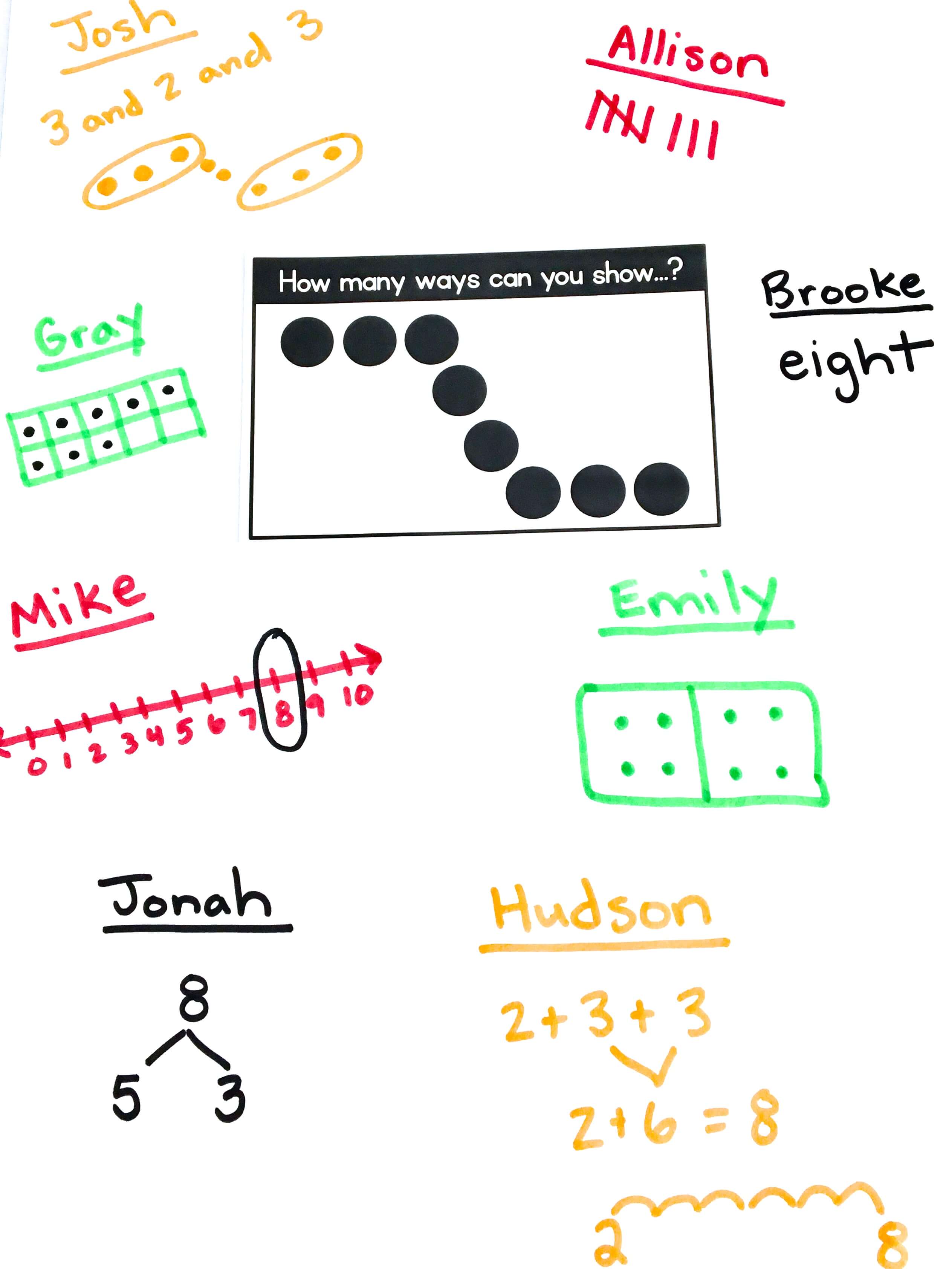 If you're interested in me emailing you some of my favorite ways to talk about numbers, sign-up here and confirm your email. Some sample number talks will appear in your inbox.
Live Talking Numbers Prompt
To see a LIVE Talking Numbers Prompt in action, click on the video below!
For a FULL YEAR of number conversations for 1st Grade, click here. For the upgraded 2nd grade bundle, which includes digital companions, click here.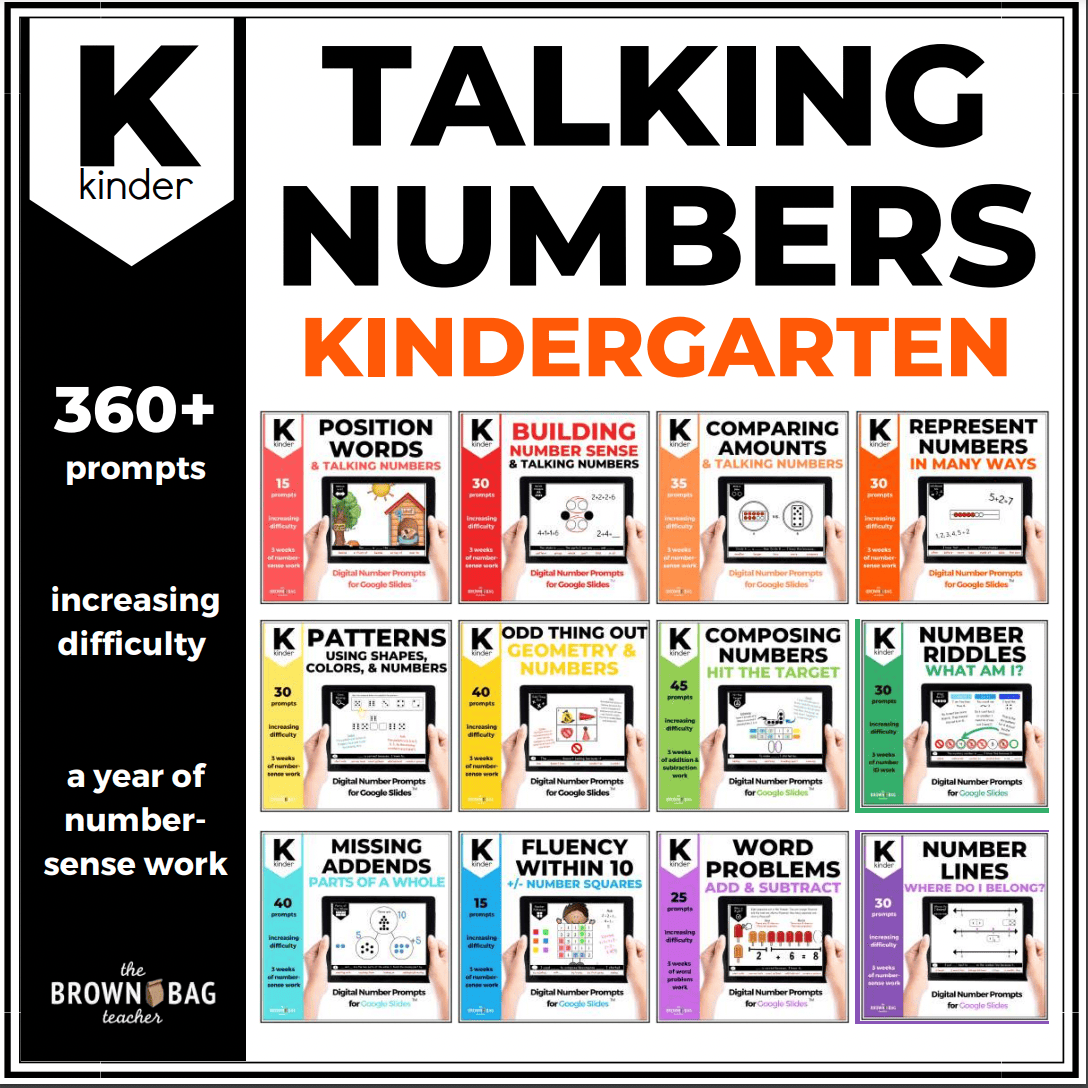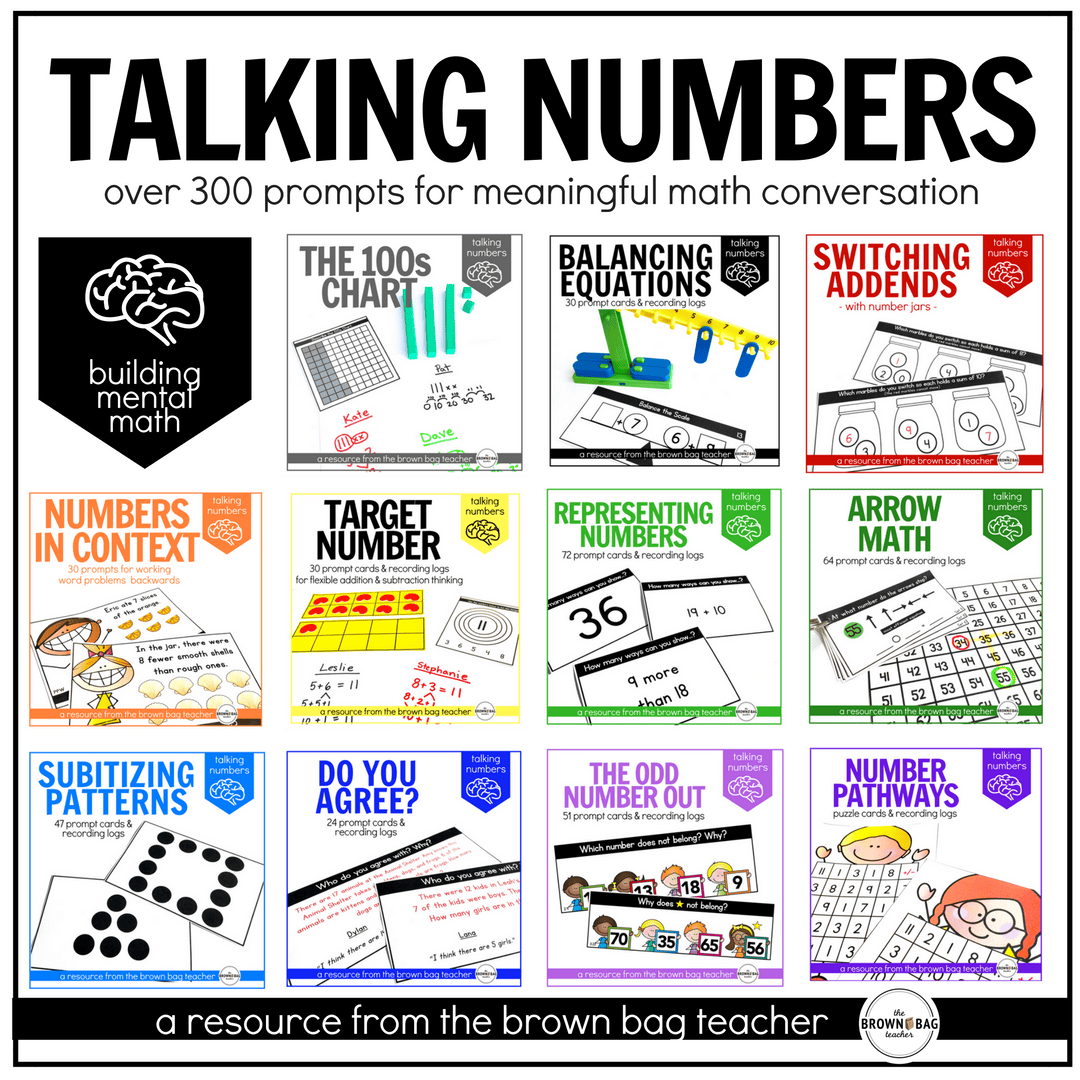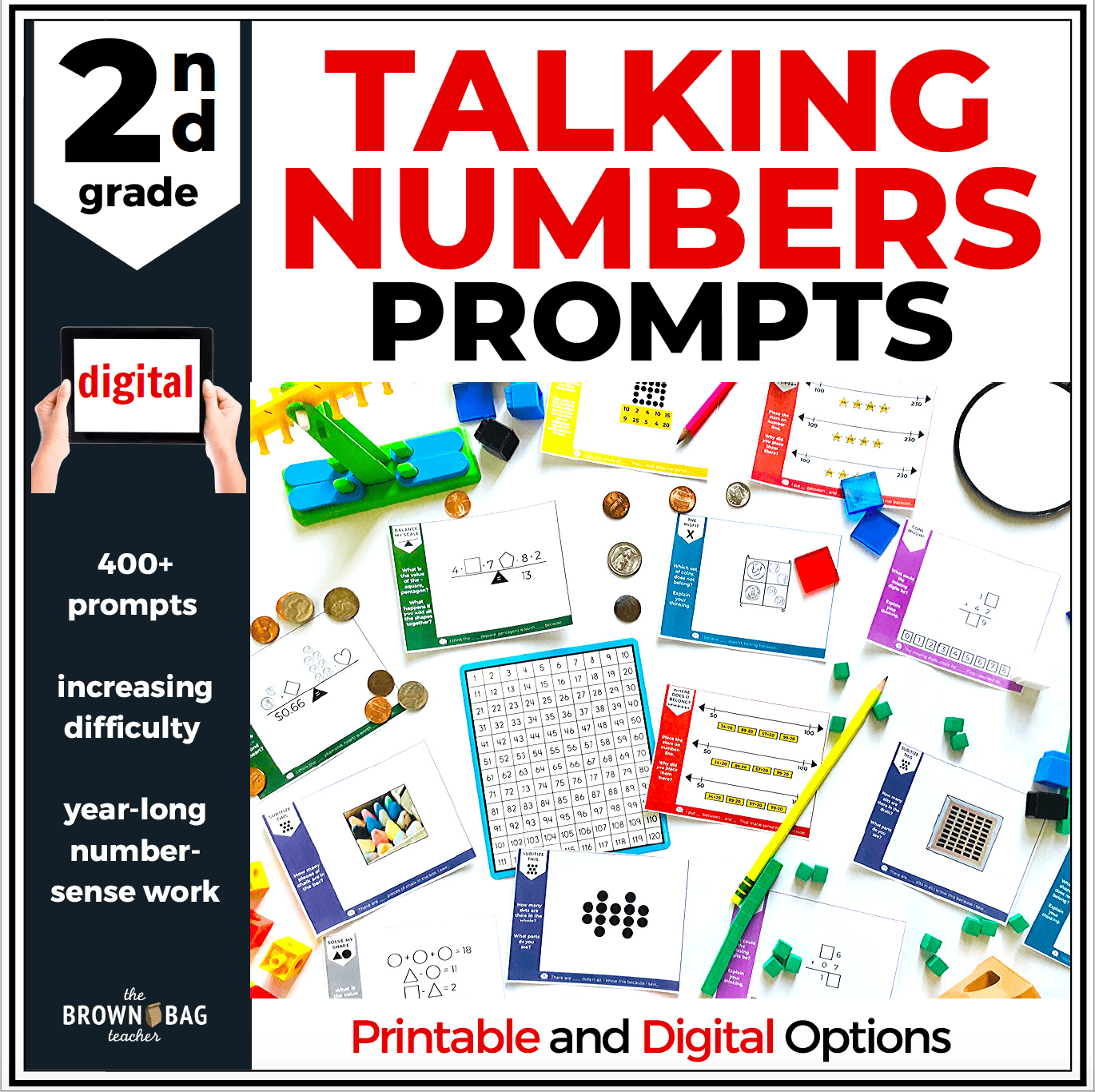 So friends, have you used number talks before? If so, how has your students' number sense changed since using them? Do you have any go-to number talks? I'd love to hear your ideas!
In the meantime, to learn more about talking numbers in my K-2 classroom, click the links below:
Grab this FREE Talking About Numbers - Free Sample