Independent research in 1st and 2nd Grade is not something that just magically happens. Organizing writing is not something that just happens automatically. Both of these skills have to be explicitly modeled and scaffolded for students. The great news? When given the opportunity, students rise. The Common Core Standards ask our 1st and 2nd grade students to "Participate in shared research and writing projects", as well as, "…gather information from provided sources to answer a question." Our students are very capable of participating in real-world research with the appropriate scaffolds, supports, and explicit instruction. But how do we get there?
Where Do We Get Our Research in 1st & 2nd Grade?
Initially, research in 1st and 2nd Grade begins with books (Pebble Go and National Graphic Kids are some of our favorites). I'll also print articles and books from Reading AZ and Read Works if they are available. (If you have RAZ Kids, then you can just assign the Reading AZ texts to specific students and they can access them online. #savethetrees). Starting with print resources help me better manage the research and allows us to learn basic research skills before integrating technology.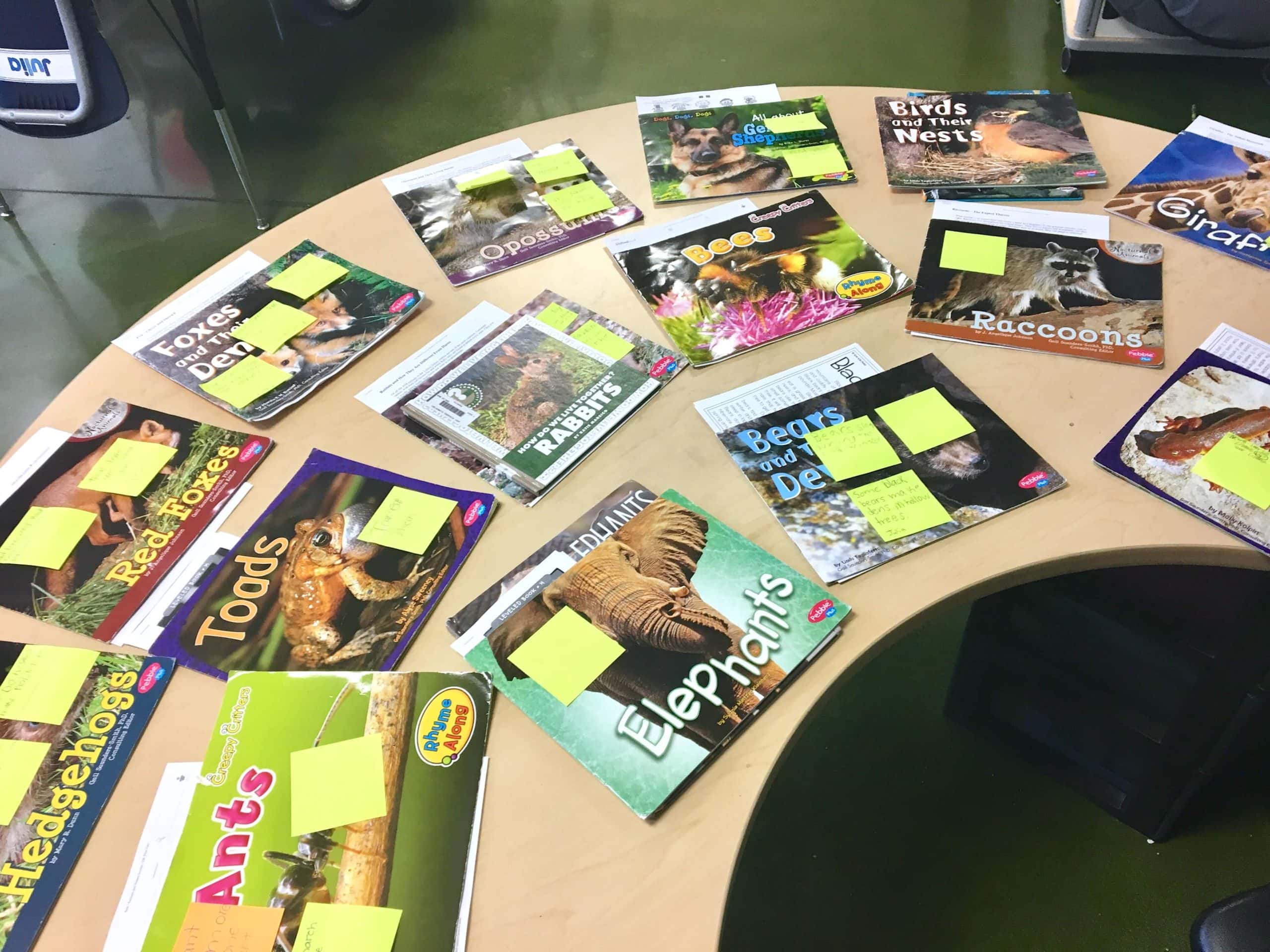 Then, we slowly branch to ebooks using EPIC. I'm able to create topic specific collections for students and share them directly to their EPIC accounts. From there, we model using videos from YouTube (SciShow Kids). Now, the SciShow Kids videos are on Epic, so it's even safer!! (Note – These are 6 and 7 year olds. In my classroom, they will not have the privilege or responsibility to freely roam the internet or YouTube.)
Finally we branch into online databases (all KY schools have free access to Kentucky Virtual Library) and teacher-chosen websites. I link specific websites students are allowed to visit from Google Classroom. As we explore these online resources, we have frequent conversations about internet safety and internet expectations. When online, our choices should always help us become better readers, writers, and humans.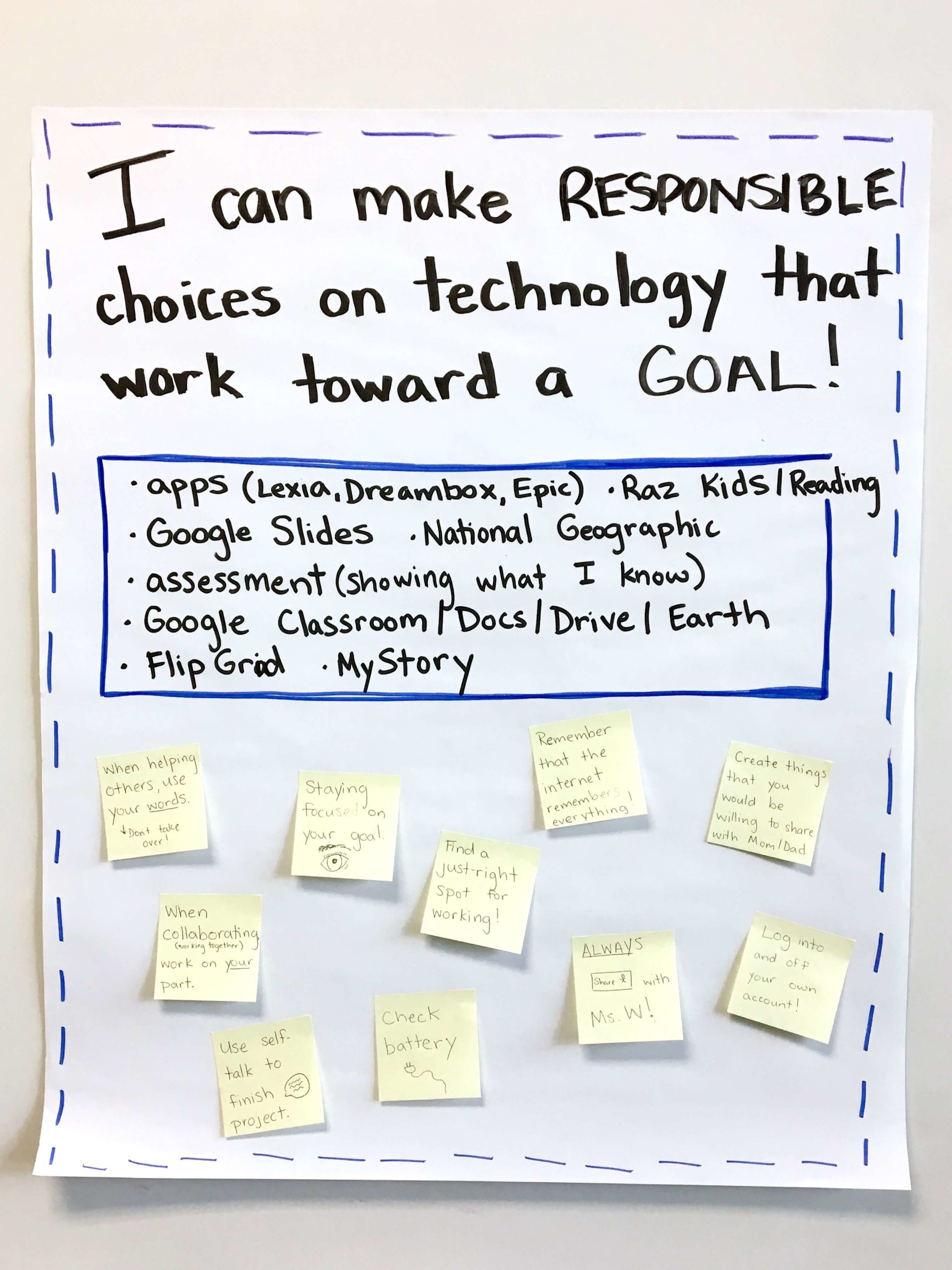 Scaffolding research collection in this way allows me the opportunity to model expectations for each resource and how to use it, as well as, ensure students are safe.
Why Organize Research in 1st & 2nd Grade?
Organizing and structuring writing is not a skill that is innate within students. Students have to be explicitly taught executive functioning skills – such as organization. Additionally, when we research I don't want students just copying down an entire book or webpage. The world's most random collection of information will not be helpful in sharing our learning down the road. Researching in 1st and 2nd Grade means we invest the time to learn, read, model, practice, and tweak together.
When teaching students to gather and organize information, there are DOZENS of structures for doing it. As a teacher, I typically pick 3-4 different ways that are developmentally appropriate for my 1st and 2nd graders, as well as, lend themselves to the types of research we will be doing.
I showcase and model several different ways because students have different preferences and ways of processing information. Additionally, not every topic or research experience can be organized in the same way. Part of writing is giving students the agency to choose the methods that work best for them and the topic being explored. (Click here to download this chart for FREE.)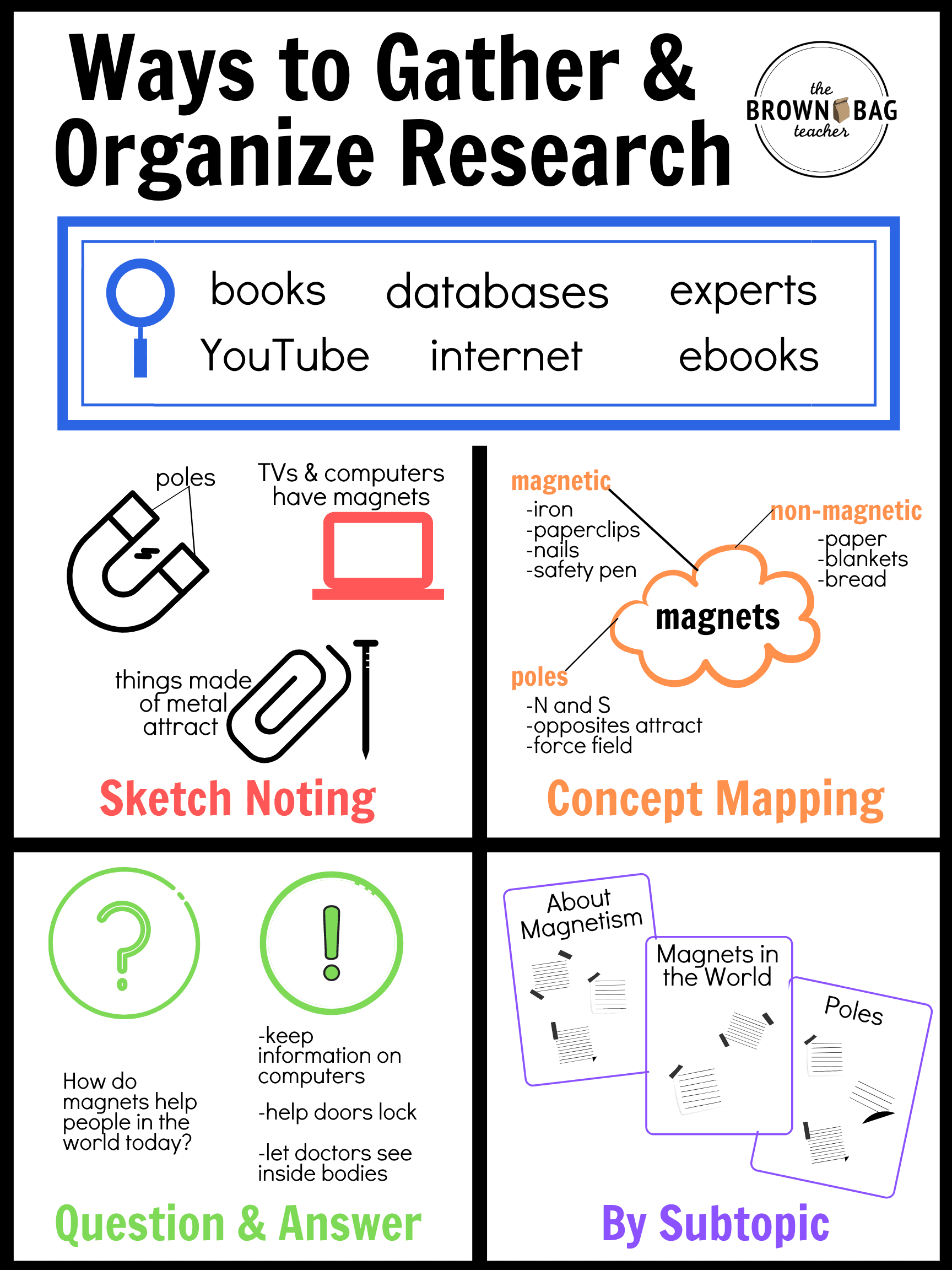 Planning of Instruction
Reading and writing are forever connected and they should be. We can leverage each one to ensure that students see both subjects in context, as well as, part of their daily lives. Additionally, as I am preparing for our research unit, we will leverage whatever we are learning in science and/or social studies. This ensures students have the background to do specific research about a topic, rather than "All About Monkeys".
As new strategies for organizing research are explored we do not abandon all the others. Rather, the strategies we learn are ones that can easily be combined. Sketch noting is the best example of this. It can be a part of a concept map, questions and answers, and/or creating subtopics.
As I introduce ways to organize writing, I will typically do it as a part of our reading or science mini-lessons. The strategy is modeled in the context of content and then, we practice again together during writing. Next, students typically work in partners to try the strategy out and ultimately, they work independently. Some students will need more teacher support in independently researching and that's okay.
Sketch Noting
Sketch noting is typically the first way students to collect research. It is the most kid-friendly and non-threatening. As a class, we read a text from our science or social studies learning and then, consider the big ideas. (At this point, we haven't talked about developing a research question, so our information gathering is broad.) We talk about the ideas and what symbols or pictures represent them. Then, we discuss importance of including captions that contain important vocabulary, people, ideas, and numbers. Sketch notes don't need to be in complete sentences, so it's fine to write single words, bullets, or fragments.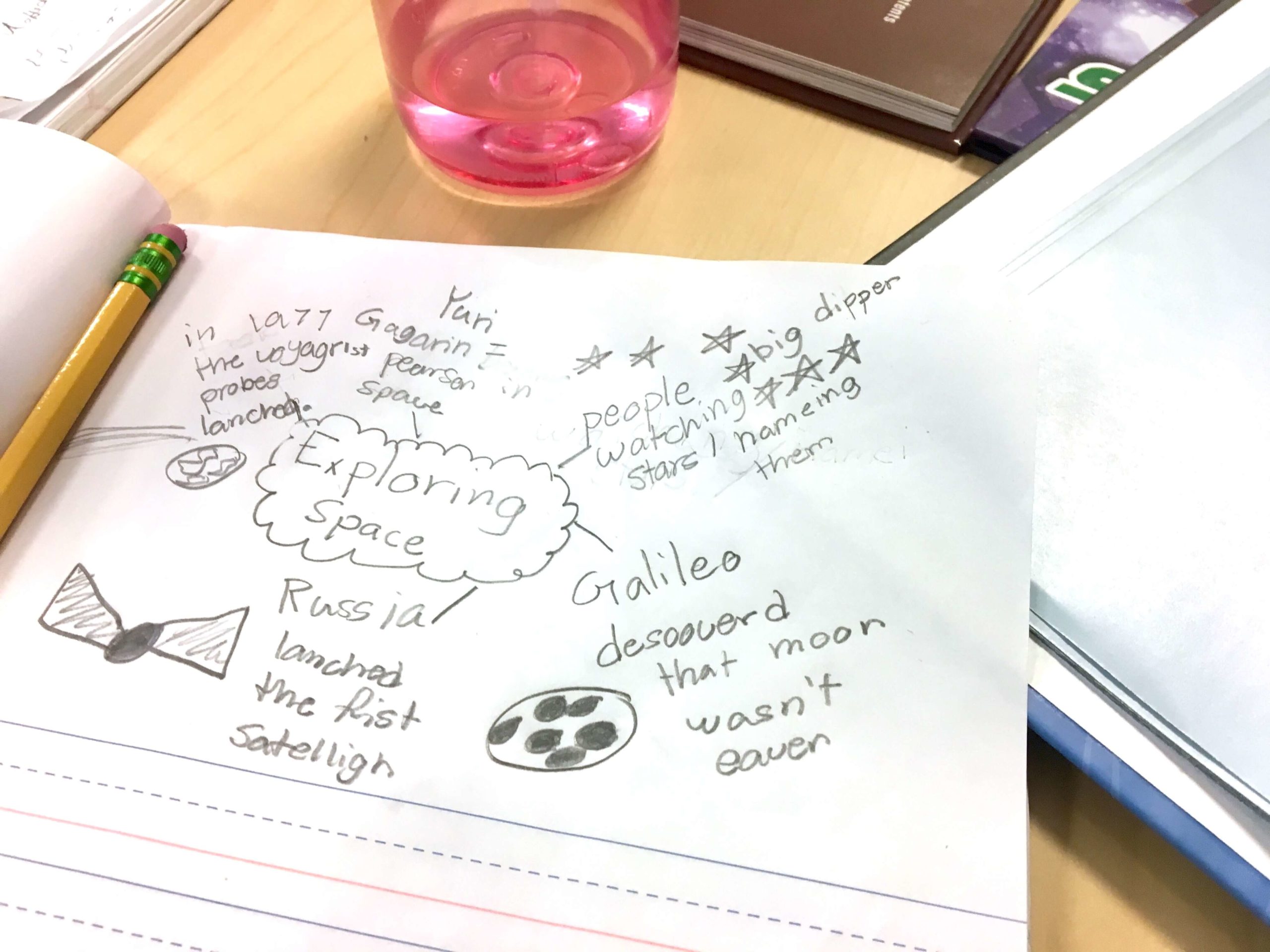 Subtopic
Teaching students to create subtopics is a great way to start narrowing the research field. From all-the-random-facts to these-facts-fit-the-subtopics-I-have-chosen, students are to start differentiating between important information and "fun extras".
The use of subheadings is easily modeled using the table of contents in informational texts. We spend time looking at these texts, noticing what subtopics the author chose to write about, and what types of information he/she included (and didn't include).
As students choose subtopics, we put each subtopic as a heading on a different page in their writing notebook. Then, research collected for each subtopic is placed on the page specific to the learning. This can be done using bullets or sticky notes. Although expensive, I prefer the sticky-note route. It allows the details to be easily manipulated/moved around and seem less daunting for students who are reluctant writers.
Concept Mapping
Additionally, concept mapping is very similar to creating subtopics. Ultimately, this strategy becomes a little nebulous. Often times I will introduce it before subtopics sometimes after. There is no hard and fast rule. If taught after subtopics, we will create concept maps with ALL the information and then, create subtopics into which to sort the information. If teaching after subtopics, we natural embed subtopics into our mind maps.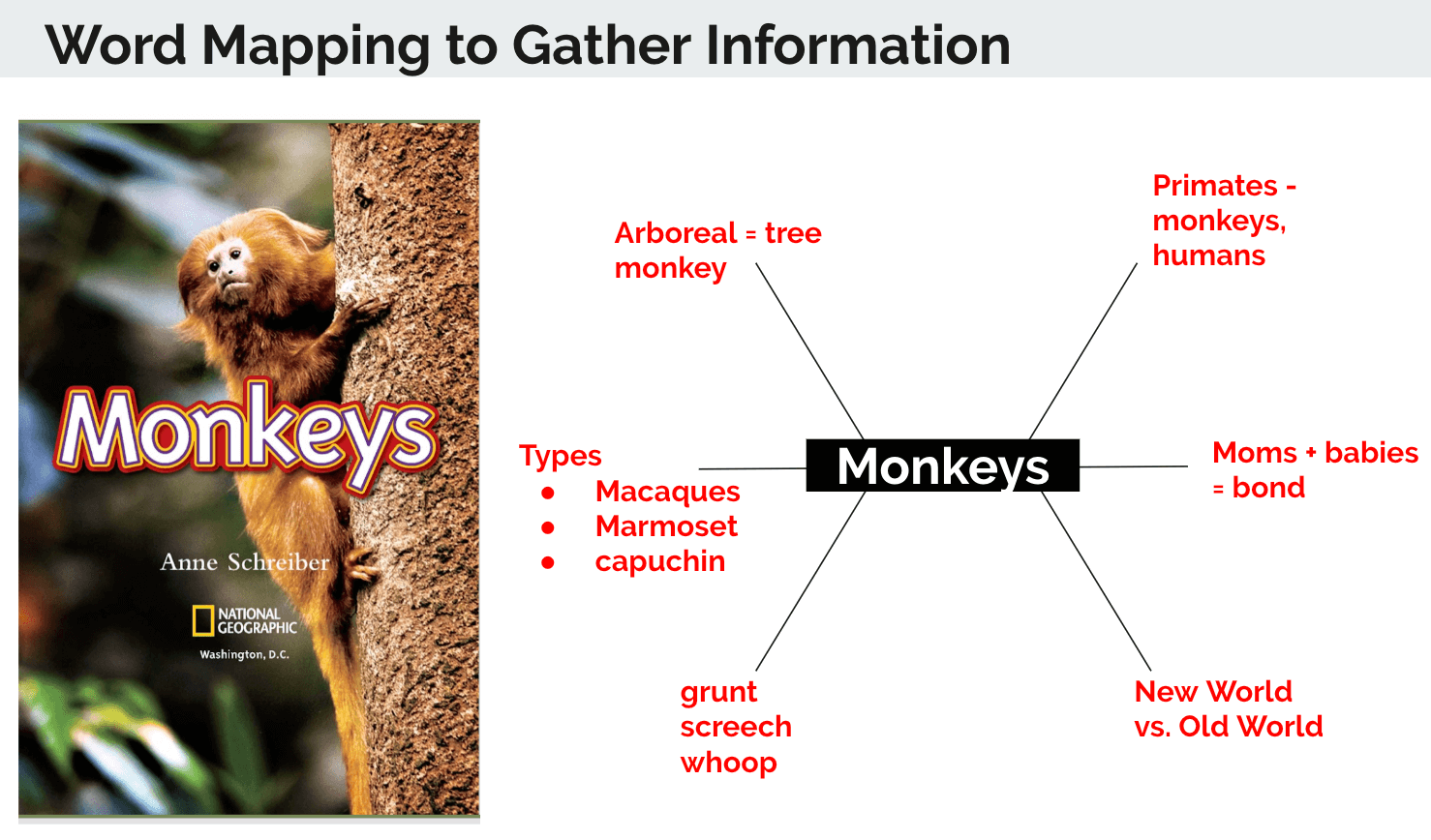 The student sample belows shows a general collection of information with some sketch noting. That's okay! It is a signal to me, as the teacher, we may need more support in structuring our thinking or we may not be focused on a specific research question.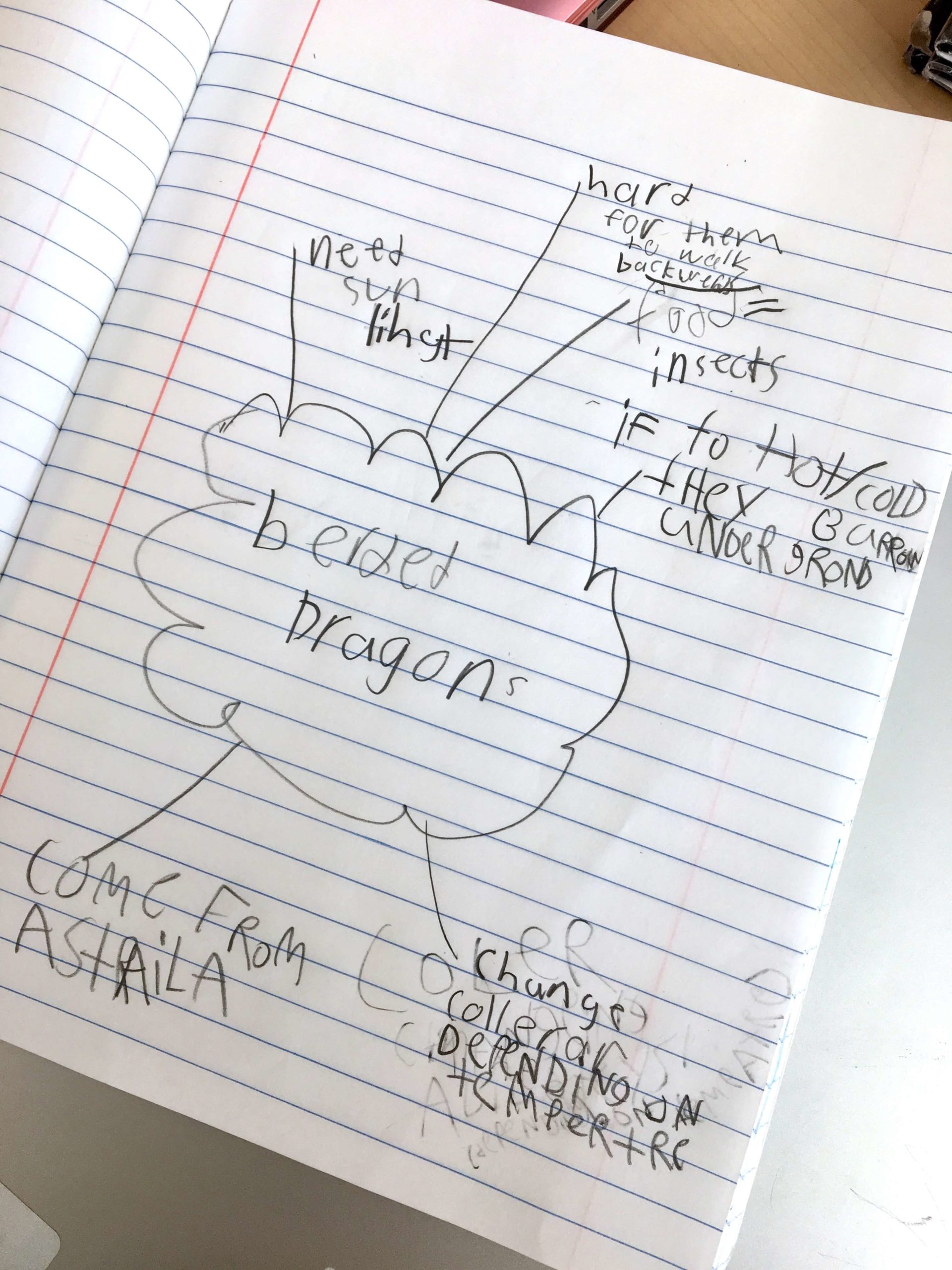 Question & Answer
Hands-down the question/answer strategy is THE most effective for helping students explore specific research questions and avoiding the "All About" book filled with lots of random facts.
To begin this strategy, we read an informational text aloud and identify a sentence or idea in the text that we want to learn more about. We write this sentence or details from the text on a sticky note and stick it at the top of a page in our writing journal. From there, we make a bulleted list of questions from that detail. What do we want to know more about? What would our reader want to know more about?
Now, as we read/listen/write, these become our research questions. This strategy is gold because it means students are driving the inquiry, we are looking at something specific, and the questions will determine which sources we need. Therefore, using multiple information sources become authentic.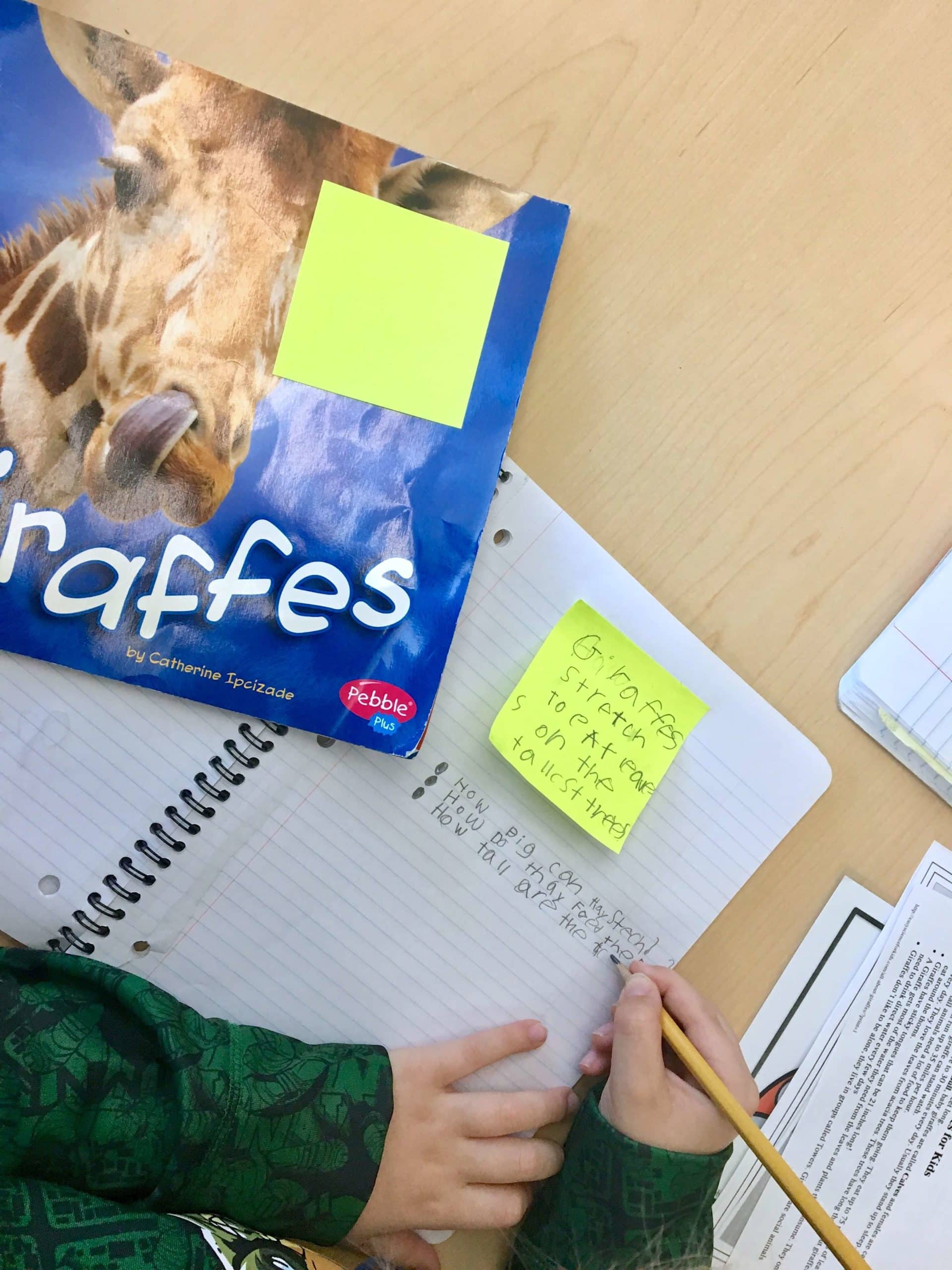 We Have the Information…Now What?
Now that we have completed research on several different topics, questions, and/or questions, we are ready to publish and share our learning. The science or social studies unit our learning aligned with determine how the information is shared. Sometimes we use Google Slides, paragraphs, letters, and sometimes we'll share our ideas in a speech.
Research in 1st and 2nd Grade is a tough task. There will be missteps – not so great mini-lessons, skipping of steps, moving too fast, hard-to-find-research topics – and that's okay. All of these things help us, as teachers, and students grow. Research in the real-world is not perfect, and it shouldn't be in our classrooms either.
So, my challenge to you – offer students real opportunities to learn and research without over scaffolding. Be brave in teaching students' strategies that allow choice, flexibility, and curiosity to reign. You've got this, friends.