Students need access to books at home, and I don't want to assume they have it. The volume of books read is the greatest predictor of student reading success (Allington). Knowing this, sending home 4-7 books each week is a priority in my planning/schedule/book acquisition.
With that said, I needed a routine that became a natural part of our classroom. Something that wasn't crazy orchestrated or controlling. I wanted to provide students access to high-quality trade books, but didn't wanted to spend hours logging, trading-out, or managing which books went home with what students. It was all too much.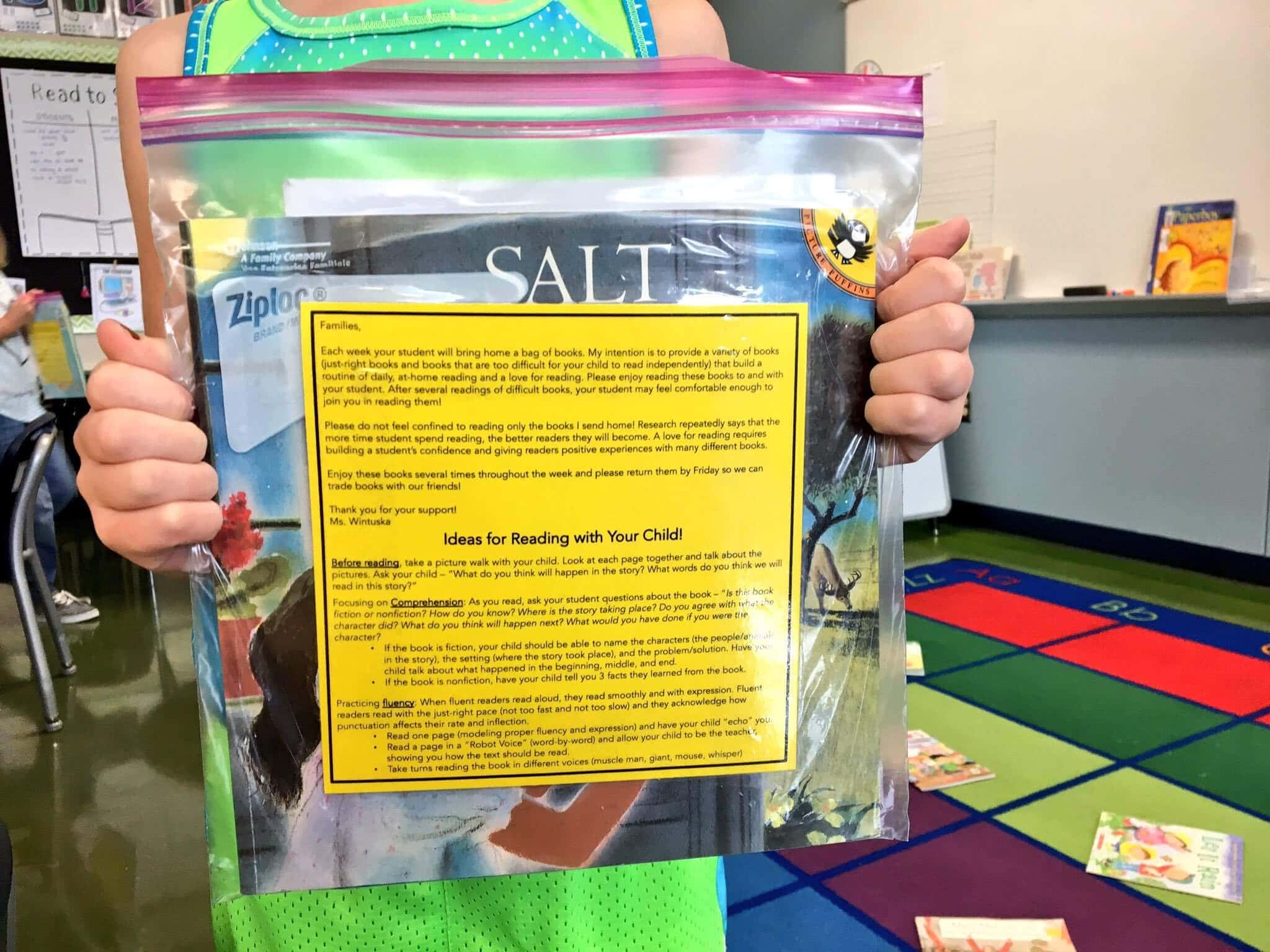 Filling Our Book Bags
Every student gets a plastic, gallon bag. (this way when bags get torn/dragged through mud/lost), it truly doesn't matter. I just grab another gallon bag.
Add this blurb to the front. Cover with clear packing tape to secure.
Spread high-interest books from Half-Price Books, Scholastic, Good Will, or Chickfila on the ground.
Have students sit around the perimeter of the carpet or area where the books are spread.
Call on groups of students to fill (pick a nonfiction/fiction book you want to read, a book that looks funny, a book an adult in your house would want to read, a book you could read by yourself etc.)for a total of 4-6 bookish.
Put book bags in backpack and let families read.
Each Friday morning (6:30 AM) send a Remind text to encourage the return of the bags.
Children set bags on their table when they get to school.
Play "Musical Book Bag" to get new books bags each week. To play Musical Book Bag, students stand around the tables (with book bags on the table) and  cake-walk it until the music stops.
Once a month, return to Step 2 and resort/pick books.
Boom. Done. It's a simple, no-stress way to make sure students have lots of books to read. The books are books students wants to read and can be read by themselves, with an adult, before school, or even with a friend.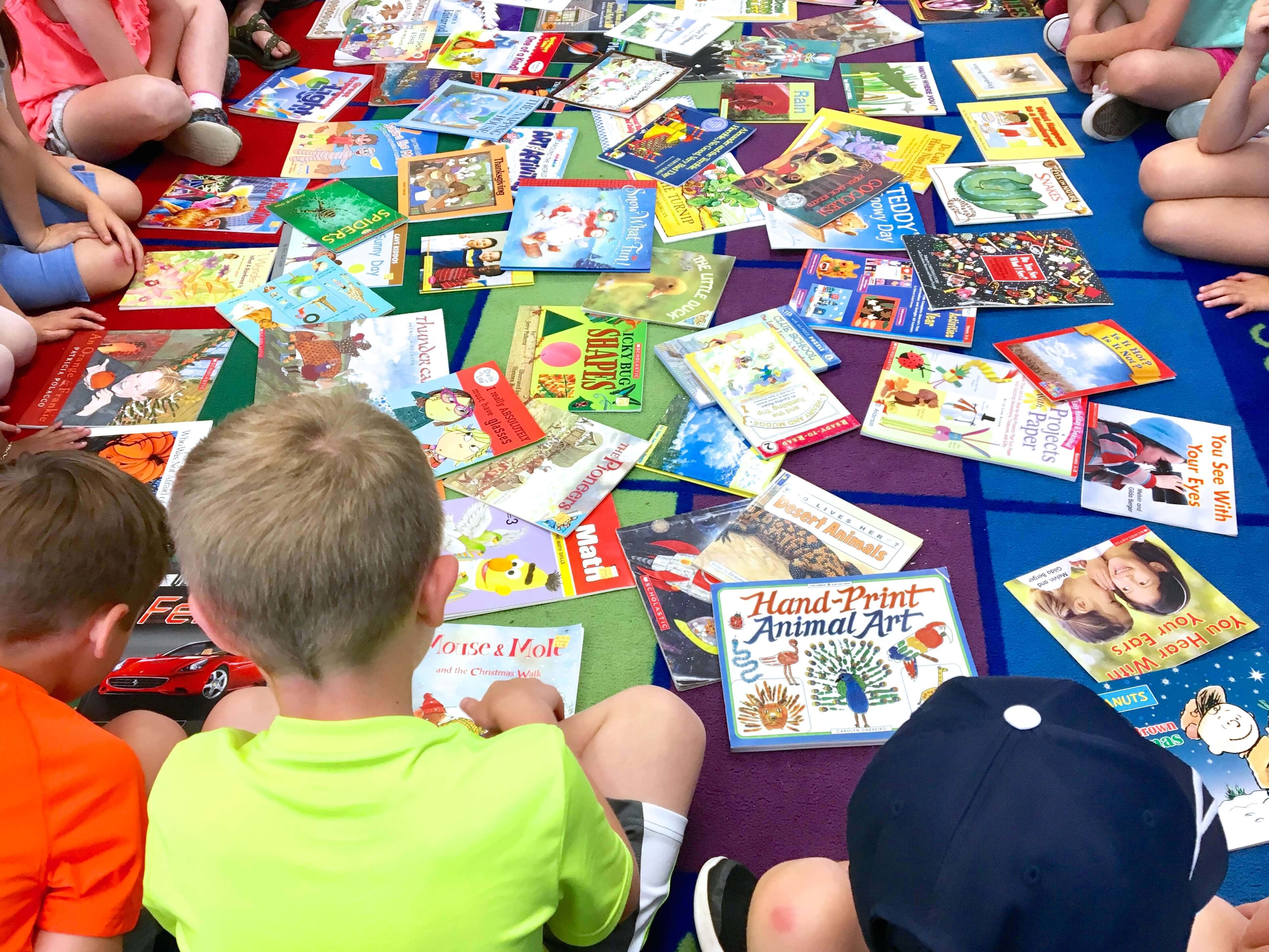 What If Students Forget Their Book Bag?
I keep 4-6 "extra" fully-stocked bags for friends who forget, lose, or misplace their bags. Everyone goes home with books every week, no questions asked.
Realistically, there are some bags that I never see again. The books remain at a student's home and I'm okay with that. I don't want to police or shame book bags. Our kids are little and so many times our students aren't responsible for their own bags. It's a family/home/life issue way beyond their control. Additionally, my priority is sending books home…even if they don't return.
How Do Students Use Their Book Bags?
In our classroom, these are for at-home or just-for-fun reading. Students keep them in their backpacks for reading in the "spare" moments. From bus rides to waiting in the gym in the mornings to afternoon dismissal students know they can grab and use these bags at home or at school. I want reading to be a daily part of every student's life, and these bags help students build this routine.
What About Book Bins?
Great question! Our book bags and book bins are two separate entities. Book bags remain in our backpacks and at home. These are books I'm completely okay with losing and are pretty loosely managed. Students choose books from a pre chosen 200+ plus books put on the classroom carpet. Our book bins are choice books from our classroom library. They are a mix of topics, levels, and interests. You can read more about our book bins
here
.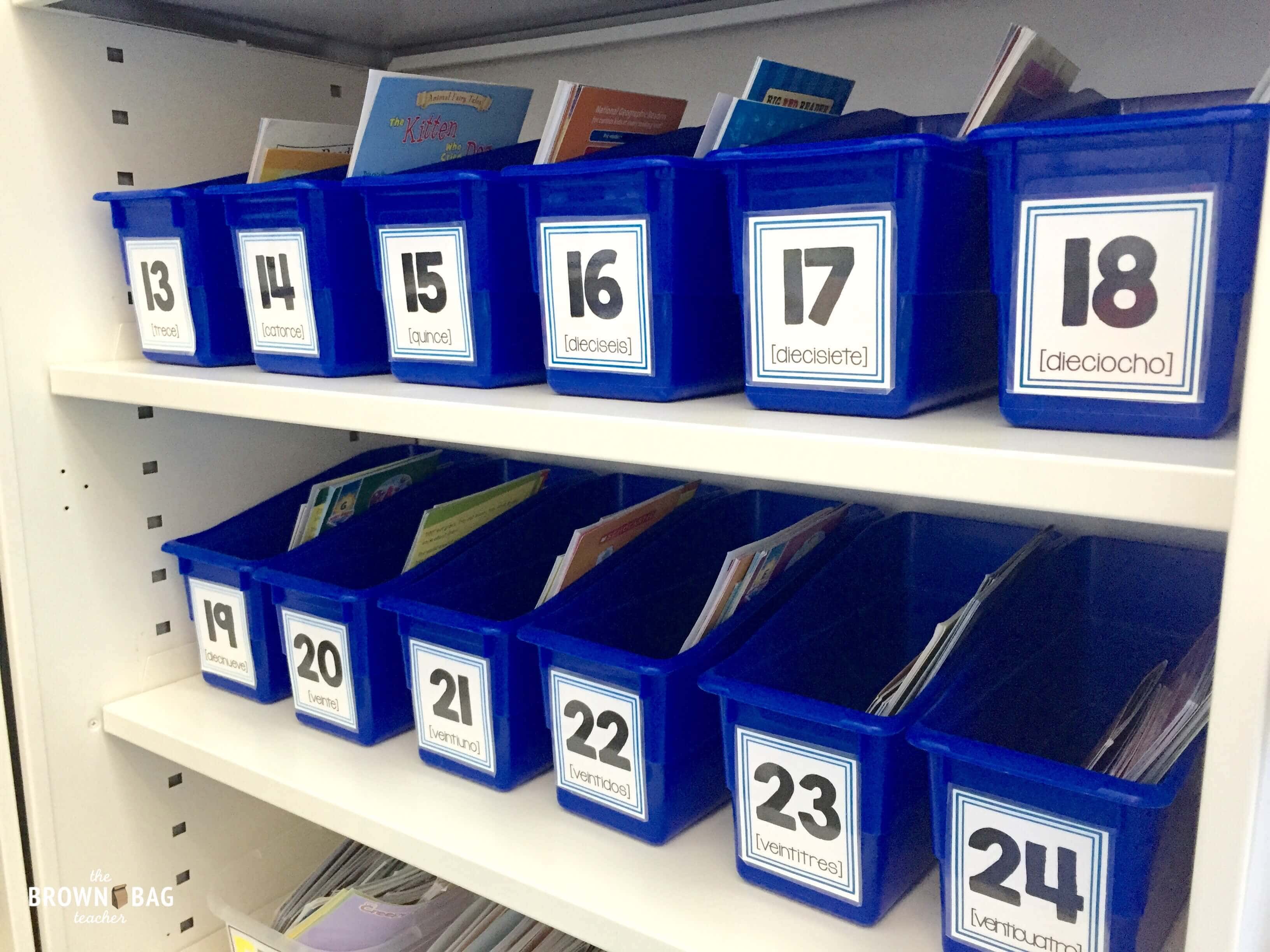 Accountability
I don't number books bags or systematically rotate them between students. Since we're changing out the individual books in the book bags each month, students won't get the same combination of books each week. A random book or two might be the same, but not all 4-6. Additionally, once students snag their book bag, they always have the option to trade-out individual books or book bags with a friend. I have no dogs in this fight. It's cool.
We use these bags in conjunction with our unhomework calendars.
Where Do I Get Books?
Awesome questions! Typically the books from our book bags are $1 books from
Scholastic
or books from our
Half-Price Book
boxes. With that said, I have a
huge blog post HERE
about all the places I snag low-cost and/or free books for our classroom. You could also investigate Scholastic $1 Books and Scholastic Warehouse.
I'm all about systems and routines…but I'm not about being high-maintence. I love routines that are simple, meaningful, and eventually run themselves. So, this book bag routine works for our classroom. Do you have a book-bag routine that works for you? Would this routine work for you? I'd love to hear your experience!
Get Free Teaching Resources!

Join me for weekly classroom updates and free resources that are just-right for your guided math classroom!