Motivation and enthusiasm for reading matter. One way we build excitement and passion for reading is a classroom Book Raffle!
Where To Get Books?
Books hosted in a raffle can be found anywhere. Sometimes they will be new books to the classroom and other times, I will pull books from our classroom library as we launch a new unit in reading, science, or social studies.
Other favorite places to snag books affordably?
This month's
Amazon
purchase theme – award winners!
Why a Book Raffle?
It's always very suspenseful and dramatic when I introduce new books to my kids. My kids do the whole finger/desk drum-roll, I slowly pull the books from a Scholastic or Barnes & Noble box, and read the book blurb in my best reading reading voice. (My kids tell me I have a fantastic reading voice) 😉 Basically, it's one of my favorite things to do, and I have the kids eating out of the palm of my hand. (These graphic novels were from Donors Choose!)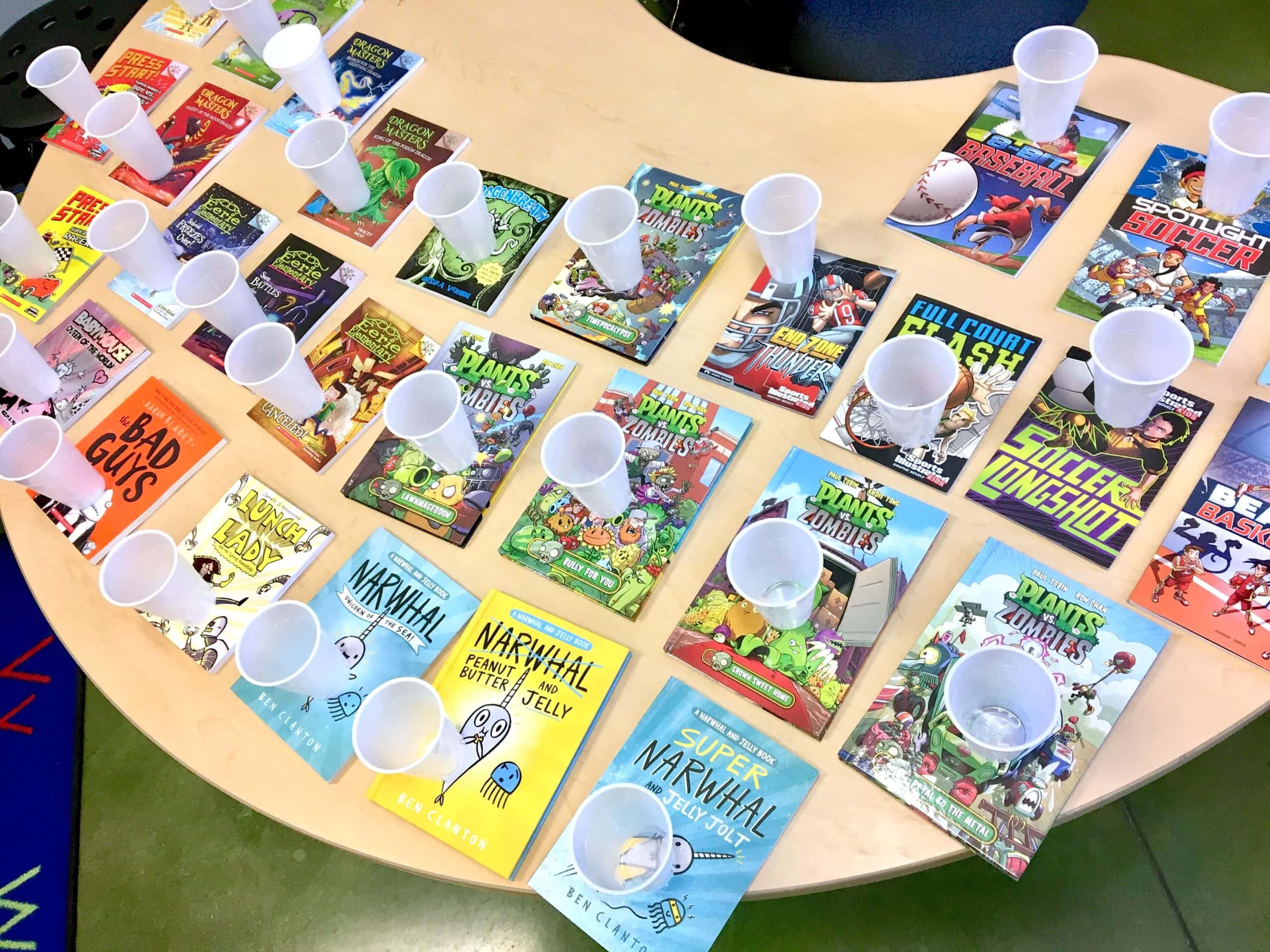 After I have dramatically introduced the books and convinced every kids they MUST read the new books, every hand shoots into the air wanting to read all the books at the same time. 😉 Here enters the Book Raffle as inspired by the amazing Donalyn Miller.
How Does it Work?
Every student receives 1 ticket (scrap of paper) to enter into the raffle. I placed a plastic cup in front of each book (nothing fancy but works perfectly). I set the timer on the board and students have 3 minutes to decide which book they want to enter to 'win'.
After all 3 classes have had the opportunity to enter the Book Raffle, I pull names for each of the books (dramatically, of course) and deliver their new treasures. 🙂
The Nitty Gritty
The students who 'won' each book has a week  to return the read book to me, so his/her friends have the chance to read the book, as well!  I really enjoy using this system for distributing new books. It keeps everything a little more fair, it build an excitement for reading, the new books are read quickly. The speed matters, so the books be shared with others, and the kids LOVE it.
So, how do you distribute new books?? If you have a fun idea, please let me know!

Join me for weekly classroom updates and free resources that are just-right for your guided math classroom!