Writing Workshop includes a mini-lesson, writing time with conferring, and sharing of writing. While time is always so limited, students sharing writing builds community, allows students to hear others ideas and craft, and fosters motivation and purpose for writing. Additionally, when students share their writing, they receive feedback from their peers. BUT – feedback in writers workshop can also be frustrating as a teacher.
Creating a daily routine for sharing feedback, offering language supports through sentence stems, and note-taking for students (so they actually remember the feedback the next day) are three simple, high-yield strategies for anchoring student-to-student feedback. We can make feedback in writers workshop worth the time it takes. So, let's do it.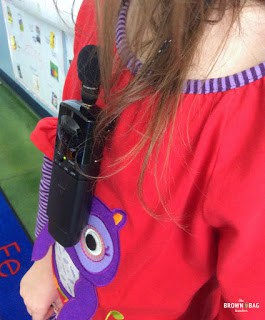 A Routine for Giving Feedback in Writers Workshop
Creating a routine for sharing holds us, as teachers, accountable and creates safety for students. Predictability helps communicate safety within groups. Remember, this is a quick routine (2-3 minutes). I love for 2-3 students to share each day. Sometime it happens at the end of writing (ideally), sometimes in awkward transition times throughout the day, and sometimes as we dismiss. Whenever it happens, we traditionally using this routine.
Choosing Someone to Share: Sometimes students are chosen to share by the craft used in their writing and I want to highlight that for other students. Other times students share after volunteering and every once in a while it's just random.
Sharing Work (part of or all of): Depending on how students were chosen to share and what the focus of the mini-lesson was, students will share their writing or part of the writing. (i.e If the focus of the mini-lesson was including dialogue, I might ask the students to share their two best uses of dialogue.) As writer share work, it is displayed under the document camera, read aloud, and the other students listen.
Praise: Students on the carpet celebrate their classmate's writing. To praise, we always look for specific parts of the writing or illustration. Some of our go-to sentence starters at the beginning of the year are: "I love how you _________." "I noticed that you _________." "When you _________, it made me feel _________."
Questions & Suggestions: After noticing and celebrating, writers receive actionable feedback (a question or a wonder) from their peers.
Celebration Cheer: Sharing your work in front of others is an act of bravery. We always take a few seconds to celebrate our friends with a cheer. From Kagan cheers to Ms. Jean, we love trucker, roller coaster, and seal of approval. Quick, silly, fun. 🙂
Scaffolding Student-to-Student Feedback in Writers Workshop
Students value their peers – their friendship, their words, the feedback. What students say about and between one another will always matter and it has power. As a teacher, I want to empower students to push (kindly) one another to be better readers, writers, and human beings.
When teaching students to give constructive feedback, I often support with sentence stems or frames. These are structures and stems I introduce slowly (1-2 a week) and we regularly practice using. As we change writing modes, our stems may change too. Students aren't forced into a stem, but they can be really helpful for giving feedback without crushing a friend. #neverthegoal  Some of our go-to feedback stems are:
"I wondered why _________."
"Have you considered _________?"
"I would love to learn more about _________?"
"What if you tried _________?"
"As a reader, I would have liked _________."
"Could you please tell me more about _________?"
"Remember when we learned about _________. I wondered if you tried _________?"
The Role of The Teacher
As students ask questions and make comments, as a teacher I am helping students structure their feedback so it lands kindly (i.e. language support), as well as, recording what students are saying. This is the key. The writer is responsible for listening.
Students are responsible for asking questions. I am responsible for support students in giving feedback and pointing out specific moves of the writer that might not have been mentioned (Did you all notice how….? Wow!). Additionally, as a part of our share time, I record and note-take what the feedback students receive. When we share feedback with writers, it is traditionally at the end of our writing block. This means students won't be able to immediately implement or consider the feedback, questions, or ideas. Realistically by the time we return to writing the next day, the feedback has been long forgotten!
So, I take my mini-clipboard and I take  manageable, bite-size pieces of feedback from peers and add picture supports. At the end of our daily feedback time (it's fast…2-3 minutes), students grab the sticky-note from me and place it in their writing journal for the next day.
Right of the Writer
Returning to Writers Workshop the following day, students who shared the previous day (typically 2-4 students) now have feedback to consider and they actually remember (because there is a sticky note) – woohoo! Now, just because feedback has been given, students do not have to take it. As a writer, we have agency when we write. I do ask that students consider the feedback and try some of it out. This trying-out of feedback could happen on a sticky note, in the margins, and other times on a separate sheet of paper. Writer's choice.
After students try it out, we can share it and get others' opinions, trash it, or keep it around. Writers are continually revising and retrying sections of their work. This is something I always want to encourage, support, and celebrate in the classroom.
Celebrate & Showcase Students
As I see students taking feedback and allowing it to positively impact their writing, we celebrate. Sometimes this is a quick cheer while I am conferring, sometimes it's taking a picture of the work and displaying it around the room (the blow display is from Work on Writing), and sometimes it is a positive sticky note or phone call home. When we see desired behaviors and choices in the classroom (socially and academically), let's identify them and specifically praise them.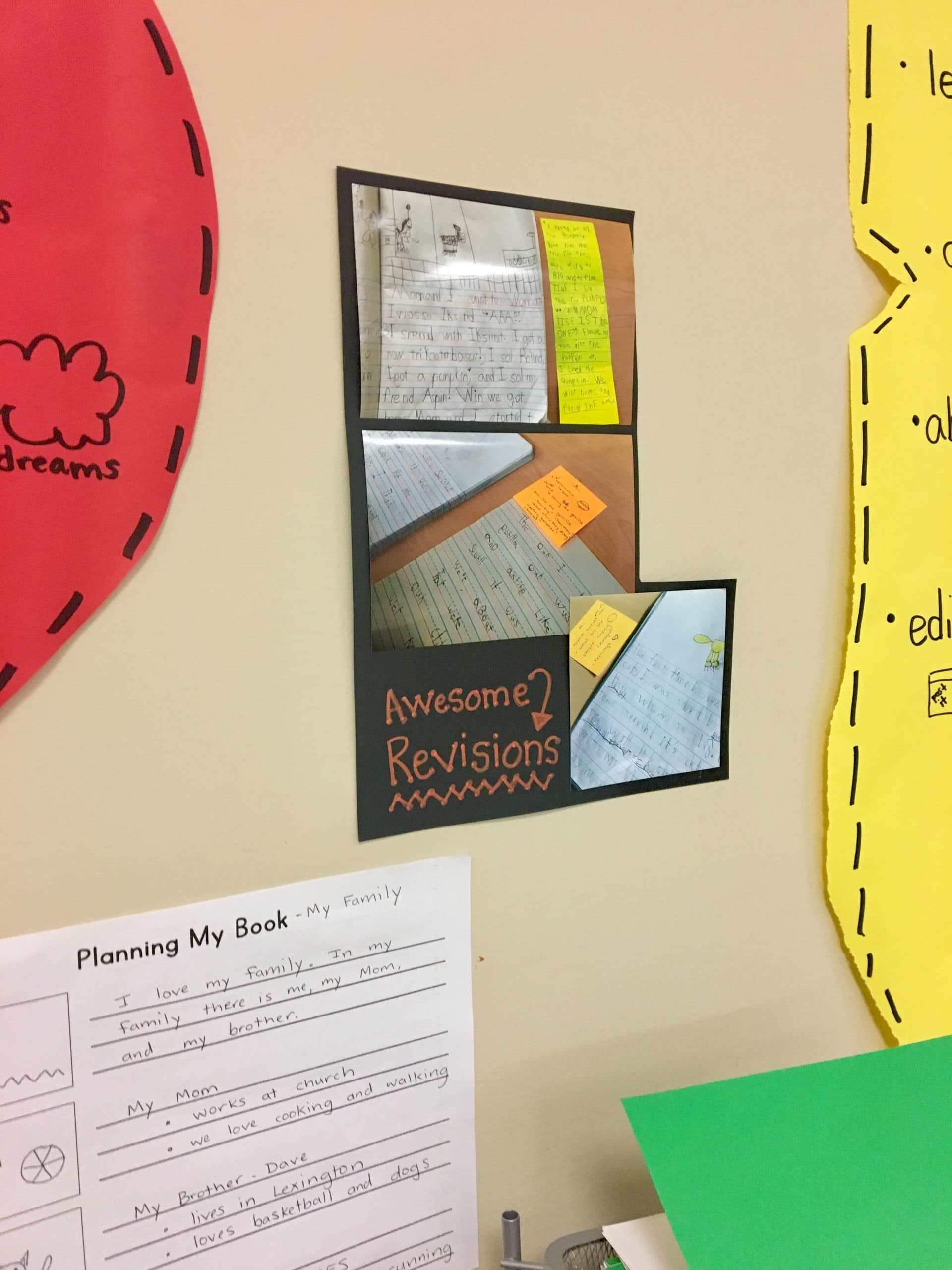 Getting students to give and use feedback is a tough skill. It's not something that happens overnight. Rather, it happens through intentional coaching and scaffolding of students. Creating a daily routine for sharing feedback, offering language supports through sentence stems, and note-taking for students (so they actually remember the feedback the next day) are three of my go-to strategies to making student-to-student feedback a high-yield strategy during our Writers Workshop time.

Join me for weekly classroom updates and free resources that are just-right for your writing classroom!