This post is a different kind of one for me. It was inspired by a very special, young author and artist in my life who LOVES graphic novels. Preparing for her upcoming birthday, I created a graphic-novel making kit. All the materials she would need to write and draw amazing comic books at home!
For the most part, this post isn't intended for the classroom teacher. Though, toward the end of the post, I have shared some more affordable ideas for using a kit like this in the classroom. It's intended reader is anyone who loves or knows a kid who enjoys reading, writing, or drawing graphic novels.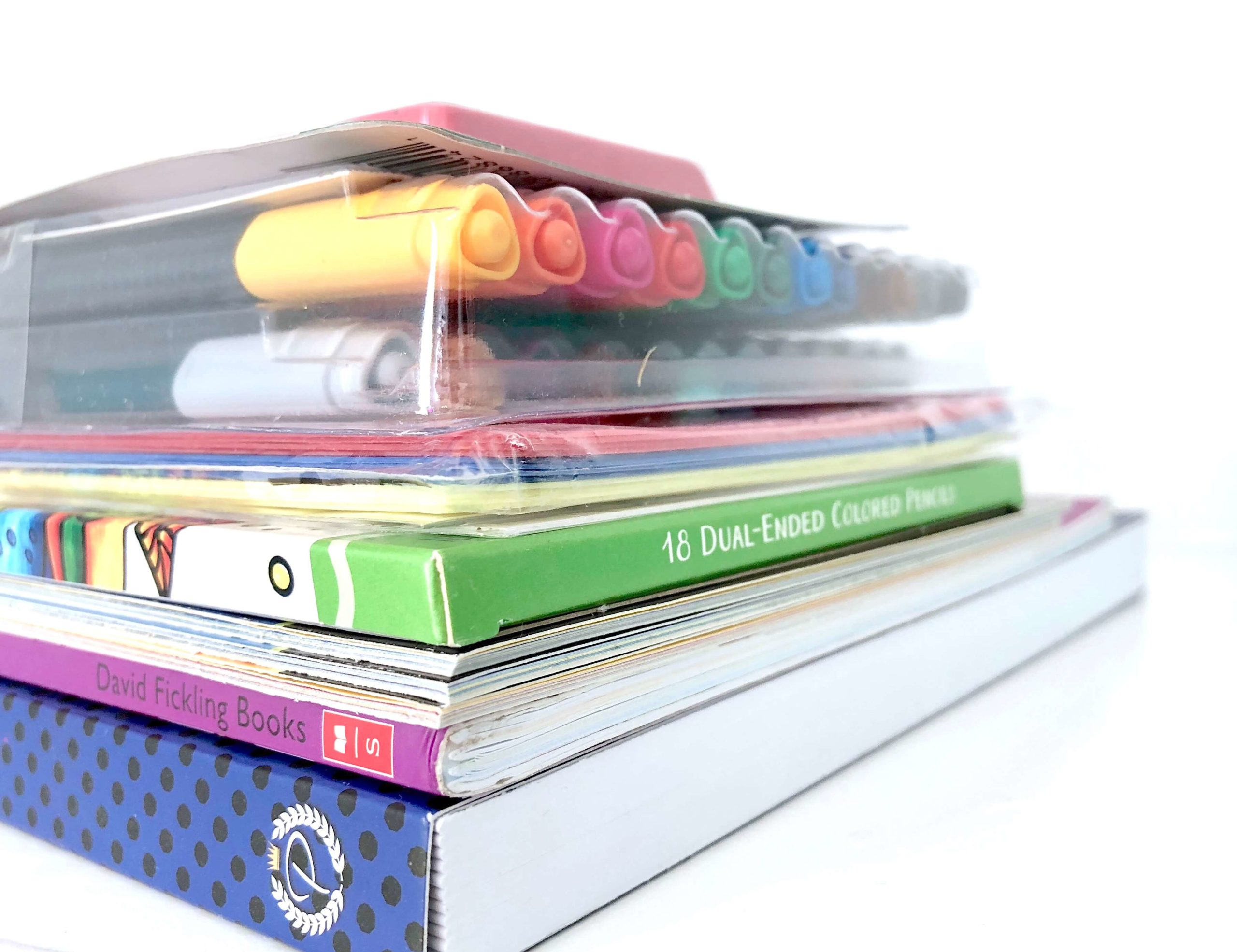 Throughout the post, you'll find Amazon Affiliate links, which means Amazon tosses a few nickels my way if you purchase something through that link, at no extra cost to you, that helps to keep my corner of cyber-space running and helps fund giveaways!
Why Graphic Novels?
Graphic novels are in vogue right now, but why? As parents and teachers, what do graphic novels offer to students that tradition novels or texts don't?
Access to Texts: First and foremost, graphic novels are just another access point into text. We know wild readers have reading preferences and spend significant chunks of time reading. For readers who might be overwhelmed by larger sections of text, graphic novels are approachable and less daunting.
They're fun! With graphic-heavy pages, loads of color (many times), and lots of dialogue, graphic novels keep readers hooked and in the moment. It's easy to become lost in the conversations, adventures, and tribulations of the characters when told in first person. Additionally, these texts are often packed with witty one-liners, lots of humor, and familiar characters.
There're more than meets the eye: To tell a story through graphic novel takes talent. These texts are full of allegories, allusions (many times classics, as well as, lots of mythology), and sly humor. There is a lot of synthesizing that goes into fully understanding the connections the author is asking readers to make. As adults, we can help support readers by asking questions, reading alongside students, and pointing out some of the underrated goodness that may have been missed.
Graphic Novel Favorites
Students learn best from real-life models. When they are immersed in graphic novels (i.e. comic books) they are better able to create their own. They understand the flow, are well-versed in the the unique traits of the genre, and have plenty of mentor texts to get started with.
In K-2, some of our favorite graphic novels include the Narwhal series, DogMan, and anything Scholastic Branches. (My friends also love the SportsIllustrated graphic novels…but I don't. The binding is very poor and pages fall out of every.single.book on a daily basis. I've ordered 2 different sets and it's been the experience each time. Save yourself the frustration.)
When teaching 5th grade, some of our go-to graphic novels were Bone (note – language), The Lunch Lady, Amulet, and Big Nate.
These are in no-way comprehensive lists (in fact: they are tiny), but still a few favorites with which to get started. Graphic novels are often *very* expensive books to purchase (their ink-heavy illustrations require heavier-weight paper that is costly to print), so I also search out affordable or free options from public and school libraries, donations from Donors Choose, and Half-Price books.
Must-Have Graphic-Novel Making Materials
If creating a graphic-novel kit as a gift or using it in the classroom, what *has* to be there?
Sketch Paper: Without a doubt, the right paper is needed. These sketchpads from Amazon offer dozens of options in terms of box size, format, and structure.
Drawing Instruments: Typically drawn in black ink with color added later, a high quality pen or black marker is also necessary. For young readers and writers, I encourage them to start with pencil and then, trace using a black marker after adding color.
Instructional Manual: How do athletes and musicians become the best? With coaching, practice, and feedback! This is a great, kid-friendly guide on all things graphic novels. From creating characters to adding dialogue to choosing the just-right frame structure, this indexed book allows writers to practice just what they need in the moment.
Fun Extras
Outside of paper and things to draw with, there are extras you might slip into a kit, depending on your needs and budget.
Ideas for the Classroom
For me, that is what a birthday kit looked like. Now, how might I affordably use these materials (or at least some of them) in the classroom?
Writing Fan Fiction: Leveraging your student's favorite graphic novels, ask them to create the next book in the series. What should it be called? Who will need to be included in the story? What familiar story routines (i.e. craft) does the author and artist use that will need to stay the same? Fan fiction is fun to write and it builds on what students are already familiar with. It can be less daunting than starting from ground-zero on your own story.
Work on Writing: De-spine the pages in this sketch book and offer them as stand-alone options in work on writing. Add them to a tray and students can grab the just-right frames for their stories.
Calm Down Corner: Jessica Minahan talks about strategies for helping students "change the channel" when they are ruminating or stuck in their own minds. Things like taking a walk or getting a drink of water aren't ideal because students can still engage in overthinking. Using your mind to create, draw, and/or communicate can be a great strategy for changing the channel and then, transitioning back to work. Offering these materials in a calm down corner or a change-the-channel basket can be a great way to help students to "unstick" their minds.
A graphic novel making kit can be simple or as intricate as you want. Start with the basics (paper and writing instruments) and then branch-out based on the age, readiness, and interest of your writer and artist. In the classroom and at home, graphic novels offer an unique avenue into the reading and drawing world as students learn to develop plot through action, dialogue, and small details.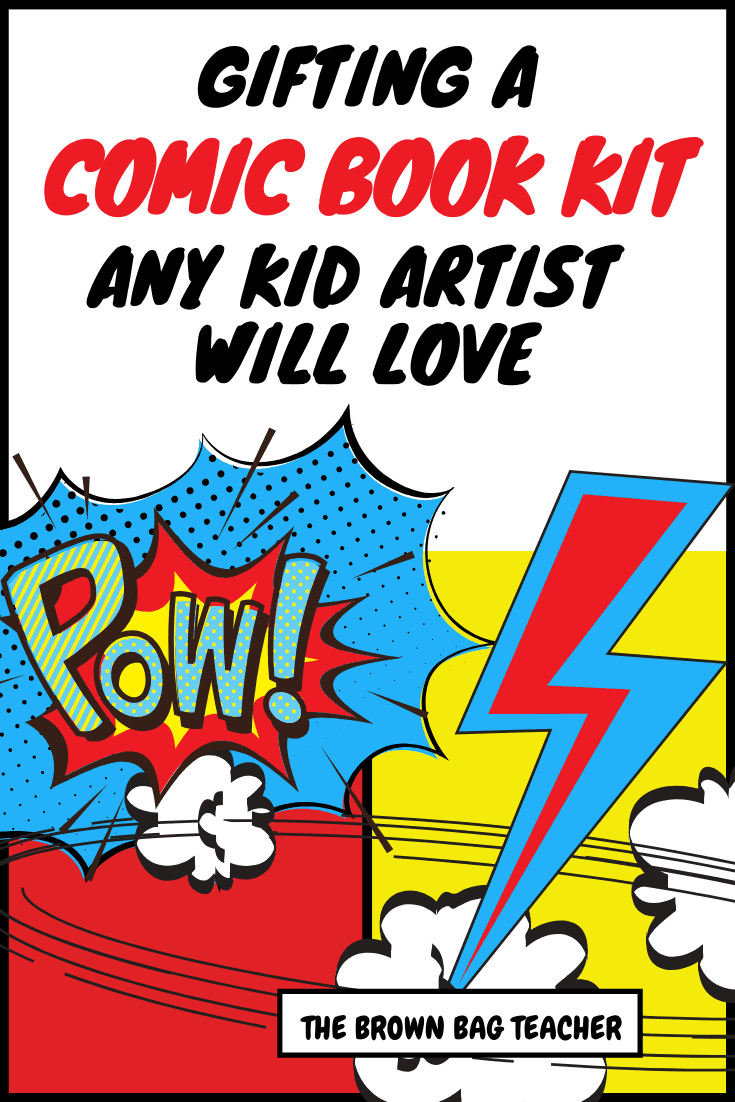 Get Free Teaching Resources!

Join me for weekly classroom updates and free resources that are just-right for your guided math classroom!