Opinions are powerful. When we generate ideas for opinions, we ask ourselves – What do we know all about? What do I care about? What do I wish other people believed? How is my thinking different from others? When we share our opinions, we also want to share strong reasoning so others will listen to and believe us.
Throughout the post, you'll find Amazon Affiliate links, which means Amazon tosses a few nickels my way if you purchase something through that link, at no extra cost to you, that helps to keep my corner of cyber-space running and helps fund giveaways!
Our Composition (Writing) Standards in Kentucky ask students to "Compose opinion pieces, using a combination of writing and digital resources, on topics or texts, with supporting reasons. ." (C.2.1)
Over the course of year, we take the time to explicitly model, give students the opportunity to write, and share and give feedback on opinion writing. Sometimes our opinions come from a topic or prompt and other times, they are passage-based. Our student I-Cans for opinion writing include:
introduce the topic
write an opinion statement
organize ideas in a way that makes sense
include reasons with details to support my opinion
use transition words
create a sense of closure
plan, revise, and edit with help
Mentor Texts
Throughout every writing unit, using real-life authors as mentors allows students to see writing craft in published works. Using mentor texts allows students to understand a greater purpose for learning a variety of writing techniques.
Get Epic for Kids has DOZENS of books that include opinions, reasons, and arguments. By searching, "Opinion" there are several amazing series to find – Do You Really Want…?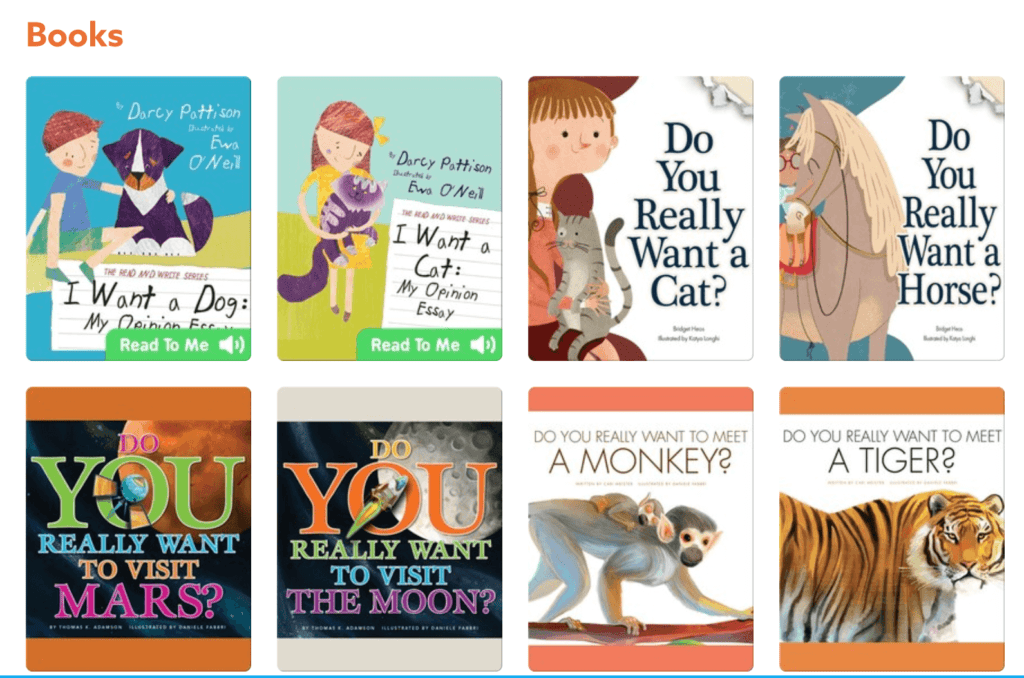 I'm all about that physical book like. Just like narrative writing, I have my favorite opinion mentor texts. Just a few of my favorites include:
Using Because
Oral Language matters. We want students speaking and share in complete sentences, as well as, writing in them. When we give students opportunities to talk before writing, we are scaffolding their thinking, language, and writing. Launching Opinion Writing, the goal of this lesson is to have students choose an opinion and support it with a reason using the word because. My favorite text to do this is Which Would You Rather Be. We take the time to read each page and practice responding with complete sentences – I would rather __________ because __________.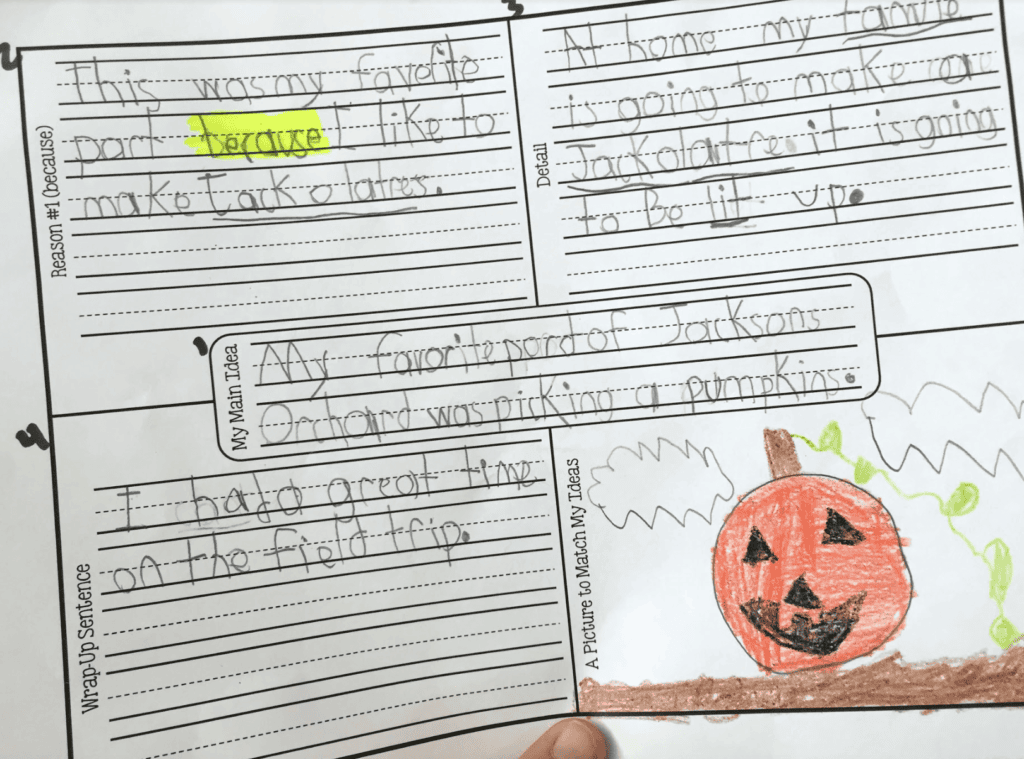 In our classroom, our container of yellow highlighters is reserved for when we use because to justify or support our answers. This increases motivation for using because (who doesn't love a highlighter?!) and makes it simple to scan pieces for strong reasoning. We also have "BECAUSE" letters above our whiteboard. Yes, because is an "opinion" word, but it also something we use every day to explain and give more information in ALL content areas.
Hooking a Reader in Opinion Writing
Introducing a subject or providing context for an opinion is a nuanced skill. Initially students may jump into their opinion and begin providing reasons and examples. Eventually we want students to consider how they can lay the groundwork for a strong opinion. With 1st and 2nd grade writers, I prefer to introduce 2-3 strategies, let students play with each one, and then, pick a just-right strategy for their piece.
Asking a Questions
Telling a Story
Sharing a Fact
Reasons to Support an Opinion
In my opinion, ______  is better because it's fun.
I like it because I do.
______ is the best because it makes me happy.
Have you heard any of these before? Reasoning matters AND it is a hard skill for our budding writers. Exploring weak vs. strong reasoning is worth the investment of time and energy. #fightthegoodfight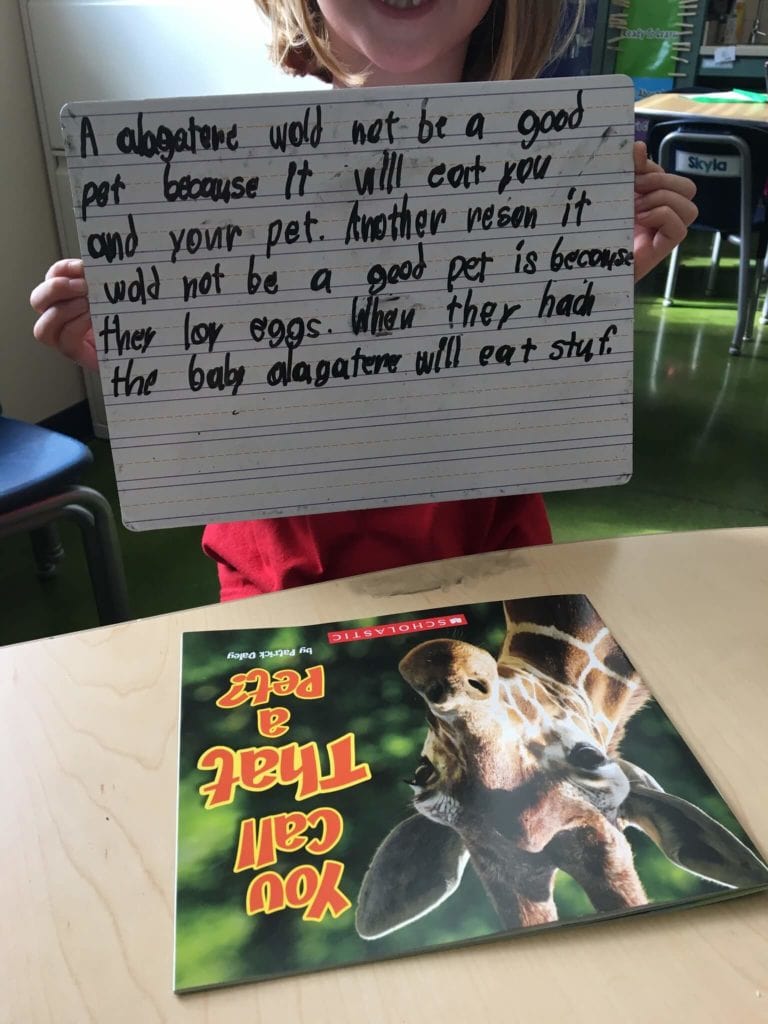 Hearing reasoning in action while reading I Wanna New Room, we chart the reasons Alex wants a room away from his baby bother, Ethan. Once we create our growing list of reasons, we are able to label them as strong or weak reasons.
Writing a Conclusion
After investing time in hooks, strong reasons, and details to support the reasons, our conclusions are often forgotten. Conclusions in opinion pieces are an opportunity to remind the reader of the strong reasons previously provided, re-share the initial opinion, or leave readers with a final happy thought. There is no one right answer. Some of my go-to conclusion:
Restating an Opinion
Summarizing Reasons
Final Happy Thought
Referencing Other Opinions
Color-Coding Our Opinion Writing
Revising and editing with support is also a part of our composition standards in 1st and 2nd grade. Teaching students to color-code their writing is a simple way to help them organize their ideas and easily check to see if something is missing. It's an incredibly visual way to see (1) what has been included and (2) what is missing. From this visual checklist, we can go back and revise our work.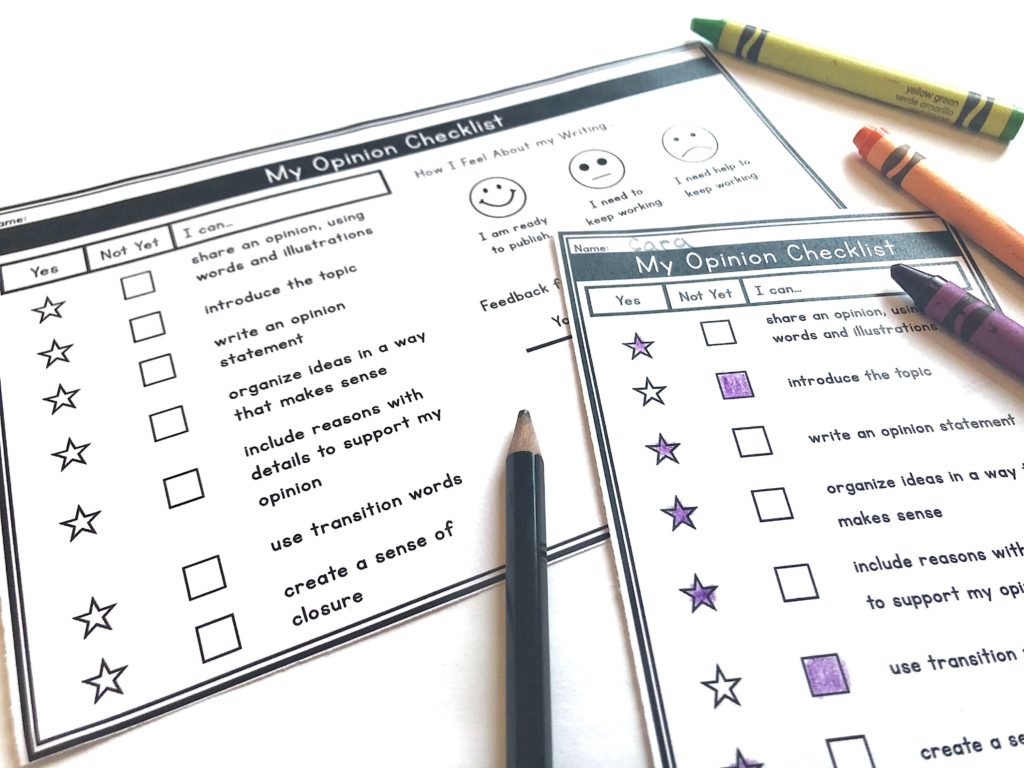 As a school, we assign a color to each part of the paragraph. (Read more about paragraph organization here.) The opinion (i.e. main idea) and conclusion are BOTH red since the concluding sentence relates DIRECTLY back to the main idea and restates it in a different way. Our supporting detail is blue and our example/explanation is green.

This makes work easy to review because you – as a teacher – are only looking for a certain part or color.
Wrapping-Up
Ultimately, we want students to be able to articulately share their ideas and opinions in ways that others can understand and with enough support that they are believed. Not only a part of our writing standards, this is a real-world skill (in writing and more importantly, in conversation). Taking the time to explore author different authors incorporate opinion technique into their writing, and giving students the opportunities to practice the same techniques matters.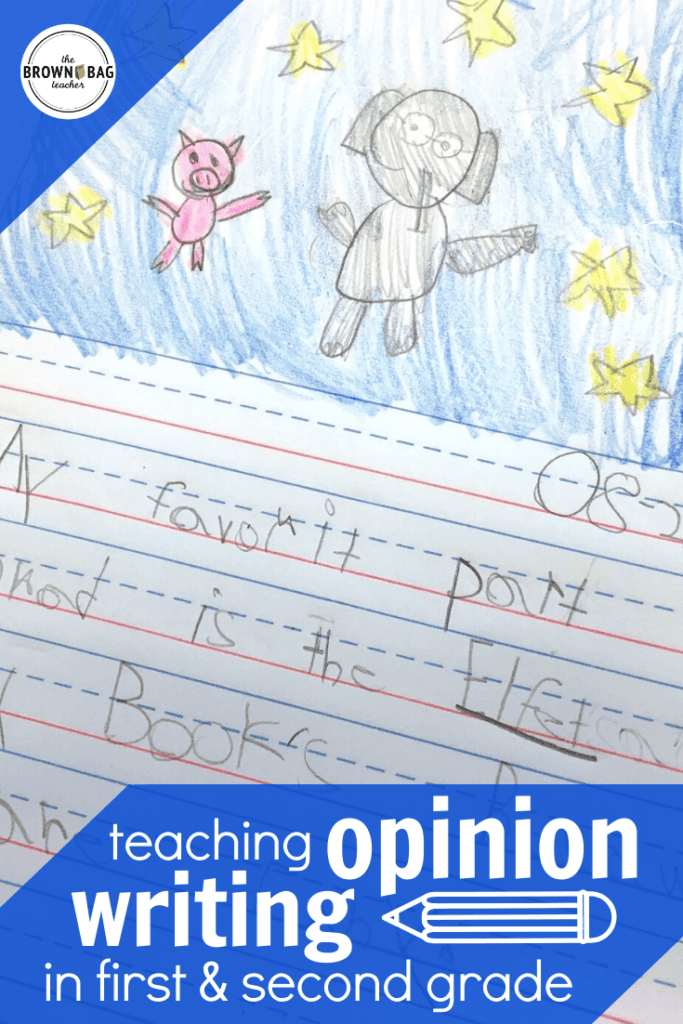 Get Free Teaching Resources!

Join me for weekly classroom updates and free resources that are just-right for your guided math classroom!