Opinion Writing Mentor Texts offer students a 'real' perspective on a genre and give students professional authors to emulate. Making writing concrete is valuable, and mentor texts help us do this.
Once a mentor text has been read, place it on an easily accessible classroom bookshelf for students to re-read and use in their own writing. Choosing opinion writing mentor texts based on our unit "I Cans" help keep our mini-lesson time focused and intentional.
Throughout the post, you'll find Amazon Affiliate links, which means Amazon tosses a few nickels my way if you purchase something through that link, at no extra cost to you, that helps to keep my corner of cyber-space running and helps fund giveaways!
Looking for FREE mentor texts? Then Get Epic is your answer. Epic has dozens of texts under the titles – "Yes or No?", as well as, "Do You Really Want to _______". Through both of these series we explore providing evidence and details to support on opinion and the importance of this evidence. Introducing the opposing claim (something students don't have to acknowledge in 4th grade in Kentucky), these texts are ideal for helping students consider the questions – To whom am I writing to? What do they believe? What do other people believe?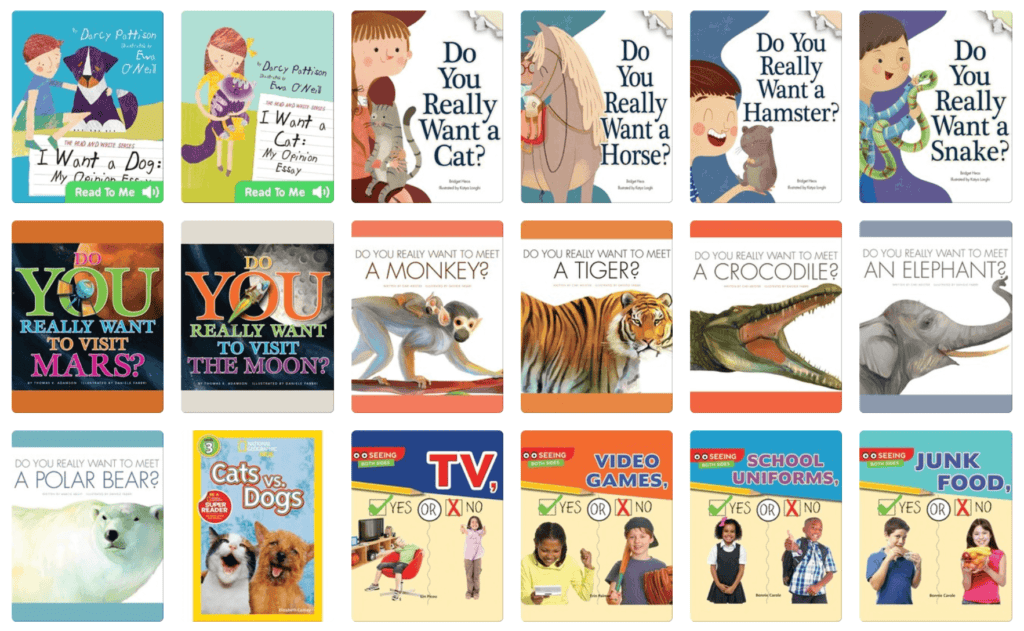 In Red is Best, the main character lists dozes of reasons why the color red is best. Her mother just doesn't understand. This is an ideal text for helping students brainstorm a lists of reasons. Void of details and examples, this is definitely a mentor text ideal for the beginning of your opinion unit. The whole-group mini-lesson would include reading the text and then, brainstorming a list of reasons for a class-chosen topics. During independent writing time, students would work together or independently to quickly list/brainstorm reasons to support their opinions.
Which Would You Rather Be? Is a perfect, simple text to begin with. It includes no details or explanations. Rather, it offers students two pictures/people/things and asks what they would rather be. It is ideal for introducing the frame – I would rather ____________ because ____________.  (Note – I choose to skip the page about boys and girls because it leads to a really gendered conversation, as well as, could isolate students who don't identify with a single gender.)
Using this text launches our Opinion Writing Unit and lays the groundwork for an amazing BECAUSE Day! (Read more about Because Day in this blog post.)
FREE Would You Rather...? Cards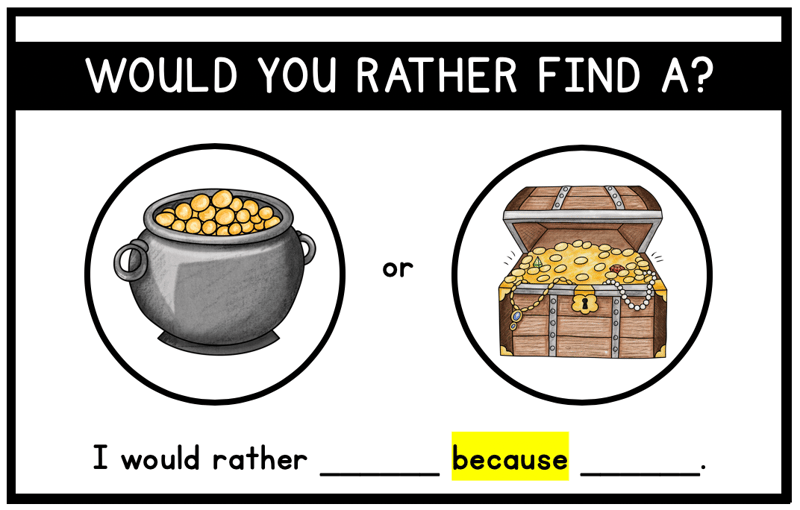 This is not a traditional mentor text. Rather, the author walks students through how to write on opinion piece through the lense of a little girl (Stella) who advocates for snack in 2nd grade. As Stella develops her opinion, provides reasons and examples, as well as, edits and revises her ideas – students join along in the adventure.
While Stella lobbies for a snack, Emily in The Perfect Pet really, really wants a pet. Her parents are not a fan of the idea and encourage a cactus. Throughout the book, Emily introduces strategies for asking her parents (begging, element of surprise, etc) for a pet, until they find a happy compromise in Dog, a tiny snail. This mentor text is perfect for talking about audience and how our reasons/examples must match who we are speaking too, as well as, introduces the idea of compromise as a middle way.
In I Wanna New Room Alex, the main character, speaks directly to his intended audience (his Mom and Dad) through a series of letters. Reading this text with students is the perfect chance to keep a running list of reasons Alex provides for wanting his own room. After reading, we take a look at the list of reasons together, sorting them  – strong reasons and weak reasons. From I Wanna New Room, we launch into exploring strong and weak reasons for our own opinion pieces.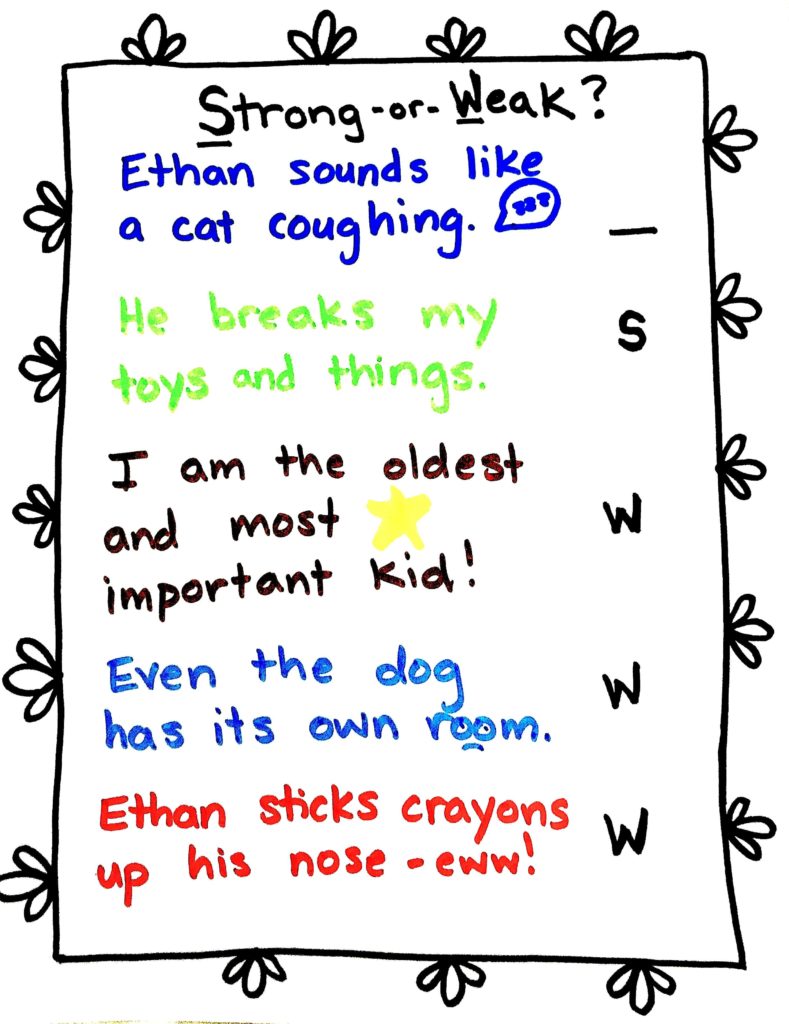 The Little Book of Activists, Can I Be Your Dog?, Spoon, Not Norman, I Don't Want to Be a Pea!, and Don't Feed the Bear! are all class favorites. Do you need all of these books? Absolutely not! Check out public and school libraries to see which texts you can borrow for free, consider adding a Mentor Text project to Donors Choose, or look at other ways to inexpensively collect book (Scholastic Warehouse, Book Clubs, Half-Price Books, etc).
Wrapping-Up
Mentor Texts offer students the opportunity to see how "real" authors craft their ideas. For opinion writing this includes addressing a reader or audience, stating an opinion, providing reasons and examples that move someone to action, and ultimately conclude with a resolution (opinion was supported, opinion was reject, a compromise was made). Reading mentor texts together during our writing mini-lessons allows us to explore literary craft together and then, apply to our class and individual writings.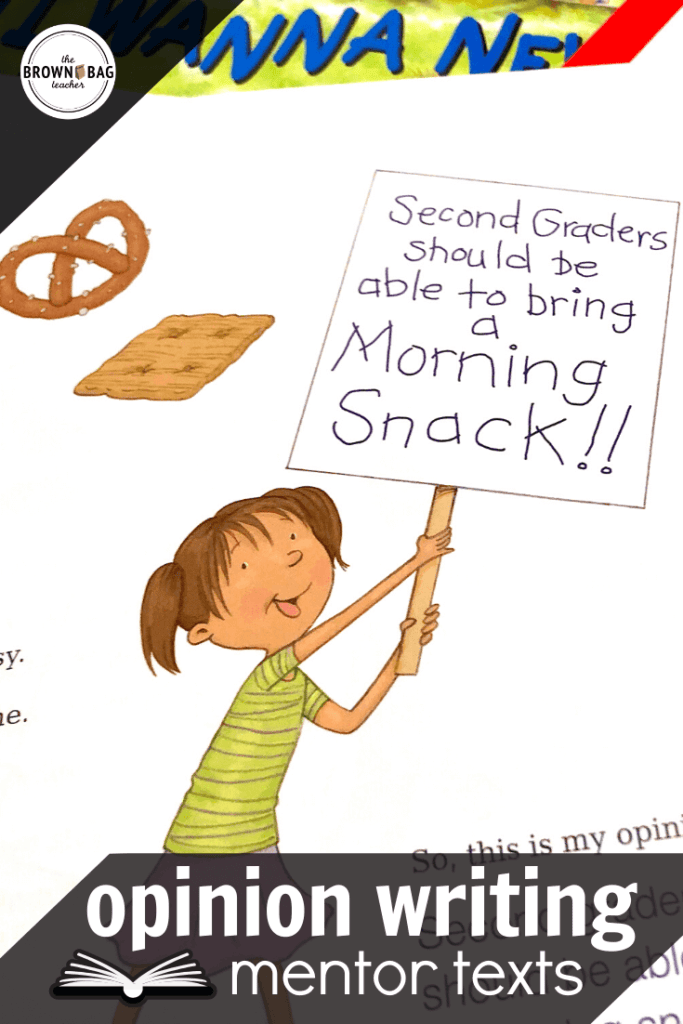 For lessons and materials to go along with these mentor texts, snag this Opinion Writing resource pack here. Learn more about writing in my 1st and 2nd grade classroom in these posts and resources:
FREE Work on Writing Papers