Oral Language matters. We want students speaking, share, and writing in complete sentences. When we give students opportunities to talk before writing, we are scaffolding their thinking and language. Launching Opinion Writing, the goal of this lesson is to have students choose an opinion and support it with a reason using the word because.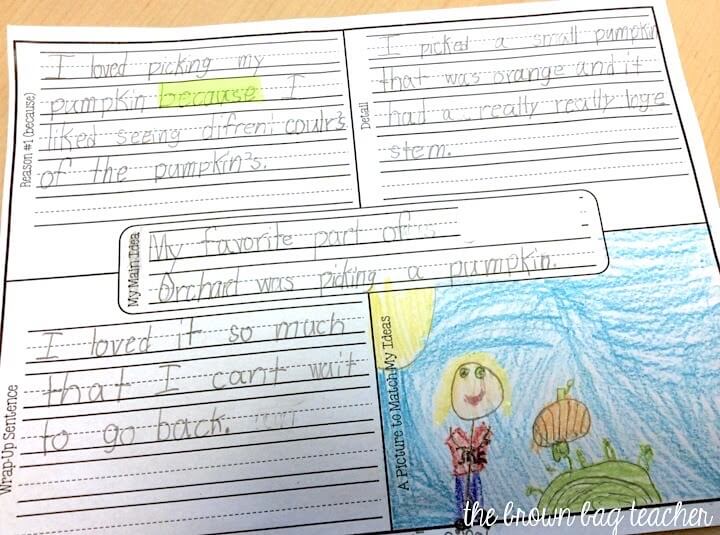 Throughout the post, you'll find Amazon Affiliate links, which means Amazon tosses a few nickels my way if you purchase something through that link, at no extra cost to you, that helps to keep my corner of cyber-space running and helps fund giveaways!
Why BECAUSE?
Within our 1st and 2nd grade standards, students are expected to use grade-appropriate transitions and conjunctions. For our District, "because" is a just-right way to sharing thinking for our littles.
When students use "because" it naturally leads to more details, specifics, or reasoning being included. Additionally, because is a word that than easily translate to any subject or context.
Number Talks: I knew to _________ (compose/decompose) because _________.
Science: When I noticed _________, I thought of _________ because _________.
Reading: At the beginning of the book, _________ felt _________ because _________.
Writing: I chose to start my narrative with sound words because _________.
Social Studies: People believed _________ because _________. Now we know _________.
Where to Start?
Introducing because is always fun. While some students are and have been using because, taking a day to introduce it, sing about it, apply it within oral language, and write using it matters. Additionally, that whole-group explicit instruction has occurred, so we can help students transfer it to their own work and expect to see it.  Hence, BECAUSE DAY was born.
Before students enter the classroom, I quickly put up some streamers on the door (easy peasy), write because in different colors on index cards, and tape them to the bottom of the streamers. Each time students enter or leave the classroom, they use 1 finger to tap a because and use it in a sentence.
Also, our "BECAUSE" letters stay up allll year long in a well-trafficked, easily-visible part of our classroom, but during this BECAUSE DAY we reference them over and over and over.
Additionally, as students unpack, I will wander around the classroom adding "because" to students' hands with scented markers (with explicit student permission, as well as, a heads-up text to families the day before allowing them to opt out). This never, ever happens (this is the one and only time), so it is always a treat.
Then, during read-aloud and writing, the bulk of our because work begins. Because is a powerful word in helping us share our thinking.
Which Would You Rather Be? Is a perfect, simple text to begin with. It includes no details or explanations. Rather, it offers students two pictures/people/things and asks what they would rather be. It is ideal for introducing the frame – I would rather ____________ because ____________.  (Note – I choose to skip the page about boys and girls because it leads to a really gendered conversation, as well as, could isolate students who don't identify with a single gender.)
The first few pages, I read the question posed by the book, give students "Think Time", and choose 1-2 students to answer aloud. We celebrate when students use because correctly with a Ms. Jean or Kagan cheer. Sometimes students will need extra support in structuring their students so this is where I will step in. I help help them structure the language chunk-by-chunk and we'll say a sentence together!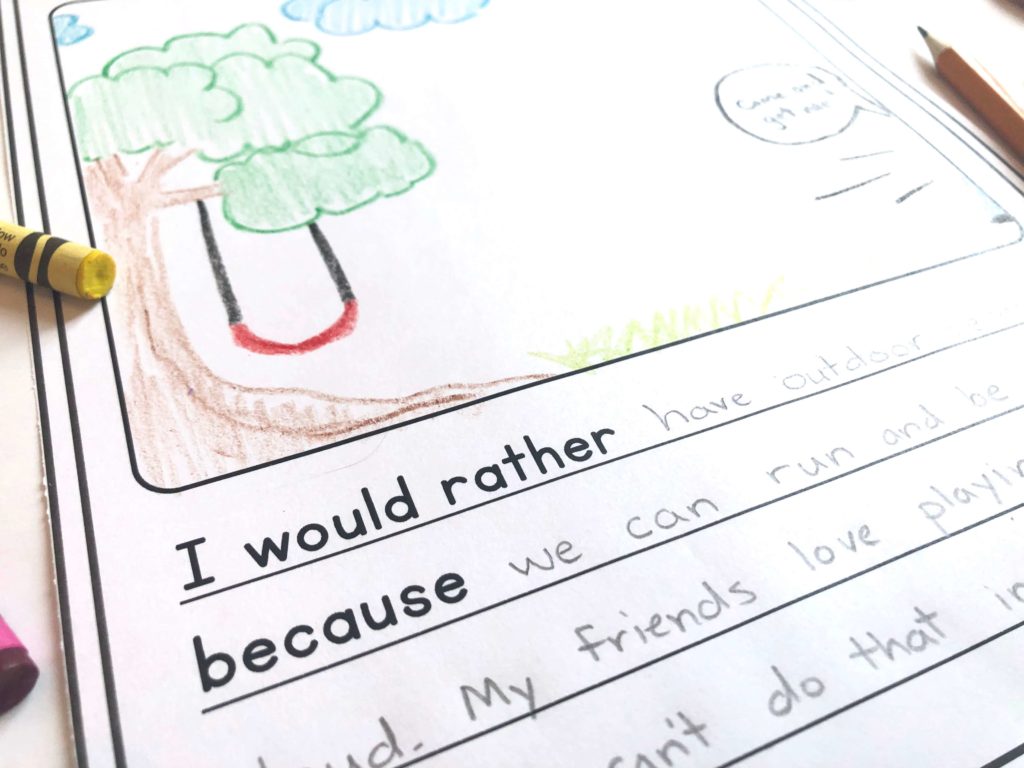 Once a few students have shared and we have established a routine, it's time to keep reading and have students practice responding in partners. At this point, when it sounds like we may need a refresher on "because" (it's normal for a new skill to drop when not scaffolded", we pull out the "Because Song."
This simple, Brown-Bag-Teacher created song has no frills or verse. It's just a simple remix of "The Farmer and the Dell". It's perfect for help students spell because and makes a quick transition song (from the carpet to lines, or desks to lines/carpet).
  B-E-C-A-U-S-E

  B-E-C-A-U-S-E

  B-E-C-A-U-S-E

  Because tells why.
If you're having a hard time signing it, here is my singing debut. Please remember, my kids tell me I am THE BEST SINGER EVER and I believe them. (Click here for a recording.)
Let's Write
As we transition to writing our because statements, I ceremoniously gift each student with a yellow highlighter. Up until this point in the year, the yellow highlighters have remained out of reach. Today is the day.
Anytime we use the word because (and later transitions) in our writing, we can use this magical marker to highlight it. We want to showcase our awesome reasoning for others to notice and our golden highlight does that. 😉 Although silly, it's a very visual reminder for students to include reasoning in their writing, as well as, incredibly motivating.
Being a teacher: the one career where you can turn anything into something amazing.
We do some partner work with these opinion prompt cards and ultimately when the timer goes off, we take the prompt in our hand and write about it. (Snag your free prompts and writing paper here.)
FREE Would You Rather...? Cards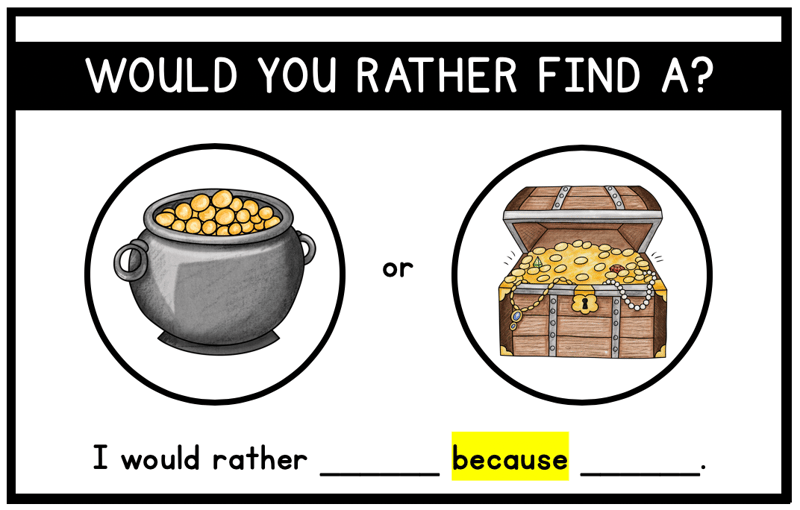 Wrapping-Up
Because Day is a simple, fun way to launch and work with Opinion Writing. Building great writers is the long game. It takes time, intentional instruction, and daily opportunities for practice. Introducing because as a reasoning word is something that can transfer across multiple contexts and genres, as well as, helps us work toward the 1st and 2nd grade writing standards.
For lessons and materials just like this, snag this Opinion Writing resource pack here. Learn more about writing in my 1st and 2nd grade classroom in these posts and resources:
FREE Work on Writing Papers