There is so much technology in the classroom now. I love to make sure I take advantage of it whenever I can. Science is one of those subjects my little learners absolutely love. Slow motion video makes science for accessible for all of our students. So – let's talk about it.
How Does Slow Motion Video Work?
As our young scientists are exploring, planning, implementing their plans, and watching the experiment, so much can get lost in the moment. Having a student record an experiment taking place or the reaction of an experiment is a perfect way to explore a single moment, slowing everything down so little eyes can catch every moment.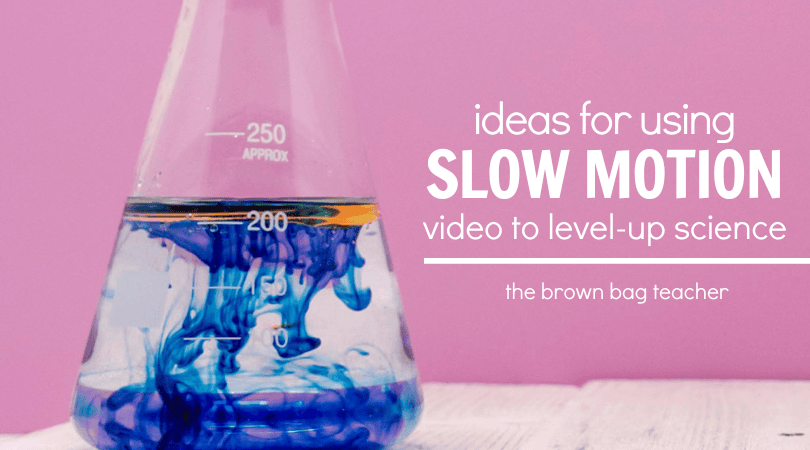 In science, mini-seconds count. Our eyes cannot process everything we see the first time, and slow-motion video is the perfect opportunity to really 'see' what is happening and start to understand real-world connections for our learning.
Using Slow Motion in the classroom is very easy, and you can use an iPad camera or a cell phone camera to capture the video. There are many video editing apps that give the option to slow down videos and to even upload the video file to a platform like Google Classroom (if you ever find yourself virtual again!).
My Go-To Tech Tools
These technology tools are my top picks for effortlessly capturing high-quality slow-motion videos quickly and with ease.
iPhone or iPad for simple filming and air-dropping of footage. Easily manipulated in Garage Band or other video-editting software.
Stabilizing Phone Video – These are perfect tools for keeping both of your hands available for science, steady footage, and help you snag some great photos or videos of your students' faces during the learning.
Slow Motion Race Game – A hilarious and perfect game for indoor recess, PBIS rewards, or morning tubs!
Recording Vibrations
During our sound unit, we learned sounds are made when materials vibrate back and forth very quickly. Our class tried our own rubber band experiment. Each of our table groups received their own rubber band and had to work together to create and feel different vibrations. It tools several of my groups' SEVERAL rounds/attempts of plucking, picking, and pulling of the rubber bands before they felt their first vibration!
While my friends loved being able to feel the vibrations of the rubber band, my 1st graders struggled to hear the sound produced and really couldn't see the vibrations. So, for the first time this year, we pulled out the Slow Motion feature on my iPhone. My friend K videoed as we plucked the rubber band and the results were AMAZING! See more here! 
Other Ideas for Slow-Motion Video
Weight Displacement: Drop an object into a container of water. Without eyes, we see water splashing, but with slow motion, you can watch the weight of the object displace the less-dense water.
Explore Motion: Use slow motion video to observe how objects move. Students can watch a ball bounce, a pendulum swing, or a bird fly. Encourage them to describe what they see and make predictions about what will happen next.
Investigate Forces: Slow motion video can help students understand the effects of different forces. They can watch a balloon pop, a block topple, or a magnet attract or repel. Ask them to identify the force at work and explain its effect.
Examine Natural Phenomena: Slow motion video can capture the beauty and complexity of natural phenomena. Students can watch a waterfall, a lightning strike, or a tornado. Encourage them to ask questions and explore the science behind these events.
Slow motion video is a valuable tool for engaging young students in science. Using it as a resource in our classrooms, students can deepen their understanding of the world around them.
Get Free Teaching Resources!

Join me for weekly classroom updates and free resources that are just-right for your guided math classroom!