February 14th, Valentine's Day– A day full of red and pink, love, and a million little folded cards! It is always an enjoyable day in the classroom, but you can also make it educational! There are many ways to make Valentine's Day engaging and full of learning for little learners, and after many years of Valentine's Day crafts with glitter and glue. I switched gears and made the day a little more educational! But, DO NOT worry, I didn't get rid of the fun! These Valentine's Day activities are sure to find a place in your heart.
Throughout this post you'll find Amazon Affiliate links, which means Amazon tosses a few nickels my way if you purchase something through that link, at no extra cost to you, that helps to keep my corner of cyber-space running and helps fund giveaways!
Valentine's Day Read Alouds
One of my favorite activities on Valentine's Day is to read aloud some great books full of love and friendship! There Valentine's Day books are the perfect books for your perfect valentines!
These books are sweet and will touch the heart of even the most grumpy student on Valentine's Day. All of these texts are perfect for building community in your classroom, act as great writing prompts, and establish a common vocabulary for loving others well. 
Spreading the Love with Valentine's Day Activities
Speaking of love, I always tell my parents they share a piece of their heart with me during the school year. One of the best things I have ever implemented in my classroom is my Positive Notes home. Parents become accustomed to hearing the negative about their students in phone calls or notes, and they never get that positive message or call. As a teacher working in a PBIS school, I want to change that narrative and spread the love a little more, and these positive notes are the perfect way to spread it!  
Often I will attach a class list to the back of my notecard packs. This way, I know which students have received a positive message and which one I still need to deliver to! The best thing about these positive notes, they are completely free. (You can also check out some more general positive notes for FREE here.)
Another way you can use the idea of positive notes is to just leave some positive thoughts on a student's desk or in their mailbox. Just a quick "you had an awesome day today!" or "You rocked those math problems today!" can brighten a child's day and show them you care. 
To keep the learning process going on Valentine's Day, you can easily include some love-themed math and literacy centers. 
The day of love doesn't have to be all about cute love monster crafts or heart-shaped candy! Students can still enjoy the day while learning. These math and literacy centers each have five different centers, ranging from synonyms to addition/subtraction, perfect for 1st graders. Each center is Valentine's Day themed, and the centers range from games to task cards!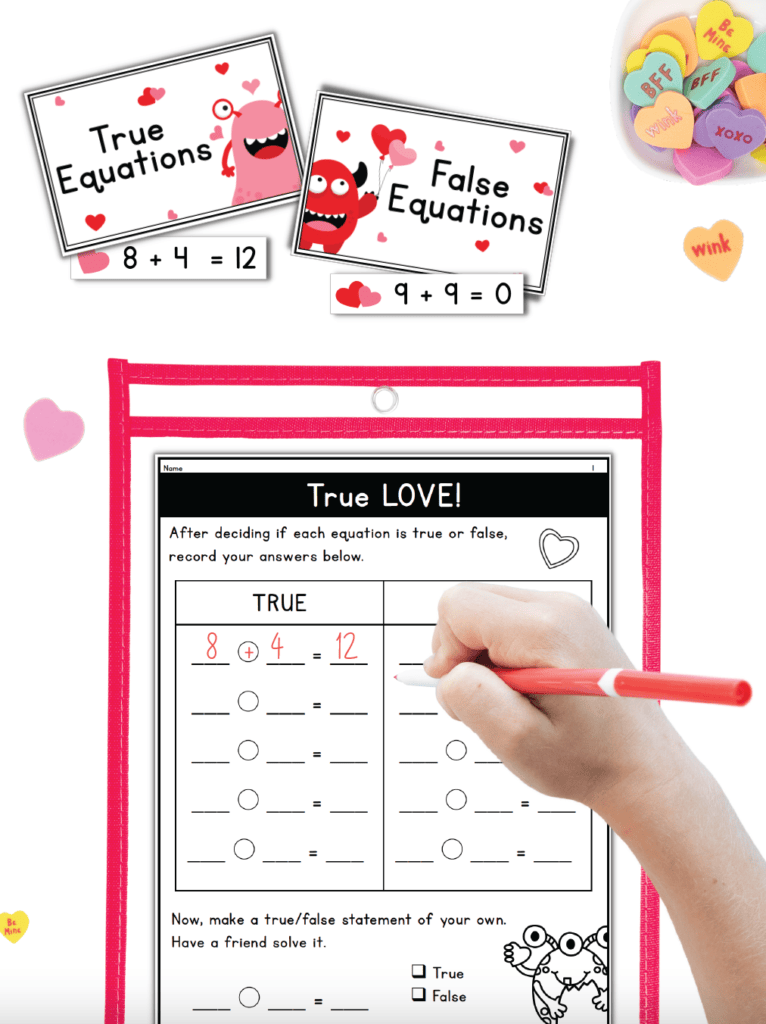 I absolutely LOVE using these centers for that awkwardly longgggg time when students individually hand out their valentine cards. This seems like it takes forever, especially in the younger grades, when half of them can't read their writing or can't read their parents' writing. This gives the students seated and not handing out cards something fun and engaging! 
Plus, these 10 centers and games are perfect for holiday-themed guided math and reading rotations during the morning. A simple took for print and play holiday fun!
Valentine's Day Activities 
These Valentine's Day activities are sure to please your little learners and are going to make a great addition to your classroom. Glitter and glue are lots of fun and I know our time in the classroom with students is limited…especially right now. Pulling out some of our favorite themed centers is a perfect way to leverage this holiday season for learning goodness. You won't regret it.
Get Free Teaching Resources!

Join me for weekly classroom updates and free resources that are just-right for your guided math classroom!