As adults, inform/explain writing is a majority of what we do. From responding to emails to sharing what is being learned in our classrooms to offering our families information about our daily schedules – sharing information with others is real-world.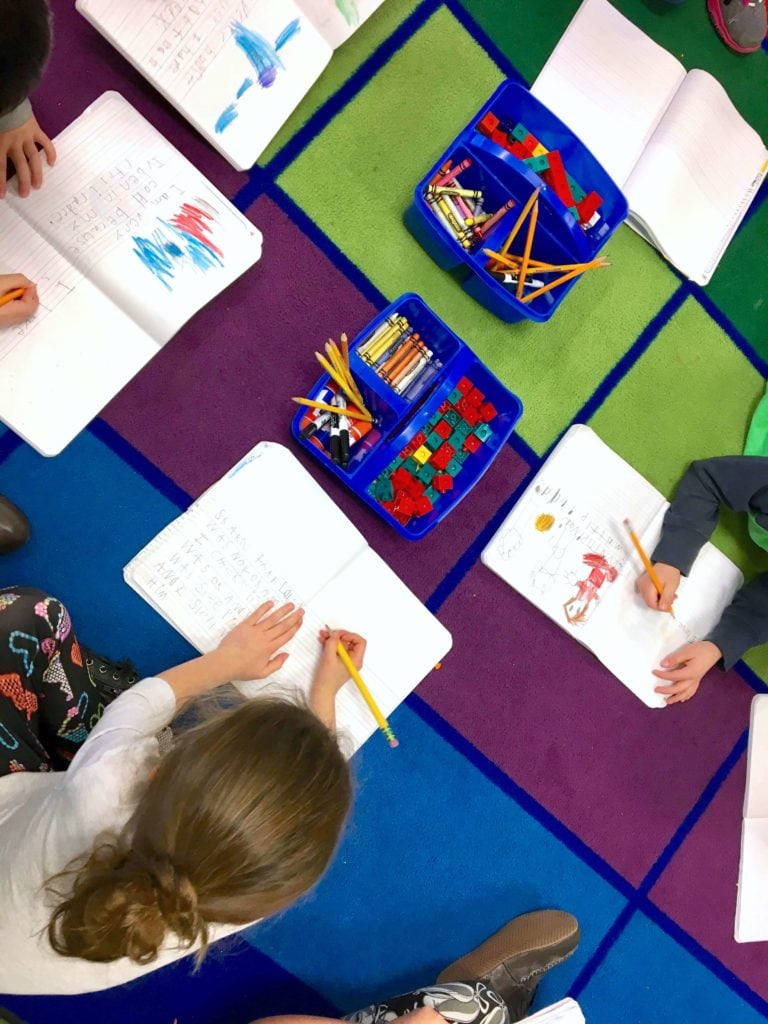 Throughout the post, you'll find Amazon Affiliate links, which means Amazon tosses a few nickels my way if you purchase something through that link, at no extra cost to you, that helps to keep my corner of cyber-space running and helps fund giveaways!
Why Inform/Explain Writing in Kindergarten?
Our Composition (Writing) Standards in Kentucky ask students to "Compose informative and/or explanatory texts, using a combination of drawing, dictating, writing and digital resources, to establish a topic and supply information about the topic." (C.K.2)
As kindergarten teachers we know that our standards are end-of-year mastery standards. We have an entire year is expose students to texts, writing, and genres that will support this goal. Still, teaching the traits of a genre and how to apply those traits to one own's writing takes time, practice, modeling, and feedback.
Inform/Explain "I Can" Statements
Focusing only on the writing standards some of our "I Cans" for inform/explain writing in kindergarten might sound like:
I Can…
name a topic.
use

words

to provide details and examples about a topic.
include

pictures

to provide details and examples about a topic.
use conjunctions to add-on to my ideas.
use transitions to move from idea to a new idea.
conclude (wrap-up) my writing.
add details to my words and pictures based on feedback.
Where to Start with Inform/Explain Writing in Kindergarten?
So, the big question – where do we start? Realistically, there is no one right answer. As I consider my kindergarten writers and work with teams of teachers, we explore several different access points into inform/explain writing and what choose what best supports previous learning.
Pattern Books: Patterns books are a simple door into inform/explain writing. Typically these texts explore one topic using the same words on each page changing out 1-2 words (The snake is _____. The snake is ______. The snake is _____.). The illustrations directly match what the words say. The last page typically changes the structure of the last sentence (I do not like the snake!). In patterns books we practice speaking in full sentence, learn about one topic, and have lots of support (through language and illustrations).
Real-life Books: Immersing students in the genre they will be writing makes a difference. Ideally, students have been reading and listening to informational texts alllll year long in many different contexts (just for fun, science, social studies, reading, etc). As we read informational texts with students, I am intentional about pointing out the things students will include in their own writing (labels, captions, detailed pictures, examples, transitions, etc). All of the things listed in the kindergarten writing standards, I'm highlight them. My favorite informational texts for kindergarten writers are the National Geographic Kids Pre-Readers and Pebble Go by Capstone Press. Both offer dozens and dozens of texts in many topics and themes, incredible photographs, just-right amounts of information, and embed text features naturally.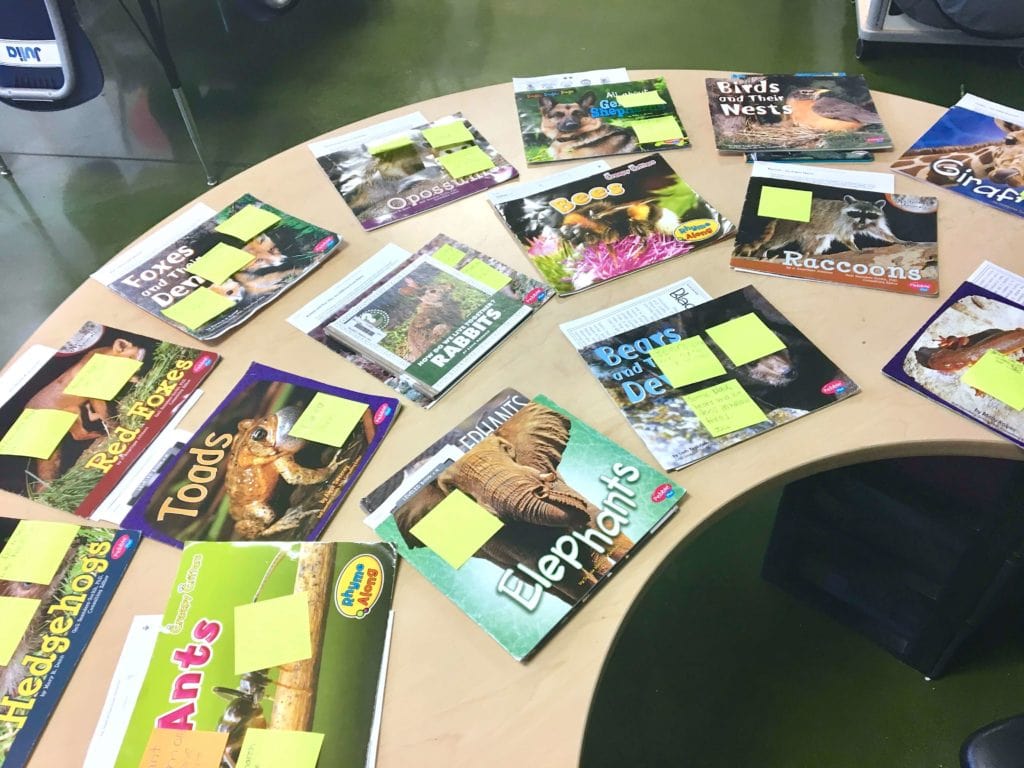 Content: As we begin with inform/explain writing in kindergarten, we use the content we are learning or have previously learned. Leveraging content knowledge means all students have an access point into the conversation, we already know vocabulary and language to support our writing, and we have resources within our classroom walls to reference. Additionally, building on previous learning allows for mini-lessons and sharing writing to truly be collaborative. Everyone has the opportunity to be part of the conversation and work because everyone had access to the content.
It's Time to Write: Sentence Stems/Frames
Using a workshop approach to writing, we spend time modeling and writing together, writing individually, and sharing our writing with others. This familiar structure helps provide us, as teachers, and students a go-to routine. To fit it in, we breaking down all of our skills and standards into bite-size chunks.
As we delve into inform/explain writing, many students will need help structuring their ideas into complete sentences that inform rather than tell a story or share an opinion.
Sentence stems and frames offer students support in structuring language so they can focus on the communicating of ideas. These stems are ones we have to explicitly model for students and ideally, they match the language and structure of the texts we are reading in the content areas. Some of my go-to ones:
____________ can ____________.
____________ like ____________.
____________ have ____________.
____________ move ____________.
____________ are ____________.
Any verb can go in the middle (eat, am, is, sleeps) depending on your topic. Before modeling your stems, I like to try the verb out in 2-3 different ways. Sometimes a sentence stem or frames sounds awesome in one particular context but is rendered useless or really difficult to work without outside of that context.
Teaching Elaboration
While the above frames are the ideal place to start they do result in a very uniform set of books and ideas being shared. Honestly, they produce boring writing.  In our initial inform/explain wirings with these frames, it seems like random combination of surface-level information is being shared. So, how do we go deeper with our kindergartener students? So, we don't stop there!
We head back to the standards and see what the grade-level expectation is for students and how we can leverage it to problem-shoot (i.e. problem = very surface level information being shared).
C.K.2d also asks student to "Use grade-appropriate conjunctions to develop text structure within sentences." Using conjunctions and transitional phrases (C.K.2e) are skills that have to be explicitly modeled for students. These are words and phrases students must be introduced to, use orally, see in print and text, as well as, have opportunities to apply in their own writing.
Building on our initial stems/frames, we add details and examples using grade-appropriate conjunctions and transitional phrases.
____________ can ____________ to ____________.
____________ like ____________ because ____________.
____________ have ____________ for ____________.
____________ move ____________ so ____________.
____________ are ____________ and ____________.
What Elaboration Might Sound Like
In action, these frames are incredibly versatile. Students need to be given the agency to try new frames, tweak established frames, and build on what has been offered as a model. After using a frame, students can add additional sentences or ideas to further explain or add details about what they know.
Snakes can bite predators to protect themselves.
Bats like sleeping during the day because they fly and hunt at night.
Polar Bears have blubber for keeping warm.
Beluga whales move in groups so they can stay safe.
Elaboration: Another Approach
Sometimes we may want students to explicitly focus on finding details and examples to support a main topic or idea. In this case, it is okay to provide a main idea for students for them to support in writing. In this mini-lesson, we wrote a main idea about frog adaptions together as a class and then, during writing time students found evidence from our readings to support the given idea. It was a perfect and simple way to focus on going deeper on one topic rather than listing alltherandomthings.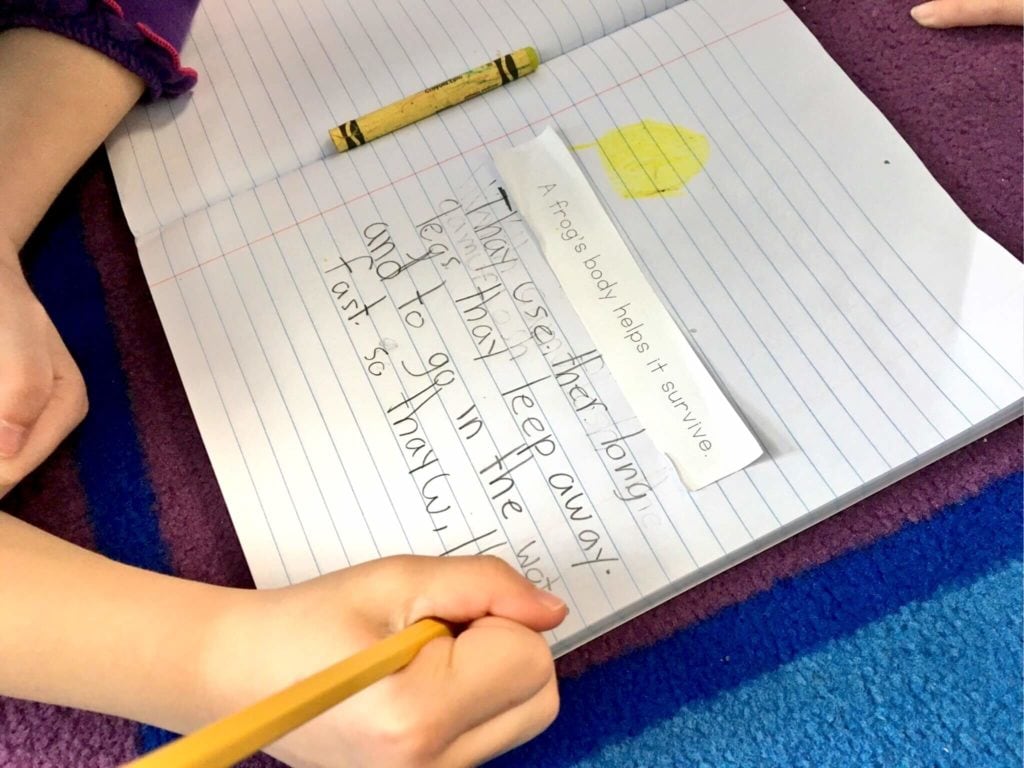 Scaffolds: A Cautionary Tale
Inform/Explain Writing in Kindergarten is tough AND our students are capable. Frames and stems are scaffolds. Some students will need them. Some students will use them and then add-on. Other students won't need them and will stray immediately. This is expected and okay. The goal of a scaffold is that it is internalized by students so the physical support (prompt, frame, stem, teacher perforce) can be slowly removed.
Scaffolds should support students, not inhibit or limit their thinking or writing. Keeping a scaffold in place too long creates dependence.
These scaffolds allow all students access to a writing task. As teachers we have to be discerning about how much support our students need and when support is just-right. It is a delicate balance of support, independence-building, encouragement, and figuring out what's manageable (for us and students).
Student-Specific Topics
Personally, I prefer starting with content-based inform/explain writing. While I don't box students into a particular animal/person/idea, I do like for students to initially write within the topic or content we are covering. This allows us to draw on background and content knowledge we know. Then, our focus can be on writing and organizing our ideas.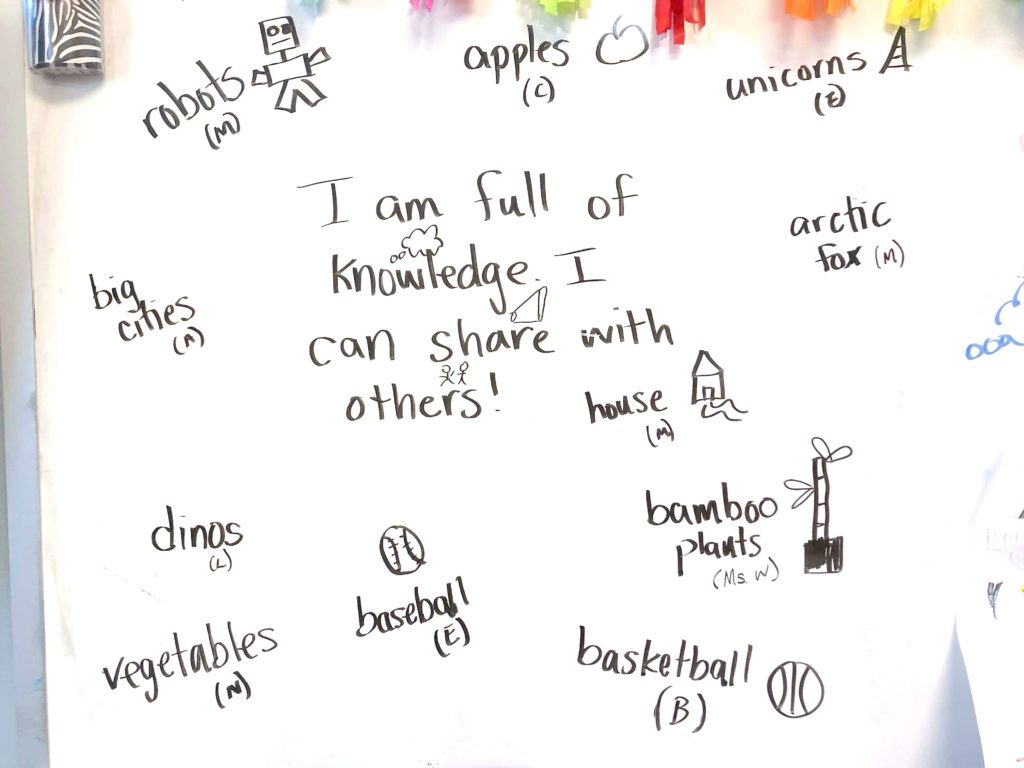 From there, we do spend time exploring times more personal to students. What do they love? Which topics or ideas can students teach others about (not how-to writing….this is a 1st grade standards)
We will follow our familiar workshop structure with the stems and frames we've previously used AND students now apply these tools to their own book topic. This really extends the previous stems and frames because students quickly learn that not every sentence, frame, or conjunction works in every context. As writers we must pick the words and tools that work best for us, our topic, and our goals.
As we delve into our own topics and learning, I continue providing the writing scaffolds that individual students need (outside of frames and stems). From counting-out words to sounds charts, there are DOZENS of scaffolds that allow students to have the just-right mix of push and support.
Wrapping-Up Inform/Explain Writing in Kindergarten
Just like how-to writing, beginning of the year scaffolds, and narrative writing – writing is the long game, friends. We don't get there in one mini-lesson or even one week. It is the intentional instructional decision making over the course of many days/weeks that makes the difference. Writing instruction is responsive, scaffolded, and is driven by what happens in the real world. We can leverage what our students are knowledgeable about. So, as you are launching and exploring inform/explain writing in kindergarten be brave, make a plan, and offer the just-right pushes. You've got this, friend.
FREE Work on Writing Papers