Language matters in every content-area and subject we teach. From social-emotional learning to science to requesting food in the Dinning Room, vocabulary is a critical part of communicating. Word walls and vocabulary walls within our classrooms and schools can offer students support in using, organizing, and connecting language.
Throughout the post, you'll find Amazon Affiliate links, which means Amazon tosses a few nickels my way if you purchase something through that link, at no extra cost to you, that helps to keep my corner of cyber-space running and helps fund giveaways!
Why a Word Wall?
Over time and when explicitly taught (and continually referenced), word walls can help students maintain writing stamina and build independence. When stuck, frustration, or need inspiration, students have references and go-to resources outside of the teacher. While students are writing during workshop or working during work on writing, we – as teachers – are conferring, teaching, and giving feedback to students. We want all students working hard to become the best readers, writers, and mathematicians and definitely doesn't mean sitting for 10-15 minutes with a hand raised.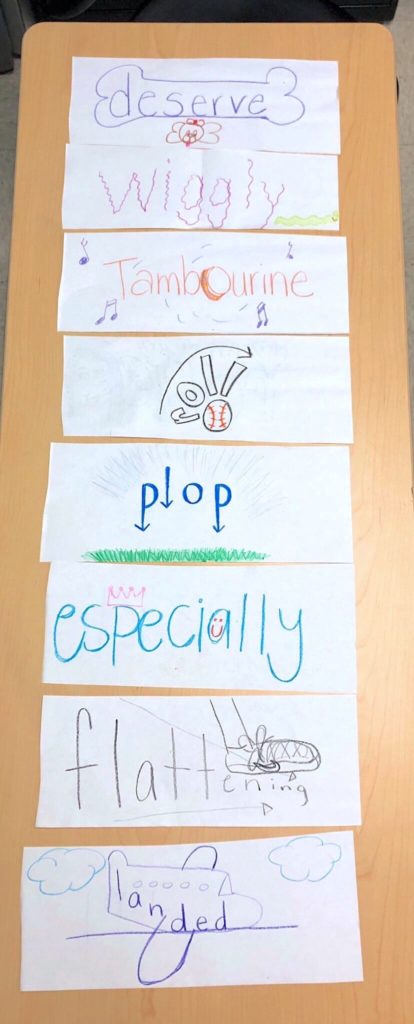 Additionally, RL.4/RI.4 in our Common Core and Kentucky Academic Standards include vocabulary acquisition as a part of the 10 anchor standards (i.e. guiding principles in KY). Word walls can help students mental organize, sort, and make connections between words. This organization and frequent referencing of words supports students using this vocabulary in their own writing and conversations.
Word Wall Look-fors
Space, time, and energy in our classrooms is limited! So, when deciding to invest more into our physical spaces, we need to ask – How will my students get the most impact from this choice? If a word wall stays empty all year or if it is never looked at, then let's not pretend. Save your investment of time/energy/wall space into something that will actually impact student learning. So, what makes a word wall worth the effort?
Accessibility: Are my students able to easily see and read words on the word wall? Are the words organized in a way that makes sense based on how words were chosen (topic, theme, book, alphabetical, etc)? Can students see themselves and/or their needs in the words chosen to be included on our word wall?
Ever-changing: Is our word wall a living thing? Are words being added, removed, and/or traded out based on student need, request, and time of the year?
Routine: Am I taking regular opportunities to model using the word wall in academic conversations and in writing mini-lessons? Do students use the word wall routinely to support their conversations and class work? In what ways does our class word wall extend and deepen the opportunities to learn, converse, and writing?
What Words to Include?
Word Walls matter. Giving students access to words matters. BUT these things are only true if they are being regularly referenced, added-to, and used by students. So, as you consider what words to include on your word wall, ask – What can I commit to regularly supporting and will help students be most successful.
Sight Words (Tier 1): Words that are frequently heard in multiple contexts. These words are often nouns, verbs, adjectives, and basic high-frequency words.
Academic Vocabulary (often Tier 2): Words that are used across content areas and domain. They often include multiple-meaning words, descriptive vocabulary, and use in multiple subjects.
Content Vocabulary (often Tier 3): Words that are content or situation specific. These words are critical to understand instruction of content.
Who knows – you might decide to do a mix of all of these things. If so, writing different types of words in different color markers can help students mentally organize and categorize information!  (In the word wall above, you see Mrs. Word writing academic vocabulary in red, content vocabulary from EL Education in blue. The white sentence strips are from Module 1. The blue sentence strips are Module 2. This system works for her 5th graders and they are aware of it. She has explicitly taught students the system and regularly refers back to it.)
How to Organize Our Words?
Deciding which words you will include on a word wall is just the first step. Then, we consider – How can I organize the words in a way that (1) makes senses (2) supports students in using them and (3) helps students' organize the information? There are lots of options!
Phonics Pattern
Alphabetically
Topic/Content
Timeline of Learning
Bulletin Board Paper
Words Walls don't need to be perfect or laminated or time-consuming. We want them to be easy enough to use as a teacher so the same 7 words aren't there in May that started there in August. Putting bulletin board paper behind a alphabet line is the perfect way to keep your word wall manageable and growing throughout the year. From school names to local hangout spots, this is an ideal way to highlight words students use frequently. You might even add small pictures for little learners.
Visual Word Walls
Visuals and images can be powerful ways to help students create a connection with a word and/or remember its meaning. Creating word-based images that are student-created is a simple way to shift word-wall ownership away from you!
Personal Word Walls
Adding word walls to students' writing and reading folders is a simple way to create a year-long reference. Using a simple 3×3 grid (for littles), students collect word walls based on content vocabulary in our learning units (science, social studies, reading, etc) with illustrations to help support meaning and use. (Snag this simple template for free here.) Without fancy headers or pre-chosen words, students add words as they need. Throughout lessons, it is not uncommon for me to pause and say "Wow! I have learned a lot of new things today about sound and how sound travels. I am going to take a minute to record some of the new words I'm learning so I can use them in my writing later. Let's get out our writing journals and see what needs to added so we can come back to it."
Word Wall Rings
Additionally, using command hooks, word wall headers, and binder rings – portable word walls act as mobile dictionaries. If using this as your chosen word wall, lots of preaching, introducing of words, and referencing of the word wall will be involved. Since only 26 words can be seen at a time, the habit and procedures for referencing these rings will have to be established, encouraged, and celebrated.
Wrapping-Up
Our classrooms are amazingly intricate, ever-changing places. They are responsive to our environmental demands, the students we have in our classrooms, and our own needs. Therefore, the word walls and reference materials in our classrooms will change from year-to-year and that's okay. As teachers, we have the agency to intentionally choose the best ways to choose, organize, and present vocabulary and word walls to students. The ideas in this post are intended to offer you "food for thought" as you consider what is just-right for you learners.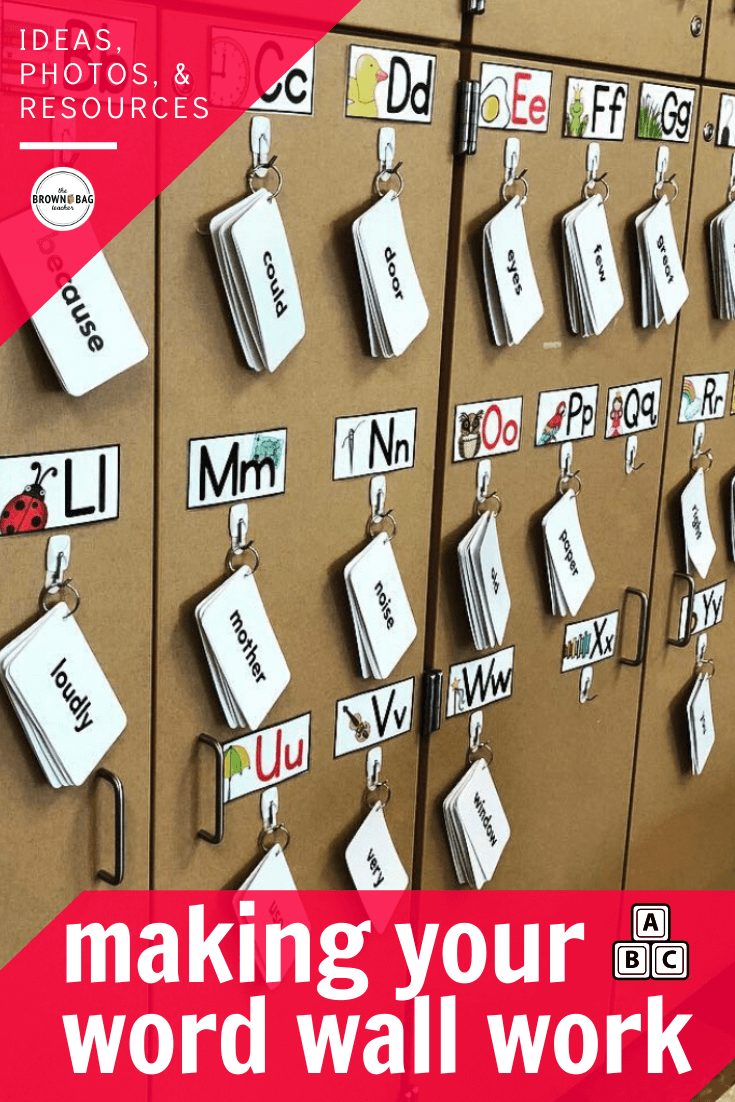 Get Free Teaching Resources!

Join me for weekly classroom updates and free resources that are just-right for your guided math classroom!