An end-of-year auction is a simple way to declutter your classroom space while offering students *treasures* to take home for playing school, learning over the summer, or be a keepsake of the year.
This is a routine I began 4-5 years ago and it has become a fun way to build excitement for the closing year and declutter our space.
What Do I Include in an End of Year Auction?
There is no hard and fast rule to a class auction. Some years the auctions are larger than others. (The year I moved classrooms, the auction was HUGE because I touched everything in that room. Lots of things got thrown out but lots of it went home with kids.) Other years, it is more broken book bins, books missing pages, etc. Students have never seen an end-of-year auction before, so it truly doesn't matter.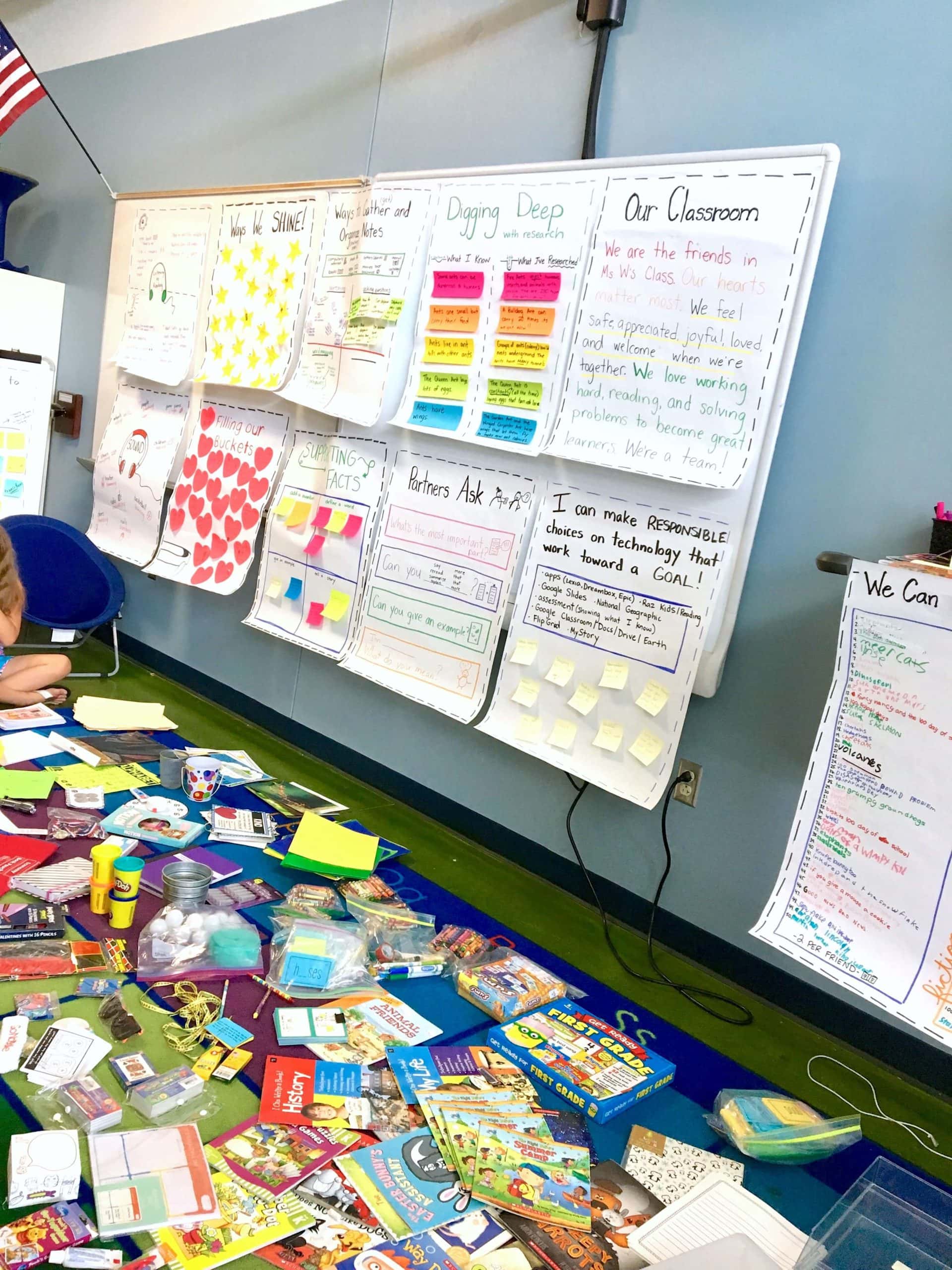 anchor charts (ALWAYS the first to go)
used school supplies that will be replaced in the fall (crayons, markers, folders, chalk, glue sticks, pencils)
books that have duplicate copies and/or are missing pages
Scholastic Reading Club prizes/rewards that were sent for free
books from Half-Price books
materials personally purchased that I won't use in future years (I.e. I bought a pell and stick, magnetic whiteboard and it didn't erase well AT ALL. I raffled this monstrosity away.)
board games/puzzles missing pieces
extra writing papers or work on writing materials
left-over word rings or other learning materials
Two (Important) Considerations
A class auction can be fun and easy, but still – let's do it well.
Before placing basic supplies in the auction, I do consider which students might need these things at home. I baggie crayons, eraser tops, and pencils into a gallon-size bag and send them home with specific students beforehand. Then, any extras go into the auction.
Additionally, I am also very careful to only give away things I personally purchased or things that would be replaced in the Fall (like supplies). If the school purchased a board game or resource that I did not think I would use again, I keep it in the back of the cabinet for whoever will have the classroom after me. These things are school property and not mine to give away*
The End of Year Auction Process
Please, friends. It's May or June. Keep it simple. There is no reason to expend extra energy, time, or resources on this venture. The goal is to make your life simpler, the classroom cleaner, and send students home with some materials they can use over the summer.
Choose a Date: 7ish days before the auction, set out a large box labeled "Auction" and set the date. Give zero more details. Build suspense. (Pro tip: DON'T host the auction on the last day of school. It's too much and some students will forget things. Aim for 2-3 days before the last day.)
Raffle Tickets: Then, 5ish days before the auction, begin handing out tickets and stocking the box as you clean and move through the classroom. Typically I give out tickets as students are going above and beyond to follow classroom procedures, be kind, and/or working with others well. Especially in the chaos of the last few days of school, these tickets are VERY motivating. Regardless of behavior, every student receives one ticket (sometimes two depending on how large the auction is).
Auction Day: On the day of the auction, I gather the auction items on the floor and we sit around them as a class. Review expectations and procedures for the auction. Practice what it looks like/sounds like when someone wins and takes something you want. (We are 6 and this is a hard skill.) Then, I start pulling names and students begin picking items.
Management of Things: As students pick items, they set them on top of their desks. Then, at the end of the auction, I hand out plastic shopping bags. Students stuff their bag and I go around and tie them. Then, the bags go directly into backpacks (except anchor charts which are rubber banded).
Clue Families In: The morning of the auction I schedule a Remind text to families saying something along the lines of "Happy Class Auction Day! Students will be bringing home a few treasures to use at home over the summer. Please take a few minutes to empty your child's backpack this evening. Congratulations! :)"
Clean Up: Depending on the size of the auction and the interest of the items in the auction, some things may be left over. At this point, we toss the remaining things or offer them to teammates. (If there are any students that want and will use something specific, I will secretly slip the item into their backpack at some point before dismissal.)
Wrapping-up
So, there you go , friends. A simple, fun, low-key ways to declutter, celebrate a year of learning, and refresh the classroom.
Don't love the idea? That's okay. Take a pass.
Like the idea but want to make tweaks? Do it! We all have own preferences and teach at very different schools. You do you, teacher. I'll be cheering you and your classroom on.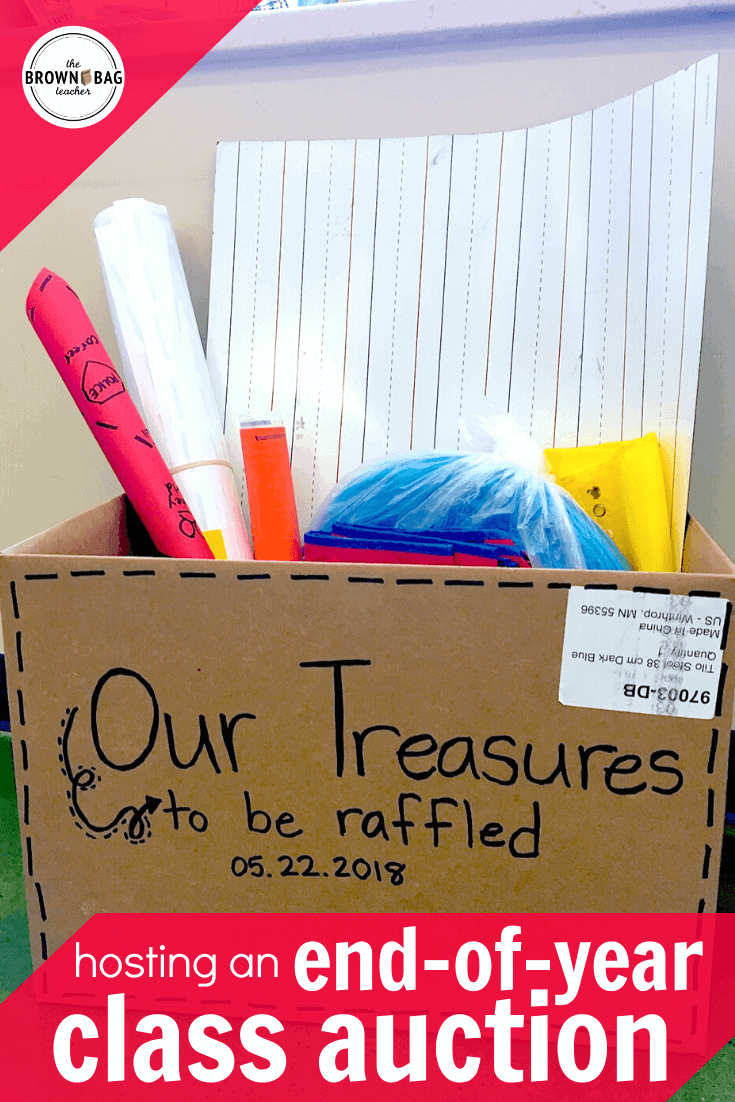 Join me for weekly classroom updates and free resources that are just-right for your guided math classroom!