Late February, early-March, I introduced Google Slides to my kindergartens. Let it be known, I waited this long because I was nervous. This was an adult issue, not a kid one. Still, I approached trepidatiously – How can I make this work? They are so little. They are just learning to read. So many excuses why my kindergartens and technology couldn't work. Yet, at the same time, most could easily navigate YouTube, comment on our Google Classroom stream, and could easily take pictures with our classroom devices.
Purpose
As we look to the Fall, this year – like no other – we will be integrating and intentionally teaching technology skills from the very beginning. Each day (if any) we have with students in a physical classroom will be a gift. We, as teachers, are mentally preparing for last March. We end a school day and learn we won't see our students again.
This "All About Me" Google Slides activity is am opportunity to introduce any age learner to using Google Slides, as well as building community.
Community Building: Students need to be known and seen. They want to know how they "fit" in a classroom, as well as, who can be an ally in their new learning space (physical or virtual). Additionally, students need agency in deciding what they want to or don't want to share. These slides are a simple, no-frills way for students to show and tell about parts of their life that are "safe" for sharing early in the year (when trust hasn't necessarily been built).
Low Stakes Opportunity: When introducing technology and new technology tools/skills, we always start with low-stakes opportunities. This means minimal new content should be explored. The tool should be introduced in a way that is accessible to all. Then, later, we will layer multiple cognitive processes with the tool (content + tool + collaborating).
Learning Basic Google Slide Skills: Slides is an incredibly versatile tool. From creating books to adding videos to sharing information or ideas, Slides is a must-learning tool for students using Google Suite.
What are some Google Slide Skills to consider?
There is no hard and fast list of skills students need to be successful on Slides. Additionally, the grade-level and experience of your students will greatly impact where you start. Starting with K and 1, we might start with 5 basic skills. Teaching middle school, you might create pathways (Must-Do, May-Do, Challenge-Skills). So, what are some of those basic and not-so-basic skills in Google Slides?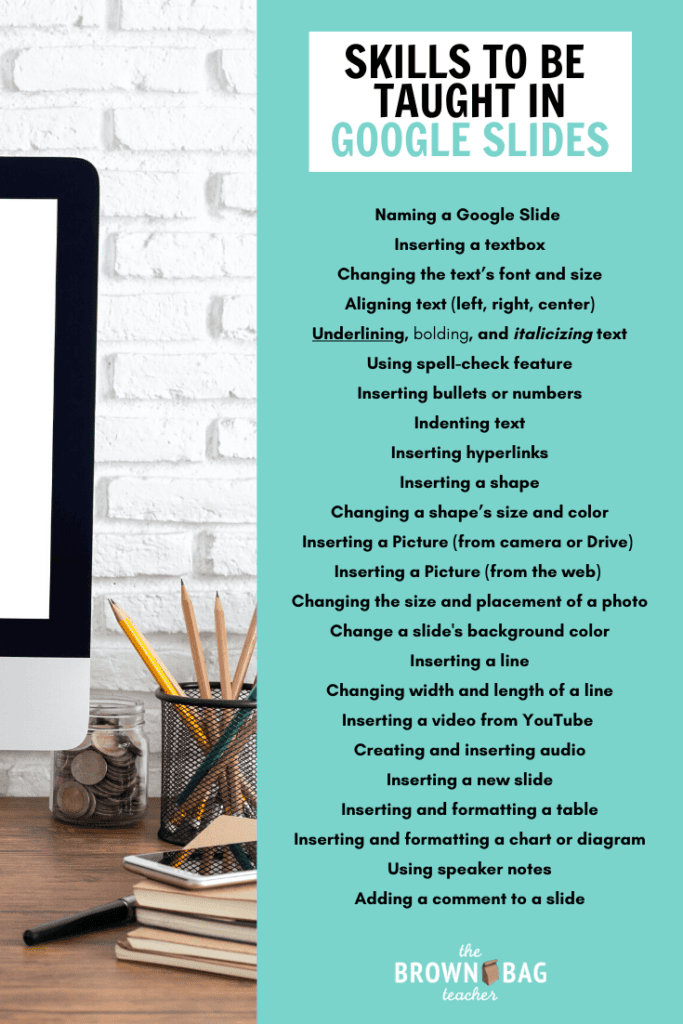 Commenting
Feedback is a critical vehicle for growth. Feedback comes in the form of 1:1, group feedback, student reflection, and student-to-student feedback. Knowing this, teaching students to comment on one another's work it a top priority for me. I want students to be able to ask questions, making connections, and praise their peers. Additionally, introducing commenting to students ensures the work is less performative. These slides are meant to be a living, growing document of our Classroom Family/Team.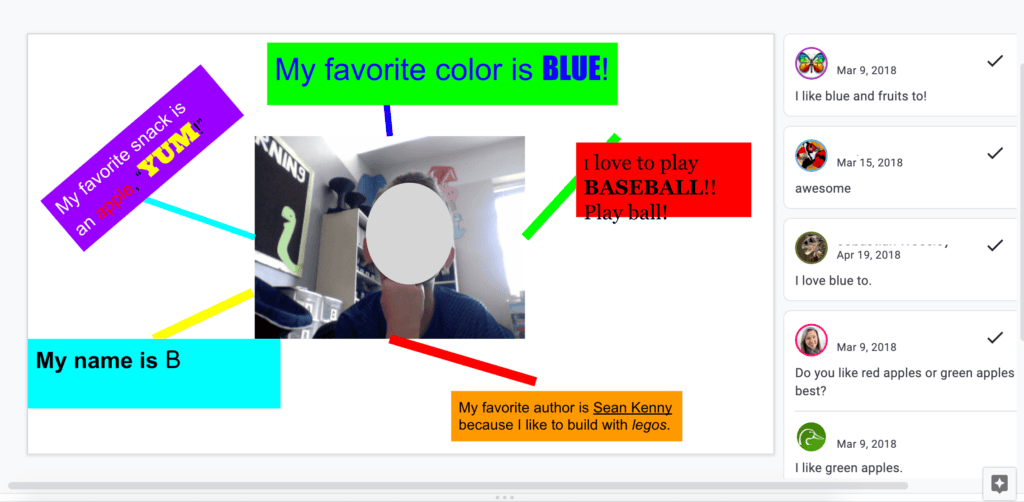 Introducing Google Slides, Increasing Accessibility
Ideally, we are in a physical classroom as we learn and explore every new tech tool. This allows us to provide hands-on support for students who are struggling and easily monitor progress/frustration. Yet, this might not be the case. So how can we support students (regardless of the environment)?
Add one Slide per student, adding the student's name on the Slide.
Copy and paste the directions on the speaker notes, so students don't have to flip back and forth
Adding text-based directions and an introductory video.
Provide a sample teacher slide. You might consider including your admin team and specials staff in on the fun too.
Adding some screen-shot directions at the beginning of the slide can be a simple ways to support students in their learning.
Make sure the file is available "Offline" should Internet be inconsistent or unavailable.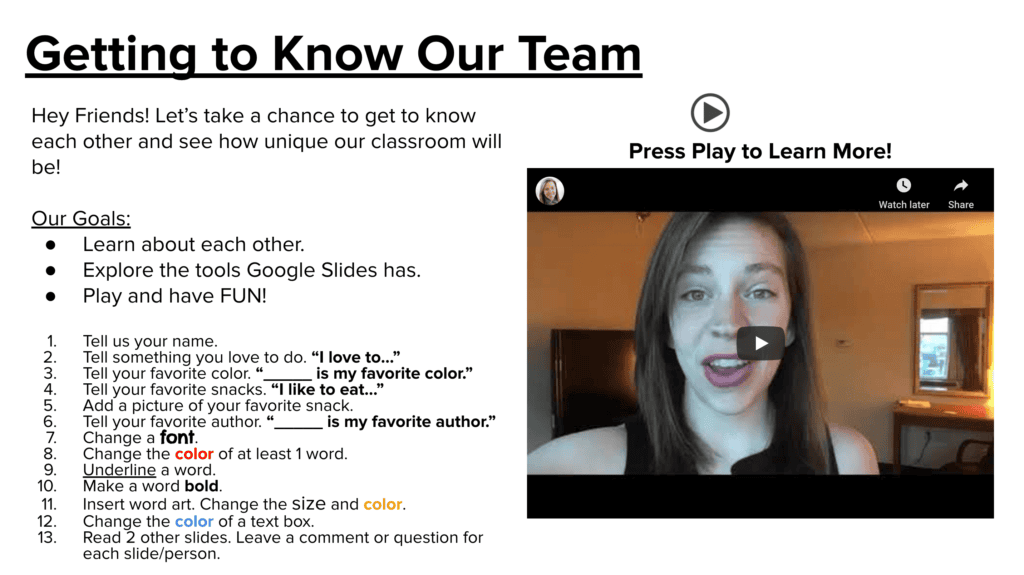 As we introduce this, the focus is on praise and celebrate what has been accomplished. Then, through comments, video sessions, or in-person support, we can teach, suggest, and correct.
Keeping it Simple
All of this seems like A LOT of information. Yet, we need to remember small steps forward make progress. We do not need the most complicated or beautiful template. We need something that is easily usable for students, versatile, and simple. We do not have to do all the things this first round. Maybe we pick 5 big skills (Naming the Slide, Inserting Text, Taking a Picture, Commenting), and from there we do more. While the worlds of Instagram, Facebook, Pinterest, and blogs are amazing, they can also be a way to measure ourselves and our students. DON'T. In our classroom, we are using technology as a vehicle for support community building and academic learning. We build relationships with students SO THAT our classroom spaces are safe places to learn and make mistakes (John Hattie, Mindset for Learning).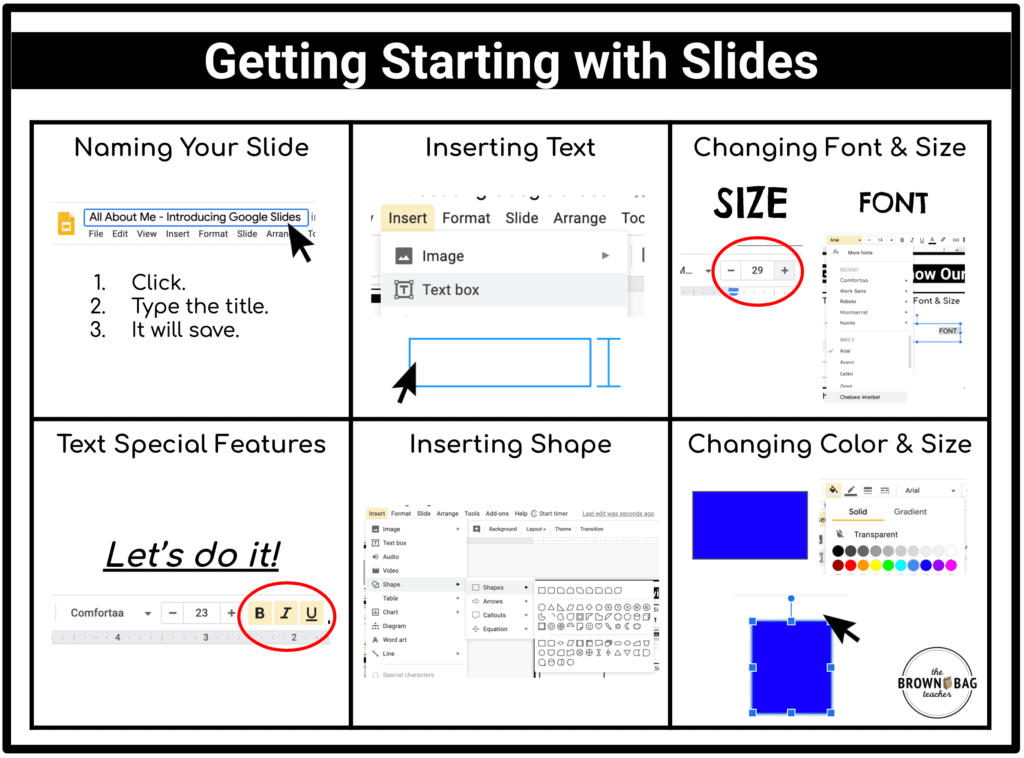 Download Template & Wrapping-up
So, if the is something you are interesting in trying-out in your classroom, snag the Slide template here for free. You'll be forced to make a copy and then can edit the slides to meet in the needs of your classroom, as well as, add your own introductory slide!
For more information, reflections, and resources for distance learning…
Get Free Teaching Resources!

Join me for weekly classroom updates and free resources that are just-right for your guided math classroom!