Research. A word that drives fear into many primary teachers' hearts. How? When? With what? Researching in primary grades is so often students sharing random facts (or things they believe are facts). It frequently includes copying from an information source and/or the most unorganized combination of information. How do we move beyond surface-level recitation of information to deeper learning and research about a topic?
Just as we can ask questions to drive our research, students can also build on their knowledge about a topic to extend their understanding. When we teach students to build on their knowledge, we move from cursory facts to deep details that include specific information and new learning.
Researching in Primary – Why?
Research is a part of our standards from Kindergarten to 12th grade. Researching in primary does include the phrase "with adult support". Outside of "the standards say so" researching in primary is a valuable tool in applying our reading and writing skills flexibly. As a coach and teacher, when I think of research here are my "Big 3" whys:
Access & experience with diverse media: Books and print resources compose only a part of the information that is available to us as humans. Videos, podcasts, radio segments, tables and graphics, infographics, audiobooks, websites – are all a very real parts of our students' worlds. Therefore, research allows us to explore and support students in applying reading skills to a variety of new literacies.
Synthesize Information from Multiple Sources: Anchor Standards (Guiding Principles in Kentucky) 7, 8, and 9 are all about integrating learning and ideas within a single text and between multiple texts. Having multiple sources of data or information allows us to discern similarities and differences in how the author presented information and what information is presented, how text features support learning, which details support different ideas. Synthesizing is a high-order skill and students need scaffolded practice before they can do it independently in later grades!
Leverage Content Knowledge: When we leverage content-learning, it allows student writing to be an authentic and natural extension of what is already happening in the classroom. Additionally, content knowledge gives all students an access point to the writing and research process. It is not dependent on students randomly developing a topic or having life experience (and or interest) with a teacher-chosen topic.
Collecting What We Already Know
So, what might this look like in the classroom?
Individually students brainstormed facts or information they knew about ants. This was in the middle of our animal adaptations unit, so later we would be exploring these industrious creatures and their way-cool adaptations. Students took 2-3 sticky-notes and could write or illustrate their knowledge.
(Note – Sometimes things we "know" we know aren't actually true. That's okay! As we begin researching, we can shift our thinking. Even if we weren't initially correct, we can use that information to spearhead our research!)
We grouped our current knowledge by subtopic (a skill we had previously learned) – habitat, how ants move, body parts, types of ants, characteristics. Then, picked one bit of information from each category to learn more about. At this point, we hadn't narrowed our research question (ant adaptations leading to survival) and were collecting general information. We could have very easily chosen to explore one subtopic for our research.
Noting New Learning
Now, it's time to research. From EPIC to National Geographic Kids to Captsone Publishing, one way we can scaffold research in primary is choosing the texts or sources that will be used. As we research a specific topic, we are keeping in mind the 3-4 pieces of information we want to build on. Anything that doesn't relate to these would be a "Fun Fact" that we have the opportunity to revisit later. As we encounter new-to-us information that expands on what we knew/what we thought we knew, we read that section and then retell it to a friend. From there, we write our new, extended learning. (We write based on our retelling, not the text….because #plagiarism).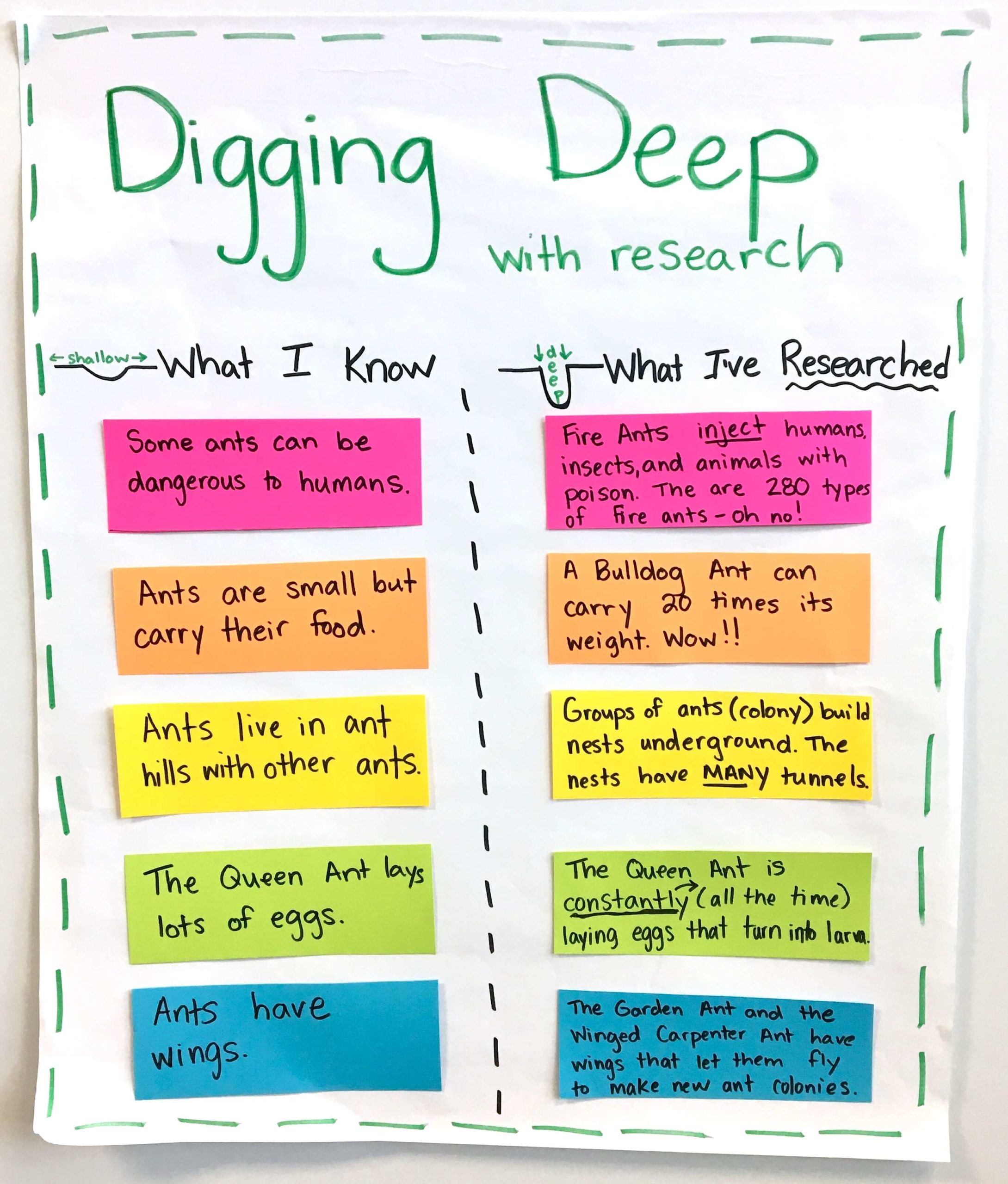 Below is a completed (typed by teacher) student sample of a "Digging Deep" exercise modeled and practiced in reading small groups. (Download this graphic organizer for FREE here.)
Researching in Primary: Branching Out
From here, any of our new learnings can be expanded upon. We might continue in this format (learning —> new learning from research) or try out another method for research collection. From our new learning we might be ready to ask questions or even divide the new learning into subtopics. (i.e. The blue fact could be further explored by creating a Topic: Types of Ants, Subtopic: Winged Carpenter Ants, Garden Ants, Bull Dog Ants, etc).
Students might turn their research into an article, a paragraph, a letter to an expert, a Google Slide Show, etc. The opportunities we offer students have to match the prompt or structure we initially set up!
Friends – researching in primary matters. If we are going to invest the time and energy to research, let's do it well. Let's provide specific strategies students can apply across subjects and skills. Strategies and skills that match what they will need and use in the real world.
For more information about how we gather and organize notes, check out this blog post. To see how we structure and organize paragraphs, click here. See what our animal adaptations unit look like here.

Join me for weekly classroom updates and free resources that are just-right for your writing classroom!