Since mid-March 2020, our world has moved at lightening pace. It seems that there is a moving target that changes on an hourly basis. "Prepare a few at-home enrichment activities" to "Plan 3 weeks of nontraditional instruction." to "ALL SCHOOL IS MOVING ONLINE". Distance learning – here we come! Whoa. We, as educators, have emotional, mental, and physical whiplash as we consider how to care for and keep safe our own families and our students.
Taking a Breath
We must take a breath. Take a moment to disconnect from the world and technology. Find small moments of joy. My small moments of joy this week? I worked in front of a window this week and a turkey walked by (really!!). A friend and I walked 6-8 feet apart at the park yesterday and a beautiful dogwood tree was blooming. Small joys remind us of the importance of slowing down, breathing, and showing gratitude for the world around us.
As we become full-time online teachers (yikes!), I have experienced a lot of feelings. Some of them I can name and some of them are just there.  I've had some really solid days and some days where I've never left my bed and worked from under the sheets. In this short amount of time, I've learned that I need to develop my own rhythms and routines. A strict, colored-code schedule feels too repressive and depressing, but rhythms seem just right. So what's working for me?
Working in front of a window or door helps keep me ground and connected to the world, even if I'm not in it. Plus, the light helps boost my mood.
Each morning I've been showering, washing my hair, and putting on work clothes. This keeps me from feeling like a slug and reminds me – I AM STILL WORKING (and very blessed to be doing so).
I create an unplugged

 

checklist. These are ways for getting my eyes away from a screen and my brain engaged in a hands-on task.
My friends and I have been hosting front-porch book exchanges. Drop a stack of books and snag the ones you want. It's been a blast and a great way to save money!
As teachers, caring for ourselves – mentally, emotionally, and physically – cannot be the cost for caring for our families and students. We matter, too.
Choosing Priorities for Distance Learning
Since we cannot do all the things (nor do we want to), and we must pick our "Big Rock".  Right now, of all times, for me, the big rocks are (1) Student safety – physical, emotional, mental. The other things? Sure they matter – High expectations, access to grade-level standards, content…But only after the big rocks are where they need to be. Right now, the big rock of SAFETY reigns. It is the primary priority…for ourselves and our students.
Now the hardest part… this means setting and enforcing boundaries. It is shifting the amount of time and energy we invest in things that aren't the safety rocks.
It's cutting back the amount of work we are asking from families. And then, cutting it again.
It looks like a single daily email or message (or maybe even a class website) for hosting information. 2-4+ texts or notes a day is overwhelming.
This can be setting an alarm and then, taking a 5 minute walk outside each hour.
Deleting school email from your phone and completely signing out at the end of the day.
It sounds like "Wow! That is a really interesting/fun idea. I don't have ANY extra time right now. I am drowning. Thanks for thinking of me."
Safety
Considering how to care for our students, we need to remember that the same chaos of feelings and overwhelm is being felt by little people too. Our first priority during this period of distance learning is safety – physical, mental, and emotional.
I will always assume families want their students to be successful. Right now, more than ever, there are a lot of competing priorities. So while I will continue providing students and families high-quality learning opportunities and experiences, they will always been an invitation. The ability to participate and continue schooling is dependent on a lot of factors that are rooted in inequity and privilege.
My commitments as an educator:
I will not place learning over life.
Shame has no place in my practice. I will not shame families or students for what learning does or does not take place.
Working under the positive presupposition that families want the best for their student keeps me grounded in the belief – "I am not saving anyone."
Making Small, Lateral Steps
The race of distance learning is a race of endurance. There are only so many things we can control. Those things – Our choices. The attitudes we hold. Instructional priorities. My willingness to reframe. Routinely offering grace to ourselves and our families. When we're in these seasons, we don't have the mental or physical energy to make huge shifts or changes. Those things feel overwhelming and absolutely impossible. This means it's time to consider small lateral movements, things we are already doing or learning but adding in a smidge of spirit.
Trying out one new online-math tool from Math Learning Center, used with a number talk routine our students already know.
Sticking with our Heggerty routine…just adapting it for online (in pre-recorded videos).
Offering a familiar read-aloud recording via a pre-established communication tool.
Dropping by a homemade math tool to a frustrated caregiver that students are familiar with.
Reframing this time. This is one quarter in one school year, out of 52 quarters from K-12th grade. We do not own this. The world is heavy AND it is not all on our shoulders.
Distance Learning Routines
One way we can help provide a sense of normalcy for students is by leveraging the routines that make your classroom special to help lighten the mood and remind students "We're here. We are still a community. I see you." What might this look like?
Keep writing your 3 positive notes a day. Since you won't see students face-to-face, write one email, write one letter (and mail it), and leave one voicemail each day. Relationships matter.
Host your daily morning meeting on Zoom or Google Meet. From 8:30-8:45 AM sing your good morning song, celebrate birthdays, and just check-in with students.
Have school dress-up days? Have them virtually, sharing pictures and videos via Twitter, Remind, Dojo, or video.
Remind students to take their daily special. Do laps around the house for PE, sing a special song for music, make a piece of artwork for the fridge.
Our daily routines offer a sense of safety and comfort when daily life routines are up in the air. (Below is a fun Google Slides challenge we did as a class. An opportunity to learn a new tech tool and say "Hello!" to one another!)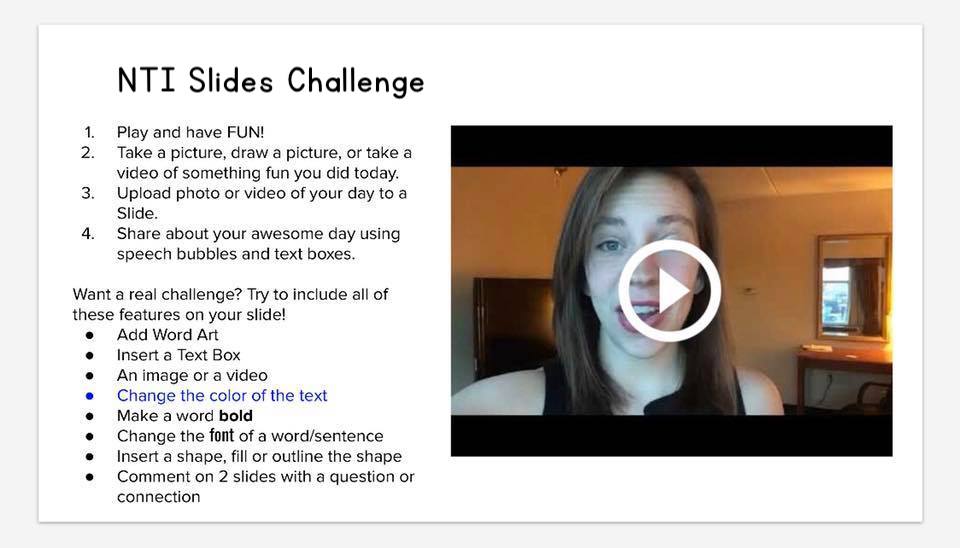 Learning Somewhere That's Not School
Initially this section was labeled "Learning at Home" but realistically that's not the case for many of our students.
As we consider using resources and tools, we must pick priorities for these coming weeks and for our learning. We will not be able to teach every standard. We won't. So, as districts or schools or grade-level teams, we need to pick "big rocks" and work on those.
What are the skills and learning students MUST have before moving on to the next grade.
Which parts of our content will they not see again? What are standards that exist in x grade that don't exist anywhere else?
These are the questions we ask. From this questions, we pick our priorities and offer families multiple access points and opportunities to support learning around these things.
Then, we make a plan for next Fall. How will these "missing" standards be included next year? What will students need? How will we fill the gaps? These are things for us to dwell on now, but we need to remember to return to these questions in July and August.
Digital Learning Resources
While I am all about innovation, trying new things, and being a learner…most of me says – take a breath. Let's start with the tools we already know and our students know, and take small steps from there. Let us use our favorite, well-established resources in a digital  platform. Friends – this is going to be a game of stamina. This isn't a week or two, it will be 6, 7, 8 weeks+. We have time to learn and explore. We do not need to pull out every trick known to man or offered by an educational company.
As we consider tools, what questions should we ask?
What are we already using that we can leverage for supporting students families?
Which tools allow students multiple access points into content?
How can we present content so it allows work to be done asynchronously, giving families choices and flexibility to meet their needs?
When choosing new tools – what specifically do I need?
So, which resources are my go-to's right now?
Communicating with Families: Remind, Dojo, or a class email list (whatever you have previously established)
Interacting with Students: Google Meet or Zoom
Prerecording lessons or messages: Loom or Screencastify
Access to Texts: Epic for Kids or Audible
Online Learning: Scholastic Learning at Home, BrainPop, and Cincinnati Zoo
Ultimately, we are in Beta.
Large companies such as Google and Apple roll out new products in an incomplete form, allowing the user to provide feedback on the product. It allows them to get the ball rolling and create a product that truly meets the needs of their customers. Tweaks are made as necessary and as desired.
Realistically, this is how we're living our teaching lives right now – in Beta. We're taking routines that we traditionally do in the classroom and seeing what they look like in a digital format or an online platform.
What works for morning meeting?
How could we have dress-up days virtually?
What do read alouds and questioning look like when using live video?
Nothing is perfect and it will never be…whether we are in our physical classrooms or an online platform. My hope for us is that we, as educators, are always in Beta. Honing and perfecting our craft in response to our students, our communities, and the world around us.
Wrapping-Up
Friends – take heart. There is no perfect answer for nontraditional days or remote learning. No one has the perfect solution. We are all working to ensure the safety, achievement, and opportunity for all of our students throughout this incredibly stressful time. So, we will learn and grow together. We'll share our victories and our failures. We will take a breath and remember that the goal is progress not perfection. Well friends, here's to us. I'm cheering us all on in this season of life, however long it may last.
For more information, reflections, and resources for distance learning…

Join me for weekly classroom updates and free resources that are just-right for your guided math classroom!