Number talks in kindergarten are a great way to get students thinking and speaking about math, and it often allows them to talk about their reasoning, strategies, and more. It also gives us a chance to lead (or follow) and helps them develop a deeper conceptual understanding of different math topics. 
Larger View of Mathematical Thinking 
There is no right way or wrong way to introduce and use number talks in your kindergarten classroom. You want to make sure students can gain a larger view of math. 
Having daily math talks or number talks does not need to take long. There are some fantastic benefits when students talk about numbers. Students are gaining the ability to: 
use mental math strategies when needed

think about numbers and operations

communicate and clarify their thinking
try new strategies and discuss them
look for and apply math connections and relationships between concepts
choose strategies that will get them to the correct answer
learn from mistakes
These skills will help students understand math on a larger scale and see more than just a number sentence.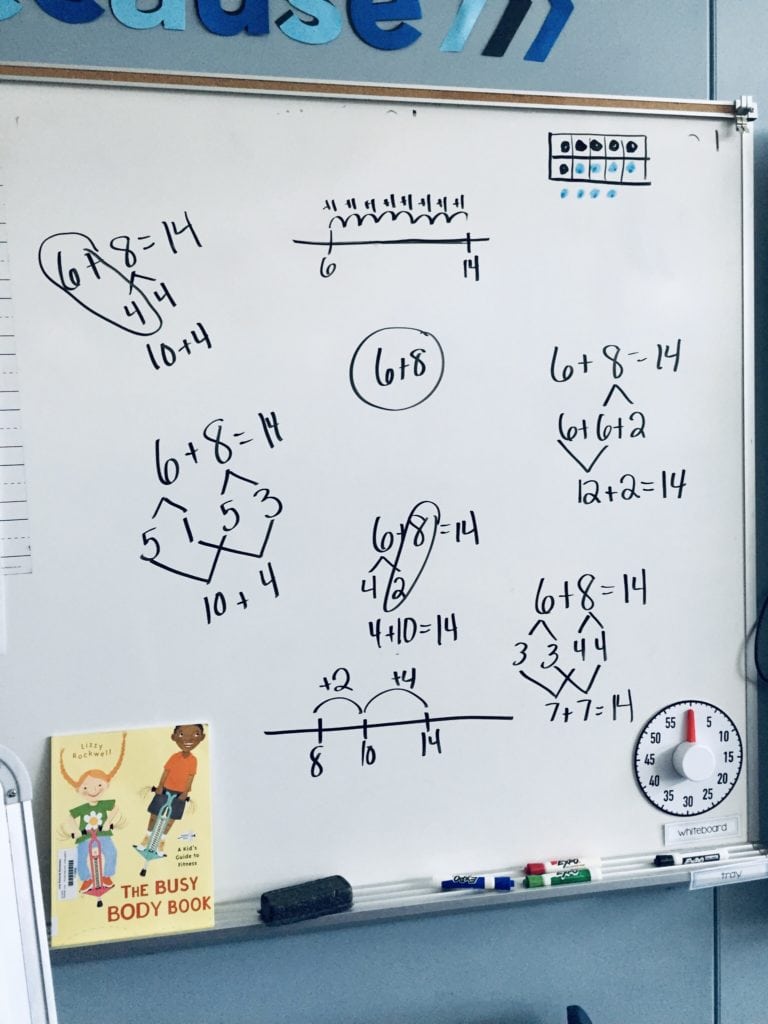 Scaffolding and support in kindergarten number talks
When you are just starting number talks in your classroom, it is always helpful to have a resource that scaffolds and supports student thinking and helps lead them in the correct direction (without giving them the answer). I could never find a resource I absolutely loved or covered all the standards I needed. So I decided I needed to develop a perfect (or near-perfect) resource, and this is where my kindergarten number talks were born.  
On each slide, you will have the correct vocabulary and language structure to help your students understand the math problem and what they are being asked to do. Giving them the correct vocabulary and language will set them up for success right from the beginning. 
You will also find each slide has a mixture of objects and numerals. Allowing all students to use their reading skills, observing skills, and number skills to help them figure out and talk about the problem.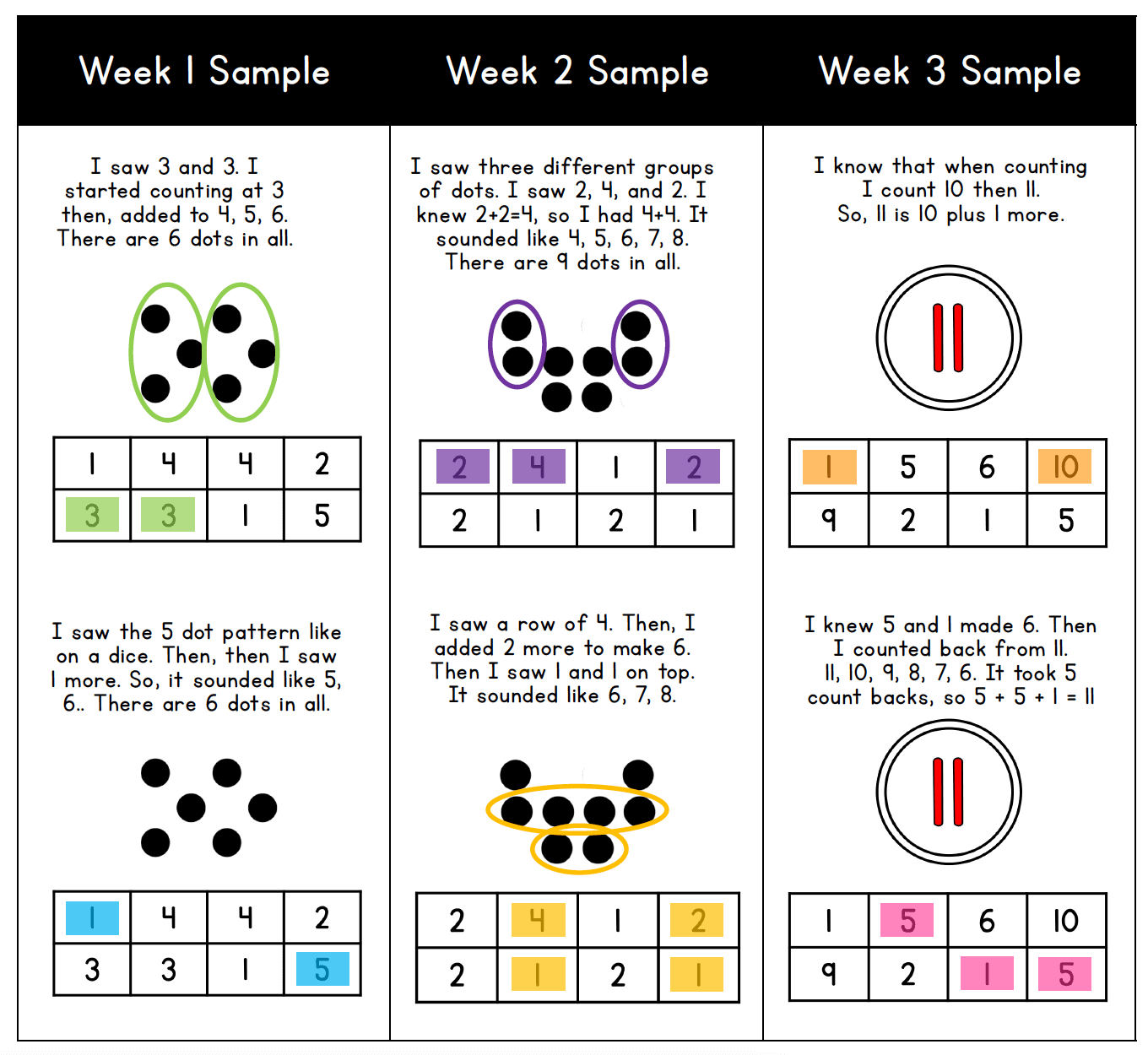 Finally, the slides build in difficulty. So, as your students learn concepts and become math talk masters, they will face more challenging problems where they will need to use more of their math skills and gain an even larger view of mathematical thinking.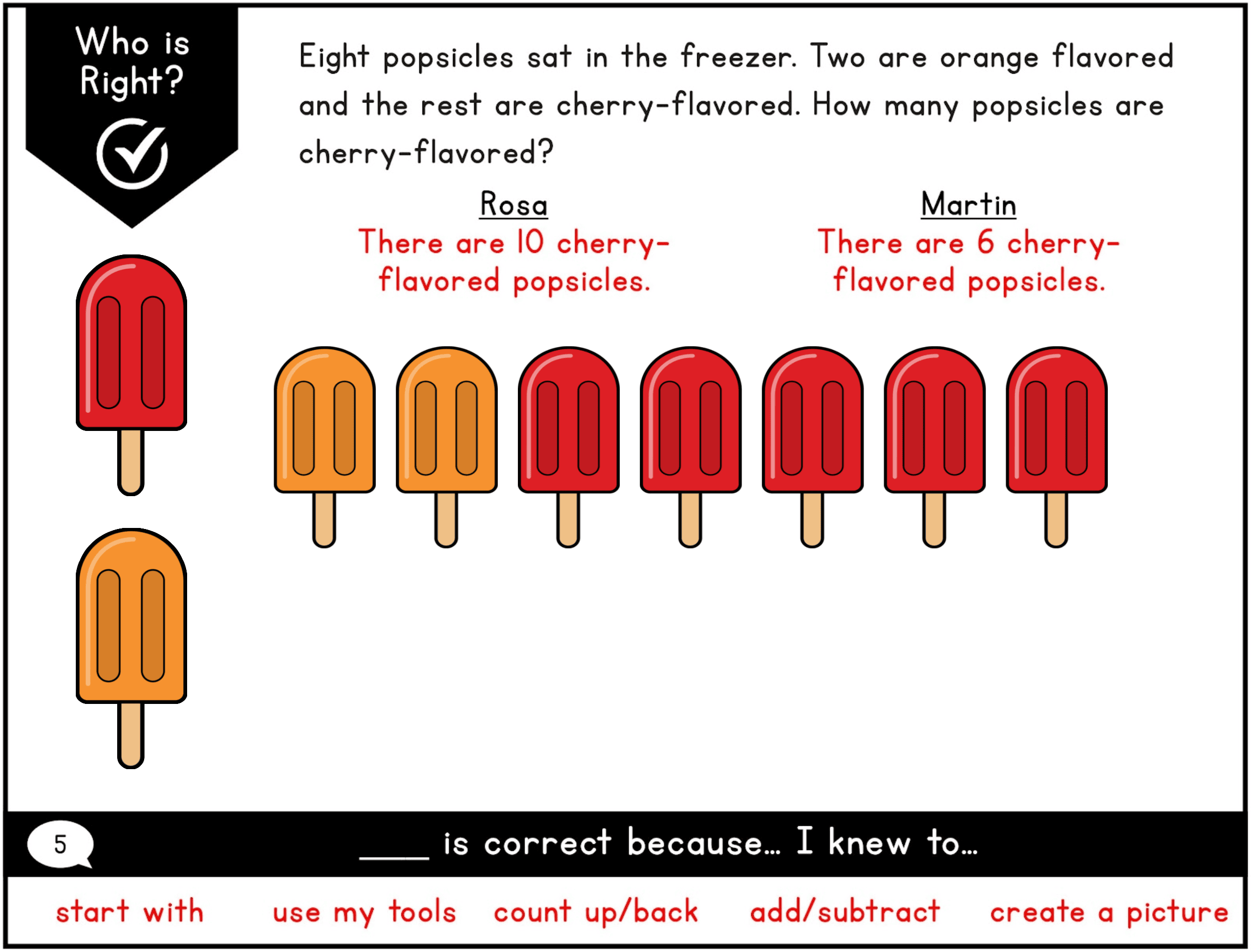 As teachers, our students are never at the same point in their math learning journey. These scaffolds and supports will allow all students to take part and make sure each student feels successful during number talks! 
Let's talk about math
The central part of number talks is well the talk that is supposed to happen between students. Students need to discuss their strategies and thinking for number talks to help them think about math deeper. This can be a challenge in kindergarten when starts are just developing relationships with their peers and just starting to really learn about math concepts and ideas. 
You will find sentence starters and prompts on each of the kindergarten math talks slides. Having these sentence starters will help students get started with their partner or group discussions. But, also help develop other oral development skills kindergarteners are often working on, like speaking in complete sentences.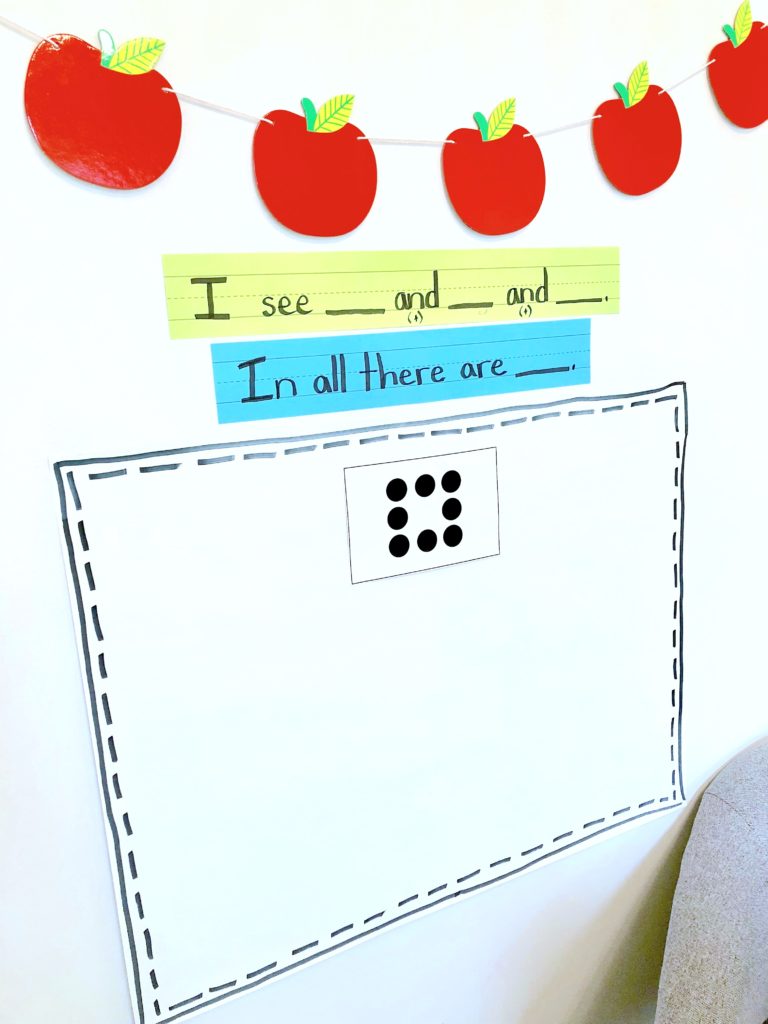 It is always a good learning activity when you can easily incorporate standards and skills from other subject areas!
Building number sense 
Number talks allow students to build a sense of numbers and think about the flexibility of numbers and how they may use one strategy to figure out the answer while their peers use a different one. Number talks help show them that numbers are flexible and may be used differently to get the same answer. 
It also allows them to explain their thinking. The kindergarten math talks come with individual response sheets to make explaining their strategy and thinking easier. They can easily look back at their work and show their partner or group what they did. 
The last important part of math talks is the listening between students. Students share their strategies and listen to their peer's strategies and reasoning. Sharing can often help students see a mistake they made or help their peers. Having positive conversations around math can help eliminate the anxiety of getting answers wrong or the anxiety of not understanding or feeling as though they cannot "do it". 
Using number talks in your kindergarten classroom
Number talks are going to allow your students to take control of their mathematical thinking. They will quickly realize having a different strategy than their neighbor is ok, and getting the wrong answer is a learning experience. You will notice a happier group of mathematicians, students applying different strategies, trying new things, and not stressing over mistakes. Grab the Kindergarten Number Talks bundle from my TPT store here!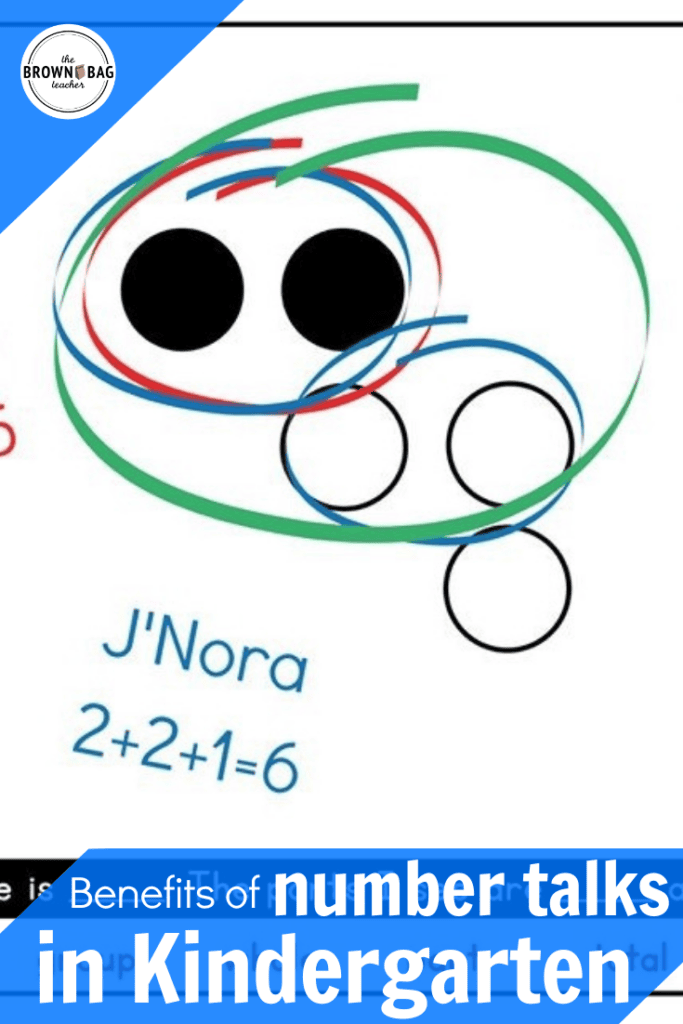 Get Free Teaching Resources!

Join me for weekly classroom updates and free resources that are just-right for your guided math classroom!