You may be thinking, WHAT THE?!? Working on open-ended response questions in 1st grade seems a little crazy? However, what if I told you I have been doing it for a while now, and my students not only have tried the strategy? They have excelled at it! Using the RACE writing strategy was not only a game-changer in my 5th-grade classroom but has also brought significant change to my now 1st-grade classroom!
Why Should 1st Graders Be Expected to Write Constructed Responses?
We MUST set the foundation for tested grades. We're all in this together.
•Teaches students to cite text evidence and go back into the text
•Models writing that happens in the real world (prompt & response)
•Provides structure
•Because they CAN!
During the Guided Writing portion of Guided Reading, we're also learning how to respond to questions about a text. We always start with oral writing – sharing our ideas verbally, but also use a RACE (restate, answer, cite evidence, explain) structure to organize our thoughts. It's an easy acronym to remember, and it is very pointed… it's hard to get lost in RACE. In 5th grade, I used to RUN (read the question, underline, number) the RACE. In 1st grade, we're just RACEing (with a wrap-up sentence on the end)! 😉 For my more developed readers and writers, they RACECE to beef up their writing.
What exactly is the RACE writing strategy?
RACE is a strategy to help students learn how to respond to a text, and they also learn how to quote the reading or how to support their thinking with evidence from the text.
Here is a sample response from one of my grade-level writers.
R(restate): At the beginning of Peter's Chair,
An (answer): Peter felt mad because thay were panting ol his stuf pink to giv to his sistir. Peter felt very mad.
C (cite): At the ind of the storey Pete sed "Dad lets pant the chair for Susie."
E (explain): This tels me that Peter wus hapey at the end (for) his sister.
This student has done a great job of restating and answering. Then, she is citing text evidence and explains the evidence (Peter was starting…). This writer ran the RACE but forgot to wrap up. So, use our RACE strategy checklist, and it's easy for students to see what they have missed.
Here is another friend's response to the same question. Although the writing is challenging to read, I can still see the foundation for a fabulous paragraph. I love the restating and the answer. Then, I love seeing one of our sentence stems – "This tells me…" I would have loved to see a wrap-up sentence like the sample above. Still, I am so proud of this writer! Since the student wrote the response independently, it's a true teaching tool. Reading these, I know that I need to reteach and practice wrap-up sentences.
Here is another example of our independent responses using the RACE formula. Notice, though, I have scaffolded students with the writing checklist at the bottom of the paper. This is one of my strategies and is very appropriate for 1st grade, and it helps guide students in their thinking but doesn't provide the content/answer.
It is always a great idea to teach students how to prove their answers, and using the RACE writing strategy will help them achieve this goal. Even in 1st grade, we should expect our students to support their answers, whether written or orally. This will not only make them better speakers. But also better readers and writers!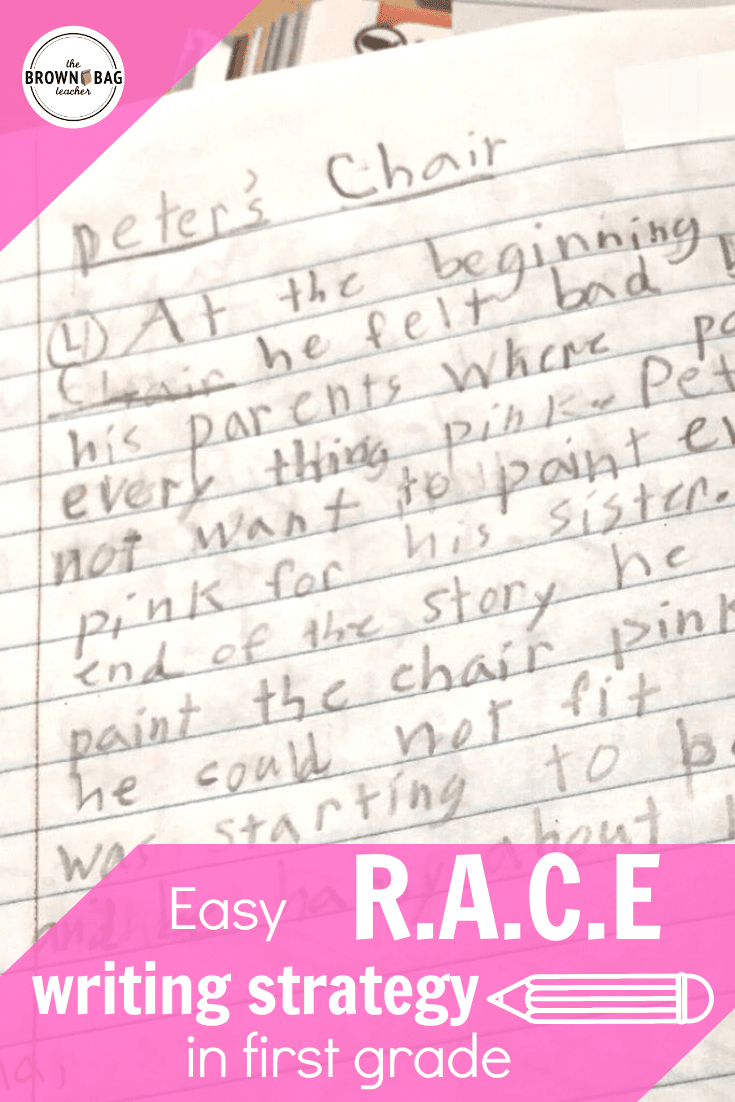 Get Free Teaching Resources!

Join me for weekly classroom updates and free resources that are just-right for your guided math classroom!