There is a joy to a new school year. Fresh school supplies, a renewed sense of adventure and hope, first impressions, a new community of learners. The beginning-of-the-year carries a "high" that help support the demands, hours, and efforts it requires to invest in dozens of students' and family lives. The kick-off to this push of adrenaline is Open House. An event that is filled with people, transportation tags, informational tags, classroom tours, and an incredible amount of joy.
But 2020 – here we are. How do we communicate and invest that same amount of joy in a way that keeps all students and teachers safe? Hope do we approach an Open House in which all of our students may not be able to attend? How do we approach an in-person open house that will never be? What might a virtual open house might look like?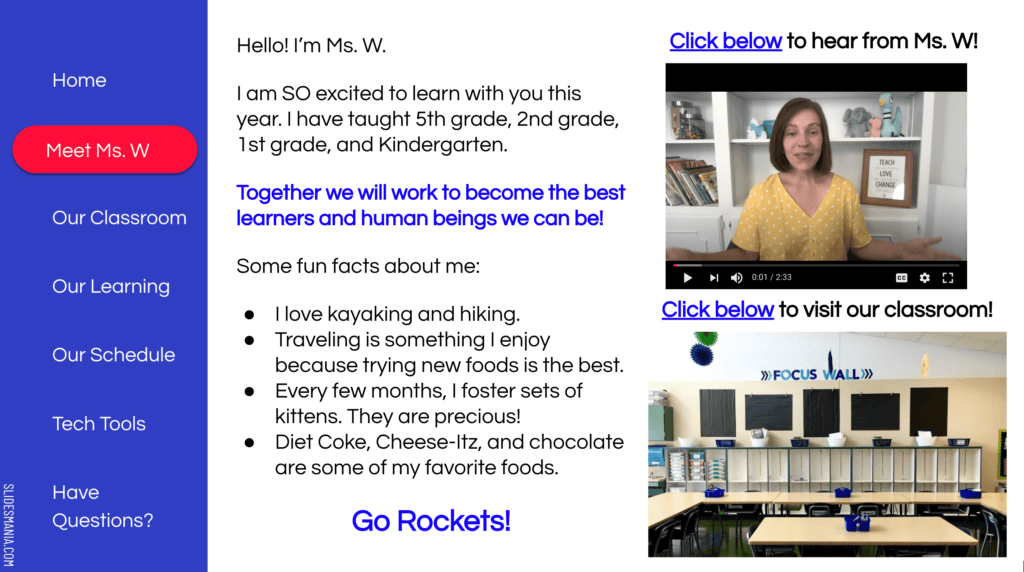 Initially, as we being to plan and account for open-house alternatives, we must be clear in our goals.
What is the purpose of an open house?
Families and students "walk away" with…
Teachers and schools "walk away with"…
How can we create consistency between classrooms and grade-levels, while allowing individual teachers and personalities to shine.
Subsequently, we can create a collective vision of what an Open House is –
Community the message "Your student is cared for. Your student has a place in this classroom. I will care for you student."
Begin the build a relationship between families and the teacher.
Offer families an "peek" into the classroom and ideas for partnering with the teacher for the best outcomes for his/her student.
In-Person Open House
On the other hand, if your school or district was planned a way for in-person Open House to occur, go you! Realistically, it will happen in small groups (families signing up for spots through Sign-up Genius), or shorter amounts of time. All of the "information" families traditionally fill out at Open House (emergency card, first-day transportation, photo release, etc) will be regulated to previous pick-up and completion before the day of Open House.
So, what would be my priorities with an in-person open house
Greet students & learn preferred name
Family picture or picture of student without mask to add to classroom
Have a computer out to see if they know how to log into your Google Classroom (or other preferred Learning Management System) or have directions out for them to learn (laptops would need to be cleaned after each family or have a cart for use that night)
Get ALL (as many as you can) family emails and phone numbers.
And in 15-20 minutes, your Open House will be through. Spoiler alert? I think it will still be necessary to provide some type of play-as-you-need virtual open house.
Virtual Open House
Hosting a virtual open house allows families synchronous and asynchronous opportunities to come together, get excited about the year, and ease fears. If offering a short "Live" Open House, you would greet families, allows families to introduce themselves and their students, and share a link to your classroom website where a Virtual Open House is located. From there, families will use a Google Slide (filled with text, videos, and pictures) to explore their student's future school year.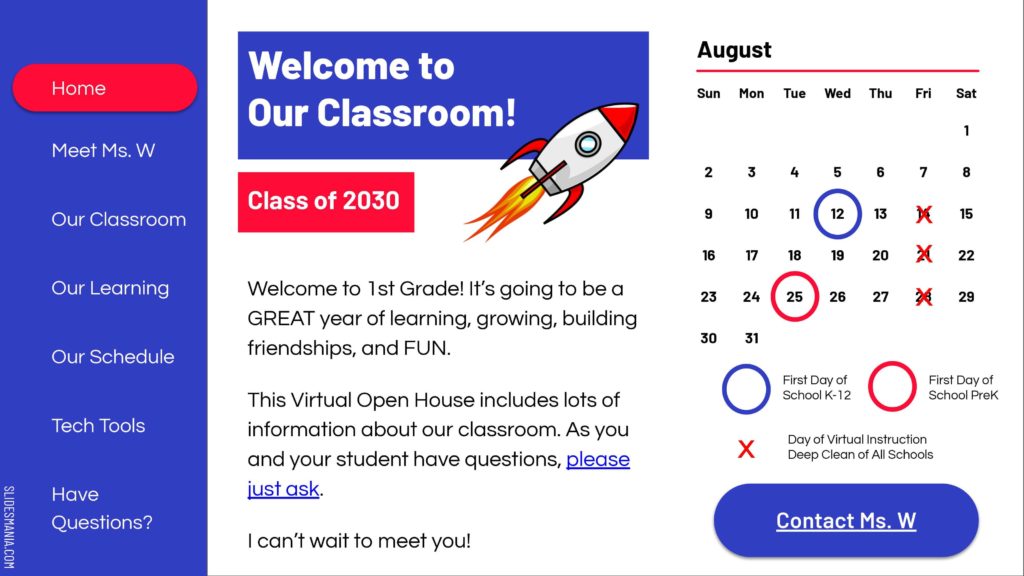 What are the benefits of a Virtual Open House?
Offer families flexibility in the time and date of learning about the classroom
Can be leveraged for a school or classroom website
Is a living document/resource that grows as situations update and questions are asked
Offers a small piece of "you" to families. Building relationships and trust matters.
Google Slides is an ideal vehicle for hosting your Virtual Open House as it can be embedded on a classroom website, if free, can be updated live, and has a ton of flexibility in terms of adding links, pictures, videos, audio, etc. I wasn't interested in recreating the wheel and used a FREE template from Slides Mania. All I did was edit the Master Slides for our school colors and the specific information I wanted to share. Check out the hundreds of templates offered by Slides Mania here.
About the Teacher & Welcome Video
Learning more about video, we know that shorter chunked videos show higher rates of completion and views that longer videos. Shooting for 5 minutes of less, in your "Welcome Video" is ideal. This is manageable chunk for families and learners without being overwhelming. Additional keeping it under 5 minutes, allows you to easily make the video with Screencastify or Loom for free!
Things you might consider including in your video introduction –
Greeting students and families
Acknowledge tensions and feelings
Show excitement and confidence in the year
Communicate safety as the top priority
Share a few traditions students will participate
Provide a call to action – What is the next step for families and students?
Classroom/School Tour
A classroom and/or school tour is a simple way to introduce students to their physical space. Not having access to my classroom, I opted for labeled classroom pictures housed on a separate Google Slide. Families click on the picture that reads "Click Below to Visit Our Classroom" (on Slide 2).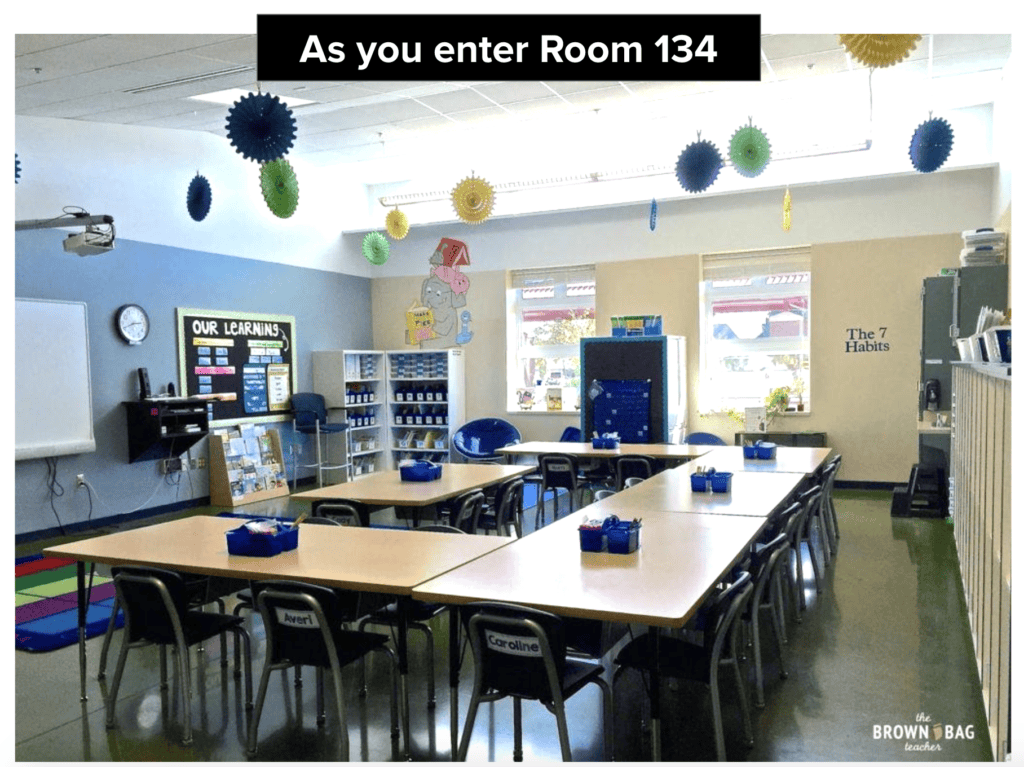 This is the time to collaborate with your colleagues. Once one person has taken pictures of the school (gym, cafeteria, playground, library, front office, etc), it makes sense to share the photos via Google Drive so everyone on staff has access to them.
Google Forms
In partnership with your class website or Google Slides, leveraging Google Forms is a simple way to ask for and organization information. From multiple contact numbers to information about internet and device-access at-home, forms can be used to collect personal informational, information for distance learning, and family preferences,
Asking for input and feedback allows us, as teachers, to be responsive to the needs of our families. It allows for small bits of control in an environment and time that seems very chaotic.
Regardless of what type of distance-learning "project" we are working on, let's keep in simple. More platforms is not better, longer videos are not effective. Let's choose and utilize a few tools and get the most out of them. We do not need perfect templates and ideas. We need to be human.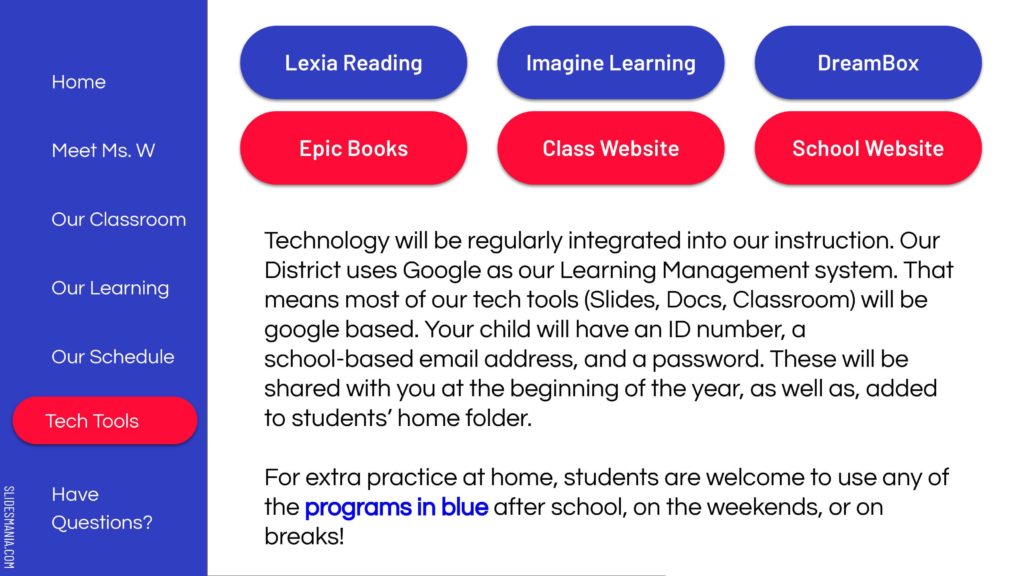 For Open House, what might simplicity look like?
A single link where families may find the information (I.e. A classroom website in which the "Virtual Open House" is located on the front page)
Allows families and students to see our faces and personalities
Holding space for the unknown and families reservations about the year
Not chasing every new technology tool or resource
Asking ourselves repeatedly – What is my goal? What tools do I need to achieve that goal?
During the time of technology rage and push, remember that technology is a vehicle for sharing and delivering content, as well as, building relationships with families SO THAT learning can occur. Let us be discerning, open-minded, willing to say no, and show ourselves grace.
So, if the is something you are interesting in trying-out in your classroom, you can check out my model Virtual Open House here and snag the Slide template here for free from Slides Mania.
For more information, reflections, and resources for distance learning…
Get Free Teaching Resources!

Join me for weekly classroom updates and free resources that are just-right for your guided math classroom!